Report
FP2 - Vettel edges Bottas and Ricciardo in Sakhir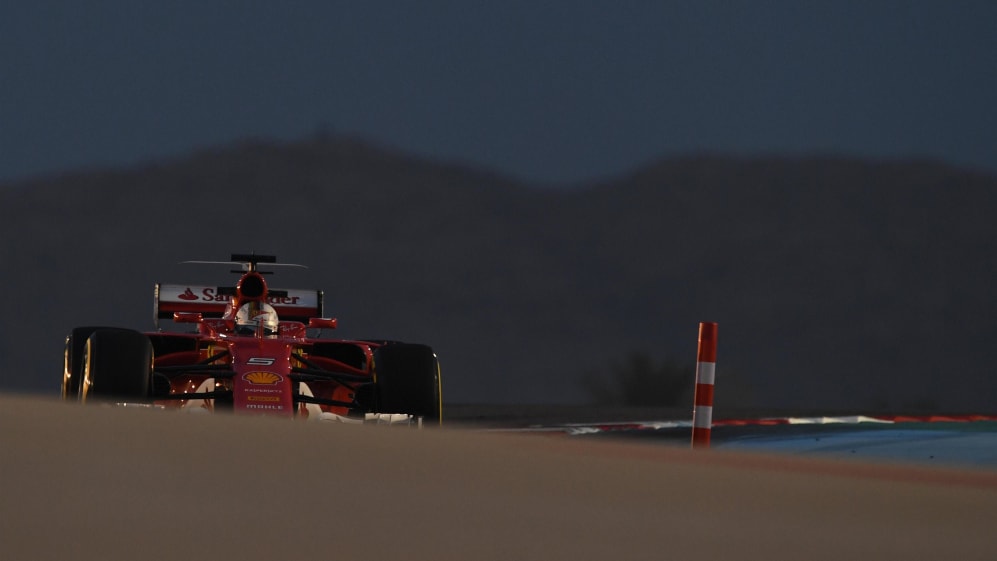 Just 0.066s covered the fastest three drivers during a floodlit FP2 in Bahrain on Friday evening, but once again it was Ferrari's Sebastian Vettel who was at the top of the pile. Vettel lapped in 1m 31.310s to go 0.041s clear of Mercedes' Valtteri Bottas and a further 0.025s ahead of Red Bull's Daniel Ricciardo - but it wasn't all smooth sailing for the joint championship leader.
Shortly before his long run, the German survived a frightening moment when his car went into a 'complete shutdown' and stopped on track. Some quick thinking enabled the four-time world champion to coast back to the pits, where his machine was repaired so he could complete his crucial race-simulation runs as planned.
After his own issues in FP1, Vettel's team mate Kimi Raikkonen enjoyed a more productive session, clocking 34 laps on his way to fourth on the timesheet, just ahead of Mercedes' Lewis Hamilton who struggled to get a representative time on the supersoft tyres.
Hamilton had already had several aborted attempts when he was seemingly baulked by Renault's Nico Hulkenberg as he rounded turn 10 on a hot lap - stewards subsequently looked at the incident and decided no action was necessary.
The top ten was rounded out by Williams' Felipe Massa, Red Bull's Max Verstappen, Haas's Romain Grosjean and Toro Rosso's Daniil Kvyat.
Kvyat's team mate Carlos Sainz was one of several drivers to hit trouble in the twilight session, stopping his car in a plume of smoke in the early running. McLaren's Stoffel Vandoorne, who had his engine changed after a stoppage in FP1, also hit technical issues, completing just eight laps before retreating to the garage once more.
But perhaps the most controversial moment came when Bottas's Mercedes shed its T-wing, which was then collected at speed by Verstappen's Red Bull. The Dutchman then spent some time in the garage as repairs were made to his car's floor.