FP2 - Vettel to the fore as Mercedes slip back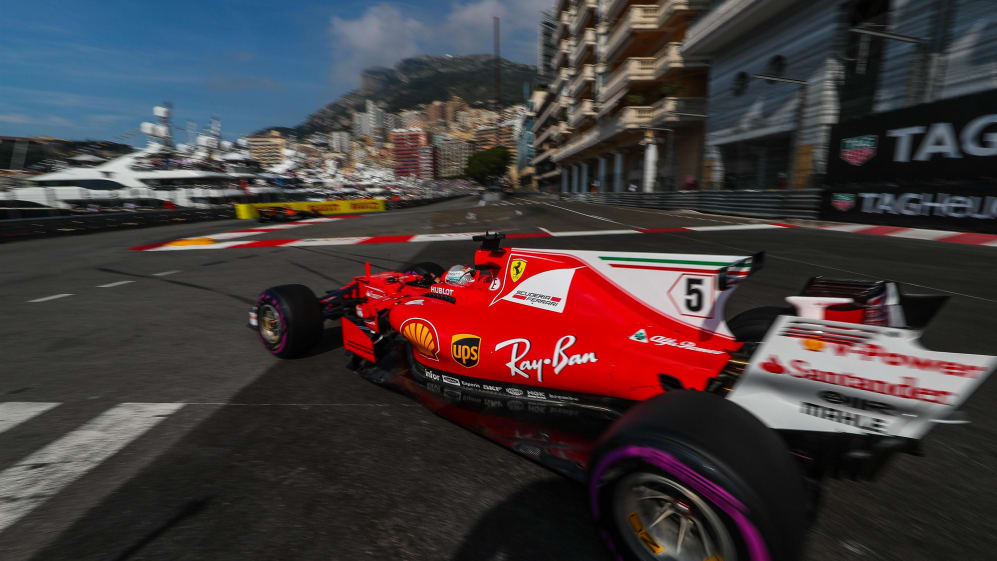 Championship leader Sebastian Vettel laid down a strong marker for the rest of the Monaco weekend as he finished nearly half a second clear of nearest rival Daniel Ricciardo in second practice on Thursday afternoon. But as the Ferrari driver set a new outright lap record for this configuration of the famous street track, Mercedes dropped back, with FP1 pacesetter Lewis Hamilton only eighth and Valtteri Bottas tenth.
Kimi Raikkonen made it a Ferrari one-three as he lapped 0.563s slower than Vettel, while Toro Rosso continued their excellent form as Daniil Kvyat and Carlos Sainz finished fourth and fifth respectively, ahead of the second Red Bull of Max Verstappen and Force India's Sergio Perez.
In contrast to the morning session, which had been largely uneventful, the second 90 minutes saw several drivers tag the barriers, including Williams' Lance Stroll who crashed into the barriers at Massenet - Verstappen 2016-style - just before the hour mark and brought out the red flags.
The Canadian rookie was unhurt, and the session was restarted after a commendably short five-minute clear up.
Up to that point, Vettel had set the pace with the first laps under 1m 13s, a 1m 12.759s followed by 1m 12.270s. Prior to that Stoffel Vandoorne had set the ball rolling for McLaren with 1m 14.642s on ultrasoft tyres, before Kvyat took over with 1m 13.331s in a Toro Rosso 1-2 which became a Red Bull 1-2-3-4 for a while. Then Ricciardo did 1m 13.280s before Vettel went ahead.
While all this was going on Mercedes stuck with the supersofts as Hamilton just shaded Bottas, but the times didn't come when they switched to ultrasofts, with Bottas later admitting that they'd gone the wrong way with set-up and have work to do to get back on the pace.
Behind Vettel and Ricciardo, it was Raikkonen who jumped to third on 1m 13.283s ahead of Kvyat, whose time held up remarkably well. Team mate Sainz was fifth on 1m 13.400s, with Verstappen sixth on 1m 13.486s. The Dutchman complained of problematic downshifts at one stage, and the inevitable traffic. Perez was still up there for Force India in seventh on 1m 13.799s, while Hamilton's best on the supersofts left him eighth on 1m 13.873s as Kevin Magnussen's Haas separated him from team mate Bottas on 1m 13.902s.
Jenson Button's comeback performance vindicated his decision not to run in Bahrain. As Vandoorne ended up 11th with 1m 13.946s on ultrasofts, he managed 1m 13.981s on the same rubber without ever putting a wheel wrong in his McLaren.
It was another unhappy session for Renault. This time the misfortune struck Jolyon Palmer, whose RS17 rolled to a halt at Portier early on with a smoking engine.
Vettel, Hamilton, Esteban Ocon, Sainz and Stroll all missed the chicane, but catch of the day went to Marcus Ericsson who was getting some miles on his Sauber after his gearbox troubles in FP1 when it stepped out on him exiting Casino Square. Where many might have spun, the Swede just brushed the wall and carried on.
WATCH: Stroll hits the barriers at Massenet