Report
FP2 - Vettel top as Mercedes trail Ferrari in Russia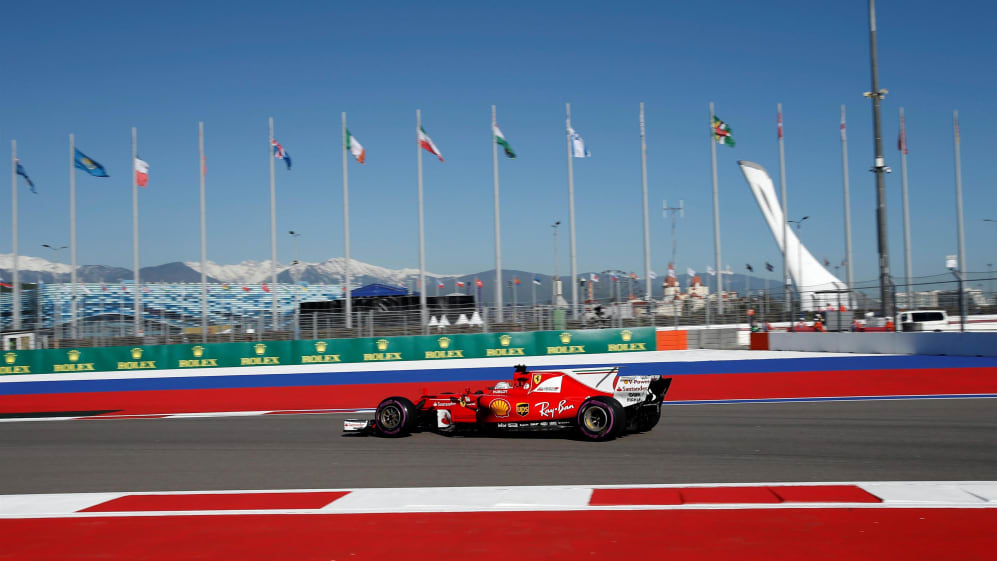 Ferrari put Mercedes on red alert in the second practice session in Friday's second practice for the 2017 Formula 1 VTB Russian Grand Prix, as Sebastian Vettel and Kimi Raikkonen showed the SF70H to be in a class of its own on the softest two Pirelli tyre compounds. Mercedes finished third and fourth, but neither Valtteri Bottas nor Lewis Hamilton could get within half a second of Vettel around the Sochi Autodrom.
As the red and silver cars slogged it out for top honours, Max Verstappen was a distant fifth as 'best of the rest', despite his Red Bull coming to halt due to power loss with 20 minutes of the hour-and-a-half session remaining. Team mate Daniel Ricciardo followed the Dutchman in sixth.
Four other teams made the top ten, with Williams' Felipe Massa seventh, Renault's Nico Hulkenberg eighth, Haas's Kevin Magnussen ninth and Force India's Sergio Perez tenth.
After Hulkenberg had set the ball rolling early in the session, Raikkonen and Vettel moved to the fore on the supersoft tyres, with 1m 36.842s and 1m 36.524s respectively, before Raikkonen improved further to 1m 35.980s.
Bottas moved up to second for Mercedes on 1m 36.283s, albeit three-tenths off. Hamilton then went fastest on his first run on the tyres, with 1m 35.752s after a very strong third-sector time. But it was soon clear that Mercedes were still struggling.
When it came time to don the ultrasofts, the red cars were in a class of their own. Raikkonen lapped in 1m 34.721s on them, then improved that to 1m 34.383s as Vettel's first run yielded 1m 34.480s. The pattern was clear: the tyres were at their strongest after two or three laps, and getting them up to optimum temperatures without overdoing it was the key. Score one for Ferrari's excellent traction.
Bottas's first response was 1.193s off, at 1m 36.998s, and his next one was still eight-tenths shy in 1m 34.998s. Hamilton moved to P3 with his first run time of 1m 34.829s, before Bottas improved to 1m 34.790s on his second. Hamilton then did a slow lap, before having to lock his fronts avoiding Pascal Wehrlein's Sauber in Turn 13. He never got another go.
Red Bull were in even more desperate straits, as Verstappen and Ricciardo traded fifth place. It eventually went to the Dutchman with 1m 35.540s to the Australian's 1m 35.910s, and just to make it a happier camp Verstappen stopped in the pit entry with loss of power.
When all the qualifying simulations were in the bank, Ferrari had an advantage of around six- to seven-tenths over Mercedes, and 1.4 to 1.7s over Red Bull. That's the sort of margin that Mercedes used to enjoy…
On race pace, the Ferraris appear to have the upper hand on both compounds too, with Bottas being the quicker Mercedes driver at this stage.
The upper midfield has been a tight place all season, and here the battle was between Williams, Renault, Haas, Force India and McLaren, with Massa, Hulkenberg, Magnussen, Perez, Force India's Esteban Ocon, McLaren's Fernando Alonso and Renault's Jolyon Palmer all separated by half a second.
Behind them, there was only seven-tenths between Romain Grosjean, who continued to complain about the brakes on his Haas and had a spin in Turn 18, the Toro Rossos of Carlos Sainz and Turn 13 spinner Daniil Kvyat which sandwiched Stoffel Vandoorne's McLaren, and the Saubers of Wehrlein and Marcus Ericsson which did likewise to Lance Stroll's Williams.
McLaren's glimmer of hope from the post-Bahrain test disappeared almost as soon as it had manifested itself. As he lost power this morning, Vandoorne was straight back into Sakhir-style pain because he's now on his fifth turbo of the season, thus incurring a 10-grid place penalty, and since he's also on his fifth MGU-H (the source of all the Bahrain woes), he gets another five-place penalty, so it's safe to say the Belgian will probably be 20th on the grid on Sunday.