FP3 - Bottas fastest despite brush with barriers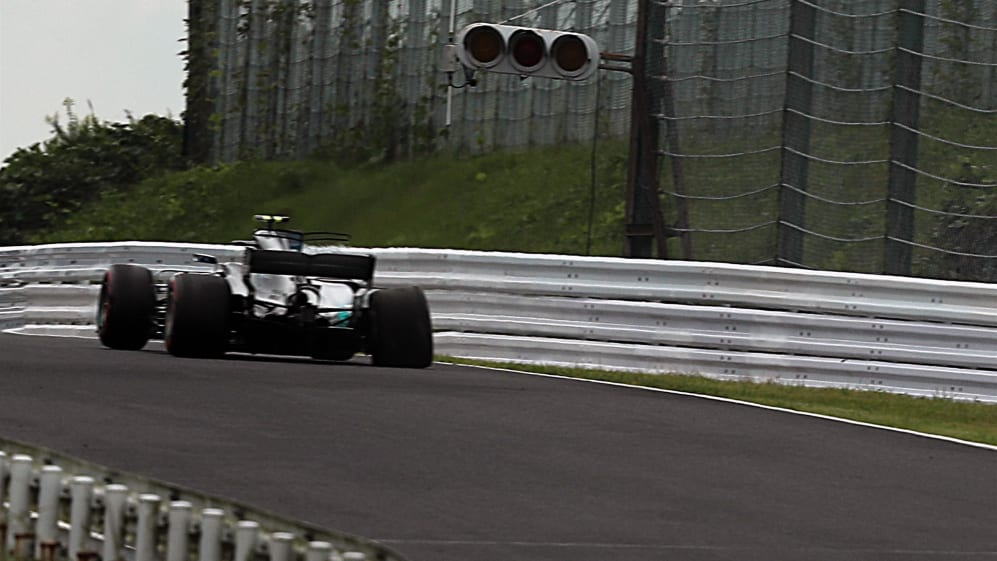 Valtteri Bottas edged Mercedes team mate Lewis Hamilton in final practice at Suzuka, despite his session ending after a little more than 20 minutes after an off at Spoon Curve left his car with damage. Fellow Finn Kimi Raikkonen also brought out the red flags in what was a disjointed, stop-start 60-minutes, going off at Degner 2 and crashing his Ferrari into the tyre barriers.
As the track had dried after heavy rain at the start of the morning, Mercedes quickly got down to business with Bottas and Hamilton setting the pace on soft Pirellis, ahead of the Red Bulls of Daniel Ricciardo and Max Verstappen. Ferrari, meanwhile, split their tyre strategy, Sebastian Vettel on softs, Kimi Raikkonen on supersofts, and appeared to be doing the race running they didn't have time for in FP1.
Bottas had just gone fastest in 1m 29.055s, very close to Michael Schumacher's all-time lap record of 1m 28.954s and 0.014s ahead of Hamilton's 1m 29.069s, when he got things wrong exiting Spoon Curve on his first run on supersofts.
The Finn ran wide onto the artificial grass and despite his best efforts to hang on, his car slewed sideways into the wall damaging the right rear corner of his Mercedes and puncturing the tyre before nosing headfirst in and damaging the front wing. Out came the red flags as he cruised back to the pits, the subsequent damage keeping him in the garage for the rest of the session.
Running had only just resumed after the mess had been cleared up, when Raikkonen got out of shape at Degner 2 and slid his Ferrari through the short gravel trap and into the tyre barrier. His car was swiftly removed and moments later team mate Vettel, who had earlier survived his own slide through the same gravel trap, jumped up to third on 1m 29.717s on the supersofts. The German then trimmed that to 1m 29.379s but that left him 0.3s back of the Mercedes.
Further back Verstappen and Ricciardo - who were running their RB13s in slightly different aero configurations - improved, to 1m 29.910s and 1m 30.018s respectively, to finish fourth and fifth.
The top ten was completed by the Force Indias of Esteban Ocon and Sergio Perez in sixth and ninth, the Renaults of Nico Hulkenberg and Jolyon Plamer in seventh and tenth, and the McLaren of Fernando Alonso – which like Palmer's car was running with new power unit components – in eighth.
Less than a second covered Ricciardo in P5 and Lance Stroll in P15, suggesting the midfield battle in qualifying could be even more fraught that usual. Up front, however, it's advantage Mercedes...
WATCH: FP3 action from Japan