FP3 - Ferrari 1-2 as Mercedes and Red Bull give chase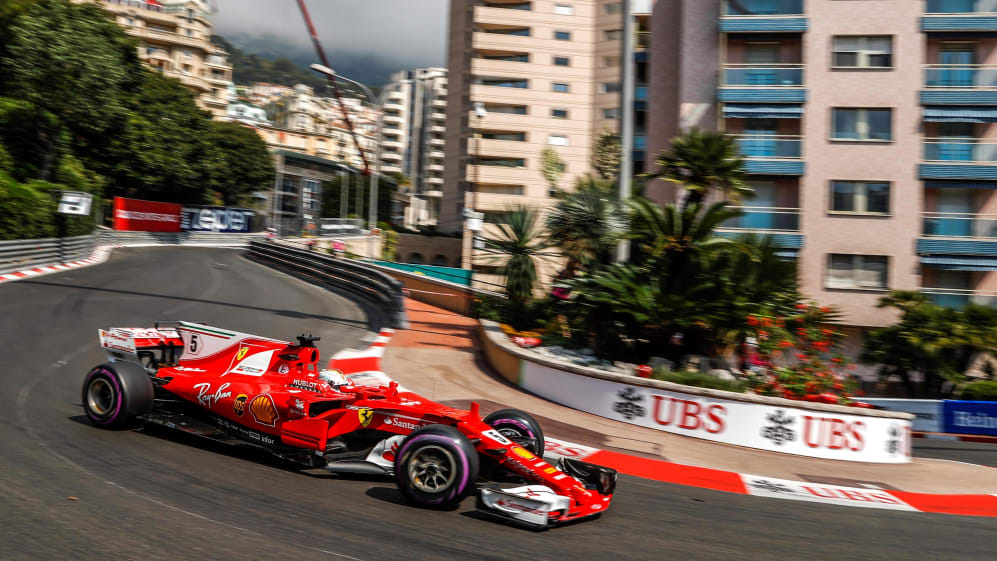 Sebastian Vettel dominated Saturday morning's practice session for the Formula 1 Grand Prix de Monaco 2017, 0.345s ahead of Ferrari team mate Kimi Raikkonen. Mercedes bounced back from their Thursday woes as Valtteri Bottas took third from Red Bull's Max Verstappen, with just half a second covering the top four drivers.
Lewis Hamilton was fifth fastest in the second Mercedes, followed by Red Bull's Daniel Ricciardo, in a session in which Toro Rosso and Haas also starred. It was bleak for McLaren, however, with a 15-place grid pace penalty killing Jenson Button's comeback, and a disaster for Force India's Esteban Ocon.
Vettel revelled in the precision and grip of the short-wheelbase SF70H to set the fastest lap of 1m 12.395s on Pirelli's ubiquitous ultrasoft tyre, as Raikkonen rode shotgun with 1m 12.740s. That just aced Verstappen's 1m 12.940s, before Bottas just squeaked ahead of the Dutchman with 1m 12.830s as Mercedes continued to struggle for grip.
Time and again Bottas killed a lap, when the second sector came up short, but at least he improved. Hamilton seemed all at sea again, and never improved on his early 1m 13.230s.
Ricciardo also had an unhappy morning, finishing sixth on 1m 13.392s. The Australian ended it up the Ste Devote escape road following a brake-by-wire issue, as the final eight minutes were all but negated when the virtual safety car was deployed after Ocon broke the right-front suspension of his Force India grazing the inside wall in the second part of the Swimming Pool chicane before sliding across the road into the outer barrier.
Toro Rosso's Daniil Kvyat also ended up the Ste Devote escape road, and that error dropped the impressive Russian from seventh on 1m 13.563s as team mate Carlos Sainz improved to 1m 13.400s.
Kevin Magnussen's strong form continued at Haas as the Dane took ninth on 1m 13.596s, as McLaren's Stoffel Vandoorne completed the top 10 with 1m 13.805s.
Which brings us to Button. He lost his final run because of yellow flags, but ended up a decent 12th on 1m 13.976s, beaten fractionally right at the end by Force India's Sergio Perez on 1m 13.936s, but a change of MGU-H and turbocharger means he is almost certain to drop to the back of the field no matter what he does in qualifying.
Williams were also unhappy, with Felipe Massa 14th and Lance Stroll 17th, while Renault ended in 15th and 18th courtesy of Nico Hulkenberg and Jolyon Palmer. There was some joy in the Palmer household, however, as younger brother Will won the morning's Formula Renault race in commanding style.
It now remains to be seen what ideas Mercedes have to get back on terms with Ferrari, and to keep out of reach of Red Bull in what promises to be a very tough qualifying.
WATCH: FP3 action from Monaco