Report
FP3 - Ferrari set searing Shanghai pace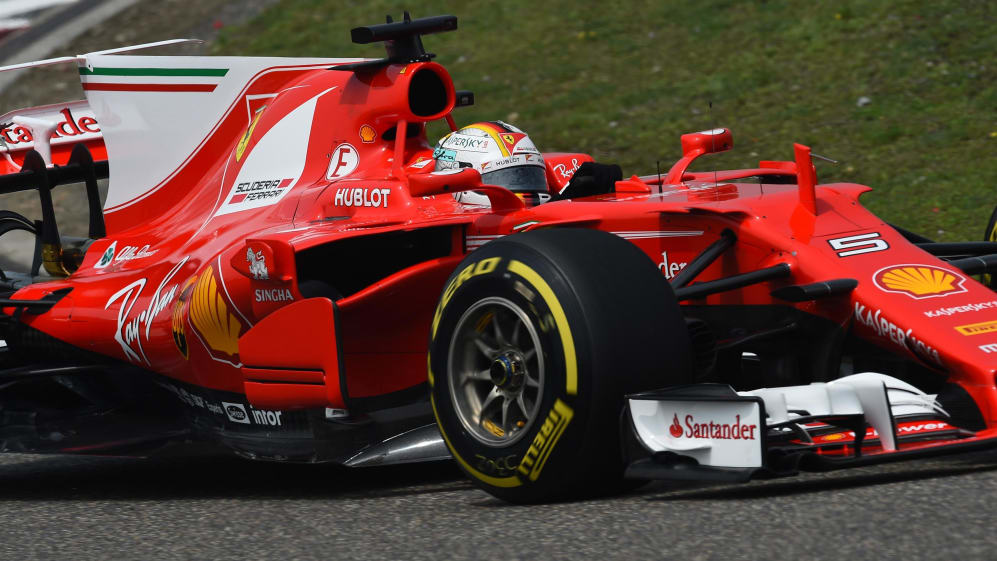 After a disrupted Friday, the drivers finally got some running under their belts on Saturday morning as dry weather returned to China. In an extremely busy final practice session it was Ferrari who stole a march on the rest of the field heading into qualifying, with Sebastian Vettel and Kimi Raikkonen finishing just 0.053s apart in first and second. Valtteri Bottas was their closest challenger - but the Mercedes driver was more than three and a half tenths of a second down the road in third.
Lewis Hamilton might well have lapped quicker than his team mate in the other Silver Arrows, but a lock-up at the Turn 14 hairpin on his fastest lap meant he had to settle for P4 on the timesheet.
Williams' Felipe Massa finished best of the rest in fifth, followed by the Red Bulls of Max Verstappen and Daniel Ricciardo, though all were well over a second back from the leading pace.
In a session that was effectively FP1 - and the only shot teams were going to get at setting up their cars prior to qualifying - drivers ran varying fuel loads in the early running, with many teams also making up for lost time by splitting the soft and supersoft Pirellis initially between their machines.
After Renault's Nico Hulkenberg, Williams' Lance Stroll and Ricciardo had taken turns at the top of the timesheet early on, Ferrari took control via Kimi Raikkonen at the halfway mark before Sebastian Vettel went faster still as the Finn struggled with understeer. But as Raikkonen honed his car he was able to get within 0.053s of his team mate in a top-two red-out.
The Mercedes drivers focused on long runs initially, during which Valtteri Bottas's Silver Arrow shed its T-wing. Lewis Hamilton's car retained that device, but though the Englishman improved Vettel's first sector time, he made a mistake at the Turn 14 hairpin and his best lap ultimately came up 0.543s adrift of the German's benchmark. Even without the error, Mercedes deficit to the Prancing Horses will have them scratching their heads prior to qualifying.
After team mate Nico Hulkenberg had spun in the wet yesterday, Renault's Jolyon Palmer had dry-weather version at Turn 11 in the early running, before recovering well to finish ninth, just behind a quietly impressive Stroll. Carlos Sainz made it six different teams in the top ten despite complaining of lack of power in his Toro Rosso's Renault engine when he first ventured out.
There was a similarly close grouping behind them between Hulkneberg's Renault, Kevin Magnussen's Haas, Sergio Perez's Force India, Romain Grosjean's Haas, Daniil Kvyat's Toro Rosso an Esteban Ocon's Force India. This group was covered by 0.362s.
As expected it was a tough session for McLaren, who fought at the back with Sauber. Marcus Ericsson spun at Turn 8, but kept Fernando Alonso honest as Stoffel Vandoorne headed rookie Antonio Giovinazzi - effectively having his first session at Shanghai after yesterday's issues - by half a second.
The big question now is whether Mercedes, once the undisputed top dog, can do anything about Ferrari's composed and consistent pace in qualifying later this afternoon.