FP3 - Mercedes one-two in final Abu Dhabi practice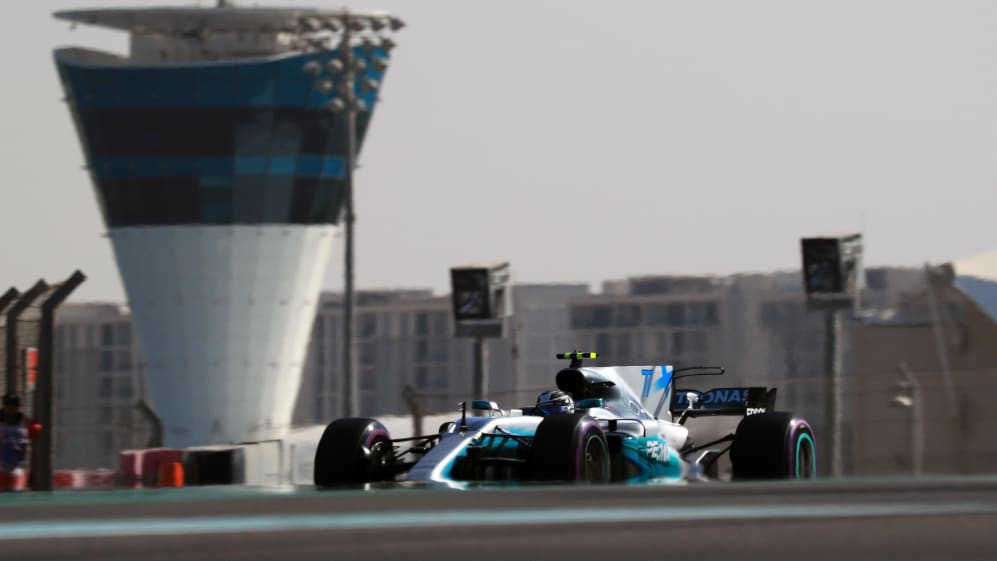 After Friday's incredibly tight sessions, Mercedes pulled a small gap on their rivals in Saturday afternoon's running at Yas Marina. Lewis Hamilton led the way from team mate Valtteri Bottas, with the Ferraris of Kimi Raikkonen and Sebastian Vettel half a second down.
However, it should be remembered that conditions will be much cooler for this evening's twilight qualifying and tomorrow's race, so not too much should be read into the FP3 times.
Raikkonen had set the initial pace with 1m 38.999s, with Vettel backing him on 1m 39.152s and then 1m 39.063s, but from the moment he got going Hamilton was irresistible. His opening salvo was 1m 38.702s, and he progressively improved that as he and Bottas traded fastest lap, with respective times of 1m 38.152s and 1m 38.637s.
Things got interesting as the final half hour approached, when Raikkonen lapped in 1m 38.157s to pip Hamilton by 0.002s, and Vettel closed in with 1m 38.172s, just 0.017s off his team mate. But Hamilton's response was emphatic, with the weekend's fastest time thus far of 1m 37.627s, half a second faster. And just to add insult to injury, Bottas went back to second with 1m 37.900s.
A little further back, Daniel Ricciardo was the happier of the two Red Bull drivers with 1m 38.340s as Max Verstappen struggled with the balance of his RB13 on his way to 1m 38.587s.
Fernando Alonso and Stoffel Vandoorne were next in McLaren Honda's final outing, with 1m 39.155s and 1m 39.277s respectively, while Carlos Sainz slipped in a 1m 39.340s to put Renault ninth ahead of Sergio Perez in the lead Force India on 1m 39.367s. Felipe Massa ran late for 1m 39.383s, which left the Williams ahead of Nico Hulkenberg's Renault on 1m 39.396s and Esteban Ocon's Force India on 1m 39.418s.
Thus Renault have a handy performance advantage in the fight for sixth place in the constructors' championship, though Hulkenberg fell down the order with a nasty scare when his R.S.17 lost its brakes going into Turn 1.
Haas's Kevin Magnussen and Romain Grosjean headed the Toro Rossos of Pierre Gasly and Brendon Hartley, so the Italian team will be on their mettle to defend their current position tomorrow. That outcome is most likely to be settled by race reliability.
Apart from Vandoorne having a lurid half spin, the big drama lasted only moments when an errant umbrella found its way on to the course at the end of the back straight.
WATCH: FP3 action from Abu Dhabi