FP3 - Raikkonen leads Ferrari one-two in Belgium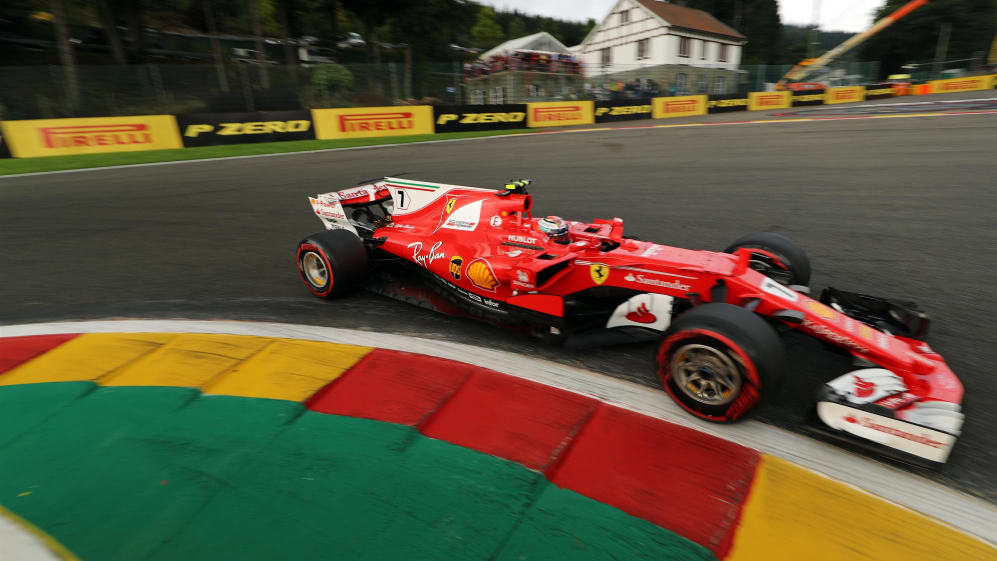 Ferrari's Kimi Raikkonen and Sebastian Vettel headed Mercedes' Lewis Hamilton in Saturday morning's final practice for the 2017 Formula 1 Pirelli Belgian Grand Prix – with just 0.198s covering the three of them. Red Bull's Max Verstappen was fourth, a full second off the pace.
Valtteri Bottas was fifth in the sister Mercedes, followed by Red Bull's Daniel Ricciardo and an impressive Jolyon Palmer for Renault. Force India's Sergio Perez, Toro Rosso's Carlos Sainz and McLaren's Fernando Alonso completed the top ten.
In fine and dry conditions, the teams were eager to make up for the running lost to rain on Friday at Spa-Francorchamps, so it was a busy hour on track with few dramas.
Hamilton set the initial pace on the supersoft Pirelli tyres with a lap of 1m 45.480s, with Raikkonen close behind on 1m 45.583s and Vettel on 1m 45 737s, but where the silver car then went back into the garage, the red ones each did another run, resulting in the fastest time going to Raikkonen with 1m 45.422s and Vettel moving into second on 1m 45.458s.
Hamilton was expected to reverse that when they all switched to ultrasofts, but though he set the best first and third sector times, it was Raikkonen who stayed ahead with 1m 43.916s. The Ferrari was quickest in the crucial second sector, which is all about downforce.
Hamilton's reply fell short with 1m 44.114s, which was beaten by Vettel by a thousandth.
Behind them there was a big gap to the Red Bulls of Verstappen and Ricciardo, on 1m 45.034s and 1m 45.286s respectively, as Bottas separated them with 1m 45.230s having aborted what seemed a faster lap earlier on.
The surprise of the session was Palmer's speed. The beleaguered Briton, who has had a gruelling season, was seventh on 1m 46.648s on the supersofts, some way ahead of team mate Nico Hulkenberg, and stayed there with 1m 45.491s on the ultrasofts.
He was chased by Perez, who got his Force India going more to his liking, Sainz in the lead Toro Rosso, and Alonso in the lead McLaren, but as usual the midfield times were all very close, with less than a second separating eighth-placed Perez from 17th-placed Kevin Magnussen in the Haas.
Toro Rosso's Daniil Kvyat had a tough morning, stopping with power loss and a brief engine fire on the Kemmel straight midway through the session, while Williams' Felipe Massa is under investigation for failing to slow down for yellow flags.
The scene is thus set for another gripping battle between Ferrari and Mercedes in qualifying, on a circuit where the latter were expected to have a significant advantage.