Report
FP3 - Vettel and Ferrari keep Mercedes under pressure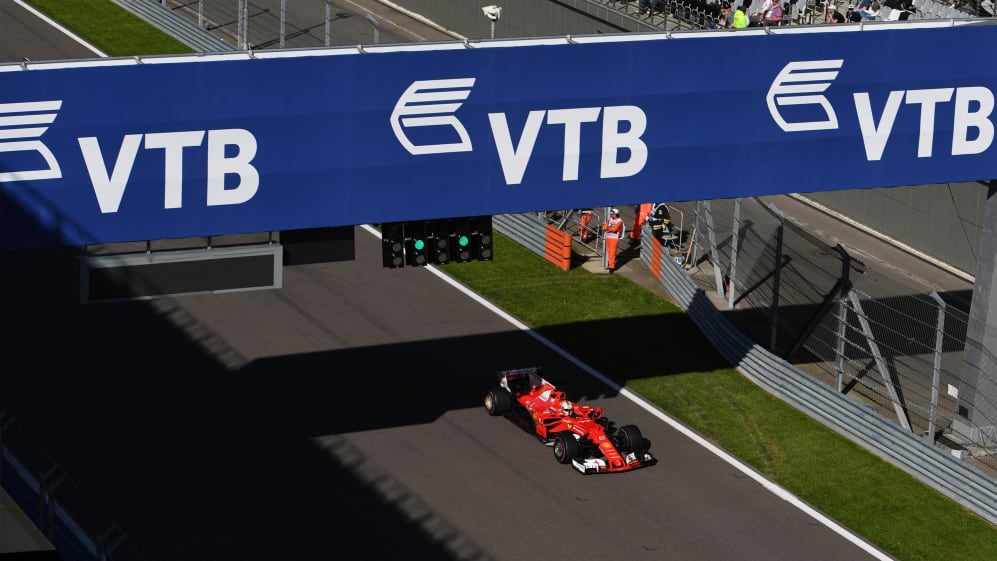 Sebastian Vettel and Kimi Raikkonen finished first and second in Saturday afternoon's final practice for the 2017 Formula 1 VTB Russian Grand Prix, as yet again Mercedes couldn't quite find the pace to top their Italian rivals. That made it a clean sweep for the Prancing Horse - the first time they've topped all three practice sessions in one weekend since China 2007.
At the end of the hour Vettel headed Raikonen by three-tenths, 1m 34.001s to 1m 34.338s. Mercedes had some hope, after halving the deficit they had yesterday afternoon, as Valtteri Bottas cut down to 1m 34.364s while continuing to head struggling team mate Lewis Hamilton. The latter lapped in 1m 34.542s after setting the fastest first-sector time.
Like everyone else, they all used Pirelli's ultrasoft tyres and the hour was more like a qualifying session as everyone worked hard on finding solutions to the conundrum of keeping their rubber in its limited operating window.
The battle between the two top teams was gripping. Raikkonen set the initial pace with 1m 35.610s, with Vettel second on 1m 35.923s before improving to 1m 34.923s. Bottas responded with 1m 35.623s and then 1m 35.353s, Hamilton with 1m 35.700s and then 1m 34.828s, which temporarily left him fastest. Bottas then improved again, to 1m 35.075s, to go third.
On the next set of runs the Finn went to the top on 1m 34.681s, as things began to look good for Mercedes. But though Hamilton's response was looking promising by the second sector, he ran wide in Turn 17 and the lap went away.
Then the Ferraris came back out, and Raikkonen immediately upped the ante with 1m 34.328s to go comfortably fastest, before Vettel undercut him by a similar amount with 1m 34.001s. Hamilton's next try was an improvement, but still left him trailing on 1m 34.714s as Bottas managed 1m 34.364s to sit right on Raikkonen's tail. Hamilton later reduced his time to 1m 34.542s, setting the fastest time in the first sector, but it was still not enough.
As we saw yesterday, it looks like being a two-horse race here, with the Red Bulls for a while on their own before first Williams' Lance Stroll split Max Verstappen and Daniel Ricciardo, and then team mate Felipe Massa did likewise.
Verstappen ended the session fifth on 1m 35.452s, with Massa sixth on 1m 35.471s. Ricciardo wound up only eighth on 1m 35.830s as his car temporarily rolled to a halt in the first sector in the closing stages, before he got it going again.
Yet again, times were close in the upper midfield, as Nico Hulkenberg wound up his Renault to pip Ricciardo with 1m 35.662s.
Toro Rosso had a better day, with Carlos Sainz jumping to ninth at the end, as Kevin Magnussen maintained his Friday form with 10th for Haas. From Sainz down to Force India's Sergio Perez in 15th, 0.798s covered seven drivers.
A vocal Romain Grosjean made a strong bid for unhappiest driver of the session award, as he continued to despair over his Haas's handling, but the 'prize' went to Jolyon Palmer. The Englishman's Renault was rebuilt overnight around a new monocoque after an exhaust problem had resulted in his original chassis being heat damaged. He never got a timed lap in, after complaining about low power when he finally got going and his power unit will be replaced before qualifying.
So the scene is set for an epic fight for pole, with Ferrari looking very likely to keep Mercedes off the front row. But remember it's not impossible that the Silver Arrows can find a couple of extra tenths turning up their engine's wick for Q3. It remains to be seen whether that will be sufficient, however.