Report
FP3 - Vettel moves ahead as Hamilton hits trouble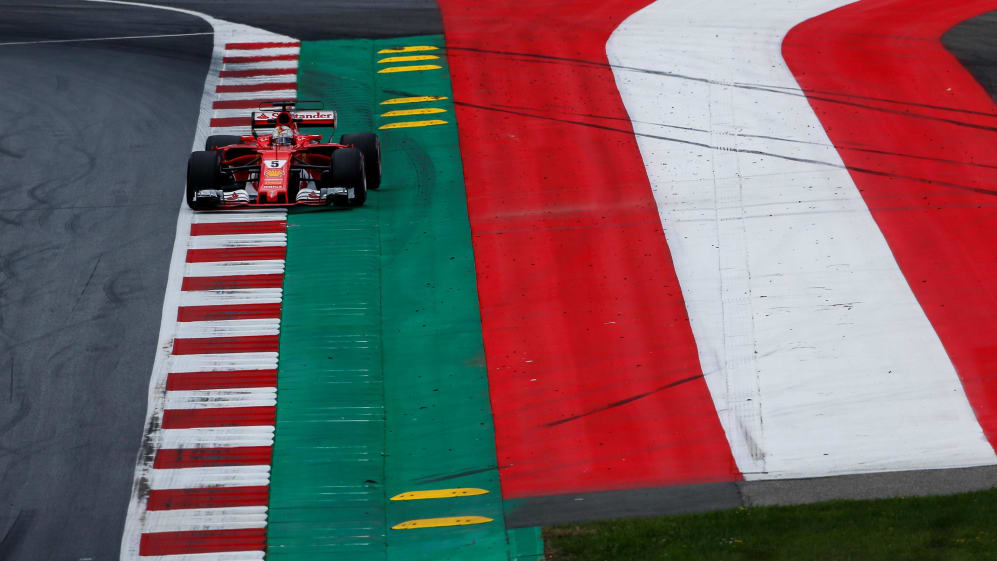 Ferrari's Sebastian Vettel moved to the top of the times in Saturday's final practice for the Austrian Grand Prix, a quarter of a second up on title rival Lewis Hamilton. It was not a good session for Hamilton. First came confirmation of a five-place grid penalty for a new gearbox. Then came an apparent brake failure for the Mercedes star late in the hour.
Valtteri Bottas was third quickest from compatriot Kimi Raikkonen, confirming that it will likely be a Ferrari-Mercedes battle for pole this afternoon, with Red Bull again their nearest challengers, Max Verstappen edging team mate Daniel Ricciardo for fifth place.
It was another strong showing from Haas, with Kevin Magnussen and Romain Grosjean seventh and eighth respectively, while the Toro Rossos of Daniil Kvyat and Carlos Sainz rounded out the top ten.
There was an early delay when Sainz's car sat motionless in Turn 2 after cutting out soon after he began a run. When the Spaniard and his crew could not revive it over the radio, it was eventually wheeled away by marshals.
Thereafter his Red Bull stablemates Verstappen, Ricciardo and Kvyat led the way, until Mercedes and Ferrari came out to play. Hamilton set the ball rolling with 1m 05.929s, which was then beaten by Bottas on 1m 05.726s before Vettel did 1m 05.384s.
Hamilton later beat that with 1m 05.361s, but after a couple of runs saw his Ferrari delayed in traffic, Vettel cut loose with 1m 05.092s. It was while trying to counter that, that Hamilton went straight on under braking for Turn 3, his Mercedes emitting a huge cloud of brake dust from the right front wheel as the left locked.
He went straight up the escape road, before letting the car roll back down and touring gently back to the pits. Mercedes confirmed that it was a "problem with the team side, ie not an issue with the components supplied to us by a third party," and that the disc had failed, but not because of an issue with that disc - which thus sounded like finger trouble of some sort, or possibly usage, cooling or the like.
Raikkkonen made it a good morning for Ferrari by jumping the Red Bulls to take fourth with 1m 05.611s, as Verstappen climbed back to fifth, ahead of Ricciardo, with 1m 05.784s to 1m 05.896s.
Once they had switched to ultrasofts, the Haas duo moved into impressive seventh and eighth places, with Magnussen on 1m 05.936s and Grosjean on 1m 06.015s the latter apparently happier than yesterday with his brakes. Behind them, Kvyat headed Sainz with 1m 06.279s to 1m 06.284s, the Spaniard making a fine recover after his early problem.
Notably, Jolyon Palmer matched Renault partner Nico Hulkenberg , with 1m 06.595s to 1m 06.563s, while the Williams drivers were only 16th and 17th, with Lance Stroll on 1m 06.776s and Felipe Massa on 1m 06.865s.
Now we wait to see whether Mercedes can claw back the initiative in qualifying, as Hamilton needs to be as fast as possible to minimise the effect of his penalty.