France and Germany return as 2018 F1 calendar revealed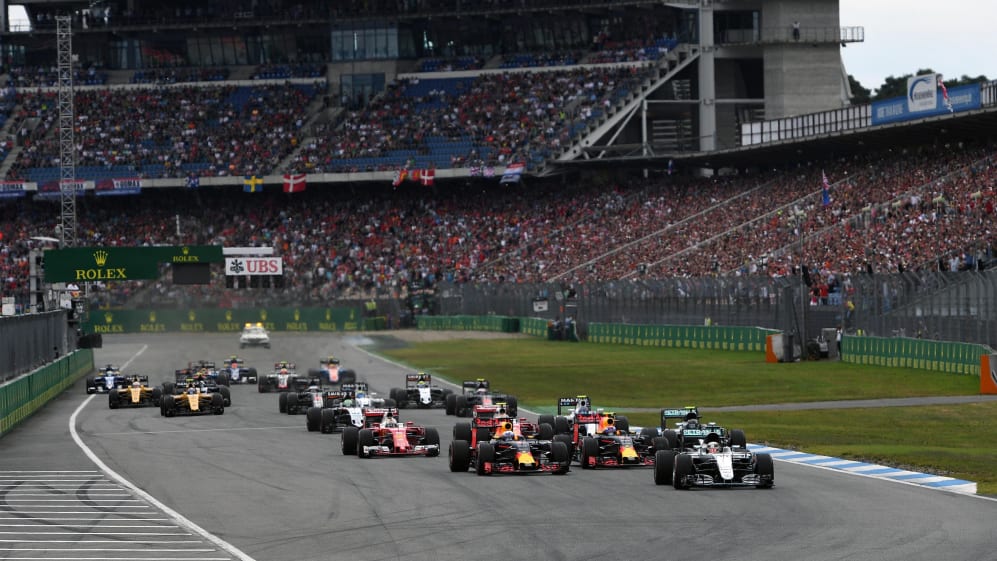 The calendar for the 2018 FIA Formula One World Championship has been approved during a meeting of the FIA World Motor Sport Council, held today in Geneva in Switzerland. The season will consist of 21 Grands Prix, thus equalling the record for the greatest number of races in a year, established in 2016.
There are two important new dates, with the return of Formula 1 Grosser Preis von Deutschland and that of the Formula 1 Grand Prix de France, which has been missing from the calendar since 2008.
"We wanted to finalise next season's calendar early, so that all our stakeholders would have more time to prepare and we have managed it, thanks in part through working closely with the FIA," commented Formula One Chairman and CEO, Chase Carey.
"We are proud to confirm that the German and French Grands Prix will take place in 2018. France was one of the seven races that made up the first ever World Championship in 1950 and it now returns after a decade. It will be held at the Paul Ricard circuit, which last hosted a round of the F1 Championship in 1990.
"The number of races has increased by one compared to the current season. We received numerous requests from those wishing to host a Formula 1 Grand Prix but we wanted the existing promoters to feel that we are putting all our efforts into ensuring that each race is a special event, so that the fans, our most important stakeholders, can enjoy a unique and unforgettable experience. If we can do that, then the entire Formula 1 family will reap the benefit."
Jean Todt, President of the FIA commented: "Alongside our partners in Formula 1 and across the FIA's major championships we have been working hard in recent months to achieve greater harmony among the various sporting calendars and reaching an early agreement on the 2018 Formula 1 schedule is part of this ongoing process.
"The FIA would also like to welcome back the French and German Grands Prix to the calendar, as both have a long and rich tradition in the sport." he added. "In that regard the FIA is particularly pleased that Formula One will once again return to France, the historic home of Grand Prix racing, and to the Circuit Paul Ricard, which last hosted the event in 1990."
As usual, the 2018 season will get underway in Australia on 25th March in Melbourne and will end exactly eight months later on 25th November at Yas Marina, home to the Formula 1 Abu Dhabi Grand Prix. Eleven of the 21 races will take place in Europe, five in Asia, four in the Americas and one in Australia. The need to maintain more or less unchanged the length of the winter and summer breaks means the schedule is more intensive than the current one during the middle part of the season, with five Grands Prix, all of them in Europe, taking place over a six-week period.
The approved 2018 schedule in full:
| Date | Venue | Formula 1 Grand Prix |
| --- | --- | --- |
| 25 March | Melbourne | Australia |
| 8 April | Shanghai | China |
| 15 April | Sakhir | Bahrain |
| 29 April | Baku | Azerbaijan |
| 13 May | Barcelona | Spain |
| 27 May | Monaco | Monaco |
| 10 June | Montreal | Canada |
| 24 June | Le Castellet | France |
| 1 July | Spielberg | Austria |
| 8 July | Silverstone | Great Britain |
| 22 July | Hockenheim | Germany |
| 29 July | Budapest | Hungary |
| 26 August | Spa-Francorchamps | Belgium |
| 2 September | Monza | Italy |
| 16 September | Singapore | Singapore |
| 30 September | Sochi | Russia |
| 7 October | Suzuka | Japan |
| 21 October | Austin | USA |
| 28 October | Mexico City | Mexico |
| 11 November | Sao Paulo | Brazil |
| 25 November | Yas Marina | Abu Dhabi |
To view complete details of the 2019 Formula 1 schedule, click here.