Feature
'Frank was horrified when he first saw me' – Patrick Head reflects on Williams' origins as they reach 750th GP landmark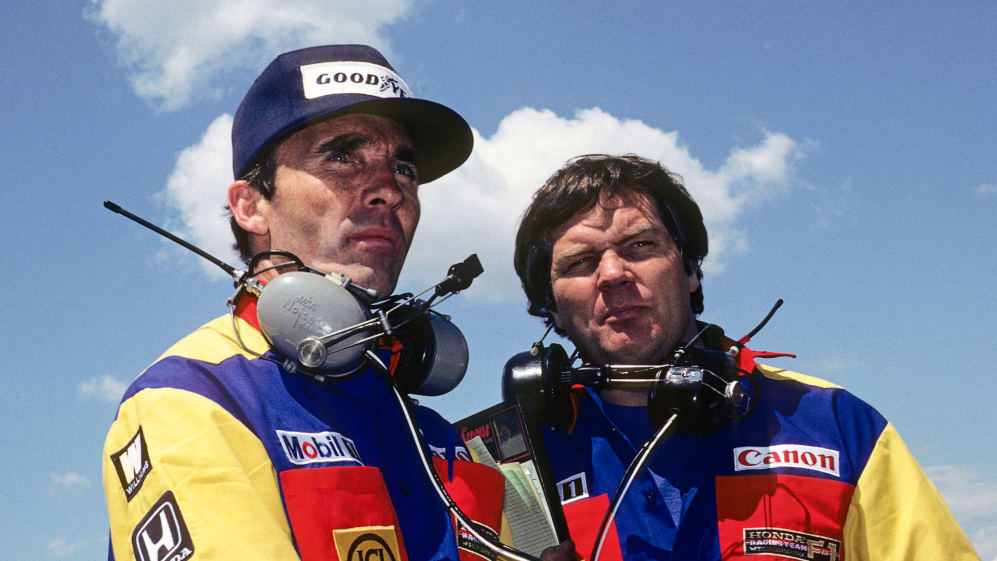 At Monaco this year, Williams will become the third team in Formula 1 history to participate in 750 Grands Prix – and Sir Patrick Head was a part of the iconic British team for the vast majority of those, having co-founded the squad with Sir Frank Williams and played a key role in steering the ship before retiring at the end of 2011.
And it all was made possible because he was building a boat in the Surrey Docks – while working for Lola in his first stint of F1 – when he ran out of money. He'd heard Frank was looking for someone, so thought he'd work for him for six months to earn enough cash to finish his boat and then get back to building it.
READ MORE: The return of F1's most iconic race, and a major Williams milestone – 5 fascinating Monaco GP storylines
His life, though, took a very different turn. Over the course of 36 years, he built a Formula 1 team into one of the most successful operations in the sport's history, winning nine constructors' championships, seven drivers' titles and 113 Grands Prix.
"I had a £40 Renault R4 van which was brush painted," Head recalls when we talk ahead of F1's return to Monaco. "Frank had said to meet at the Carlton Tower, so I turned up, smelling of resorcinol resin, which is very strong wood adhesive, and in a jersey and pair of jeans. I strolled in and there was Frank in a Dougie Hayward suit. I think he was rather horrified when he saw me.
"We talked for a short while, not longer than 30 minutes, and he told me I started on Monday as Chief Designer. I have always held Frank in good regard. His energy and enthusiasm were his most outstanding points. I was strong on the engineering side and that's why we made a good combination. But at end of 1976, Frank was shown the door after selling the team to Walter Wolf. I stayed on because I was in charge of the test team and things were starting to move on for me there."
But then he got a phone call, while out in South Africa testing with Jody Scheckter at Kyalami. It was Frank. He had a proposition. "'I'm starting my own team, chap, do you want to come and join me?' I replied 'I can't give you an answer now, I'll think about it on the plane back and give you a call'. I thought, if I'm going to make a move, I better do it now, so I did it. We got Patrick Neve as a driver and he brought £100,000, Frank put together nearly £100,000, so we had nearly £200,000 for the whole of our first year. With that, we had to buy the car, the engines, employ the people, get the factory, buy a few machine tools – everything. I think we did 10 out of 16 Grands Prix with just one car, which you could do at that time, because that's all we could afford. Now you wouldn't be able to start in the way we did."
WATCH: Triumph and Tragedy – The Story of Sir Frank Williams
And so Williams Grand Prix Engineering was born, starting out of an old carpet factory. Frank was responsible for finding the money and running the team, Head was responsible for the design and operations. Between them, they made quite a splash – and quickly.
"We opened the doors of the factory, or rather broke the doors down, on March 28 1977," said Head. "We won our first Grand Prix in 1979, two years later, and we won the World Championship in 1980, three years after we started. The world was quite different then, of course. You could go to Cosworth and the engines were pretty cheap, around £7,500 per unit. We paid Max Mosley around £15,000 for a March, which came with a gearbox, and just ran one car. We bought a spare gearbox too, just in case. But ahead of 1978, it became clear we needed our own car. So I set about working on that."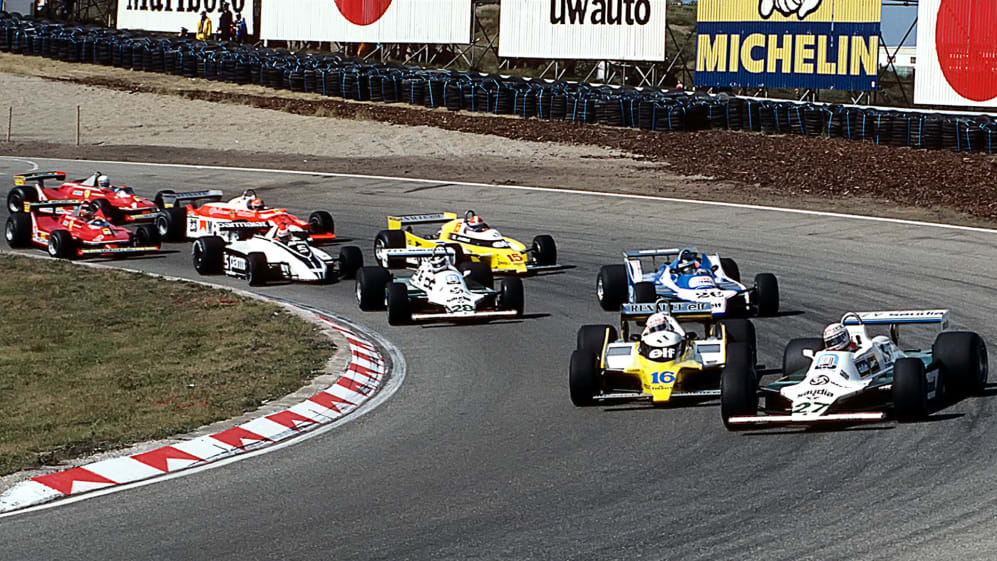 It was Head's car that Alan Jones steered to both titles in 1980, as Williams announced itself as a force to be reckoned with. He then took over the running of the team when Frank had his accident in 1986, with the outfit winning the constructors' that season, and both championships the following year. "The way Frank and I had set the team up, everything was in place to continue running when he had his accident," said Head.
"But the team naturally missed his energy and enthusiasm. We were working with Honda at the time and with Frank in hospital, I dealt with them and flew to Japan 16 times that year – and also went to every race and every test, so by the end of the year I was exhausted. It wasn't the easiest of years, but we won the constructors' championship."
WATCH: 10 moments of brilliance from 1992 champion Nigel Mansell
When Honda left at the end of 1987 to hook up with McLaren because they wanted to link up with Ayrton Senna, Williams were in a bit of a bind. Head says Honda offered to carry on with them – but they turned the offer down. "They wanted us to keep Nelson Piquet and get rid of Nigel Mansell and take on Satoru Nakajima. Frank and I sat down and thought about it. Ultimately, it put us in a position where we would be number two to McLaren. There was no way were we going to accept that."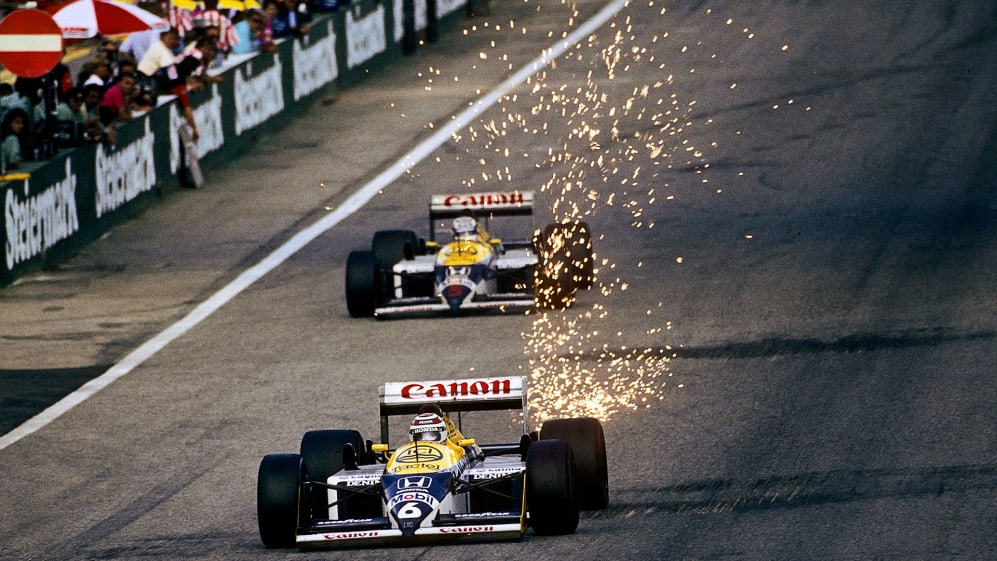 They spent a year with Judd engines, before snapping up an offer from Renault to join forces. In terms of performance, this was a hugely successful period, with the team winning four drivers' and five constructors' titles before Renault left at the end of1997 – but it was also a dark time, with the death of Senna at Imola in 1994 at the wheel of a Williams.
"Although that period was successful on track, in my mind that day at Imola coloured any retrospective pleasure looking back on those days," says Head, who four years prior to the Imola crash had recruited Adrian Newey – who has gone on to be one of the sport's most successful design gurus. "It was real psychological struggle for both Adrian and I. We both had private moments about whether we should carry on in the business."
READ MORE: Memories of Imola '94 – by David Tremayne
After flitting between engine manufacturers and paying for them as a customer, having lost the Renault works deal, Williams joined forces with BMW for 2000, and over the next six years they won 10 races together. But Head says the relationship started to struggle when it became clear BMW wanted to start their own team – and ultimately they split at the end of 2005. Since then, life for Williams has been very tricky, with just one win – Pastor Maldonado triumphing in Spain in 2012 – over the next 14 full seasons.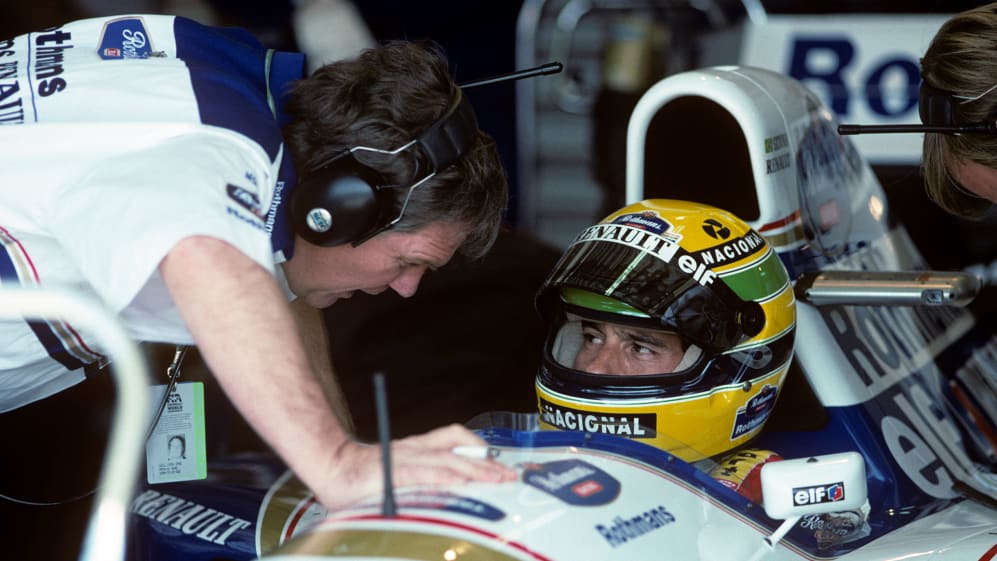 Head called time on his career at the end of 2011, and though he came back briefly in 2019 as a consultant, has since largely been focusing on enjoying his retirement, splitting his time between Sardinia and the UK. While times are much tougher for Williams right now, things have turned around with new owners Dorilton Capital pumping investment into the team and this year, they've already proved they are no longer at the back of the pack.
LISTEN: 1980 World Champion Alan Jones on racing and winning for Williams
When Head looks back on his time at Williams, as the team he co-founded approaches an incredible 750th Grand Prix, his memories are overwhelmingly positive. "I've only got good things to say about Frank," said Head. "We've had short-term barnies but we always sorted them out. We got on very well and made a good team. Frank and I tried to keep some of the atmosphere of the team from the early days throughout our time in charge. If anyone had a problem, they could walk into Frank or my office.
"The team had a very nice feel about it – and I think we had a very good relationship with people. Many of them I'm still in contact with and they look back on their time at Williams fondly, as do I. And I wish them all the best for the future."