French GP and Renault F1 Team start roadshow at Disneyland Paris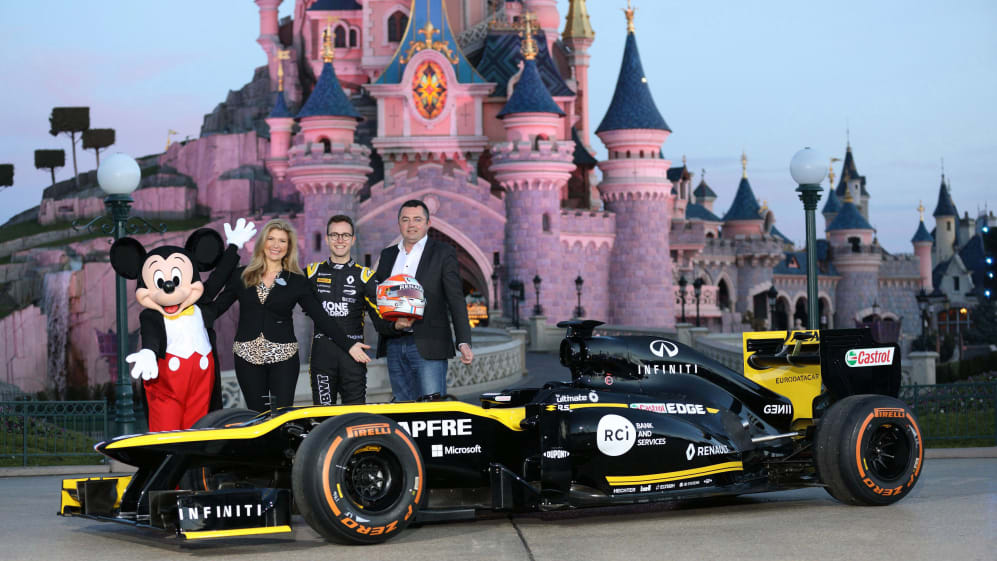 Mickey Mouse in an F1 car? Not quite, but the Disney favourite was on hand as the Formula 1 Grand Prix de France, in partnership with Renault F1 Team, launched its roadshow tour at Disneyland Paris over the weekend.
The centrepiece of the event was the F1 village, a specially set-up installation offering visitors a wide range of activities, including Formula 1 virtual reality simulators, pit stop workshops, reflex tests and educational conferences.
It was in this area and on the stage of the Stunt Show Spectacular in Walt Disney Studios Park that Anthoine Hubert – Renault Sport Academy member and F2 star – gave several demonstrations behind the wheel of Renault's E20 F1 car.
The event, which was enjoyed by thousands of people, marked the beginning of a major national tour which will take in 14 cities leading up to the French Grand Prix on June 23rd. Renault drivers Daniel Ricciardo, Nico Hulkenberg, Sergey Sirotkin and Jack Aitken will share the wheel of the F1 E20 with Renault Sport Academy drivers during these roadshows.
Gilles Dufeigneux, General Manager of the GIP Grand Prix de France - Le Castellet: "The launch of the roadshow of the Formula 1 Grand Prix de France in the heart of Disneyland Paris is a real popular success. It marks the beginning of a major national tour, unique in the world, during which we will be happy to bring Formula 1 as close as possible to amateurs and the curious."
Cyril Abiteboul, Managing Director of Renault Sport Racing: "Meeting fans and introducing as many people as possible to the magic of Formula 1 is a goal for Renault. The success of this weekend's event at Disneyland Paris demonstrates the French public's interest in Formula 1. As a French team, it is essential to participate in this national tour and we look forward to continuing this campaign across France."
Francesca Romana Gianesin, Senior Vice President Experience & Product Synergy & Integration at Disneyland Paris: "We are delighted to host the launch of the roadshow tour of the Formula 1 Grand Prix de France at Disneyland Paris. This major highlight further strengthens the great variety of experiences we offer our Guests – a variety also epitomized by our exclusive Live Events happening throughout the year."
Roadshow dates
20 April: Marck-en-Calaisis (Place de l'Europe)
26 April: Pierre-Bénite (Place de la Paix)
27 April: Gap
28 April: Valencia (Place du Champ de Mars)
May 1: Nice (Promenade des Anglais - Quai des Etats-Unis)
May 2: Auron
May 3: Châteaurenard (Parking des Allées)
May 4: Salon-de-Provence (Place Morgan)
May 5: Toulon
May 8: Aix-en-Provence
May 9: Brignoles
May 10: Sisteron
May 11: La Londe-les-Maures (Port de la Londe-les-Maures)
May 12: Saint-Raphaël (Parking Beau Rivage)