Feature F1 Unlocked
FRIDAY DEBRIEF: How it's shaping up after Qatar GP qualifying with Verstappen looking every inch a champion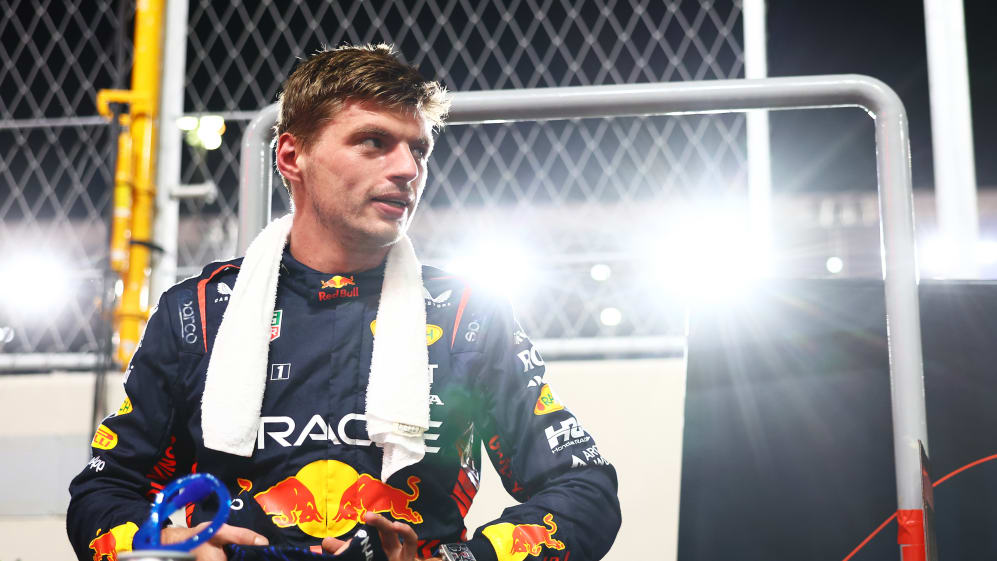 Strong winds – which frequently changed direction – combined with a sand-sodden track that has been freshly resurfaced for this year's returning Qatar Grand Prix, and just one single practice session to prepare for qualifying, made life challenging for Formula 1's 10 teams on Friday at the Lusail International Circuit.
Here's how things are shaping up ahead Saturday's Sprint Shoot-out and Sprint as well as Sunday's Grand Prix.
READ MORE: Verstappen dominates to take pole position ahead of Mercedes as he closes in on third world title in Qatar
Verstappen looks every inch a champion
Max Verstappen took his familiar position at the front of the field with a textbook performance in qualifying that yielded his 10th pole of the season as he made the most of an aero efficient RB19 in the high-speed turns. Despite the tricky conditions, he and the team improved the car quickly to get it into a good window by the time he reached Q3 when it mattered.
That puts him in great shape to secure a 14th win in 17 events in 2023 on Sunday – but before that, there's the small matter of the Sprint Shoot-Out and Sprint, the latter providing his first opportunity to clinch a third world title.
And while he said his car felt better in the dark than in sunnier conditions (the Shoot-out takes place during the day, with the Sprint in the evening) you'd struggle to find someone in the paddock who thinks he won't get the job done tomorrow – not least because the only person who can stop him – his team mate Sergio Perez – struggled for balance on Friday and "had so many issues that I just couldn't fix any of them".
McLaren in a world of 'track limits' pain
McLaren had the pace to have at least one car on the front row and the other on the second – and for much of qualifying, it looked like they would do just that.
But both Lando Norris and Oscar Piastri exceeded track limits – running all four wheels over the white line – on their final runs and thus had their lap times deleted.
READ MORE: Norris and Piastri reflect on disastrous double Q3 lap deletions in Qatar qualifying
Norris was demoted from second to 10th and Piastri was fourth which became third when Norris was penalised but then dropped to sixth when the Australian was also penalised.
But there are positives to take. McLaren are very, very fast – only Red Bull are better than them in the high-speed turns (of which there are many in Qatar) and the straights – so they should be a force in the Sprint Shoot-out tomorrow.
It is believed their race pace is reasonably good, too, however overtaking is tricky – so they'll most likely have to rely on good strategy and good tyre management to haul themselves into contention.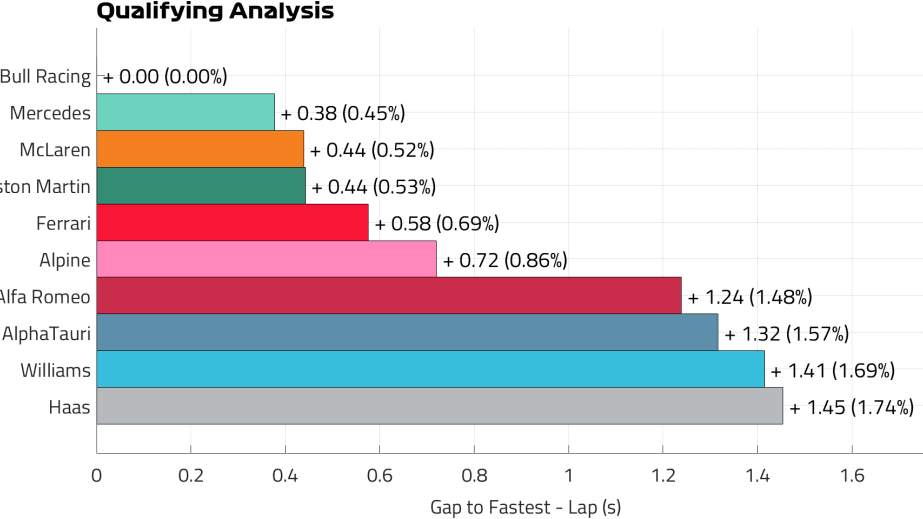 Mercedes holding edge over Ferrari
Mercedes' pace was hard to read after Friday practice, but as the sun set and the floodlights flickered on to illuminate the track, the Silver Arrows came alive.
George Russell has been overshadowed by team mate Lewis Hamilton for much of the season, but it was him who was the stronger of the duo around Lusail.
READ MORE: Russell delighted to qualify second but Hamilton bemoans 'average' outing despite P3 start in Qatar
The Briton will start Sunday's race second, putting him in great shape to score his second podium of the season – especially as their race pace is a match for rivals Ferrari and Mercedes but around 0.3s off pace-setters Red Bull.
However, the caveat with the race pace data is that there wasn't much time for long runs with teams splitting their focus between preparing for the Sprint and preparing for the longer Grand Prix on Sunday.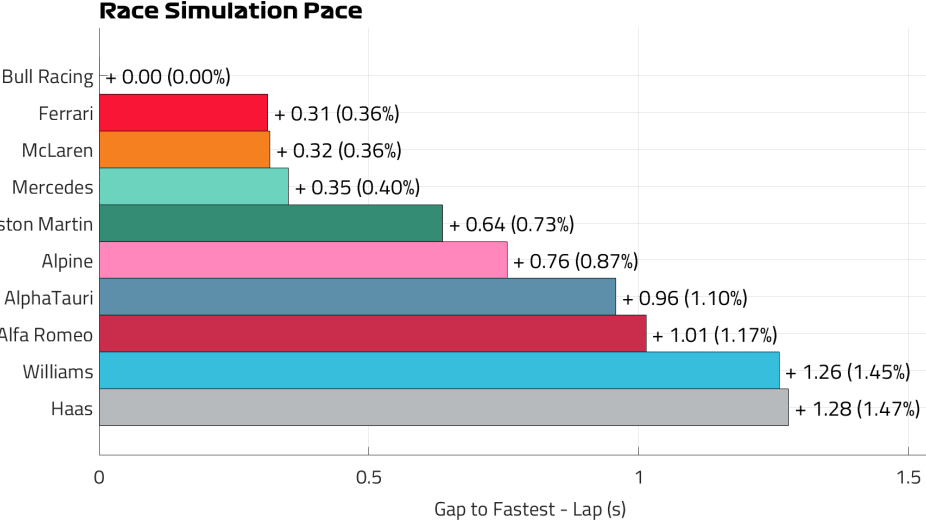 Mercedes, though, are buoyant and if they can get the tyres in the right place for the hotter conditions, they could be a force in Saturday's Shoot-out, setting the prospect of a decent haul of points in the Sprint.
Hamilton wasn't so happy with his efforts, despite going from 14th in practice to third on the grid for Sunday's race. The Briton admitted the team were a "little bit surprised" by their pace – and now the goal is to make the most of it to stretch their 20-point lead over Ferrari in the fight for P2 in the constructors'.
FACTS AND STATS: Alonso's Q3 record continues as he makes it into top four for the first time since June
Alpine show impressive turn of pace
Alpine looked like solid contenders for points from very early in first practice with Pierre Gasly and Esteban Ocon able to convert a confidence in their car to secure P7 and P8 respectively on grid for Sunday's Grand Prix.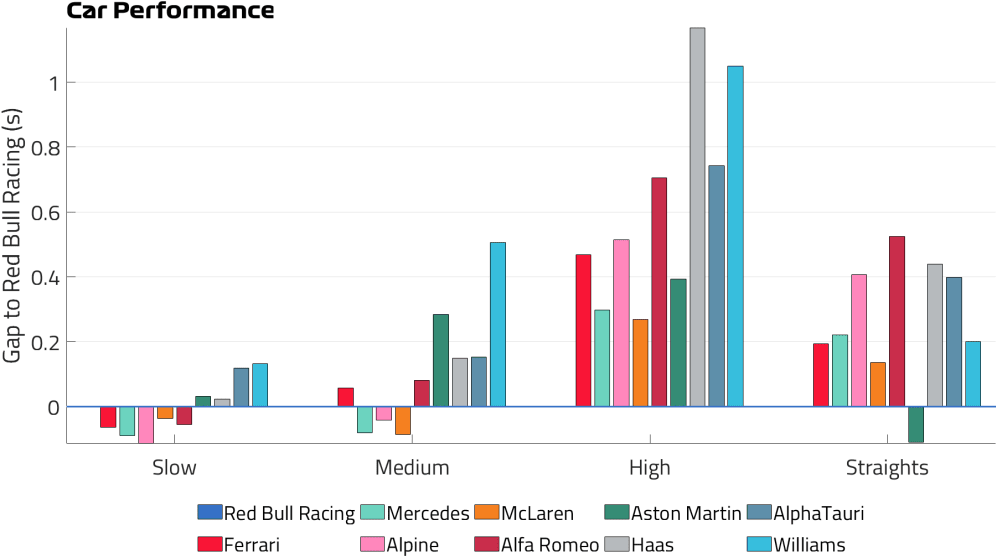 From our data, Alpine's pace in the slow and medium-speed corners was strong but they gave away time to Red Bull, Ferrari, Mercedes, McLaren and Aston Martin in the high-speed turns and were the third slowest on the straights.
F1 EXPLAINS: How car liveries are designed and why they affect performance
Gasly said he had a good feeling with the car early on, allowing him to push to the limit quickly – and that's not only opened the door to some good points on Sunday but also a score on Saturday evening in the Sprint.
His team mate Esteban Ocon was pleased with the progress made between sessions – leaving him with a strong balance for qualifying and that allowed Alpine to get both cars into Q3 having only managed to progress one car to the top-10 shoot-out across the last six races.
To read on, sign up to F1 Unlocked for free
You'll unlock this article and get access to:
Live leaderboard data
Epic experiences and rewards
Money-can't-buy competitions