Feature
Friday Pace Analysis – Austria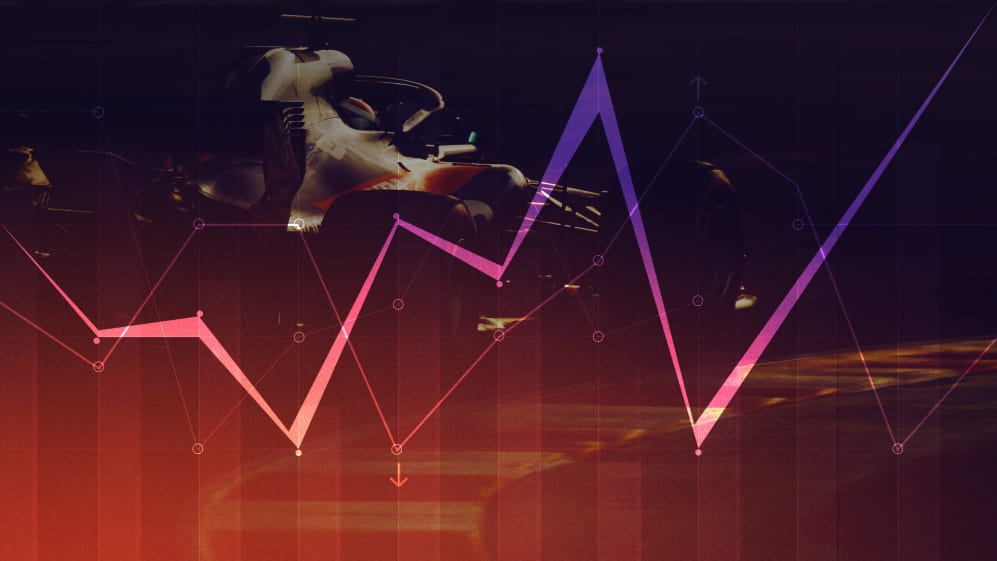 As Friday practices go, we were treated to an absolute cracker at the Red Bull Ring as Formula 1's big three – Mercedes, Red Bull and Ferrari – all had big moments that have compromised their preparations. So who is shaping up to have a good weekend and who is likely to struggle in the heatwaves currently sweeping across Europe? Let's have a look at the numbers…
ONE LAP PACE
Based on FP2, Ferrari and Charles Leclerc look like the ones to beat, the Monegasque using the soft tyres to clock a decent 1m 05.06s, more than three-tenths of a second clear, in second practice. But that is not the true picture as this was one of the rare occasions when the times set in first practice were actually better.
After the sweeping turns of Paul Ricard, with its acres of run-off, the Red Bull Ring is a very different affair, with gravel traps and smaller run-offs along with a unique and challenging track layout nestled in the Styrian Hills. It's a circuit that punishes mistakes – and on Friday, it bit, and bit hard, some of F1's big names.
Valtteri Bottas had a big crash at Turn 6, losing the rear and spearing nose-first into the barriers, causing what looked like a significant amount of damage. That came after his first practice session was disrupted when Mercedes were forced to revert to their first-spec PU when they found an oil leak.
His team mate Lewis Hamilton had a better run of it, but backed out of his low-fuel run when the session was halted by a red flag for Bottas' crash. Sebastian Vettel also failed to do a hot lap after he lost the car at Turn 10, although he mercifully kept his Ferrari out of the barriers and was able to retreat to the pits before rejoining to complete a long run on the more durable tyres.
Red Bull, racing in their home event, didn't have a clean session either, as Verstappen crashed at Turn 10, losing the car and hitting the barriers rear wing first, with Red Bull Team Principal Christian Horner suggesting the wind played a part in the accident.
When taking into account the best lap times set today, it's excitingly close between the top two. Mercedes were ultimately the quickest, but Ferrari's best lap actually came on the medium tyre. Pirelli suggests there's a 0.7s gap between the soft and medium, which would suggest Ferrari have quite some advantage.
That might explain why Mercedes' Trackside Engineering Director Andrew Shovlin said: "We don't seem to be as competitive here as in France but that's not a big surprise; we're missing the kind of cornering sequences that the car likes, so it's hard to pull back all the time that they are finding on the straights."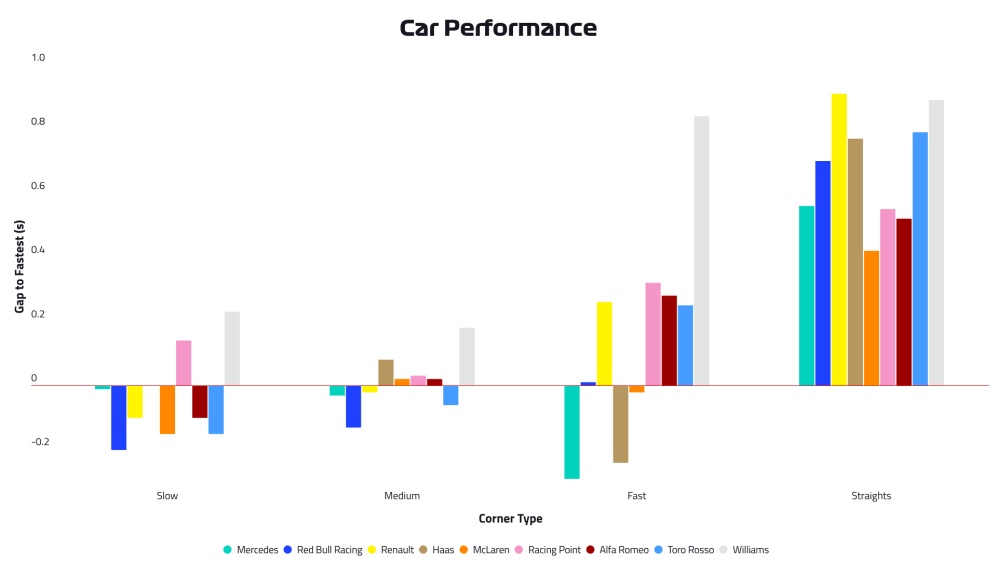 Best single lap
All times set on softs apart from Vettel (mediums)
1 Mercedes (Lewis Hamilton) 1m 04.838s
2 Ferrari (Sebastian Vettel) 1m 04.982 +0.114s
3 Red Bull (Max Verstappen) 1m 05.260s +0.422s
4 McLaren (Carlos Sainz) 1m 05.502s +0.664s
5 Haas (Romain Grosjean) 1m 05.701s +0.863s
6 Alfa Romeo (Kimi Raikkonen) 1m 05.728s +0.890s
7 Renault (Daniel Ricciardo) 1m 05.846s +1.008s
8 Racing Point (Sergio Perez) 1m 05.964s +1.126s
9 Toro Rosso (Alexander Albon) 1m 06.064s +1.226s
10 Williams (George Russell) 1m 06.805s +1.963s
McLaren are currently fourth in the constructors' championship and that's where they ended up in the one-lap pecking order, Carlos Sainz – who will likely start at the back because of grid penalties for engine component changes – once again the lead driver for the iconic British team, more than two-tenths clear of Haas, who always seem to run well at the Red Bull Ring – in particular Romain Grosjean – and based on what we saw today, 2019 looks no different.
Alfa Romeo were just a fraction off, but then there were some big gaps, most notably Renault, who were seventh and at a loss to explain why their car failed to improve from the first session to the second. Racing Point and Toro Rosso are not too far off, but Williams are cut off by seven-tenths.
RACE PACE
When it comes to race pace, it's Mercedes who are the stronger of the two main protagonists, the Silver Arrows holding a 0.4s/lap advantage over Ferrari. This bodes well for the race, of course, particularly as there's a decent chance of overtaking into Turn 3 at the top of the hill. However, Ferrari appear to have a sizeable advantage on the straights, according to our data, which will mean the Mercedes won't find it that easy to get close in the first place.
It wasn't the cleanest day for Mercedes. Hamilton broke a couple of front wings while Bottas had his crash and an oil leak which forced an engine change, though they reverted to the latest spec for FP2. They are also without long-run data on the medium tyre, as that was what Bottas – but he was scuppered by his crash. As a result, they only have soft and hard tyre long-run data.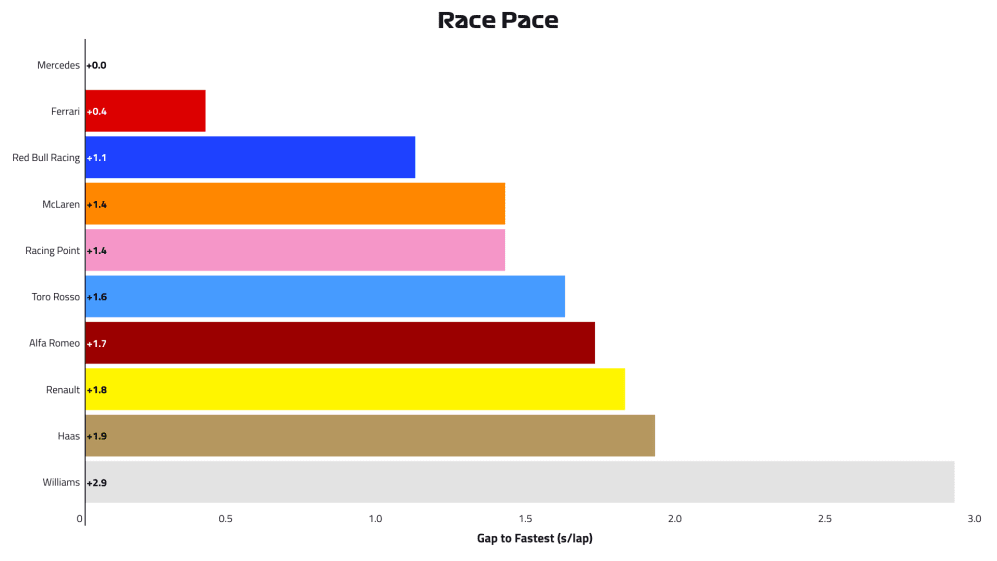 Red Bull take up their customary spot in third in the rankings, 0.7s/lap slower than Ferrari and 1.1s/lap off the Mercedes. But they are comfortably clear of McLaren and Racing Point, who were evenly matched. Toro Rosso, Alfa Romeo, Renault and Haas are all separated by just three-tenths of a second per lap, with Williams a further second back – though George Russell says they will be ready to pounce if an opportunity arises, such as in 2016, when Pascal Wehrlein scored a point for back-of-the-grid Manor.
VERDICT
We said on Thursday that this weekend represents a great opportunity for Ferrari to secure their first victory of the season – and end the unbeaten run of Mercedes – and from what we saw on Friday, there's no reason to think that can't still be the case.
Mercedes had a difficult day and therefore a less-than-brilliant foundation on which to build for the remainder of the weekend. In contrast, while they didn't have the perfect day and spent a lot of their time trying to understand new parts introduced in France, Ferrari will be the happier of the two.
READ MORE: Hamilton says Mercedes 'have their work cut out' to beat Ferrari in Austria
The Prancing Horse's power unit advantage is helping them handsomely around the Red Bull Ring – and they seem to be enjoying these warm temperatures, which dropped considerably on Friday from the scorcher on Thursday, but are set to rise for Saturday and subsequently Sunday. The heat will impact the tyres, but Pirelli tyre chief Mario Isola was happy with how they performed across the two practice sessions on Friday. Let's see how that situation evolves as the temperatures ramp up.
Reason, then, to be excited as Mercedes look like they face a real fight from Ferrari. But can the Scuderia convert at last?