Feature
Friday Pace Analysis – Great Britain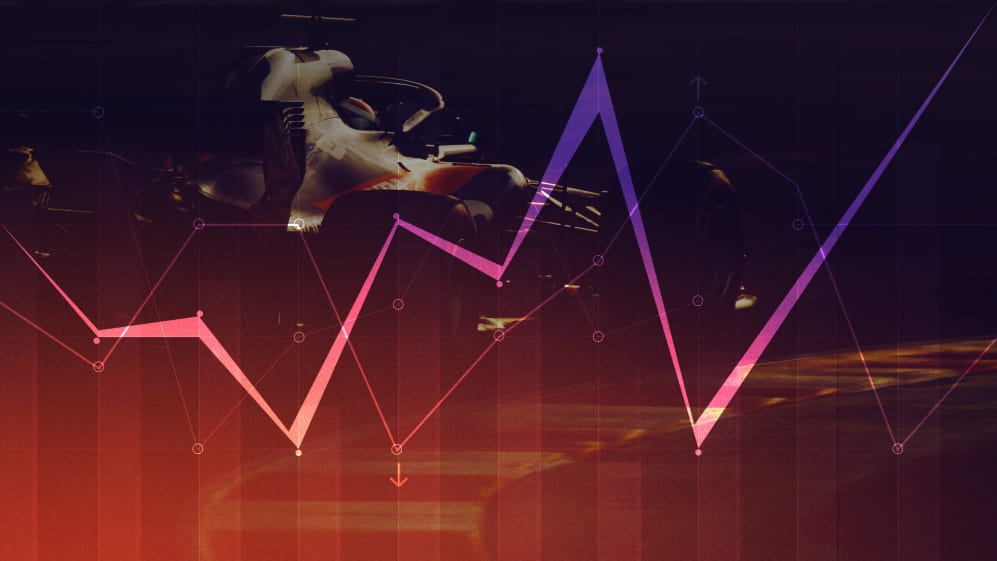 A new track surface and windy conditions made for an error-strewn day of Friday practice at Silverstone, with drivers from almost every team having an off-track moment at some stage. But among the mistakes, who was looking in the best shape for the rest of the weekend and who is struggling? We take a look at Friday's data…
ONE-LAP PACE
It was a familiar team at the top of the timing screens in FP2, with Mercedes once again setting the pace. But the gap to Ferrari was relatively small. It was Valtteri Bottas who posted the quickest time of the day with a 1m 26.732s on the soft compound tyre, and while his team mate Lewis Hamilton backed him up in second place, Bottas was less than 0.2s clear of Charles Leclerc in third.
Bottas was encouraged by the way he started the weekend strongly, saying he didn't need to make any particularly large set-up changes in order to get the car to his liking. That's in contrast to pretty much every driver chasing him, with Hamilton saying he is looking to his team mate to understand how to find more time despite ending up just 0.069s adrift.
"We currently look like we've got good pace, and particularly long run pace looks good, but I really struggled today if I'm really honest," Hamilton said. "I didn't have the car beneath me, I was struggling with the rear end, you saw me go off multiple times.
"Valtteri is a lot more comfortable in the car for whatever reason, so we're going to dig deep tonight and try and figure out why that is."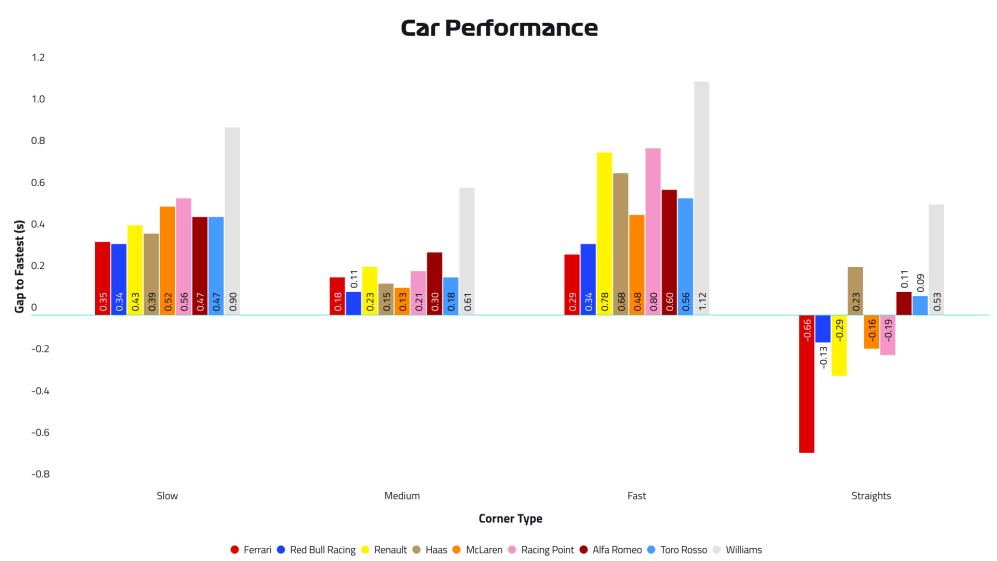 While Ferrari looked relatively competitive over one lap, there was an obvious problem that we will explore more further down that even limited their pace on a qualifying simulation. Excessive front left tyre wear meant the first two sectors were strong but the lap time dropped away in the final part of the lap. The new track surface could be playing a crucial role in such a problem, so Ferrari will spend Friday night trying to find a fix.
It also needs to be noted that Pierre Gasly - fifth quickest in the second session - actually set his best time of the day in FP1. Gasly's lap of 1m 27.173s on Friday morning would have been good enough to move him ahead of Vettel in the afternoon standings, and suggests there is more pace to come from Red Bull.
Add in the tendency for Max Verstappen - who was pipped to sixth by Lando Norris - to be ahead of his team mate during this season given his greater experience within the team, and there's an outside chance of a three-way battle for pole position.
BEST SINGLE LAP
All times set on softs
1 Mercedes (Valtteri Bottas) 1m 26.732s
2 Ferrari (Charles Leclerc) 1m 26.929s +0.197s
3 Red Bull (Pierre Gasly) 1m 27.173s +0.451s
4 McLaren (Lando Norris) 1m 27.546s +0.814s
5 Toro Rosso (Alexander Albon) 1m 27.997s +1.265s
6 Racing Point (Sergio Perez) 1m 28.002s +1.270s
7 Haas (Kevin Magnussen) 1m 28.059s +1.327s
8 Alfa Romeo (Kimi Raikkonen) 1m 28.126s +1.394s
9 Renault (Daniel Ricciardo) 1m 28.128s +1.396s
10 Williams (Robert Kubica) 1m 29.935s +3.203s
Once again it was McLaren who were leading the charge behind the top three, and on this occasion enjoying a comfortable margin over the rest of the midfield. Lando Norris had a spin in FP1 but his lap time in the second session put McLaren firmly in between the top three and the midfield.
On qualifying pace, McLaren find themselves in no-mans-land, as the next five teams were covered by just over 0.1s. Renault were slowest of those five, but Daniel Ricciardo and Nico Hulkenberg both referenced clear time still on the table, with Ricciardo believing his team should be inside the top ten.
RACE PACE
Things look a little bit more ominous for the likes of Ferrari and Red Bull when you look at race pace, as Mercedes enjoyed a clear advantage on Friday. Our data shows a lap time advantage on high fuel of some 0.7s/lap for Mercedes over Ferrari, with Red Bull another 0.1s further back.
But this is where the picture becomes muddled even further, because the new track surface and windy conditions have made it difficult to get a clear pecking order. Ferrari in particular struggled with tyre wear during its race run - something that of course could continue throughout the weekend - and the front left tyre was suffering massively in FP2.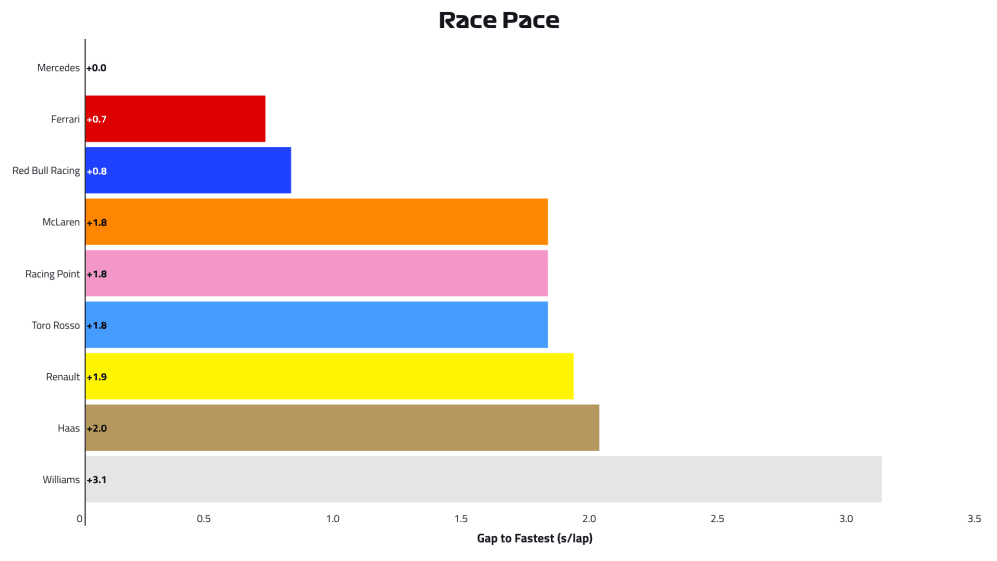 "We knew that Silverstone will definitely be more difficult for us compared may be to the last race, no doubt," team principal Mattia Binotto explained. "But we are also curious to see the progress of the car, the progress we made in the last weeks.
"Today was just very difficult, it's still too early. But we had really high wear on the front tyres, on the front left… There was understeer, and that understeer is (hurting) these tyres, damaging them in the high fuel pace.
"I think we will focus on it this evening. Over the night, we will see what we can do with the front wear. By the time the car will be balanced I think we will get a better judgement of our overall performance in Silverstone."
Ferrari will need to find a fix overnight in order to be a bigger threat on race pace, but their advantage on the straights over Mercedes stands at nearly 0.7s/lap, suggesting they will again be tough to overtake if they can gain track position. Austria winners Red Bull also had a slight straight line speed advantage over Mercedes, but appear to have less obvious areas to find performance from than Ferrari.
McLaren's qualifying performance advantage over the midfield appeared to be less pronounced over a longer run, with our data showing them having a slight edge over Racing Point, Toro Rosso, Renault and Haas. However, Renault lost out on a chunk of running due to Daniel Ricciardo stopping with a power unit issue.
VERDICT
Ferrari were already warning that Silverstone would suit their car less than Austria, where Mercedes were hampered by cooling issues throughout the weekend. With temperatures much more manageable, it is therefore no surprise to see the championship leaders setting the pace.
But Ferrari's front left tyre problems will be both a concern and a source of encouragement for the Scuderia. Even with that issue, Leclerc and Vettel were within striking distance of Mercedes in qualifying trim, and the drop-off in long run pace will be greatly lessened if a solution can be found.
If not, then Red Bull are also looking threatening, at least in qualifying trim. Verstappen will be the one to watch after struggling on Friday, as he admitted some surprise at how close to Mercedes he was despite being unhappy with the balance.
Ultimately, the new track surface has left the teams with plenty of work to do to find the sweet spot, and so there is also the chance of Mercedes finding more performance. But at least it means an added level of doubt for the whole field heading into Saturday and Sunday.