Feature
Friday Pace Analysis – Russian Grand Prix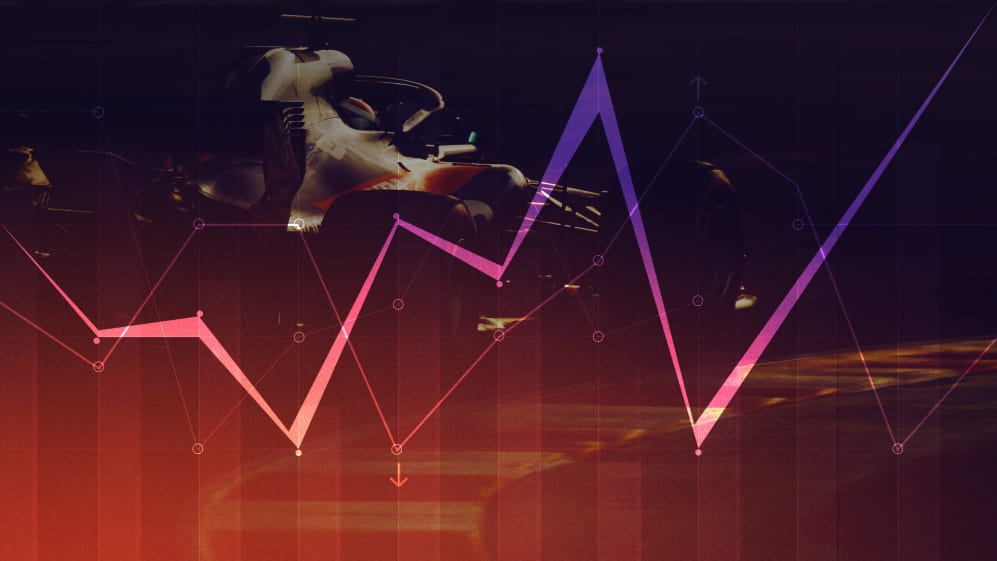 Having impressed in Singapore, to the surprise of their rivals as well as themselves, Ferrari arrived in Russia with the wind in their sails. But do they have what it takes to end Mercedes' stranglehold on Sochi? Time to crunch some numbers after Friday practice…
ONE LAP PACE
The Sochi Autodrom is quite a sight to behold, the 18-turn circuit that winds its way through the Olympic Park that hosted the 2014 Winter Games is defined by two long straights and a series of slower and medium speed corners.
It's track surface is also unusual, in that it's very smooth. That's why you may have heard the drivers complain about a lack of grip throughout Friday's two 90-minute free practice sessions.
The lack of grip eats away at the surface of the Pirelli tyres, causing more friction. And that means more heat. While the opening part of the lap might be OK, by the time they get to sector three, overheating causes problems.
It appears the soft tyres are really only any good for one flying lap, too. Ferrari's Sebastian Vettel, for example, made a mistake on his first qualifying simulation and went again on the second run, setting the fastest first sector only to find the tyres overheated and the lap was lost.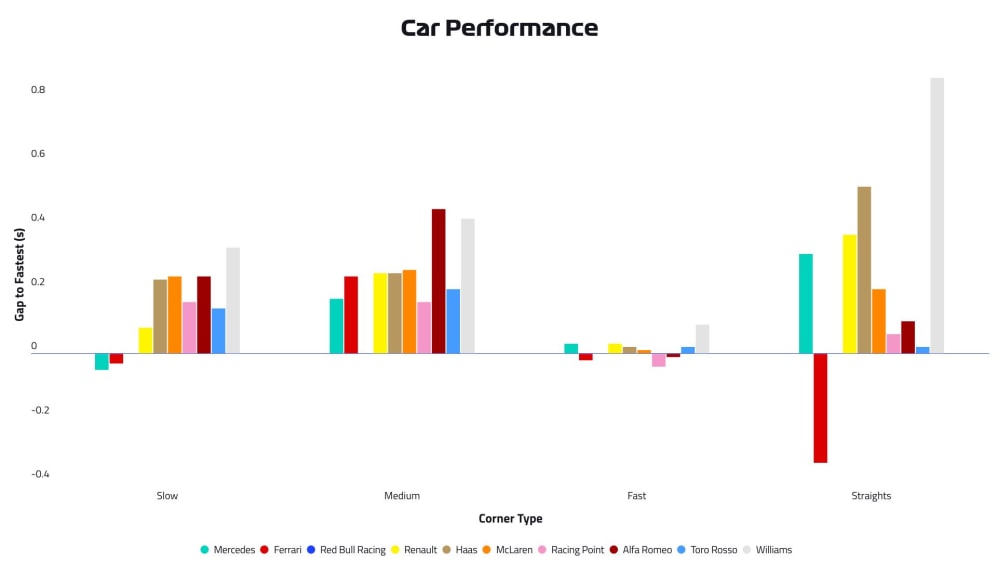 When it came to one lap pace, Red Bull looked the most impressive. As the car performance graph shows, they had supreme pace in the medium speed corners – of which there are many in Sochi. Max Verstappen had the bit between his teeth at Sochi on Friday, getting straight down to business in the opening session before improving as the running went on.
Unfortunately, he's already out of contention for pole position, courtesy of a five-place grid penalty for fitting a fresh Honda internal combustion engine, but the pace he demonstrated on Friday suggested he can limit the damage come qualifying.
Best single lap All set on soft tyres
1 Red Bull (Max Verstappen) 1m33.162s
2 Ferrari (Charles Leclerc) 1m33.497s +0.335s
3 Mercedes (Valtteri Bottas) 1m33.960s +0.646s
4 Toro Rosso (Pierre Gasly) 1m34.971s +1.809s
5 Racing Point (Sergio Perez) 1m34.998s +1.836s
6 Renault (Nico Hulkenberg) 1m35.026s +1.864s
7 McLaren (Lando Norris) 1m35.233s +2.061s
8 Haas (Kevin Magnussen) 1m35.351s +2.189s
9 Alfa Romeo (Kimi Raikkonen) 1m35.374s +2.212s
10 Williams (George Russell) 1m36.785s +3.623s
Ferrari acknowledged Red Bull's impressive pace – Charles Leclerc said they looked "quite strong" – but they will head into Friday night pretty happy with where they are in the pecking order. Their class-leading unit is giving them some welcome grunt, with Lewis Hamilton suggesting they're 0.8s quicker on the straights, and over one lap, they - Leclerc in particular - look quick.
And then there was Mercedes, rolling in third in the pecking order. Valtteri Bottas admitted the team needed to extract more from the soft tyre over one lap in time for qualifying, with the Finn saying the balance of the car felt good but he, like most of his rivals, was struggling overall grip.
Their gap to Red Bull was quite significant at 0.646s, but it looked like both Hamilton and Bottas were running heavier fuel on their low-fuel runs, which suggests that gap isn't quite representative.
It was mighty close for best of the rest, with Toro Rosso pipping Racing Point and Renault, the trio separated by half a tenth of a second. Toro Rosso will likely be out of the scrap for a top 10 starting spot courtesy of engine penalties, though.
Racing Point ran an extensive aero test programme on Friday, as they bid to get a better understanding of the major upgrade package they introduced in Singapore, and the early noises from the team after practice were very positive. Renault look decent, too, with Daniel Ricciardo recovering well from a crash at the end of FP1.
RACE PACE
With rain forecast to play a part in both final practice and qualifying on Saturday, there was a greater impetus on teams to get their long run data gathering ticked off on Friday when it was dry. As a result, we saw the range of three Pirelli tyres in action across the two sessions.
But while Mercedes opted to split their running, with Hamilton focusing on the soft and medium and Bottas tackling the soft and hard, Red Bull and Ferrari opted to ignore the hard and run only the soft and medium compounds.
When our data analysts crunched the numbers, Mercedes emerged on top in the long run stakes, the Silver Arrows holding a 0.3s/lap advantage over Ferrari. That gap is around 0.2s/lap smaller than it was after running in Singapore, but as we saw at Marina Bay, some smart homework overnight can completely turn the tables.
Unfortunately, Red Bull have not been included in our graph as they didn't have enough representative data. Alexander Albon spent much of the second session in the garage, with his RB15 up on the stands. It's a small sample, but the five-lap runs Verstappen did on soft and medium tyres were suggest they are very much on a par with Ferrari.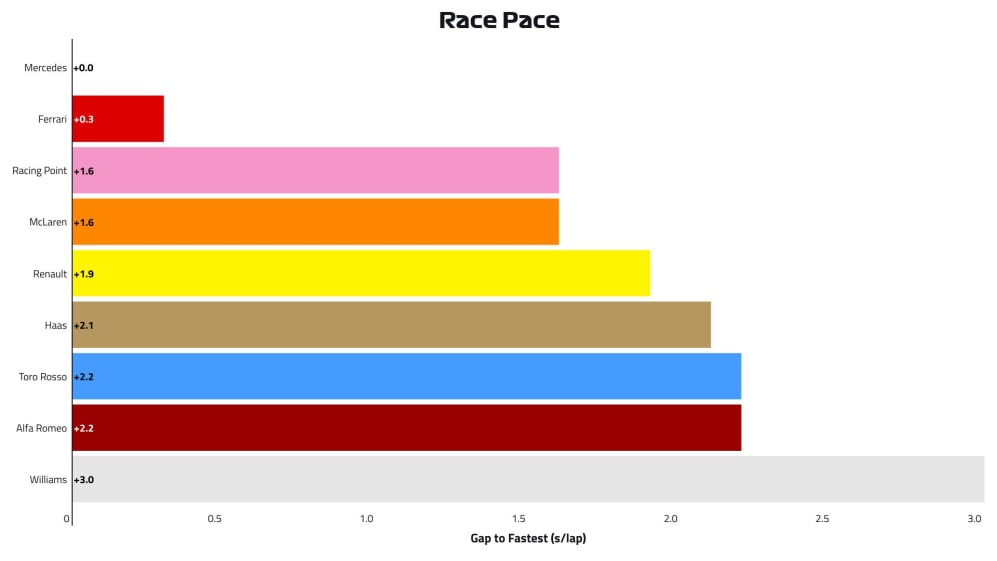 Racing Point and McLaren were best of the rest, the latter not having the best of days as Lando Norris and Carlos Sainz spoke of a lack of overall grip and therefore confidence in the car. But their race pace was at least encouraging, particularly in relation to Renault, who were 0.3s/lap slower.
Haas were higher than usual in the race pace charts, with Romain Grosjean saying the team were "quite happily surprised" with their performance as they continue to work on understanding why their pace fluctuates so dramatically.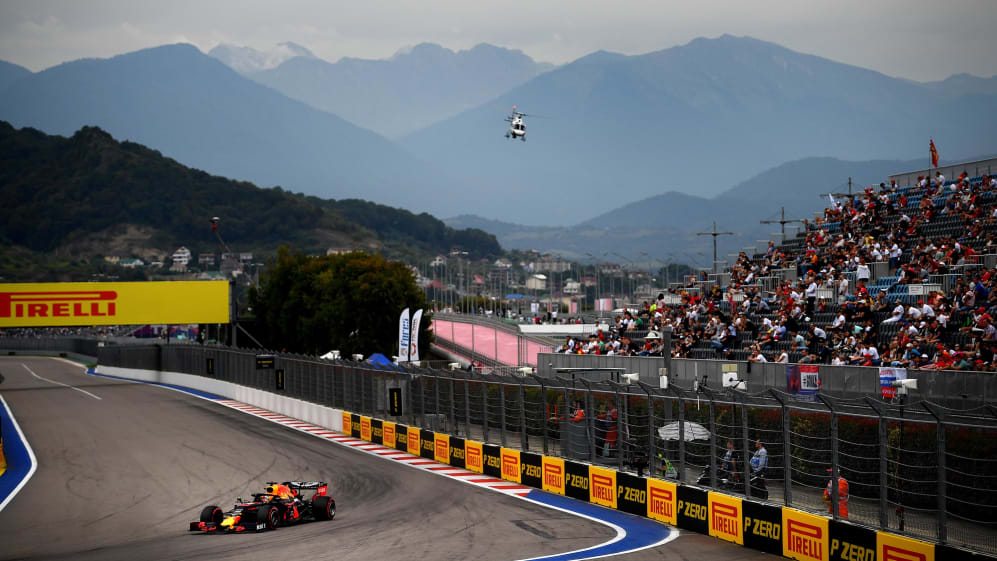 VERDICT
Often at this stage of a weekend, Mercedes have emerged as the most impressive of them all – and given their prowess on the smooth asphalt of Sochi in the last five years and their form for most of this season, you would have expected them to be the favourites once more.
But Ferrari's Prancing Horse is certainly at the races. Red Bull are looking mighty strong, too, even if they are hampered somewhat by the grid penalties inflicted on them for taking fresh internal combustion engines with an eye on starting the next race in Japan – engine supplier Honda's home race – penalty free.
Tomorrow's weather forecast could throw another spanner in the works, too, with rain expected throughout the day. Hamilton says he's hoping for the wet stuff, which you can understand given he's almost always blisteringly quick in those conditions.
Ferrari's power advantage will not be as pronounced, which will help Mercedes, but last time we had a wet session, during the race in Germany, Ferrari showed some pretty impressive speed.
The scene, then, is perfectly poised for the rest of the weekend. Bring it on.