Feature F1 Unlocked
From Hungary 2003 to Spain 2013 – Ranking Alonso's best wins from 10 to 1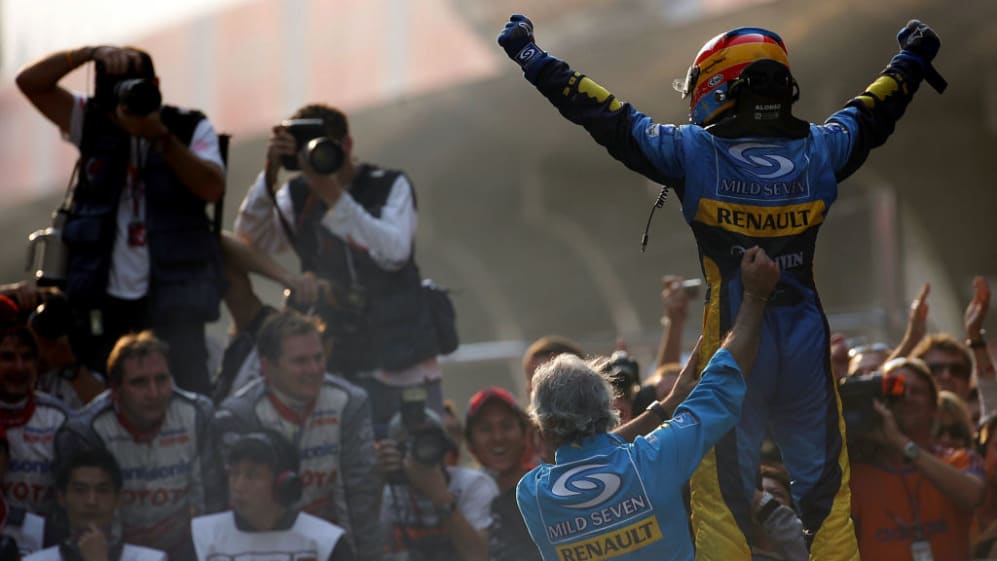 Exactly 20 years ago today Fernando Alonso crossed the line in P1 at the Hungarian Grand Prix to take his maiden Formula 1 victory. It was the first of 32 wins to date – and though he hasn't added to that tally for a decade now, the Spaniard remains hopeful of a 33rd triumph – especially given Aston Martin's impressive speed this season.
Alonso is a driver capable of delivering race wins that others would find impossible to achieve. Whether it's dominating from the front, battling through from down the order, or hauling an iffy car to top spot, he is a driver with the ability to pull off results that are not merely wins, but racing and tactical masterclasses.
READ MORE: Alonso reveals the one thing he would change about his F1 career if he could go back in time
To celebrate this anniversary, we've picked out his 10 best F1 victories, which collectively showcase the brilliance of a driver who has been one of the outstanding performers of the 21st century.
10. 2006 Spanish Grand Prix
This is the archetypal dominant Alonso victory from his two title-winning seasons with Renault.
He comfortably outpaced team mate Giancarlo Fisichella, shrugged off the hint of an attack from Ferrari's Michael Schumacher and won by a crushing 18.5 seconds.
It was also Alonso's first F1 win on home soil – one he described as "difficult to forget", as he didn't put a foot wrong amid the intense pressure of grandstands that expected nothing less than victory.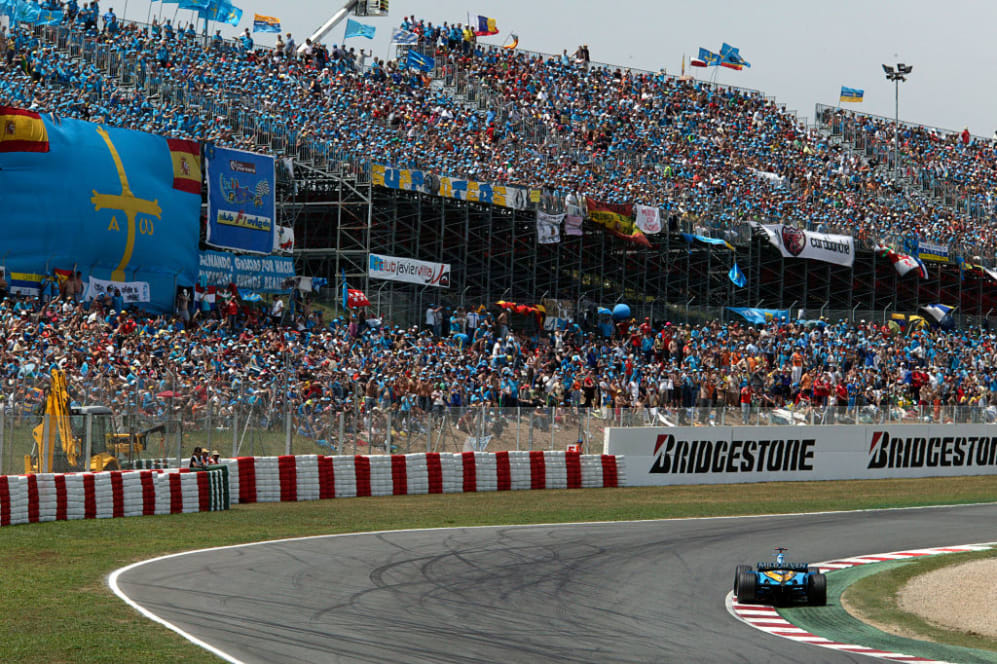 9. 2013 Spanish Grand Prix
The 2013 Spanish Grand Prix was a maelstrom of pitstops at the high-degradation Circuit de Catalunya, with Alonso's victory from fifth on the grid a fine blend of speed, incisiveness and tyre management.
He overtook Lewis Hamilton around the outside of Turn 3 on the opening lap to take third place, then undercut Sebastian Vettel's Red Bull at the first round of pitstops.
He passed Nico Rosberg's Mercedes on track to put himself in a commanding position to win what proved to be a four-stop race for most.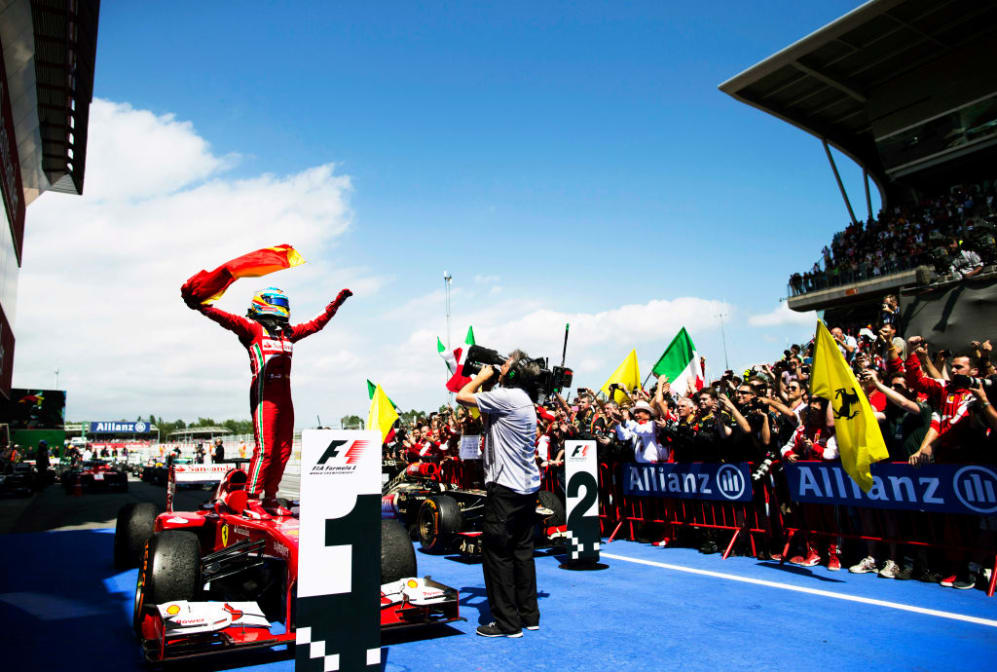 8. 2003 Hungarian Grand Prix
"On the eighth or ninth lap, I asked the team 'where are the others?' They told me '15 seconds away'." Alonso's comment sums up the mighty first stint that set up the 22-year-old's first F1 win in the 2003 Hungarian Grand Prix – a victory that was dependent on making an aggressive strategy work.
Renault fuelled Alonso slightly light for qualifying to take pole position, which meant a short first stint.
READ MORE: From Alonso watching the screen to Schumacher's hand signals – the 14 greatest bits of multitasking in F1
By Lap 12 he was almost 22s clear of McLaren's Kimi Raikkonen, who would go on to be his closest challenger thanks to Williams drivers Ralf Schumacher and Juan Pablo Montoya having poor starts from second and fourth on the grid.
Raikkonen was stuck behind Mark Webber's Jaguar in the first stint and only had two more laps of fuel, meaning that this proved a decisive advantage for Alonso, who took the chequered flag 16.768s clear.
7. 2006 Bahrain Grand Prix
Alonso's victory in the 2006 season-opener in Bahrain was a refuelling-era classic.
It was dependent on making a good start from fourth on the grid to jump to second, minimising the losses to the lighter Ferrari of Michael Schumacher who ran four laps shorter in the first stint, sticking with him in the middle stint, and then making the most of a three-lap overcut at the final round of pitstops.
Alonso did all of this and still had some work to do, for as he emerged from the pits he had Schumacher bearing down on him.
The pair went wheel to wheel into the first corner, but Alonso had the inside line and came out ahead. He held on to win by just 1.246s.
6. 2008 Japanese Grand Prix
If there's one race that showcases Alonso's other-worldly command of a racing situation, it's his victory in the 2008 Japanese Grand at Fuji.
A chaotic first lap, with Lewis Hamilton first forcing both Ferrari drivers wide at Turn 1 with a lunge, then clashing with Felipe Massa later in the lap, meant BMW Sauber driver Robert Kubica led from Alonso's Renault.
QUIZ: How much do you know about Fernando Alonso's F1 career?
But Alonso knew exactly what he needed to do to win, which was dependent on gaining track position at the first pitstops. He demanded over the radio to be short-fuelled, meaning he jumped Kubica and embarked on a brilliant stint to pull 13 seconds clear.
That ensured he could hold the lead easily when he made his second stop and lead Kubica home by more than five seconds.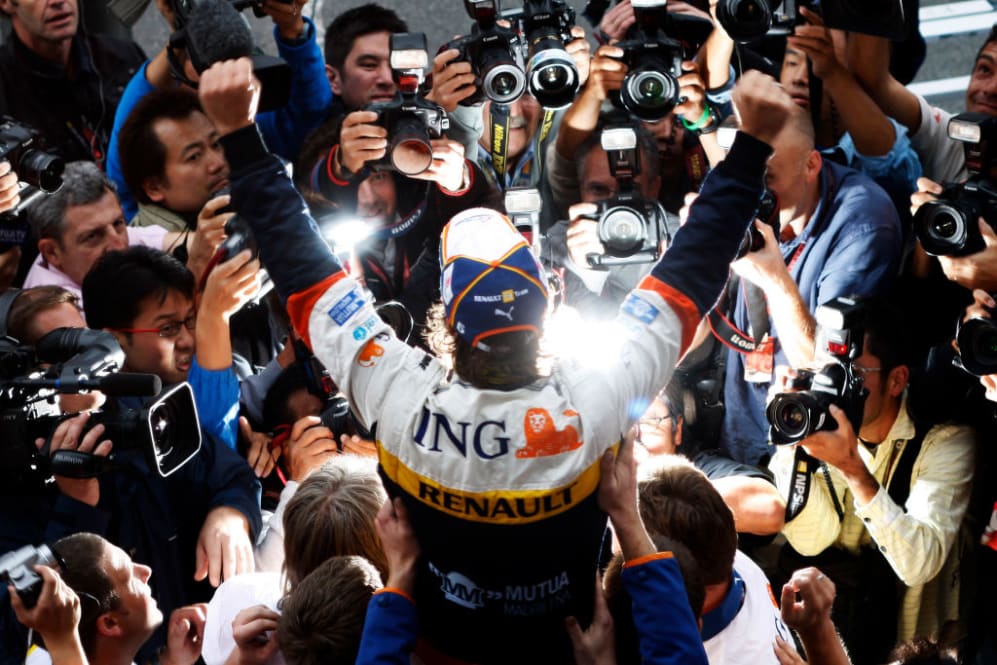 5. 2011 British Grand Prix
Alonso only had one realistic chance to win a Grand Prix in the 2011 season thanks to Ferrari being at a blown-diffuser advantage. That was at Silverstone, where off-throttle blowing of the diffuser to boost downforce was banned and Red Bull and McLaren were held back as a result.
The race started on a damp track, with Red Bull duo Sebastian Vettel and Mark Webber leading the way.
After the field switched to slicks, Alonso was overtaken by Hamilton but searing pace later in the stint once Hamilton pitted allowed him to jump the McLaren.
While Alonso relied on slow pitstops for both Red Bulls to get into the lead, once he had control he pulled away to win by 16.5s from Vettel.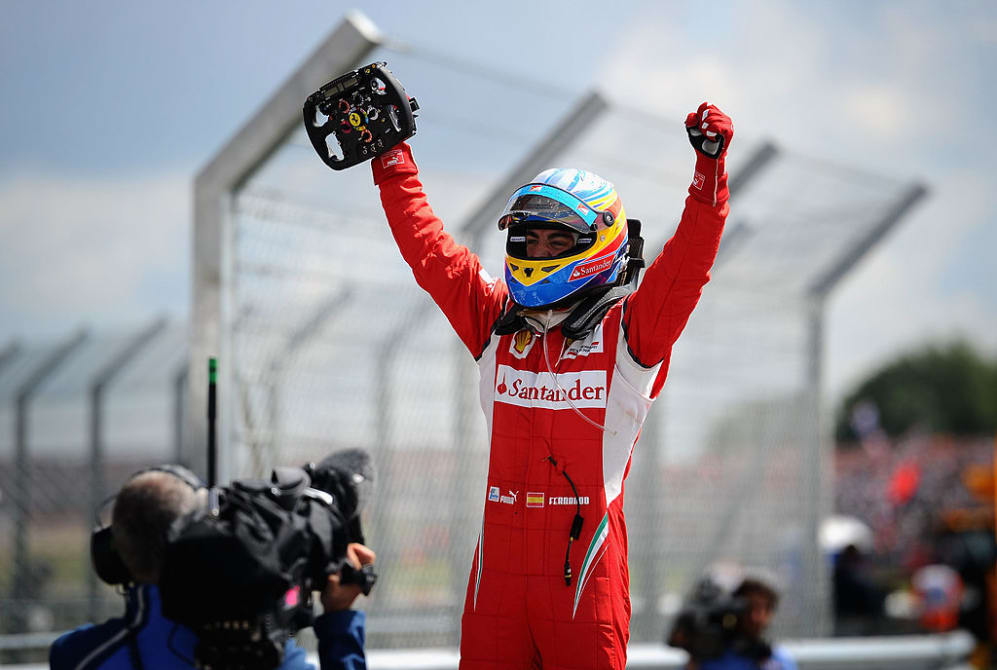 4. 2005 San Marino Grand Prix
Alonso rates the closing stages of the 2005 San Marino Grand Prix as one of his best fights in F1, while the sight of his blue-and-yellow Renault R25 with Michael Schumacher's red Ferrari snapping at its heels in the final 13 laps of the race is etched in the mind of every F1 fan.
Earlier in the race, Alonso seemingly had it won. Earlier pursuer Kimi Raikkonen's McLaren had retired and he was able to run on a conservative engine setting while nursing a problem in one of the cylinders of his V10 engine that had led the team to consider taking an engine-change and 10-place penalty before the race.
WATCH: Fernando Alonso relives his epic 2005 Imola battle with Michael Schumacher
As for Schumacher, having started 13th thanks to a mistake in qualifying he was a massive 36 seconds behind when Alonso made his first pitstop.
But the Ferrari was quick in race trim thanks to Bridgestone rubber that was suffering minimal degradation. Schumacher made the most of a long first stint to find clear air and had Alonso in sight as the Ferrari emerged from its final pitstop.
Alonso held firm despite repeated attacks from the quicker Schumacher, resisting pressure that would have broken a lesser driver.
3. 2012 Malaysian Grand Prix
The Ferrari F2012 was a poor car early in the 2012 season, meaning it required the rain that hit Sepang 10 minutes before the race to present Alonso with a chance to win.
He started eighth after losing KERS in Q3 and climbed to fifth in the six laps before the Safety Car was deployed, followed by a red flag for rain.
It took him just two laps of green-flag racing to jump into the lead thanks to a sharp switch to intermediates after the restart and early leader Lewis Hamilton overshooting his McLaren pit, leading to a slow stop that allowed the Ferrari driver to leapfrog him. That put Alonso in the lead but with an unexpected challenger: Sauber driver Sergio Perez.
Perez was quicker than Alonso and, despite losing time to a late switch to slicks, he closed to within 0.6s of Alonso in the closing stages before running wide off the track. As for Alonso, he didn't put a foot wrong to take an improbable victory.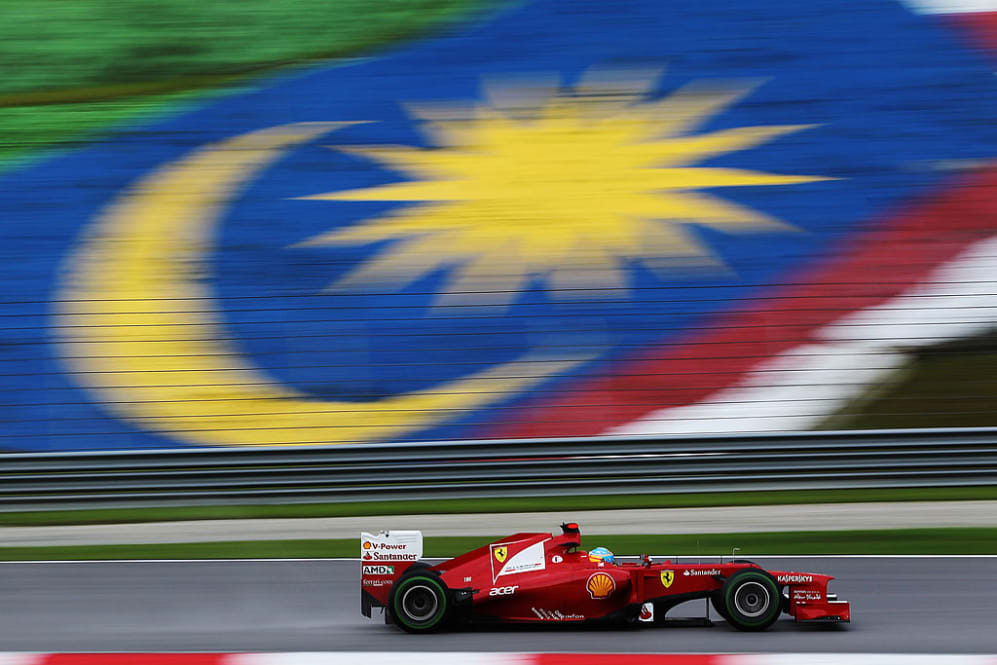 2. 2007 European Grand Prix
The 2007 European Grand Prix at the Nurburgring is famous for car after car piling into the gravel at the first corner on the third lap, and for Markus Winkelhock leading for Spyker on his one and only F1 start.
But it is too often forgotten that Alonso overtook Felipe Massa's Ferrari to win with just four-and-half laps to go (see the clip below).
READ MORE: 'That's when I realised he was different from other drivers' – De la Rosa reveals the moment he knew Alonso was special
Alonso chased Massa early on, but when the pair came in for dry-weather tyres after 12 laps. The McLaren driver then lost ground in an oversteery stint and emerged from what should have been his final stop eight seconds behind Massa. But the rain returned with eight laps remaining and both pitted for intermediates.
With Massa struggling for tyre temperature, Alonso carved into his lead before going around the outside of him at Turn 5. The pair made light contact, but Alonso completed the move to take a famous win.
1. 2012 European Grand Prix
Alonso qualified only 11th for the 2012 European Grand Prix at Valencia, but not because the Ferrari F2012 wasn't a top-10 car. Rather, it was the consequence of Ferrari overconfidently expecting to escape Q2 using just one set of the soft Pirellis.
What followed in the race was a home-soil victory Alonso himself is proud of. He gained three places with an incisive first lap to run eighth, which became seventh when he passed Nico Hulkenberg's Force India.
READ MORE: 'If we repeated it 100 times, 99 of them we wouldn't win' – Alonso singles out his favourite F1 race
There were further gains through the pitstops and one-stoppers were quickly dispatched, which meant Alonso shook out in third place when the Safety Car was deployed, behind only Romain Grosjean and leader Sebastian Vettel.
A perfectly executed restart set up a move around the outside of Grosjean's Lotus at Turn 2, before Vettel's Red Bull ground to a halt with an alternator failure. That gave Alonso the lead, initially with Grosjean on his case before the Lotus driver also suffered an alternator failure.
To read on, sign up to F1 Unlocked for free
You'll unlock this article and get access to:
Live leaderboard data
Epic experiences and rewards
Money-can't-buy competitions