Feature
What To Watch For in the United States GP: Front row fireworks and a Ferrari-McLaren ding dong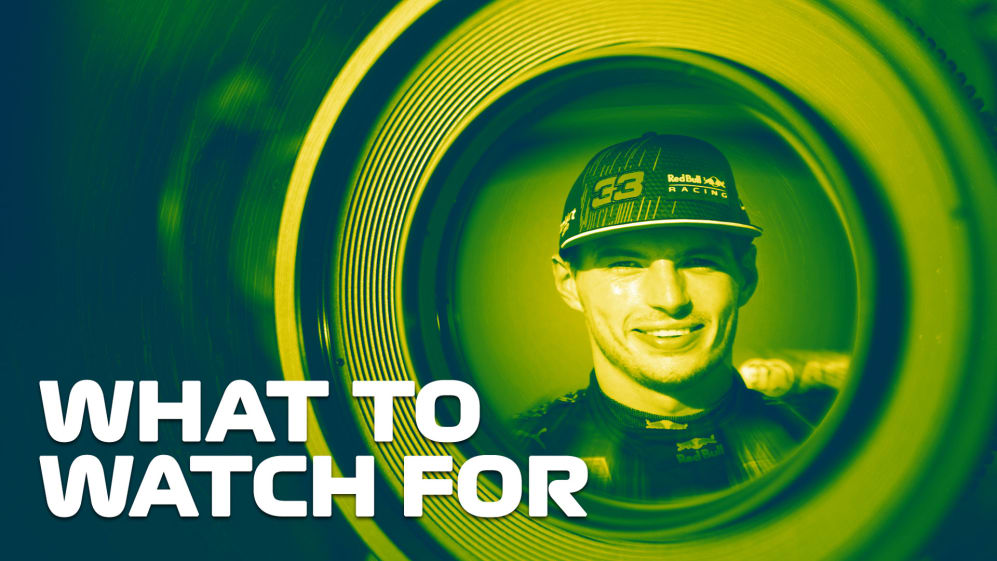 From a tantalising front row to a Mercedes further back in the pack, and from two other rival teams alongside each other to quality talent at the back, we pick out some of the key areas to keep an eye on when the race gets under way at the Circuit of the Americas…
The title rivals on the front row
You couldn't script it much better. With just six points separating them, Max Verstappen and Lewis Hamilton will start side-by-side on the front row in Austin. It's nothing we haven't seen before – in fact it's the seventh time it has happened this season, but since the last occasion at Zandvoort there has been a controversial coming together at Monza that saw both retire.
READ MORE: 'I'm not worried about what's happening behind me' – Verstappen relaxed about front-row showdown with Hamilton
As the title battle hots up, that incident has led to increased anticipation for Sunday's start, with both drivers fielding questions on it on Saturday night. They dealt with them well, but it's hard to ignore the dynamic for when the lights go out.
With Verstappen the championship leader and surprisingly starting ahead on a track where Mercedes expected to be strong, Hamilton arguably has a greater need to get ahead in order to avoid that gap being extended. From Verstappen's point of view, leaving COTA without losing points to Hamilton would probably have been deemed a success heading into the weekend, so he can afford to be as aggressive as ever.
As Hamilton put it on Saturday night: "I don't think it's all decided at Turn 1". But it will be a fascinat-ing start to watch.
Bottas with a tough afternoon ahead
The high temperatures in Austin clearly haven't played into Mercedes' hands, with overheating tyres proving difficult to get on top of and the team losing the advantage they appeared to have in FP1 the longer the weekend has gone on.
That left Valtteri Bottas qualifying fourth at a track he would have hoped to be on the front row, and when his five-place grid penalty for exceeding power unit components is applied he'll start down in ninth.
READ MORE: Verstappen pips Hamilton to pole position with sensational final lap in Austin
Not only does he start further back than Mercedes would have been targeting, the lack of a major performance advantage could also make things tricky for the Finn as he has to fight past the very competitive McLaren and Ferrari cars ahead before he can join the battle at the front.
But making progress will be crucial for Mercedes' constructors' title hopes, as their 36-point ad-vantage could well be reduced with Verstappen on pole and Sergio Perez third after an extremely strong weekend so far from the Mexican.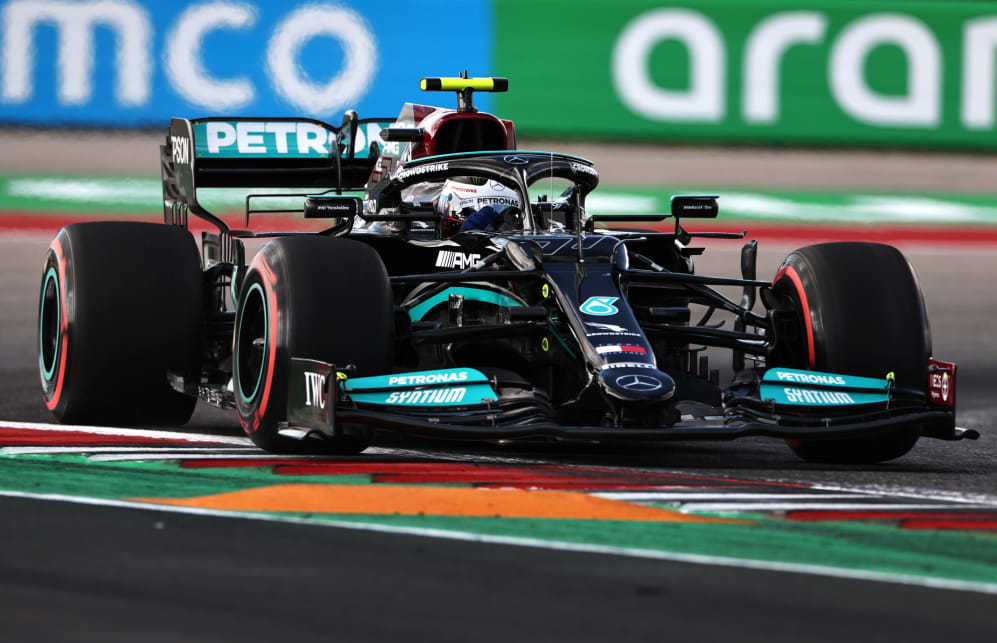 Ferrari vs McLaren
In another of the slight surprises of the weekend so far, it was Ferrari who had the upper hand over McLaren in qualifying at COTA. Ferrari have made a clear step forward with an upgraded power unit in recent races, but McLaren looked strong heading into the session and Lando Norris was expecting to be ahead of the Scuderia.
The margins were fine ones, with Carlos Sainz and Daniel Ricciardo separated by just 0.016s, and it's likely to be more of the same in the race.
READ MORE: McLaren pair surprised to be behind Ferraris in Austin, but looking forward to being 'hunters' on Sunday
Both teams have both drivers on good form in the States, with Ricciardo seemingly riding high after his Dale Earnhardt NASCAR demo on Saturday morning to outqualify Norris. And there's a strategic difference to play out too, with Sainz starting on the softs compared to Charles Leclerc and the McLaren pair on the mediums.
There's just 7.5 points between the two teams – in McLaren's favour – in the fight for third in the constructors' championship, and they're set to directly scrap it out between themselves this afternoon.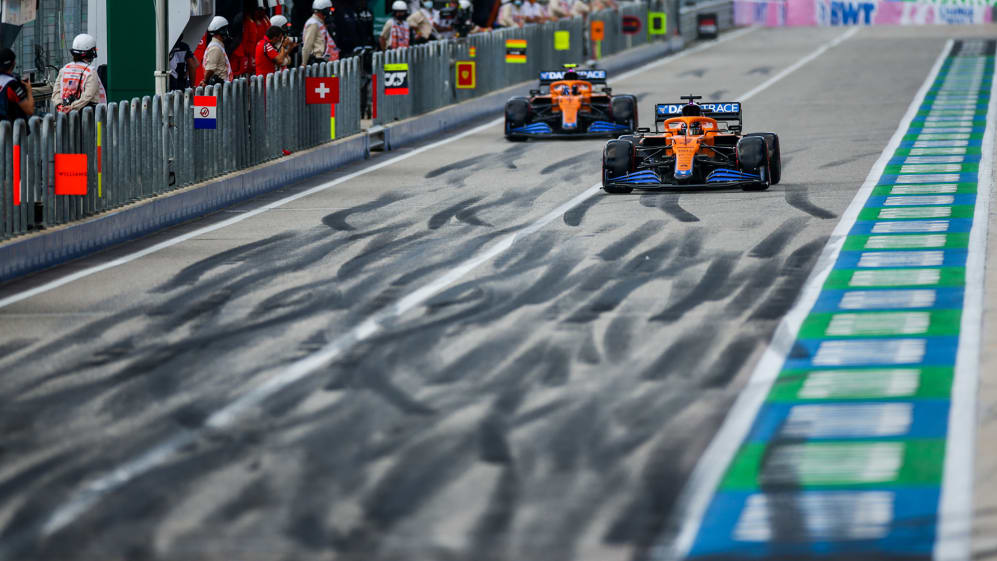 Big names at the back
As we near the end of the season the challenge of the power unit regulations is starting to bite some teams, and Bottas isn't the only driver taking a grid drop. In fact, his five places was the smallest of four penalties this weekend, with Sebastian Vettel, Fernando Alonso and George Russell all starting from the back of the grid.
They might not be in the fastest cars in Austin – all three reached Q2 but couldn't advance any fur-ther despite attempting competitive laps – but they have enjoyed some thrilling battles against each other in the past.
READ MORE: Bottas, Russell and Vettel hit with United States Grand Prix grid penalties after PU changes
Russell has impressed both Vettel and Alonso with his performances for Williams in recent years, notably fighting the Spaniard in Austria as they chased the final point. And of course, the two world champions have a bit of history as well.
So either they will be making progress from their lowly starting positions that will provide entertain-ment, or they will be in a battle against each other, even if it doesn't come at the same time as mov-ing through the field. To put it another way, it would be a surprise if all three had a quiet race.
Track limits violations
Another group who are unlikely to have a laid back afternoon are the stewards, who will be having to police track limits as well as rule on incidents between drivers. Two corners have been seeing lap times deleted on a regular basis – Turn 9 and Turn 19 – and that's a trend that continued even into the competitive session of qualifying.
HIGHLIGHTS: Watch all the action from qualifying for the US Grand Prix at COTA
Russell actually outqualified Alonso and would have started ahead of the Alpine but then lost his best Q2 lap due to running wide at Turn 9, the same corner that left Ricciardo facing a tense final run in the same segment to try and advance.
Three violations will lead to drivers being given a warning by the stewards, and any further indiscre-tions will lead to a time penalty. In 2019, numerous drivers saw lap times deleted in the race, with four coming close to a warning after running wide numerous times, and the signs so far are that there could well be more for the stewards to deal with.