'I'm not worried about what's happening behind me' – Verstappen relaxed about front-row showdown with Hamilton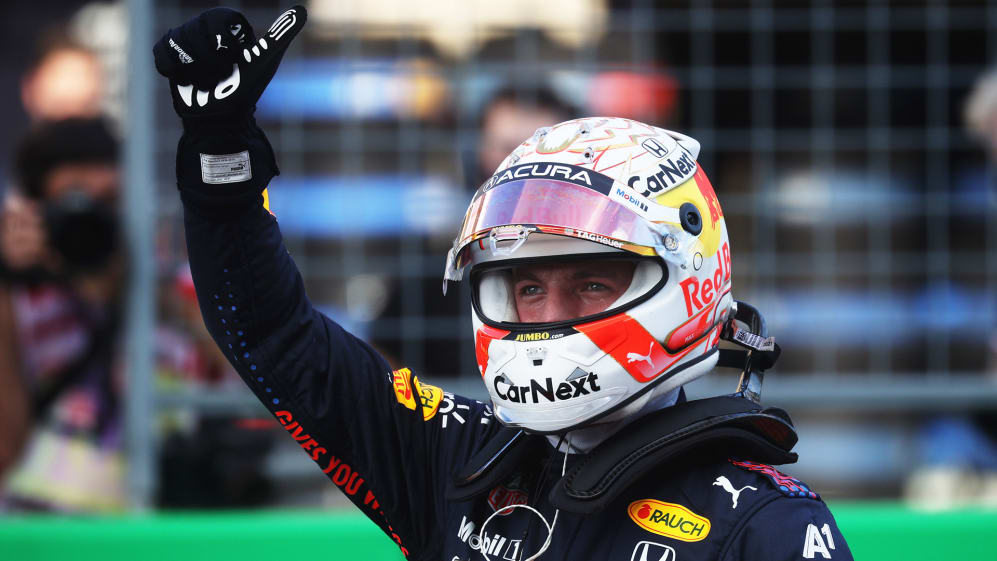 Max Verstappen took his first-ever US Grand Prix pole position on Saturday, breaking a Mercedes qualifying stranglehold at the Circuit of The Americas that began at the start of the turbo-hybrid era in 2014. But his title rival Lewis Hamilton will be next to the Red Bull on the grid, and though the two have clashed several times on track already this season, Verstappen insists he isn't worried about the run down to Turn 1 when the lights go out...
Verstappen beat Hamilton to pole position in Texas by two-tenths of a second, leaving team mate Sergio Perez and Ferrari's Charles Leclerc on the second row. That means the massive crowd at the track could be in for a tasty battle as the championship protagonists will vie for supremacy uphill into the first corner on race day.
QUALIFYING: Verstappen pips Hamilton to pole position with sensational final lap in Austin
But the championship leader was unfazed, as he said on Saturday: "I'm not worried about what happens behind me, I just have to focus on myself.
"I don't see why we always have to keep bringing this up," he added in the post-qualifying press conference. "It's not like we're [Verstappen and Hamilton are] the only ones who have touched in this sport and these things happen, unfortunately, but I think we are on the front row again and everyone is expecting a great race and that is what we also expect as drivers, and we really want to have a great race."
Not only have Mercedes taken every pole here in the hybrid era, they've taken wins in all but one race at COTA since 2014 – meaning Verstappen may be in with a chance of bucking a long-standing Silver Arrows record Stateside. But the Red Bull driver didn't say it would be easy…
"To show this pace already in quali is positive for the race but I still expect it to be a tough balance," said Verstappen. "They still have good straight-line speed, but again, it's going to be really warm, it's going to be hard on tyres a lot of wear, so that naturally makes it more interesting."
WATCH: Mercedes' rear suspension movement is the hot topic at COTA – the Tech Talk team explain what it's all about
Yet Verstappen did concede that it was unexpected for him to take pole in front of Hamilton at one of his favoured venues. "Maybe a tiny bit of a surprise, but you can clearly see it has been swinging a bit the whole season. Luckily, it's still doing that. We'll see. I'm of course happy with the performance we've had today; we'll find out in the race if that's a different story.
"It's so closely matched that if you miss one tiny detail or if you just can't bring it together for whatever reason, you just miss out, and that's what happened to us, for example, in Turkey," he concluded.
Sunday will see a Texas scramble take place in Austin: six points is the gap between Verstappen and Hamilton going into Sunday's United States Grand Prix.