Podcast F1 Unlocked
FULL TRANSCRIPT: Read every word from Alpine boss Otmar Szafnauer's Beyond The Grid interview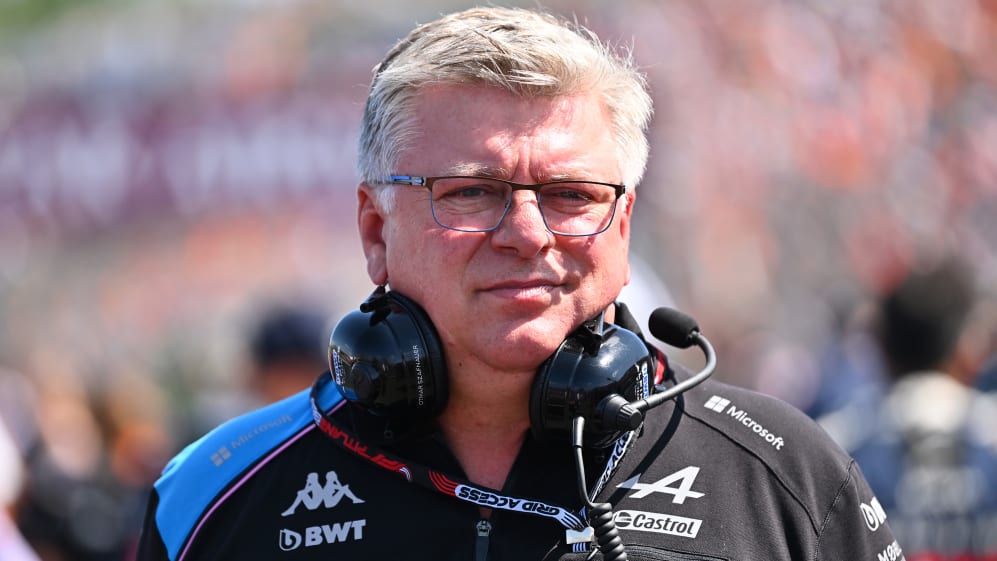 Otmar Szafnauer has been a fixture in the Formula 1 paddock for more than a quarter of a century, working with Honda, then Force India/Racing Point/Aston Martin, and is now charged with leading Alpine to the top of the sport as their Team Principal.
Otmar is this week's guest on our Beyond The Grid podcast, and you can read every word from his interview with pod host Tom Clarkson in the transcript below, listen to the episode in the audio player, or head here to catch it on your preferred platform.
Tom Clarkson: Otmar, great to have you on Beyond The Grid again. How are you?
Otmar Szafnauer: Yeah, well, thank you. It's been a while. Five years. I remember last time I was in a building that I don't think exists anymore. Five years ago it was Racing Point.
TC: Thank you very much for inviting me to your house in Oxford. I feel like we're in a very Formula 1 area. A lot of F1 people live near you. Do you ever hook up for dinners with your neighbours?
OS: Not so much. Occasionally breakfast with Toto [Wolff, Mercedes Team Principal], but he spends, I think, most of his time in Monaco now, and not so much in England anymore. But when he spent more time in England, I would see him for breakfast and occasionally for a drink in the evening if I was walking the dog and happened to notice that he was in, I would ring the bell. But apart from that, no other Formula 1 people although, you know [Red Bull Technical Director] Pierre Waché, he lives close and some others that you see walking around, including I think [Aston Martin Team Principal] Mike Krack doesn't live far. I see him in Summertown and yeah, there's a few of us.
TC: When people talk about "Motorsport Valley" in the context of Formula 1 in the UK, what they really mean is this bit of Oxford, isn't it?
OS: Yeah, this bit of Oxford and around here. I'm sure there are people around Milton Keynes because of Red Bull being out there. I do see [former Racing Point Technical Director] Andy Green for dinner every once in a while, so yeah, there's, you know, there's a few of us around here.
TC: It's really lovely. But as we've already said, it's been five years. There's a lot to talk about. But let's start with the here and now how things are going at Alpine first and foremost. How's your French coming on? Anyone who saw you on Drive to Survive in the latest series – "Je m'appelle Otmar". How's it going?
OS: I haven't increased my vocabulary that much. I decided it was better at my age to have a limited vocabulary, but very good pronunciation, as opposed to a pretty wide-ranging vocabulary and not being able to pronounce them so well.
TC: I think the accent is perfect.
OS: Yeah, I just focused on things like "magnifique".
TC: How would you sum up then the first half of 2023?
OS: Not quite what we had anticipated. I think we did a decent job over the winter in getting a bit closer to Mercedes and Ferrari, and I think we were treading water when compared to Red Bull.
But Aston Martin did a very good job to supplant themselves between us and Red Bull, where last year they were well behind us. We wanted to be a much stronger fourth, we saw ourselves in the first half of the year, mainly fifth with four strong teams ahead of us. In every other race or so we would perform at a very competitive level, mainly at races where the power sensitivity is a bit lower, we do well.
We qualified fourth in seventh and in Monaco and ended up third and seventh. And again, that's a circuit where, you know, it's more car and driver. And the other thing that pleased me was, on merit again come Barcelona, where your aerodynamic efficiency and performance really counts, although he ended up getting some penalties, Pierre qualified fourth on merit and only 80 milliseconds off the front row.
That tells me we did a decent job on the chassis over the winter and now it's for us to make sure the commensurate points come along with that good chassis, and we haven't quite done that yet.
READ MORE – IT'S RACE WEEK: 5 storylines we're excited about ahead of the 2023 Belgian Grand Prix
TC: Is Enstone performing as well as it did last year when they finished fourth in the Constructors' Championship.
OS: Enstone is. It's a bit masked. We had some issues in Baku. We really couldn't keep our pace. We're on the back foot there. Only one free practice. I think we did three laps and therefore didn't get the car in the right window. We had not a great race in Baku at all. We were due to score really good points in Australia. Three laps from the end, red flag and then a standing restart – unheard of. [Esteban Ocon and Pierre Gasly] crash into each other. We get zero points.
We've had some other bad luck, including Silverstone: running in seventh and not being able to get by Fernando, although I think we were a bit quicker than him. We pit to undercut him and just as we pit the Safety Car comes out, ruins our race. I'm a believer of you know you make your own luck. The harder you work, the luckier you get. But we've truly been unlucky this year.
TC: What about the power unit? Do you feel you're lacking a little bit?
OS: I think we're lacking not so much in the internal combustion engine side, maybe a little bit down, but mainly through the electrical power and charging the battery. I think we clip a lot more than some of our competitors. That means there are certain circuits where it doesn't matter as much, or when it's raining it doesn't matter that much. But there are other circuits like Silverstone, Spa and some power-hungry circuits, including Austria, where we're going to suffer a little bit more compared to our competitors.
TC: Let's talk about some of the highs and the highest point so far has of course been Esteban's P3 in Monaco. But can we start talking about the day before – qualifying in Monaco. Everyone was eulogizing about the Q3 laps of Fernando Alonso and Max Verstappen, but I would argue strongly that Ocon's Q3 lap was every bit as good as theirs.
OS: Me too. And you know, you're not as biased as I am. So I'm glad as an objective observer, you think Ocon's lap was as good as theirs, because I do too. But I have an inherent bias.
Esteban was good all weekend – or great all weekend, I should say, from the get-go. He was on it, and it showed in qualifying, and he did a great job in the race. He was inch perfect in quali. I think he got everything out of the car and was out there at the right time. Did a really good job.
TC: I also want to talk about Pierre's Q4, before the penalties in Spain, do you feel that that was the moment when it all started to click for him?
OS: Yeah, for him to be P4 on merit in Spain at a track where aero efficiency is king was exceptional. You know Pierre has also had some good races for us, but he's had mixed qualifying results as well.
Looking back at the first race, we had a car that was capable of Q3, and he qualified it dead last. He was still getting used to the team at that point. Going from qualifying a pretty decent car dead last to then in Barcelona, you know putting it on the second row in P4 is pretty good going. And he's also had some good races and some bad luck as well. I think he would have finished fourth in Australia, but it wasn't to be.
TC: What was Gasly struggling with early doors with this car?
OS: Nothing I could pinpoint. He would get up to speed. FP1, FP2, FP3 it all looked good, and then just couldn't extract the performance out of it. I think that's just a matter of getting used to what you then have to do in Q1 of qualifying with the car. And he quickly learned that.
TC: And what about Esteban? You've worked with him for many years, at Force India before. How has he changed as a driver since then?
OS: He's much more experienced. He's seen a lot more. And when he faces tricky situations, he can rely on his past experience to get through it and get through it in a very good manner.
I'll give you an example. He did a great job last year at Monaco in the end, was about to out-qualify, Fernando – this is in 2022, but it wasn't to be, on a really good lap. However, he started the weekend over a second behind Fernando and he's learned from that. This year in Monaco, he started the weekend on pace and ended the weekend on pace. It was much better. He's getting stronger and stronger.
TC: Whereas back in the Force India days, brilliantly fast, but it was all 'seat-of-the-pants'?
OS: It was a bit new to him. Back then, he wanted to make his mark to ensure that he stayed in Formula 1. And therefore you take some undue risks when you're doing that kind of thing. Whereas now he's an established Formula 1 driver and he doesn't have to do those kinds of things anymore. He's more established, he makes different decisions, he's more rational.
TC: So different decisions, better decisions. So when we saw him and Checo tripping over each other in the Force India era, you think that wouldn't happen now?
OS: I think that would happen less now.
TC: Now, a lot has been made, in the press at least, of Pierre and Esteban's long and sometimes tense relationship. How would you sum it up? What are your observations after six months?
OS: Pleased that all the naysayers out there so far have been wrong, and [Pierre and Esteban] were right in saying 'we're professional racing car drivers and of course we will work together to maximize the performance of the team' – and they've done just that.
TC: Have there been any issues at all?
OS: No issues. They collaborate very well and if they agree with their feedback, you know, one will say, 'yep, I feel exactly the same thing that Pierre does' and elaborates on it if it's Esteban and vice versa, or if they feel things that are different, they'll say, but do it in a professional manner.
TC: Do they communicate directly in a debrief or are we in Senna-Prost territory or Hamilton-Rosberg territory where it was only the engineers that would communicate?
OS: They communicate directly, so they will say when say Pierre's debriefing or Esteban's debriefing, they will interject and say, 'hey, I feel exactly the same', not through the engineers.
TC: And what about after Melbourne when they, they crashed right at the end – and of course it was into each other.
OS: Watching it I was unsure you know, is it 50/50, 60/40. It's in that region. And the nice thing is they both felt contrite, so each one of them thought they could have maybe done something differently to avoid it. They were apologetic, which is good. So the right attitude. A lot of points to be had there, and we didn't get them because they came together. But Pierre was thinking 'perhaps I shouldn't have gone off and come back on where I did'. And Esteban thinking, 'well, he did come back on. Maybe I should have seen that gap closing', so each one of them took some responsibility for it.
TC: And does the fact that you used to race – Formula Ford 2000 – help you in any way to communicate with the drivers? Do you feel like there are situations where the fact that you've raced helps you understand?
OS: It definitely helps me understand, It helps me to understand what the judgment calls that they make and helps me understand what they should have anticipated and helps me understand if there is a bit of poetic license in what they say. I can say 'no, no, no, no. That's not how it happens. Don't fool me'.
TC: There has been some controversy away from the racetrack at Alpine this year. We've just discussed the collision in Australia – no points there. Then we go to Baku three or four weeks later and it's a difficult weekend for the team. In Miami, Laurent Rossi, [now former] CEO of Alpine, goes to the press, and he berates the team publicly, calling it amateurish and full of dilettantes. You've had a few months to think about that now. What are your reflections on that period?
OS: I understand it. Would I have done the same to motivate the team? Probably not.
READ MORE: Alpine announce new brand CEO as Laurent Rossi moved to 'special projects'
TC: You say you understand it. You understand why he went to the media?
OS: I understand the pressure that Laurent must be under, working on delivering a new brand in Alpine Cars and also being responsible for a Formula 1 team. Just one of those two things is a massive job. But to have both of them and, the eyes of the Renault seniors as well as the board upon not just the Formula 1 team, but also the brand-building exercise, that's got to be huge, huge pressure from the CEO, from the board. I kind of get that pressure forcing such a response.
TC: Had he spoken to you about that pressure prior to that?
OS: No, but I can sense it and I can feel it. I can see it in people's mannerisms, in their body language in how they conduct themselves. I could sense the pressure. So when the on-track performance isn't quite what we all want it to be, that pressure can cause different reactions from different people. And I handle it differently.
TC: You say you understand it, but were you disappointed?
OS: I personally would have done it differently, only because my belief is that what has to happen when you want better performance is getting the entire team together, having a good understanding of what's happening, and then planning your way to make changes such that you reach the success that you want to have. And that's sometimes better done behind closed doors. Frank discussion and an introspective view by everybody and then plan a better future. And I think that type of strategy goes a lot further in making sure that the success that everybody hopes for can be reached.
TC: So it's a coincidence that the very next race we go to, you have your best race weekend as a team of the year so far.
OS: Yeah. I mean, upgrades are planned long in advance. It's coincidental that we had a poor Baku, which wasn't planned. Then a decent Miami, qualifying fifth and eighth, and having both of them in the points. Then, coincidentally, a not so power-sensitive circuit in Monaco where the drivers also matter a bit, we qualified fourth and seventh and end up on the podium and seventh. So a great result, but for me, was I surprised? Not really.
TC: Have those comments from Laurent changed your relationship with him?
OS: No. Like I said, I understand it. I understand where it came from. And I understand the pressure he's under as well. I work for us to be successful, for Laurent to be successful, for Renault to be successful, for Alpine to be successful. But I realize that success in our game doesn't happen overnight. The medium and long term, you have to put the building blocks in place to be able to have that success.
If you look back at Mercedes who bought Brawn GP – a championship-winning team – it took them five years to win another championship after Brawn. Red Bull, very successful. They bought Jaguar. I think Jaguar was a strong mid-grid team when they bought them. They weren't ninth place or 10th place. I think they were fourth and fifth in that region. It took Red Bull, with all the resources and money that they needed, five years to start winning.
Aston have done a really good job. I know how they've done it. Lawrence Stroll bought – out of administration – Force India in 2018. We're in 2023 now. Five years. So it takes time. And I realize that. And if you realize that, then you just keep working at it and making sure you put the building blocks in place such that in the future, you too have a chance at winning. If you don't have that deep understanding, then I think the pressure can get to you. And when that pressure does get to you, like I said, people react differently to it.
TC: Do you believe in Laurent Rossi's '100 race' plan, which takes us to 2024? He wants to be in a position to challenge for victories next season.
OS: I don't know when that 'hundred races' started, but for me it started 30 races ago, I was told. So to have 70 races left to do it, which is less than three years. Yeah, I absolutely believe it. We're on our way. We're improving the infrastructure. There's a new manufacturing facility that's about to come online for us. We're also moving all the aerodynamicists into the design office so they're closer to their counterparts that they need to communicate with. We've ordered a new simulator.
We've also identified and agreed to hire some like-minded individuals that are coming in 2024. That should help us significantly in our quest to have the best chassis. All those things are happening. They take time, and even when the individuals do come, it takes a while for them to learn our systems, our processes and the people they're working with. So there is a little bit of lag as well. So yeah, I still believe in the '100 race plan'.
TC: Otmar, one of the things you said earlier was that you know how Aston Martin have made the step that they have. Now taken at face value, they've gone to Red Bull, taken Dan Fallows, who was Adrian Newey's number 2, and eight months later, here we are with a car that's very competitive.
OS: Well, it was more than just Dan. There were some others from Red Bull, too, that came mainly in the aero department and some other departments. There's Eric Blandin [former Mercedes Chief Aerodynamicist] and then some others from Mercedes as well.
TC: How many people do you need to hire to make that difference?
OS: That's a good question. People have asked me that before. Out of a team of, say, 800, 900, every one of the members has a key role to play. Some of those members, if they do their job perfectly, don't have an impact on the performance of the car, positive impact on the performance of the car. If they don't do their job perfectly, they can stop the car on track and it's probably, of those members, a good 10 to 15% that have a positive impact on the performance of the car.
Those are the ones that you need to focus on. If that's 100 out of the 800, for argument's sake, you don't need 100 new ones. You need to understand what areas you can bolster, and it could be as little as 10 to 15 to 20 people that can have a big impact on improving the performance of the car. My guess is 20 to 25 – it all depends on the organization that you already have.
TC: And what about the facilities in Enstone? You say that you've got a new manufacturing facility coming on-stream. How far away are you from the Aston Martin Technology Campus, where you were before? Is that now the gold standard, what they've done in Silverstone?
OS: There's also a wind tunnel that we mustn't forget. Some things don't matter as much. The tools that you need to produce and to develop a competitive race car is what you need first and foremost, and other things are nice to have. So the 'must-haves' is what we're focusing on. And for me, a state-of-the-art simulator is a must have and Aston have one and we don't. That's coming.
Manufacturing facilities to be able to make things in-house and get them to the track quicker – that too is a is an important part, and we're about to launch an improved and enhanced and a larger manufacturing facility, which will help us. But you also need good correlation of all the simulation tools. And so far, correlation has been pretty decent. Let's see what happens as the granularity of the aero becomes even greater as the fidelity becomes higher, hopefully we'll still correlate well.
TC: And is this where the €200 million cash injection, that the team has had from investors, including Hollywood superstar Ryan Reynolds, is this how you're going to spend that cash?
READ MORE: Alpine secure €200m backing from investors including Hollywood actor Ryan Reynolds
OS: We will spend some of that cash in that way, exactly right. But the other thing we desperately need is a bit of headroom on the Capital Expenditure cost cap, because we're full with just updating computer systems licenses that we need, gearbox, dynamos that are required for the 2026 regulations. By the time you spend all that money, you don't have much or any headroom in the CapEx cost cap. So we need a little bit of that too.
TC: Can we just investigate that a little bit more? Because I know other teams are banging this drum as well. For people who don't know what is the CapEx number [the amount F1 teams are allowed to spend on factory facilities] now? And what do you think a reasonable figure is going forward?
OS: It's 36 million dollars now, over a four-year period with indexation with inflation that probably goes to about 40 million. And my guess is it needs to be 55, something like that.
Some of the bigger teams had the infrastructure that we require prior to the cost cap coming in and others who had the financial wherewithal saw the costs cap coming and quickly spent and improved their infrastructure before the cost cap was applied.
And then there's others who didn't have the financial wherewithal at the time and now are stuck with this cap and can't get to a level playing field.
I think it's necessary to not freeze-in disadvantages, be it a frozen engine that somebody's disadvantaged by, or be it cost cap where the infrastructure that you have is frozen and it's not as good as some other teams. I think we need to have, in all areas where we freeze things, you have to freeze-in an even playing field and we haven't done that. It's not the fault of anyone because we're learning. The cost caps new, the frozen engine is new. So as we learn, I think we need to equalize some of those discrepancies.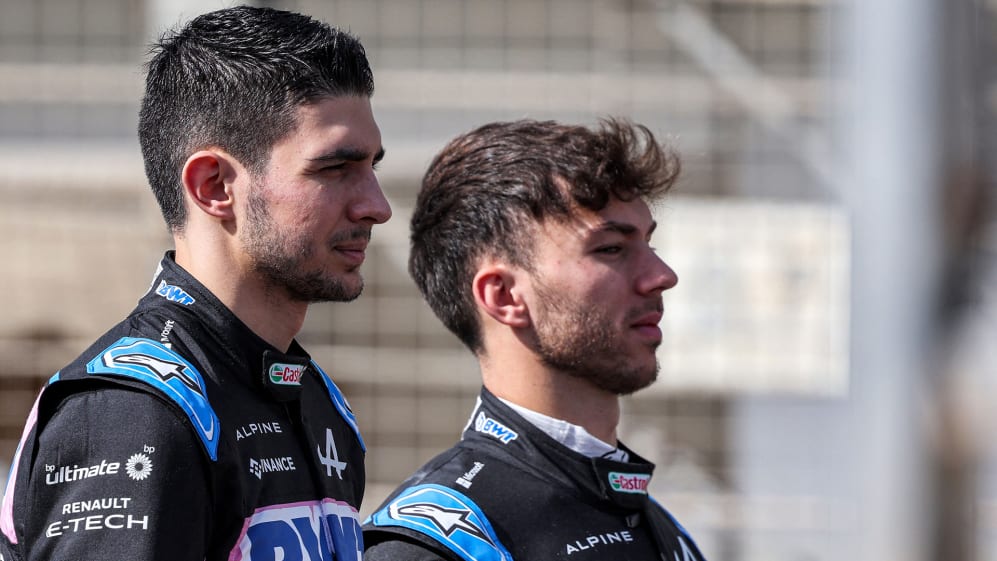 TC: You need five teams to agree to increase the CapEx expenditure. Do you think you're going to find five teams?
OS: I think we can, yeah. I think there's five that want to do it.
TC: We've spoken about Enstone. What about Viry-Châtillon in Paris, which is where the power units are made? Does money need to be spent there as well?
OS: Yeah. So the money that's come in will be spent equally between us, Viry and Alpine Cars. So both places need money to be spent such that we get better output.
TC: It seems unfair to compare you to Aston Martin because there are so many parallels. It's where you came from before you spent 12 years at the team. And of course, it's where Fernando Alonso, who was at Alpine last year, he went there as well. We've talked about drivers, but I did also want to ask you, is Alpine missing the experience of Fernando Alonso this year?
OS: Experience does count for a lot. However, after a certain point you're at the margin and at diminishing returns. Both of our drivers are still relatively young, they're fast, but they also have good experience. They haven't won world championships. Fernando has, but our guys have won races. They're fast, they have good race craft. I'm happy with the experience of both of our guys.
TC: Fernando triggered the driver market moves in Hungary last year…
OS: I think Sebastian Vettel triggered it. Had he not retired, none of that would have happened.
TC: But Alonso openly admits that he operates 'on the dark side'. It's a quote he's come out with. Having worked with him for a few years now. Would you agree with him?
OS: I don't know what he means by 'the dark side'…
TC: I think he quite enjoys being the pantomime villain…
OS: For me he was a free agent. And if you're a free agent, you're free to sign with us, sign with somebody else. Until you've signed on the dotted line, you're free to do whatever. With us, he wanted a longer-term contract than we were happy to sign up for. And I think Aston gave him that longer term contract, and he did what he thought was best for him. And when you're a free agent, fair enough.
TC: Any regrets?
OS: No. We just have to get the best out of the two drivers that we have now. Fernando's doing a great job at Aston. He's been on the podium quite a few times this year, but for me, it's not about what could have been or the opportunity cost. It's about getting the best out of the drivers we currently have.
TC: Do you still speak to Fernando?
OS: When I have occasion to. Yeah, but you know, we're not in the same team, so it's rare that I bump into him.
TC: What about [Alonso's manager] Flavio Briatore?
OS: Yeah, I saw Flavio at a race recently. Whenever I can, I do speak to him.
TC: But no hard feelings with Flavio as well?
OS: No it's, it's the old you know, 'I'm a free agent'.
TC: Yeah. No, you can't argue with that. Equally, when you saw [former Alpine junior driver] Oscar Piastri finishing fourth at Silverstone, were you surprised?
OS: Had you told me two, three races ago, that he's going to finish fourth at Silverstone? I would have been surprised. But having been there and seen the circumstance and the pace of their car, yeah, I wasn't surprised. You know, he did a good job to bring it home in fourth.
Somebody asked me, 'are you happy for Oscar?'. And my response was, well, 'Oscar needs to be happy for Oscar'. I'm happy for my drivers when they do well. He's a competitor. Am I happy when he finishes fourth? Nothing against Oscar, but no. We're competing against him. I want to finish fourth.
NEED TO KNOW: The most important facts, stats and trivia ahead of the 2023 Belgian Grand Prix
TC: But knowing him as you do, you're not surprised that he has the ability to produce the performance that he did at Silverstone?
OS: The [McLaren] car at Silverstone was good. Where did Lando finish in the same car? Second. Lando showed what you can do in that car at Silverstone. Oscar wasn't that far behind. Had he beaten Lando, then I would have been even more impressed.
TC: I'm sorry to drag it up because so much has been said and written about what happened with Oscar and McLaren and the tug of war. Are you confident that that will never happen again in terms of losing one of your young drivers? Because you've got some really good guys now coming through in Jack Doohan and in Victor Martins. Are you confident that you've got them under lock and key?
OS: So I hired a super lawyer, very experienced, Caroline McGrory. I worked with her at Honda. She was the Mercedes lawyer for quite some time and then went off to do some other things, including football and the Commonwealth Games. She pays attention to detail, is incredibly intelligent and now has great experience behind her. I'm confident between myself and Caroline that will make sure that those loopholes in the contract will never arise again. She joined us in April 2023.
TC: You've been involved in Formula 1 for, more than 25 years. What would you say has been your most satisfying Formula 1 season to date?
OS: That's a good question. 2004.
TC: Oh, crikey. BAR (British American Racing), when you finished second in the Constructors' Championship. Really? Okay. Why?
OS: Well, second in the Constructors' Championships and a bunch of podiums. We didn't win because, if I remember right, Ferrari were so dominant.
Now the other season that I thought was absolutely brilliant was when we had a race win with Checo (Sergio Perez).
TC: 2020! That's the year that I had in mind. So I was surprised to hear you say 2004. Second in the championship is pretty good, but you didn't win. 2020, Checo wins a race in Sakhir.
OS: From last to first. Double podium. Lance [Stroll] was third.
TC: That year as well, you had Lance Stroll's pole position in Turkey.
OS: Yeah, and [Stroll was] leading the race by a good margin.
TC: How did you achieve that? Okay [the Racing Point team] was owned by Lawrence Stroll at the time, but it was still very small in comparison to the people that were the regular frontrunners.
OS: We had a really, really good bunch of racers there. Not a lot of us – probably half in in numbers, and less than half of the budget, but most importantly, probably 1/50 of the development budget.
Yeah, we didn't win but we achieved and that's all down to everyone trusting each other, knowing that they're working for each other and with each other. No politics. Just go racing, do what's best for the car and on track performance. Everybody in the team had the same attitude, worked together, pulled in the same direction, and when you do that in a high performing team, you can really achieve, even if your numbers are not quite at the same level as some of your competitors.
TC: Is that what you're trying to recreate at a bigger team, admittedly, but at Alpine?
OS: That is the fighting spirit, the culture that's required to win and achieve. And I'm sure Mercedes, although they're big and they won, had that type of culture too.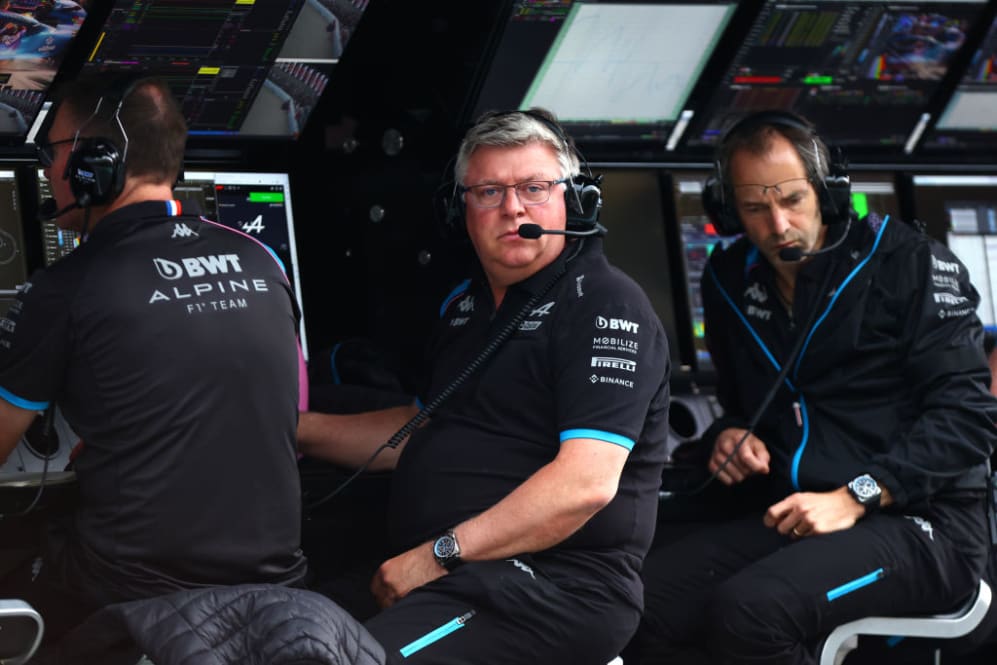 TC: How much more difficult is it to have that culture in a team that is twice the size of Racing Point back then?
OS: It's harder. It is definitely harder, and it has to come from the leadership first and foremost. But then it also has to trickle down to the middle managers. They have to understand it, they have to live it and they have to treat their employees in the same manner that the leadership treats them. And if you can get that throughout the organization, you've got a good chance of success.
But it's just harder to do. There's more layers, there's more people, and everyone's got to think in the same manner and have that racing fire in their belly to succeed. The more you have. That's harder to do. That's what's needed to win.
TC: Now, talking of management layers, at least from the outside, it looks like there's been another layer added in the last few weeks with the announcement that Bruno Famin is fronting all of Alpine's motorsport programs now. How does that impact you and the Formula 1 team?
OS: Well, on a on a practical level, I don't know because it's so new, but theoretically no impact whatsoever. Apparently, Laurent [Rossi] will focus more on the car business and it's a big job. Like I said, that in itself is a big job to launch three new vehicles in the next three years and increase revenue from less than 1 billion to 8 billion and start developing distribution networks in places where we have none. It's a big job. So it'll just mean Laurent in his future will have less to do with racing.
It all now comes under Bruno. But like I said, having had brief discussions – because this is late breaking news, it's new news – everyone said zero impact on what I do from day to day. So it'll just mean that whatever discussions I had with Laurent, in the future will first take place with Bruno.
TC: For F1, does the buck stops with you still?
OS: The buck will stop with me in F1, which I like. I don't want it to stop anyone else.
TC: It raises an interesting question about the structure of a Formula 1 team. I'm thinking of Mercedes and Red Bull. You have Team Principal and a CEO in one person, in Toto Wolff and Christian Horner. At AlphaTauri now, you have a CEO and a Team Principal coming in. What do you think is the best balance?
OS: I think Formula 1 teams need to be very efficient, and I always say a Formula 1 team, to be successful, needs to act more like pirates and not a navy. Big corporations, to be successful, need to act more like a navy and not pirates. So on a pirate ship, you need one captain. You don't need a CEO and a captain. And we're pirates. The smaller and the less structure that you have, the better off you are.
TC: And Bruno Famin's arrival won't affect you? You're still going to be pirates and not a navy?
OS: I'm still going to be a pirate.
TC: Otmar or Captain Jack Sparrow, as I feel I should call you now, what are your goals then? Let's throw it forward. Goals for the remainder of 2023.
OS: Having started where we started and knowing what I know now, for us a success would be, towards the end of the season, for us to be the fourth fastest team.
We're not quite there yet, but we're not far off at certain circuits where we have a bit more parity on the powertrain, where the powertrain has less of an influence on lap time – where it's more chassis, driver, engineers, other things. The only reason I say that is because the power trains frozen – [we] can't do anything about it. I'd like for us to truly be the fourth fastest team and I think we can achieve that. We're not far off.
THIS WEEK IN F1: 10 quiz questions on all the F1 news ahead of the Belgian Grand Prix
TC: And that is different to finishing fourth in the constructors' championship.
OS: It is different. Now looking at how far ahead our competitors are in points, it's going to be difficult to make up those points and finish fourth. However, if we can be the fourth fastest team, we will have made strides and that will bode well for next year's car and how we're going to start next year because next year we definitely have to move up.
TC: It's just a relentless job. It's a relentless sport, isn't it? There's pressure, pressure all the time.
OS: But it's enjoyable.
TC: Do you enjoy the pressure?
OS: I do. I enjoy our sport. You know, I've lived it for a long time. I enjoy the challenge of our sport and to have a team of 950 people and organize them in a manner where we're efficient, we're pirates, we can react quickly. We have good drivers, we have good engineers, we have good understanding of the chassis and putting all that together to compete on track. I love it.
TC: Do you ever stop and reflect on your time as a child in communist Romania and think just how far removed your current job is your current life is?
OS: Yeah, I don't think of that often, but you know, occasionally. I was speaking with a friend of mine the other day who lives just down the road here. He has got nothing to do with Formula 1. He was born and raised in Africa. We were talking about the differences of Africa to here and now communist Romania to here. I was telling him, you know what, [when] I was six, seven years old, it was fun living in the little village I lived in. The summers were warm, and everyone grew their own produce, and a neighbour had a cow, and we got our milk from the neighbours.
We didn't have running water, we didn't have a telephone in the house, and we didn't have a television. Yeah, we had electricity. Life was more rudimentary back then, but it was very fun and rewarding too. Formula 1 is diametrically opposite to my upbringing from zero to eight. And then we moved to Detroit, which was also different.
TC: Had you not moved as a family, when you were eight, to Detroit, what do you think you would have ended up doing?
OS: I don't know. That's so hard to predict, but I doubt I would have been in Formula 1. Even though I loved racing from a young age, the opportunities wouldn't have been there.
TC: Do you think that upbringing gives you perspective that a lot of people in this sport don't have?
OS: I think it does give me perspective and I count myself lucky. Even though it's really only five years of memories, I count myself lucky to have lived such a rudimentary life back then, and now live the life we're living with computers and smartphones and smartwatches and all sorts of things.
Back then there were two cars in the village. My dad had one and the doctor had one, that's it. The rest were horse drawn carriages. You didn't go to the grocery store to get your milk. You went three doors down to the house that had a cow That's so different. But I'm happy that I actually experienced that. In the States you probably had to live in the late 1800s to experience that. Not in 1968 or 1970.
TC: Otmar, yours is an extraordinary story. It's been brilliant to catch up. We mustn't leave it five years until we do this again.
OS: Thanks, Tom.
To read on, sign up to F1 Unlocked for free
You'll unlock this article and get access to:
Live leaderboard data
Epic experiences and rewards
Money-can't-buy competitions