Podcast F1 Unlocked
FULL TRANSCRIPT: Read every word from ex-Red Bull racer Christian Klien's Beyond The Grid interview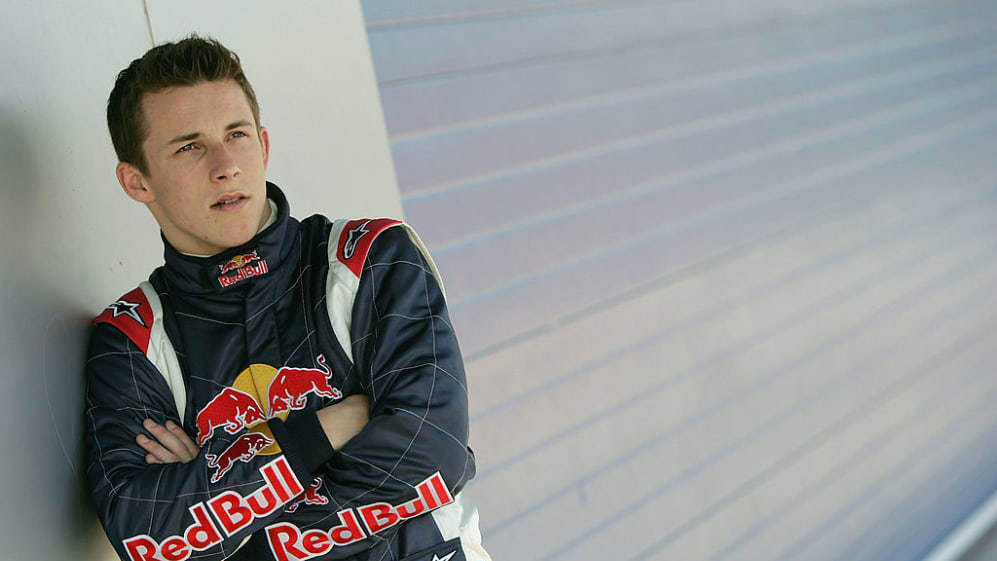 When Red Bull first arrived in Formula 1 back in 2005, their two drivers at their very first Grand Prix were veteran David Coulthard, and young Austrian racer Christian Klien – who is this week's guest on our Beyond The Grid podcast, brought to you by GetYourGuide.
You can read every word from Klien's interview with pod host Tom Clarkson in the transcript below, listen to the episode in the audio player, or head here to catch it on your preferred platform.
Tom Clarkson: Christian, it is great to see you again. How are you?
Christian Klien: Well, Tom, thank you very much for having me on the show. I'm very well thank you. I'm enjoying life currently, as a commentator, but still racing myself. I have a young child, one and a half years old, who keeps me really busy when I'm at home. So going to the Formula 1 race is almost like a holiday nowadays!
TC: Well, we're going to come on to your career in a minute. But let's talk first about F1 2023. What do you make of the season so far?
CK: I like it. I think it's exciting, although Red Bull is pretty strong, but that might change later on in the season. I think the whole pack is definitely closer together. It's great to see a new team like Aston Martin, with Fernando Alonso, fighting for podiums. You see the Ferraris up at the front struggling in the races so you feel for them. Mercedes is starting to get better. If you follow it closely, I think it's a very dynamic season and certainly very interesting.
TC: You raced for Red Bull in their first season of Formula 1 back in 2005 and even Jaguar before that, which was the same team. Have you been surprised that 18 years later they've got this level of dominance or was the appetite and the potential there even back then?
CK: I mean, in the beginning, who could have thought of this? Nobody. Not even Helmut, or Didi Mateschitz back then. Or Christian Horner. Red Bull was definitely an underdog, with no history in Formula 1 and basically starting from scratch. So no, I'm surprised by that. But if you follow the team closely, especially after the first three or four years, they took it a bit more serious and they put the right people in the right position. From then on, you knew they really did not just want to be part of Formula 1, they were here to win.
TC: And who are your standout drivers of 2023 so far?
CK: Max, of course. I mean, he shows it week in, week out. He just performs at an incredible level, with more coolness now. But then also Fernando Alonso, 41 years old. It's amazing what he can do, how hungry he is. Of course, he has the car for it now, but those are probably for me the two standout drivers for this season.
TC: Well, let's bring it onto your Formula 1 career now, Christian. You made 49 starts – split between Jaguar, Red Bull and Hispania. Best result of fifth. How do you reflect on your time?
CK: Obviously, making it to Formula 1 is such a huge step for every driver. But once you're in Formula 1, it's not done. Then the real work starts. Particularly back then, I was 20 years old, I would say it was a little bit more difficult. There was no simulators. There was much more testing, which was probably more fun than sitting in the simulator. It was a huge step jumping into Formula 1 and I think you get relatively quickly used to it and learn it. But being in that big environment of such a huge team with 700 employees, you have to work your way through who is important for you, who to talk to. Especially coming from a Formula 3 team, which has only 20 people, I think that's the biggest change if you jump into Formula 1. Then of course, there's the media attention, all the travelling. People from the outside don't really see how big that transition is.
TC: You were only 20 when you stepped up. Were you ready?
CK: No. But I only see that now. But if you get the opportunity, I had a really good Formula 3 season. I was second in the European series, I won the Marlboro Masters, and then after that I get the first offers for a test drive. One was with Jordan, one was with Jaguar and I grabbed the opportunity obviously. The two tests went pretty well and if that train comes only once… if you don't jump on the train, it's too late. It might not come again. I feel like I wasn't ready. For me, it would have been better a year or two later with a bit more experience in a higher category. But you only get the chance once.
BEYOND THE GRID: Lando Norris on driving McLaren's revival and the responsibility of being the team's senior driver
TC: Do you think you got cars that were worthy of your talent? I'm going to put it to you that you were quick, but never had the car that allowed you to show what you could do. Do you agree with that?
CK: Yes, of course. There's just so many drivers out there right now as well. If you're not in the right car, it's hard to show your full potential. But on the other hand, you always have your teammate where you can see where you're at. The first rule is always you have to beat your teammate. But having said that, 2005, it was my second year in Formula 1, which helped, and that car suited me actually. I was very comfortable in the car, especially in qualifying. In race conditions, to squeeze everything out of the car in that one and a half hours, I still wasn't probably at 100% there. But all in all, that 2005 season was a lot better than 2006.
TC: Tell me more about that 2005 season. Why did that car suit you so well?
CK: Basically, it was an evolution of the Jaguar car, so I was used to that car already from the 2004 season. Basically, that car was designed by the Jaguar guys. Obviously, Red Bull took over the team, but in the end, it was designed by Jaguar and it was pretty decent. Another difficult topic in 2005 is that I had to share the seat with Vitantonio Liuzzi for the first third of the season. Not only in races, but also all in all the testing in pre-season, we shared the car so we probably had half of the mileage than DC [David Coulthard], who was obviously much more experienced than us. That was another difficulty for us young drivers.
TC: But how tough was that to suddenly give up your seat?
CK: Very tough. The good thing was that me and Antonio, we're really good friends, and we knew we were fighting for that second seat at Red Bull Racing. But that never came between us. We stayed good friends and we knew we had to fight each other in the car, but that was it.
TC: I find it so interesting. Was Helmut Marko trying to create this hostile environment where you each had to prove yourself one week to the next?
CK: Yeah, I think so. But I think it was wrong. It was definitely wrong. The good thing is that two, three years back, Helmut admitted that this was a mistake so I feel even better now.
TC: But what actually happened mid-season? Because you then got the ride for the second half of the year. So why did Tonio get squeezed out?
CK: I don't think it was because of results because Tonio did well. It just didn't make sense to have three drivers and two cars. It just made everything much more complicated. I had obviously a little bit more experience than Antonio back then because I already had a year of Formula 1 under my belt and probably did a little bit better in that season, especially the first third of the season. I outqualified DC quite a lot. As I said, I felt quite happy in the car. Unfortunately, the race results were not always there because we were still a midfield team and only the top eight drivers got points, so it was sometimes a bit difficult.
TC: Final thing about 2005. One of the races, you had to pull out. I'm talking about the US Grand Prix at Indianapolis, where all the Michelin runners pulled in before taking to the grid. How tough was that for you, as a young driver, to just take to the pit lane and not take the start?
CK: To be honest, I had no clue what happened there. We drove to the starting grid and at that moment, I still thought we were racing. Christian Horner came up to me and said, "we're not racing. We're driving back into the pits, all the Michelin runners." I couldn't believe it. All the Michelin runners went back to the pits and didn't start the race. It was such an awkward feeling because us drivers were not involved in all the discussions that were going on in the morning. It was probably a good thing because we had to focus on the race. But it was such a weird situation, especially afterwards. We were guided out of the racetrack before the race had even ended, just in case the fans were really upset. Of course, they were, and they had every right to be upset.
TC: And you weren't involved in any of the political discussions over the weekend.
CK: No, not at all. Probably DC, who was the older one, was involved. But I was certainly not involved. I went to the grid and had no clue that we were not starting the race.
TC: So 2006, the following year, Red Bull swap to Ferrari power. How different was that engine?
CK: Obviously 2006 was the first year of the V8 engines. There was probably a little bit less power, but you didn't feel it that much to be honest. But it was a completely new car. It was the first time that it was a Red Bull-designed car. Then we went to Ferrari engines and I remember the first test in Silverstone. The first shakedown we did was in January. It was eight degrees. It was really cold and we couldn't do more than three laps. The car was overheating. Something went wrong in the design. The car looked like a Swiss cheese, with holes in all the bodywork just to get some air out and at least do some running. That was already the start of a difficult season. We had a lot of DNF's, a lot of problems with the car. It was certainly not an enjoyable season for all of the team.
BEYOND THE GRID: Christian Horner on masterminding Red Bull's return to the top
TC: That was on track. But at the time, Red Bull was known as the party team. The energy station was a hive of night-time activity, wasn't it? How hard was it for a young driver to keep focused on the day job?
CK: It was certainly not ideal, because you could get distracted very easily. Me and Tonio were quite happy to be distracted at some points as well! Just thinking of a professional point of view, as a young driver who wants to achieve something, it was not the right approach. But the team changed it after two or three years. It was clear, we came into Formula 1 – that was the intention for Red Bull. We wanted to open up the paddock. Back then, you couldn't go in in other motorhomes and the Red Bull energy station welcomed everybody who was in the paddock. The approach of Red Bull was totally different and much more friendly in a way. Obviously we did all the parties and everybody in the paddock enjoyed that. Everybody had a great time and the marketing guys at Red Bull, they could plan whatever they wanted. Everything was possible. But in the end, you have a very expensive Formula 1 team and it's about successes on the racetrack, not beside the racetrack.
TC: Were you aware even then that that philosophy had to change if the team was going to become a serial winner?
CK: Yes, I think that was quite clear – 80% of the team; all the engineers, all the mechanics who worked day and night, they didn't get distracted too much. Everybody who works in motorsport and especially Formula 1, they work for it with passion. They worked 24/7 if needed. The most important thing is the lap time and the performance on track. Of course, if in their spare time there's a good party, you go there. But even now if you want to go for a beer at the end of a hard day, you can still do that.
TC: Now let's talk about your team mates. First of all, David Coulthard, what sort of a teammate was he?
CK: Obviously, David was very experienced coming from McLaren. I was looking up to him. I knew him since I was a young kid. He was almost kind of an idol to me and then to race beside him, I could learn so much from him. And not just from a driving perspective. He was very good in working with the team, getting the right people together on his car and on his side. The job is not just driving the car. You have to be a little bit political, getting the right people on board so you get the most out of the team. This is what I learned from David. In my eyes, he was one of the best. I still remember in Monaco, it was mind-blowing to me how quick he was. I couldn't do what he did.
TC: Where was he finding the time?
CK: He drove very precise. I still remember now, in all the low-speed corners, they're quite technical also. For example, the slow chicane, he always took like two or three tenths out of me and I said, 'it's just a chicane. How is he doing that?' So it's great for a young driver to learn and copy what he does. In Monaco, all around the low-speed stuff, the way he carried in the speed, and fitted in the throttle, was just so gentle and precise.
TC: Mark Webber had been your teammate in 2004 at Jaguar. Who was quicker, Webber or Coulthard?
CK: I would say Mark, definitely on one lap. Mark was very, very strong in qualifying. He was similar to Fernando Alonso. He was so hungry and had full attention on motorsport. He had no distractions. Not drinking left and right. I remember we had a training camp in Langkawi on that island in Malaysia, and he told me he was never in a club. I said 'what? You were never in the club? You're much older than me!' And he's also not drinking alcohol. Then I realise, now I'm in Formula 1 and these guys are fully focussed on it. Mark was a perfect teammate in a first year of Formula 1 because he's a true sportsmanship man. No political games. Very easy, very open. It was an easy step into Formula 1, having him as a teammate.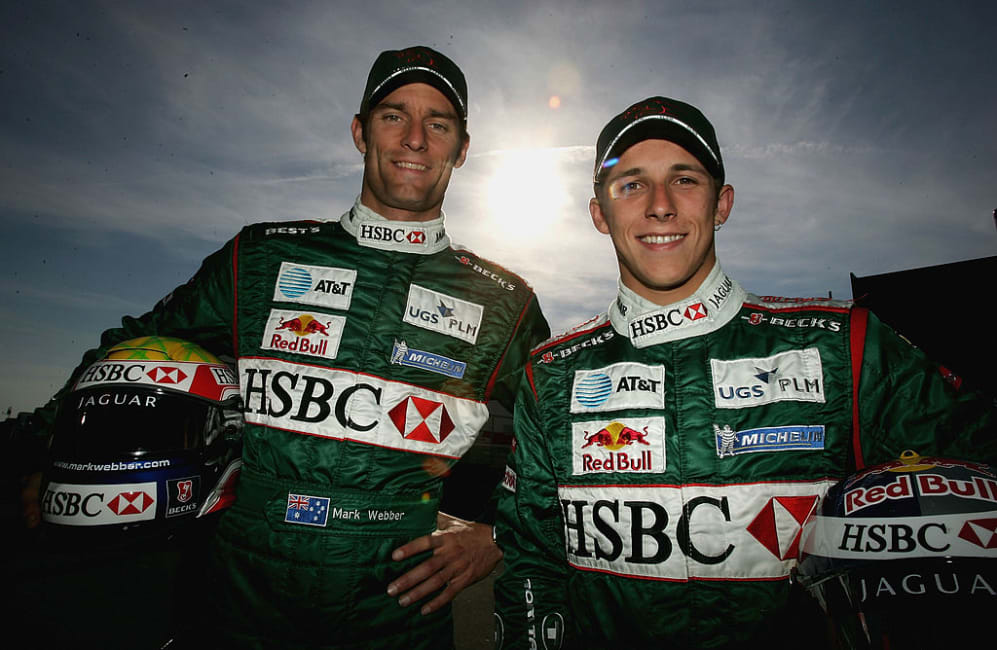 TC: And did he help you? Did he share data?
CK: Yeah, he would help until Bahrain, when I was quicker than him!
TC: Look, we haven't actually talked about that 2004 season yet. You come in after one year of Formula 3 and, tell me if I'm wrong, I think F3 was meant to have been a two-year programme for you and then you win the Zandvoort Masters and suddenly those tests come and obviously Jaguar make you the offer. You can't decline it because you've got to jump on the train, as you said earlier. But were you concerned that there had been a conveyor belt of drivers going through that second Jaguar seat in the early 2000s? Pedro de la Rosa, Justin Wilson, Antonio Pizzonia, Luciano Burti, they'd all sort of come and gone. Were you aware that you were stepping into quite a difficult situation?
CK: No, not at all. Not at all. Again, if that door opens, you have to grab it and you have to take the chance. Having said that, it was actually a very nice environment at Jaguar back then. I quite enjoyed it. Obviously, the car was not as we hoped for and it was like a midfield team, although Mark had some really good qualifying results. But in the end, I was 20 years old, I was so concentrated on my own job. There were so many new impressions; not just driving the cars, so many new racetracks, first time flying to Australia, first time in Malaysia. I'd never travelled outside of Europe. There was so much media attention, such a big team that you work in, your head is full. The best thing is when you sit in the car and close the visor. Then you feel kind of comfortable. Everything else is an unknown in the first year.
TC: I remember Mark Gillan, one of the senior engineers there, telling me that he was incredibly impressed with how quickly you got up to speed before the season.
CK: Obviously, there was a lot of winter testing. I remember, I had no spin all winter testing. Not one spin, and Mark came to me and asked, 'why do you never spin. Are you not driving at the limit?' I said 'No, but there's traction control and everything is pretty easy!' But of course I probably wasn't at 100%. For me, it was important to get mileage. Then obviously going above 100%, you can do that in qualifying or races.
TC: That's an interesting point you make about traction control. That was sort of peak driver aids, wasn't it? You come from a very basic Formula 3 car, how difficult was it to get your head around all of the tools at your disposal?
CK: To make them work for you, that was more difficult. Using a traction control, you go on full throttle and the traction control does the job. But setting it up to your liking was the difficult thing, and obviously having no experience in Formula 1 made it more difficult. You had a lot of tools that helped you, but you had to use them to your advantage and that takes experience and some time until you've nailed it.
TC: Let's talk about traction control. How counter-intuitive is it? I mean, are you literally flooring the throttle, not even feeding it in?
CK: Yeah, if it's set up properly. You had different traction control settings for different parts of the corners. I remember it was like three rotary switches just for traction control and changing it from corner to corner, that was sometimes a bit too much for me. To use all those tools to your advantage was difficult. It was important to be clever. The engineers didn't set up everything for you. You had to do it as a driver inside the car. That made the difference between the other drivers.
TC: I remember Mark Gillan again saying that you were a very smart driver. In hindsight, what was your greatest strength?
CK: I didn't do many mistakes, to be honest. I had a good overview in the races, of the cars around me, and so on. I wasn't involved in too many crashes. I think I was quite good when I felt comfortable on a qualifying lap. My downside was probably in those days, to squeeze everything out of the car in race conditions. Back then, that was not looking after the tyres. It was flat out for one and a half hours. It was qualifying for one and a half hours. It was very tough physically as well.
PODCAST: Mark Webber on how current stars took him to next level
TC: But of all the people I know who surely didn't have a problem physically, it's you.
CK: Definitely the first half of the season at Jaguar in 2004, I wasn't able physically to push through the whole entire race. Mark Webber was the best benchmark. He was physically so fit. I learned again a lot from him and my physio back then, Nick Harris, about how fit you have to be in Formula 1 actually. It took me a while until I was able to physically fight through a whole race. I remember the first winter I spent in England, in London. I spent so much time doing physical training. But then driving the car is something else, especially the neck muscles. It's hard to train stuff like this. It was definitely tough.
TC: So end of 2004, you've just had your first season in Formula 1. I'm guessing a lot of your mates are at university. You're still very young and Jaguar are pulling out of Formula 1. What were you thinking at that time? Did you think 'my Formula 1 career is over before it's almost started?' Or were you aware very early on that Red Bull were going to buy?
CK: We did the last race in Brazil and it was still not clear what was going to happen with the team. I knew there was an intention that Red Bull might buy it. But Brazil, me and Mark crashed into each other. That wasn't ideal, but I certainly didn't know what the future brings. It was only in November I think that Red Bull said, 'okay, we're taking over the team.' But then it was still not clear if I'm staying there or not. It was a difficult situation. But this is Formula 1 and you can never be sure what happens the next year.
TC: So you had an association with Red Bull in your junior career, but it predated the official Red Bull young driver programme. So how did it come about, given that there wasn't a young driver programme?
CK: Basically, I was the first Red Bull junior driver who made it into Formula 1 and it was not the Red Bull junior programme like it is now. It was 'we support some Austrian drivers and support them in motorsport.' Since go-karting, I was supported by Red Bull. Financially, we couldn't do it ourselves from home so without Red Bull, I never would have made it anywhere. Thanks to their support, I made it all the way to Formula 1.
TC: Was this Helmut Marko? Because he was running his own Formula 3000 team at the time, wasn't he?
CK: Yes.
TC: Were you getting those early morning phone calls from Helmut?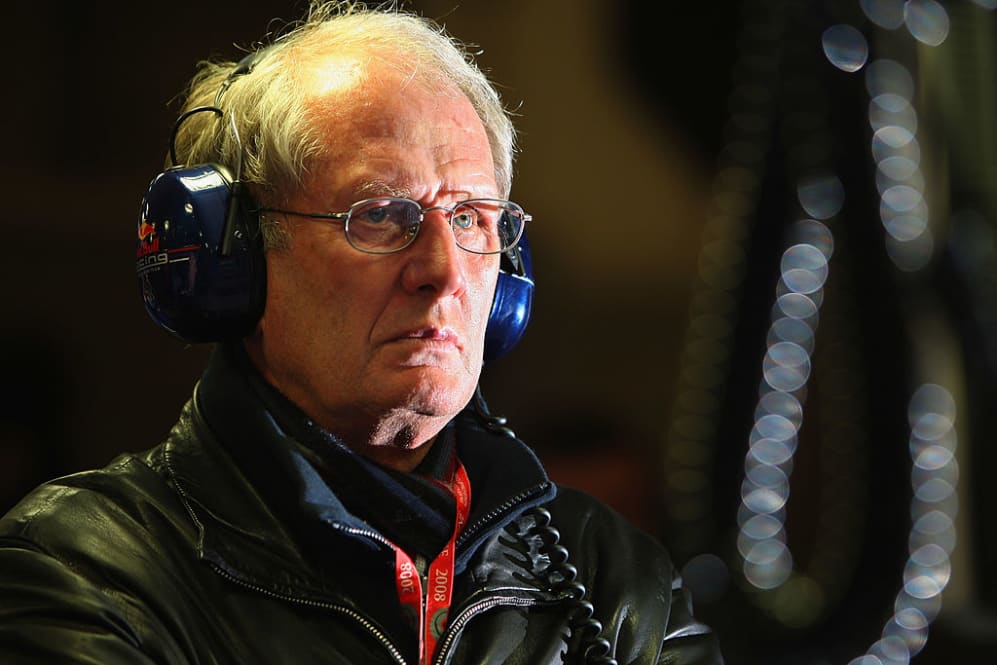 CK: Yeah I got them as well. But initially in the beginning, it was Thomas Ueberall who was responsible for the Red Bull junior programme when it started. Then later, with Helmut's expertise of motorsport, he took over the programme and I did get those early morning calls as well. They were horrible. I get up earlier in the morning now so I get it, but back then it was certainly not enjoyable getting these early calls.
TC: And did you have any association with Dietrich Mateschitz back then?
CK: Yes, basically the first Red Bull helmet I got was handed over by Didi Mateschitz himself. My contact was always either Thomas Ueberall or Didi. Also, my first move to Jaguar, there was also some sponsorship from Red Bull. Everything was dealt with Didi directly.
TC: Tell us what sort of a man he was.
CK: Didi was amazing. He helped so many athletes, and not just in motorsports, in all different kind of areas and sports. He was just such a happy, friendly man always. He was happy to support with not much return. I can only say the best about him. You could call him any time you want, he would pick up the phone and have time for you. The first time I went to Red Bull in Fuschl, I think there were like 35 people working there. It was really small. In the last 20, 25 years, it's got to such a big company. But back then it was like a family. You knew more or less everybody. It was different back then.
TC: And do you think in the world post-Didi Mateschitz, who very sadly passed away last year, the company's association with motorsport and Formula 1 is going to change going forward?
CK: I hope not and I don't think so. It's in the DNA of Red Bull. It's still probably one of the best marketing tools you can get. Red Bull in the end is a marketing company. Red Bull Racing is doing so well. I can't see that changing. I think in the DNA of Red Bull, motorsport will always be involved. I'm pretty sure about that.
TC: I'm now going to bring it onto the end of 2006, when of course it came to an end in Formula 1. What happened there? I felt you were getting your feet under the table. They just employed Adrian Newey. The team was on the up. It must have been a frustrating time for you.
CK: Yes, it was a very frustrating time. A very frustrating year as well. It came to an end in Monza. Basically, Red Bull and Helmut Marko offered me a drive for 2007 in IndyCar and said 'we don't extend your contract in Formula 1, but we offer you a drive in IndyCar.' I said 'no, I would like to stay in Formula 1. I feel like I have unfinished business here.' The mistake I did back then, I said that publicly on Austrian television. I said 'no' to that offer and it didn't go down very well with Helmut. Then obviously after the race in Monza, he said 'okay, Christian, we finish it now,' because of that comment that I made publicly on TV. But there was so much going on behind doors. I was really, really frustrated with the situation and the way it was brought up to me. It wasn't very nice. My reaction was probably wrong. But even without that reaction, I didn't want to go to IndyCar. I felt I had unfinished business in Formula 1. I definitely wanted to stay in F1, even if that meant I had to break up with Red Bull, who made everything possible for me to get into F1.
BEYOND THE GRID: Giancarlo Fisichella on driving with Ferrari, Force India and helping Fernando Alonso become a champion
TC: Do you regret that decision now?
CK: No, because I don't think I would have had a successful career in IndyCar in America. I don't like oval racing. That's probably because we grew up differently in Europe. Drivers from America, they probably see it different. I wanted to stay in F1 and I think I would still do the same again. After that, I had a fantastic time at Honda the year after, being a test and reserve driver. Obviously, once you're in that role as a test and reserve driver, it's very hard to get back and two years were spent with BMW as test and reserve driver. Then I had a couple of races with Hispania Racing. But yes, I would do it again because I wanted to stay in F1.
TC: Let's talk about Honda and BMW Sauber. How did those two teams compare? Of course, for newer fans to Formula 1, Honda is now Mercedes. So it was the embryonic stages of that world championship-winning team.
CK: Yes. Now at Mercedes, most of the people there are the same from back in the Honda days. Brackley was a huge facility. I was impressed by how big it was. Honda had a really good car the year before in 2006. I was testing their car in winter and it was mind-blowingly fast. Unfortunately, the 2007 car wasn't that quick. It was a really difficult season for Jenson Button and for Rubens Barrichello. But you just learn so much with the way the people worked there. The way Jenson works, the way Rubens works, I think it helped me to grow as a driver. Back then, there was also still the testing. I did a lot of testing as well so I think it was a good move.
TC: There's one race in particular you did FP2 at Silverstone, the British Grand Prix. Jenson sat out that session with a back problem. Did you think you were going to go and drive in Jenson's home race?
CK: Well, obviously it was Jenson's home race. He shouldn't miss that race. But then, I'm a Formula 1 driver. I want to grab my opportunity. I was there. I was the third driver. I was ready. I was jumping into the car. I did a lot of testing, so I was absolutely ready to do that race. But it was just a small problem for Jenson. He went to London to check it all up. He was back on Saturday and did the rest of the weekend.
TC: So you go to BMW-Sauber the following year, 2008. It's an incredible season for them and actually it's funny we're chatting in Canada, because it was where Robert Kubica won his one and only Grand Prix. He was leading the world championship. I certainly feel that they should have pushed on and gone for the championship that year. Was that the feeling you were getting inside the team as well?
CK: Robert certainly thinks that way and a lot of the people probably inside the team as well. I think if you have that opportunity, it's so close in front of you, you have to push through. I think they should have done that. But then 2009, there was quite a big regulation change with KERS coming in and in Munich, they concentrated quite a lot on that already. So yes, it probably would have been better to concentrate on that world championship fight.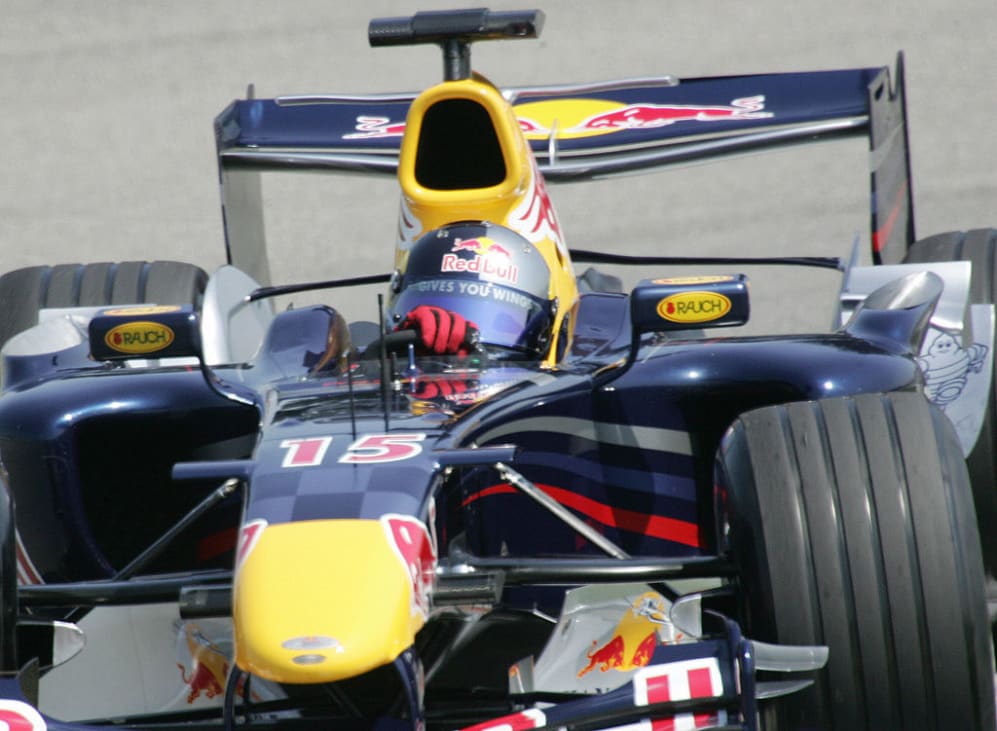 TC: Was the 2008 Sauber a much better car than the 2007 Honda?
CK: Yes, it was. That car was very good, actually. I did a lot of testing in those cars and it was really mind-blowingly fast. Especially Robert, he mastered that car. He was so quick.
TC: You raced Robert a lot in karting and you knew him incredibly well. Just how good was Robert Kubica?
CK: For me, he would have been a future world champion if he went to the right team. With his accidents, it stopped that hope. But he was definitely that good to win an F1 championship. And he would have without that unfortunate accident that he had, and being in the right team at the right time.
TC: Tell us about your contract negotiations with Mario Theissen, the boss of BMW – because he let you go racing and you did Le Mans. You finished third. How much did you enjoy the sports cars?
CK: I enjoyed the sports cars a lot and it was a kind of an eye-opener after being five years in F1. You don't see left and right, you think F1 is everything, and Le Mans was amazing. It was proper factory teams. They were operating almost like F1 teams, but in the relaxed atmosphere at the racetrack. It wasn't that strict and it wasn't too tough in a way. In the end, it was down to the basics in motorsport that you grew up on and I enjoyed that a lot. The racing at Le Mans, as every driver would say, is just amazing.
TC: Are we going to see you back at Le Mans?
CK: I think so. I definitely would have loved to do that at least one more time.
TC: But in Formula 1, 2008/2009 with BMW-Sauber, BMW then pull out of Formula 1 at the end 2009. You you must have been thinking 'oh no, not again' after what had happened with Jaguar. Had BMW continued in F1, do you think you could have got a race seat with them?
CK: Yes. For 2010, I had a contract for a race seat. That never happened, of course, because they pulled out in the summer break of 2009. Then there was another option because Felipe Massa had that accident in Budapest, and he couldn't do the rest of the season. Robert Kubica was already in Maranello doing seat fits and I was just doing a straight-line test in Italy for BMW-Sauber and then Peter Sauber called me. He said 'practice some starts, Christian. You might do Monza. We release Robert, he's going to Ferrari, and you will continue the rest of the season.' I said 'great, I'm doing starts now', but then something went wrong with Robert going to Ferrari.
TC: But Christian, you were on Peter Sauber's radar. He then takes control of the team again when BMW pulled out. So I imagine the race seat discussions continued?
CK: Absolutely. Unfortunately, they didn't have any money to bring and it was a different story back then. They had a huge complex and had extended the factory enormously in general. But obviously the BMW money was gone, so they had to run the team – a huge infrastructure so if you talk Sauber, those years after BMW were very, very tricky for them.
PODCAST: Kubica still 'paying a price' for desire to improve
TC: You end up going to Hispania for 2010. After all the manufacturer teams, it must have been a very different environment?
CK: Yes, it was. It was very late that Colin Kolles called me and asked me if I could join the team as a benchmark there, to do some Friday tests. It was only for Friday tests and some testing, just to be bit of a benchmark. I did it because I had nothing else in my pockets. So I did a couple of Friday tests there but it was a very small team and you have to say, Colin did a very [good] job actually to hold that team together and to bring it from one race to the other. It was almost like back to Formula 3 days.
TC: You end up doing a few races later in the year. I'm imagining you're spending as much time looking backwards as forwards right?
CK: Yes, absolutely. I mean, the car was four or five seconds slower a lap. The car drove quite well, actually. It was just slow and it was more watching the mirrors than anything else. Not quite enjoyable.
TC: So then F1 becomes a thing of the past. In 2010, what's going through your mind?
CK: 2010, it was clear to me that's it. That's the end of my F1 career, being in a backmarker team wasn't really my intention and I lost the motivation. I lost the joy for it. I said 'okay, that's it with Formula 1'. I went to sports car racing with Aston Martin in 2011 and focussed more on other categories in motorsport.
TC: But Christian, as a guy who was only in his twenties still, how hard was it to accept that F1 was over? I'm going back to the point I made right at the start, that you were clearly quick but never had the car deserving of your talent.
CK: Yeah, but if you're a driver, you understand that very well. You have to be in the right car to show your true potential. If that's not the case, you cannot show it. Every year is more or less surviving to find that right spot for you, and that's very energy-consuming. When you end up in backmarker teams, you start to lose the fun of it. But the good thing about motorsport is that there's so much more you can race with and I was always open-minded to racing in other categories. I did V8 Supercars in Australia, I do Bathurst. That was probably one of the best racetracks I ever raced in, especially in a V8 Supercar. If you like that challenge and that adrenaline rush of racing other cars, competing, having wheel-to-wheel fights, there's so much more out there that gives you the fun and choice. There's some drivers, for them, it's only Formula 1. When Formula 1 is over, they retire and they're not interested in other motorsports. I would say Max Verstappen after F1, he's definitely racing something else because he just loves racing.
TC: And you're keeping in touch with Formula 1 through the TV world. Do you enjoy it?
CK: Yes, I do enjoy it. Even after my career, I always followed F1. I raced in it, but at the end I'm also a big fan of F1. It's a lot of fun. We have a really good crew. We do 12 of the races, which is also not so bad. It gives me some room to race myself still, so it's really good.
TC: And you're still skiing and doing all the fun things that Austrians do?
CK: Absolutely. Still skiing, a lot of road cycling when the summer is here, and in winter, skiing or some ice hockey as well. Oatside playing with the summers here and yeah, winter, of course, skiing or some ice hockey as well.
TC: Oh, Christian, it's been so much fun to catch up. Thank you so much for your time and what a phenomenal career you've had. It's been brilliant to have you on the show.
CK: Thank you very much for having me on the show, Tom.
To read on, sign up to F1 Unlocked for free
You'll unlock this article and get access to:
Live leaderboard data
Epic experiences and rewards
Money-can't-buy competitions