Podcast F1 Unlocked
FULL TRANSCRIPT: Read every word from F1 engine guru Mario Illien's Beyond The Grid interview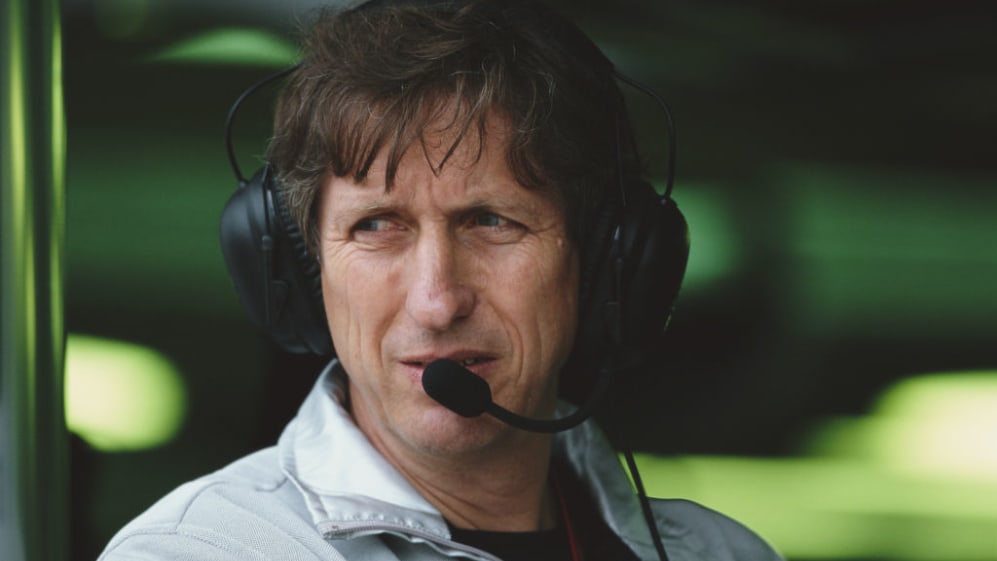 Newer Formula 1 fans might not have heard the name 'Mario Illien' – but the Swiss engineer has had a huge impact on Grand Prix racing, as well as other series like IndyCar, having been the design genius behind some of motor racing's most successful power units.
Mario is this week's guest on our Beyond The Grid podcast, and you can read every word from his interview with pod host Tom Clarkson in the transcript below, listen to the episode in the audio player, or head here to catch it on your preferred platform.
Tom Clarkson: Mario, thank you very much for coming on the show. It's great to speak to you.
Mario Illien: Well, thank you very much. It's a pleasure to be with you and an honour, I would say.
TC: There's so much to talk about. We're sitting in one of the meeting rooms here at Ilmor in Northamptonshire. Your co-founder at Ilmor, Paul Morgan, once described you as an artist like Picasso. Does that description make you smile and is it accurate?
MI: I'm not sure. I don't think it's very accurate. Maybe. I've been very particular on the detail all the time, quite dedicated to get things right first time.
TC: You've designed many great engines and we will come on to some of those in a minute. But can you just describe the design process? How much room is there for artistry?
MI: I think that comes as you do the design. I think an engine has to be pleasing in its construction and its concept. Then I think you probably see an element of artistic design in a way. But I mean, you see functional things which look ugly, but you can make it functional and look nice. I think that's probably the difference.
TC: How long does the design process take?
MI: Well, it never really stops. Obviously, you have to start with a concept and then you get into the design, into detailed design. So it is a continuous process. And when you have you think you have finished and obviously you think you can improve it already and you start considering the next step.
TC: Is it true that you lock yourself in a room for 18 hours a day and refuse phone calls, is that right?
MI: Absolutely. When you're in isolation, then you are much more effective in designing. I remember when I'm there for a few weeks, they have almost every dimension in your head. You have got all the details. You don't have to look it up all the time. So you're very effective of coming up with a design.
TC: Is one person designing these modern racing engines or is it an army of people?
MI: Nowadays I wouldn't say an army, but there are obviously several people involved. But in the early days I was just on my own in the spare bedrooms.
TC: And you would do the whole thing?
MI: Yes.
TC: Now you've been designing engines for more than 40 years. Where have you seen the biggest performance gains in that time?
MI: The biggest gains, I would say, are in the friction reduction and combustion efficiency. You need to optimize every detail. Obviously, you've got to consider 'do I need to have a bearing size of that size?' 'How can I reduce the friction in the bore piston rings?' Obviously, weight is a way of reducing friction. If you can make all the moving components light, then obviously you get a benefit. And I have always been very determined to make lightweight engines.
TC: In in the late 1990s I remember you using some pretty exotic metals. If we talk about beryllium, for example, what were the qualities of that that made you want to use it?
MI: Well, aluminium, beryllium is just a fantastic material. It has almost the stiffness of steel but is light, roughly like magnesium, has got very good properties on heat transfer and it made it more or less ideal I think for a piston. The only problem was to get hold of material and then make it workable for a piston. So we had to develop the whole process of heat treatment, of forging it, and then machining it. You only could machine it with diamond tools. And so it was quite complex. But I had a small team of people here developing the process to actually get this material usable for us.
And then we made pistons. They were 167 grams. I mean, extremely light. The material is expensive, but overall it was cheap because we had a much longer life out of the engine with those pistons in it. So we could increase the use of the of the engine and therefore, obviously saving on rebuilds. That's a much bigger saving than the cost of the piston.
THIS WEEK IN F1: 10 quiz questions on all the F1 news ahead of the Hungarian Grand Prix
TC: That was what, 1990s, wasn't it? When Mika Hakkinen was winning world championships for McLaren Mercedes. Were there any other exotic metals that you were using at the time you can tell us about now?
MI: Yeah, we use some material with a carbon fibre in it and in particular it's embedded. We used some beryllium as in liners and obviously then the coatings came up as well, which obviously helped to reduce friction as well.
TC: It was an extraordinary time, those late 1990s. It seemed to me that that was peak Formula 1 engine building – you had quite a lot of freedom in terms of what you could use. You could use unlimited number of engines during the course of a season. Was that the most rewarding period for you?
MI: It was a fantastic time, yes. I even mentioned titanium aluminite – that was another exotic material used for making valves. All these things are really fascinating and initially difficult to master, but then when you had mastered the problems, then they gave you quite a lot of benefits.
TC: Were all engine manufacturers at the time doing this with Ferrari doing the same, or do you feel that you were way ahead of the opposition?
MI: I think we were ahead of the opposition.
TC: The results would suggest that was the case!
MI: But that's why things got banned eventually.
TC: It's a sort of compliment to you, isn't it? When things get banned, you're doing too good a job! Now – you founded this company, Ilmor, with Paul Morgan and Roger Penske 40 years ago. Tell us how you came to start a joint venture with those guys.
MI: I worked at Cosworth. So did Paul Morgan. And during those years we became friends, and we did some projects on the side. Paul had at home a milling machine and lathe and all the equipment you needed to make exciting things. So I would design bits and pieces and he would make them. We had a good working relationship in that sense, very complementary.
After five years at Cosworth, I felt I needed to move on to do something else. I discussed that with Paul, and he said, well, it's about time for me as well. That was his suggestion. Why don't we do something together? But then the question is: what can we do? Which projects should we start with? Looking at the market, Formula 1 obviously was a bit too difficult to get in as a newcomer and so we felt IndyCar would be probably the field, we could start and make things work, but we didn't have any money.
Paul was involved with IndyCar engine, with Cosworth, and he knew Roger Penske. So we called up Roger and asked him whether he would be interested in a new engine for IndyCar. And he said, 'yeah, sounds interesting. Send me a business plan and a timetable'. So [we did a ] handwritten sheet business plan and the timetable and he showed the interest in it.
He sent over a lawyer to try to make a contract with us, but that wasn't quite what we wanted – a contract to make a joint venture. But it was too restrictive. And then a lawyer wanted us to come to the States. I said 'no way, it's too expensive – we have no money!' So eventually they said, 'okay, we pay for the trip'. And Paul and I went over there on the Sunday and met Roger in New Jersey, where he was living at the time, four o'clock in the afternoon. And then he said, 'what's the problem? What are you not liking about this?' We said 'nothing'. He said 'okay, let's put it aside. What do you want?'
We came to the agreement that Paul and I would have each 25%, Roger would have 50% and would find the manufacturer and would give them 25% of his 50. That was the basis of it. And then he said to his lawyer, 'okay, make a contract around this'. And that's how we started.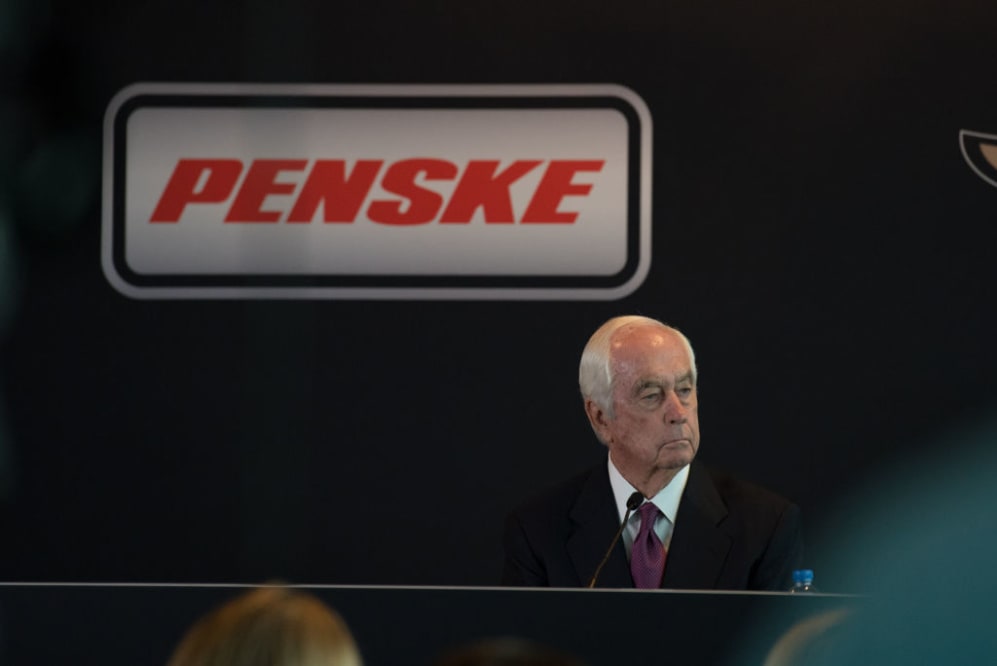 TC: How long was that meeting?
MI: That was about not quite two hours.
TC: So you did a deal – from scratch effectively because you binned the earlier contracts – in two hours to start the company that has gone on to dominate the world of motorsport for 40 years. How extraordinary.
MI: It was fantastic. Obviously, Roger is just a fantastic person. He just made a decision there and then – 'we're going to do it'.
We started beginning of January 1984, and in October of '84, he found General Motors, Chevrolet, to participate.
TC: And then you never look back. Tell us about the challenge of IndyCar, because you won your first race in '87 at Long Beach with Mario Andretti. But the process of getting to that point, how difficult was it?
MI: It was quite difficult. Obviously, we had to start with nothing. We had Paul's machine shop. I was working at home, working at his place, doing things and making things. Then we made plans for the factory, had to find the site and obviously Paul was living in Brixworth as well at the time.
After three months, I had enough schemes and basic designs to employ two draftsmen, helping. And then we rented an office in Brixworth, and the four of us came up with all the drawings and plans while the factory was built.
TC: When did you have your first IndyCar engine on the dyno?
MI: On the 16th of May 1985. The plan was 15th of May.
TC: Ah, you were late!
MI: It was a day late – he was on the dyno, but it didn't fire up because we had a problem with the ignition system.
TC: But you go into IndyCar and you're competitive from the outset. You win that race in '87 and then you dominate the Indy 500 from 1988 onwards. At what point did Formula 1 come onto your radar?
MI: Thinking about it, in '88. And we started the concept in '89. Again, Roger Penske was supporting it and financing it. And then Adrian Newey came along, asking whether we would have an engine for him for the Leyton House F1 Team.
TC: Which you ran in 1991. How instrumental was Akira Akagi, the Leyton House boss? Could you have done it without him or was Roger's funding enough?
MI: No, Roger's funding was just for the initial part. Leyton House was important in that respect, but it didn't last very long because Leyton House got obviously in trouble in '91 – in financial trouble. So the funds didn't turn up any longer.
TC: Why do you think Adrian Newey came to you?
MI: Well, we had quite a good relationship. We worked together with Newman Haas, as in '87, and he was the race engineer at Newman Haas at the time. And I remember we had a quite a problem with the oil tank in Indianapolis going on left hand corners all the time. We then sat together in the hotel and designed the oil tank or modified the oil tank, which was in the Lola at the time, and make it work.
We built a friendship really from that time on, and it's lasting until today.
TREMAYNE: Almost 35 years after he first made his mark, surely Newey is now the greatest designer in F1 history
TC: How do you think that '91 Ilmor V10 stacked up against the front running engines of the time – the Honda, the Renault?
MI: I don't think we had quite the horsepower they had, but we were massively lighter than they were. The first engine was at 126 kg, whereas the competition was 170 plus. I put the focus on the weight. I was calculating every stud and bolt and nut to make sure we come to a minimum weight. I planned to do so.
TC: And that is what Adrian Newey saw in you, I guess?
MI: Adrian obviously liked lightweight engines and obviously that is helping on the centre of gravity. We probably had quite a few things in common in that respect and obviously making a very small package – that's the other benefit for the car designer to have a package so he has more freedom for the aerodynamics.
I was always very keen to have low heat rejection because that reduces your radiator ducting. The engine itself is one thing, but you always have to think as a package, how is it used and what are the important things for the aerodynamicist. Obviously having Adrian, we could discuss these things ahead of time on all the projects we did.
TC: Yeah, I can see you two have a really good working relationship. How hand-to-mouth was it after the Leyton House money run out?
MI: Oh, it was very difficult. Paul and I decided to fund it ourselves to keep going, but with very limited resources. I mean, we had two clutches left and a few gear ratios. So I mean, there were big compromises everywhere we had to race things. But we did manage to even get some points with Ivan Capelli.
TC: A sixth place at the 1991 Hungarian Grand Prix. What did that World Championship point mean to you?
MI: It was obviously a big step for us. With the money we had and the few bits and pieces, to actually go and get to the points – that was a big step.
TC: How important are drivers when it comes to developing an engine?
MI: They are important in the respect that they can give you feedback. Obviously, the driveability is always an issue which helps the driver to make good lap times, so you have the feedback for that kind of thing and the improvements you can make helps.
But you need a driver who can look after the equipment. One issue we had during the that first year because we were still running on valve springs, initially there was a tendency to over-rev the engine quite often and that didn't help the program.
TC: Who's the best driver you've ever worked with?
MI: On the Formula 1 side, Mika Hakkinen, Kimi Raikkonen, and in IndyCar, Rick Mears.
TC: What stood out about Mika Hakkinen and Kimi Raikkonen?
MI: Well, they were naturally extremely fast. They could sense small differences, you know, if we could improve, especially on the driveability side, if we could make improvements, they could give you good feedback.
TC: Are you looking for a driver to back up the data or is it more than that?
MI: The data is an important part. We look at the data. But then you get the feeling of the driver is important as well. They're not always saying the same thing, but it's still good to understand the driver's feelings. But as well, look at the data and then make the right conclusion out of it.
TC: I've been told in the past that Mika Hakkinen was very open minded. He was willing to give anything a go. Can you remember doing any extreme tests with him?
MI: One of the extreme tests was when we had the additional brake pedal. It helped cornering, reduce the understeer and he could use it extremely efficiently. The other thing Mika was impressive in: I remember a race in Hockenheim, we were leading the race and they fuelled him short, they didn't get all the fuel in. He had to do a lot of fuel saving to finish the race. And he managed to reduce the fuel consumption by around 10% and not lose much of the lap time. That was extremely impressive.
TC: Going back to your journey, you expanded your engine supply to two teams in 1992: Tyrrell joined March. What were the pros and cons of supplying two teams?
MI: Well, the benefit was that Tyrrell was quite a competitive team and a competent team, whereas March was right on the edge of failing. And from that point of view, obviously it was a big benefit for us to have a second team to see where we are really.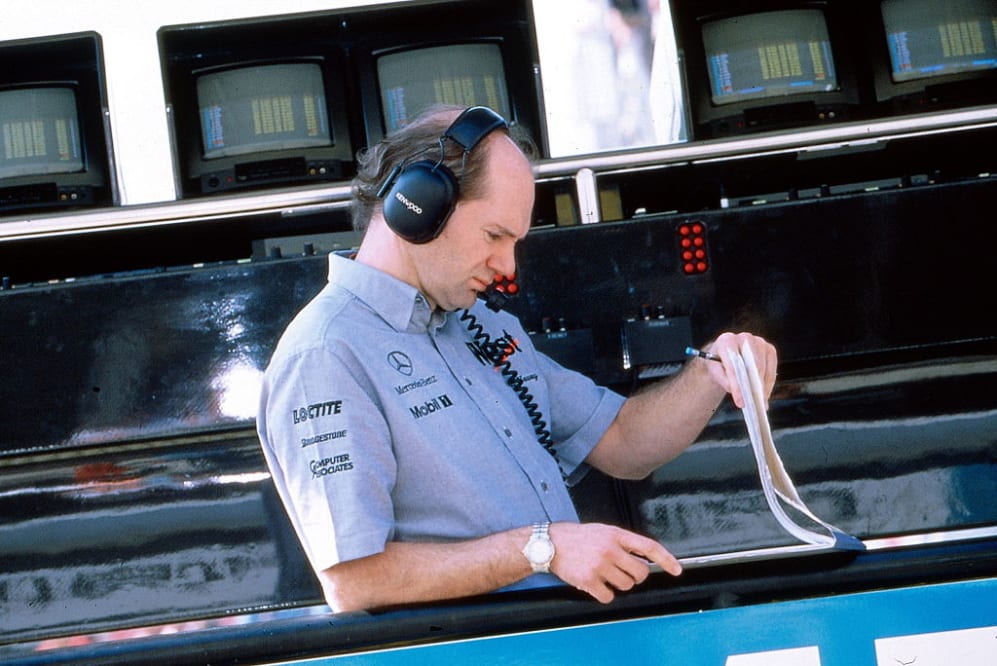 And Ken Tyrell was an extremely honourable person because we made the deal with Ken on the 23rd of December, the year before, and he said, 'I've got a lot of money. I can pay you that much per race'. And we came to an agreement, and it worked. And the money turned up every time as promised,
TC: And you had a couple of fourth places that year as well. One for Tyrrell, one for March. Did you feel at that point you were starting to get noticed by the big teams?
MI: We had an inquiry at the time as well from McLaren, which was surprising in a way, but we couldn't supply them. It was too early for us. We had interest from Mercedes, and we had interest from Porsche at the time because obviously they were engaged in Formula 1 or had ambitions to go to Formula 1. So that was giving us a bit of confidence that we are on the right path. Then obviously the opening for Sauber started to be there.
TC: Did that opening come about through Mercedes or was it completely separate?
MI: It was separate because I knew Peter Sauber and then he did indicate interest to go to Formula 1 after the Group C and that's how we got together.
TC: So the Swiss joined together. Joined forces. Actually, that's a point in itself. Were you tempted to set up in Switzerland? Why are we in Brixworth, and not near [Sauber's base in] Hinwil, for example?
MI: No, there was never an attempt. We were quite happy here because we had enough land we could expand. We had very good people here. And I think the infrastructure and the people is the most important thing when you build a team.
TC: So you needed to be in the heart of 'Motorsport Valley' in the UK. The Sauber deal comes on. You supply them in 1993, their first season in Formula 1. We're seeing 'Concept by Mercedes Benz' on the side of the car. Tell us about the journey you went on with Mercedes and how it came to be that they ended up taking a shareholding in your company.
MI: 1993 was important in a sense that obviously we got together with Sauber – that was one thing. But on the IndyCar side, we ended the relationship with Chevrolet in '93. We have been quite successful in IndyCar and some people felt, 'well, if are successful, why do we have to spend so much money?' They wanted to reduce the budget. And then I said, 'no, if you want to maintain our level of competence and competitiveness, we need to have the budget'. So we stopped working together with them.
And then in November, Mercedes came along and wanted to enter with us in Formula 1 and IndyCar. So obviously that combination was just perfect, but we obviously had our pushrod already designed by then, almost finished. And then we said to Mercedes guys, 'well, we're going to have a special engine for Indy'. And obviously they were very pleased about that.
TC: And you dominated the 1994 Indy 500.
MI: Yes. Their first entrance, basically.
BUXTON: Could Ricciardo's racing return be the first step back to a seat at Red Bull?
TC: And they dominated and were going to win by laps. I think Emerson Fittipaldi crashed whilst trying to lap Al Unser Jr., his teammate! I can't imagine what was being said on the pit wall at that time!
Tell us a little bit about the pushrod engine. It's sat outside the office where we're sat now. That was a one-off engine for one race, the Indy 500 in 1994. Did you see some loophole in the regulations? What made you design one engine for one race?
MI: It wasn't a loophole. The United States Auto Club [which oversaw the Indy 500 at the time] decided because Buick didn't quite make it year after year, so they relaxed the rules. And after the Indy 500 in '93, they said the block is free, the head is free, everything is free now. It doesn't have to be based on production any longer. The only thing you had to maintain is the concept of a pushrod – central camshaft pushrod and the valves per cylinder. Everything else was free.
After the race when we saw those new regulations, we got together with Roger Penske and said, 'we've got to build one of these'. He said, 'how much power do you think you get?' We said, 'well over 940 horsepower, guaranteed, and it will fit in the same space as the current race engine'. He said, 'okay, let's go. Let's do it.'
We got together, designed and manufactured it in six months. Then three months of development. Went to Indy: pole, won the race, and then into the museum.
TC: You said 940 [HP]. What did you actually get?
MI: 1024.
TC: And what sort of speeds were we saying?
MI: The straight-line speed was phenomenal. We crossed the finish line with 412kph. They had wheelspin in third gear. They had to be careful!
TC: And not for the first time, you were too good, and they banned it. Penske went back to the Indy 500 the following year and didn't qualify. So that's a real backhanded compliment to you, but I'm guessing Roger wasn't best pleased?
MI: No. And the other thing is, when we turned up at Indy with those cars and the engine. We obviously kept the whole thing secret as long as we could. Penske was testing the car in secrecy in places like Michigan because he owned that track, and in Nazareth. We really could keep everything out until we announced it in April, just before Indy.
The other thing is, I've never seen drivers smile after a few laps like they did at the time, because obviously we had about 200 horsepower more than anybody else.
TC: If you're a racing driver, that's going to get the thumbs up. For you to do the deal with Mercedes, to do Formula 1 and IndyCar did they need to buy into your company, or could you have done it with the sort of 'Ken Tyrell spec' model of just paying by the race?
MI: No, we wanted to have them. We transferred more or less the shares from Chevrolet to Mercedes, but that was important because the initial contract we had with Mercedes was a five-year plan, which obviously gave us stability. We could invest, we could really move forward. That was really important, that we had the security to look forward and make the moves we needed to make.
TC: So you finish eighth in the 1994 world championship with Sauber just one point behind sixth place. Were you disappointed not to stay with Sauber for 1995?
MI: No. Sauber was a great team and I think the car Harvey Postlethwaite designed initially was a fantastic car. It was good looking. It really had everything. It was just fantastic. Unfortunately, obviously Harvey passed away too early, but that was a brilliant place.
But at the same time we wanted to be up front, and I think it was too early for Sauber to get to that point. And then McLaren was in the need of an engine at the time, and we all felt that would be probably the better base to become successful in Formula 1.
TC: Slightly ironic that they left Cosworth and Ford in 93 to join you in 94, given where you and Paul came from. A few awkward conversations on the phone for you maybe?
MI: No, not really. Obviously leaving Cosworth was a very difficult because I mean, we both enjoyed life at Cosworth. I learned so much at Cosworth, but at the same time we felt we need to break out and do our own thing.
TC: Was it clear that McLaren's ambitions mirrored yours from day one?
MI: Yes, they were very ambitious. Obviously, they had a few tough years just before that, and I think the combination of Mercedes and McLaren and all the sponsorship they had, that was a good basis of building something.
And then obviously, Adrian Newey joined.
TC: Yes, the circle was complete. It was a slightly sticky start. 1995 wasn't the smoothest of seasons for you guys. Why was it so difficult?
MI: The car probably wasn't that great. We were not where we needed to be with the engine. We had reliability issues as well. I think we had to step up our game for sure.
TC: And then the worst possible end to the year with Mika Hakkinen's accident…
MI:… in Adelaide, that was a big blow, yes. The other big issue was Nigel Mansell didn't fit into the chassis. Not a smooth season at all.
TC: When did you feel it was all starting to change and that everything was pointing in the right direction at McLaren from the start of 96? Or did it take longer?
MI: I think 1997 when it all came together really, and then in '97, in August Adrian joined, you know, weeks after that your already could see improvements.
TC: And this is when it became really fun for you from a design point of view. You had the budget to explore some of the exotic metals that we were talking about earlier. I remember at the time maybe you saying that you were chasing RPM (revolutions per minute). I'd love to know how high on the dyno you got the engines revving at the time?
MI: We only went up to 19,600 RPM.
TC: What could you have got up to if it was purely about revs?
MI: You know the top end, for sure we could have gone over 20,000, but I didn't see the benefit. We're running a smaller bore than our competition and from that point of view we had higher piston accelerations and higher mean piston speed as well. That restricted in a way the revs. But at the same time I think we had a better combustion, we had better efficiency because we could race with less fuel. So we had less weight and that made us competitive. With the same amount of fuel, we probably could run a lap or two longer before we had to do a fuel stop.
TC: Can you tell us about some of the forces that are going on inside a racing engine on the pistons, for example?
MI: Well, on the piston, we had accelerations up to 96 G. So massive loads. And obviously with the beryllium aluminium piston, that was a major benefit that obviously reduced the forces a lot, reduced the friction so that helped significantly.
TC: Wow. Extraordinary! And how much were you developing the engines during the year at the time? The engine that you took to the season opening Australian Grand Prix in 1998, how much faster would it have been by the season closing Japanese Grand Prix?
MI: Almost every race we had something new on it. It was a continuous development and a very aggressive development. To do it in lap times is probably difficult though, because it's a combination of so many factors, but obviously on the dyno, year by year, we increased the performance by about 24 horsepower. It's almost a straight line going up and up.
TC: What is happening in your brain during that time that you're able to see where you can make the gains or was it always obvious, and it's time constraints as much as anything?
MI: It's time constraints to a degree, yes. We had enough people at the time. We could almost do everything in-house. We had very fast response. We had too many disappointments with suppliers being delayed or scrapping things. Paul and I decided very early on we want to manufacture almost everything in-house.
TC: So you would know what the development path was in January, and it was just a case of having the time to put that development in that would see 24 or 25 horsepower richer at the end of the year.
MI: I wouldn't say we saw the 24-horsepower gain at the end of the year, but we had lots of things in place which then resulted in the 24 horsepower. It's always the same thing. It's combustion efficiency, it's frictional losses, all these little bits and pieces you can improve and then you get some gains.
IT'S RACE WEEK: 5 storylines we're excited about ahead of the 2023 Hungarian Grand Prix
TC: During this peak period of the late 1990s, how many people were you employing here at Brixworth?
MI: We peaked at 504 people.
TC: And how many engines would you be producing in a 12-month period?
MI: With development and racing? We came up to about 154 engines. That's rebuilds as well, not new engines. Just Formula 1. IndyCar was not that demanding. We produced per year about 45 engines, but there were several teams.
TC: It's a complicated business. I can see just the logistics of it as much as the technical design aspect of it. Would you say, Mario, that those Hakkinen world titles at the end of the nineties, was that the high watermark, the high point of your career?
MI: Yes, absolutely. That was for sure a highlight and a relief in a way that we were working towards it and managed to achieve it. I'm sure you remember the last race in Suzuka was so tense. We had [title rival] Michael Schumacher on the front row and Hakkinen on the front row. I remember very well that Hakkinen was obviously a little bit nervous and for some reason, before the start, he put his foot down and ran the engine into the limiter for several seconds, while stationary on the grid!
TC: This is at the start of the 1999 Japanese Grand Prix, championship rival, two metres to his left?
MI: I couldn't believe it!
TC: Did you ask him why he did that?
MI: No, I didn't ask. It was heartbreaking, you know. Then you have to do a race!
TC: Heart in mouth territory for 53 laps.
MI: Yes.
TC: And the sense of relief that you got as Hakkinen crossed the line to win the title, just describe how you felt.
MI: The world came off our shoulders. I mean, it was just fantastic. It was just an immense feeling. I remember after that race, we all smoked a cigar because it was it was just such a fantastic feeling. We all sat down and enjoyed a cigar. Most of us were not smokers anyway!
TC: But you say that those Formula 1 championships mean more than anything else for someone like Roger Penske, 'The Captain' who is 'Mr Motor Racing' in North America – did the magnitude of what you'd achieved in Formula 1 resonate with him as well?
MI: Absolutely. Oh, yes. He was ever so pleased. Roger is such a supporter of motor racing. He enjoys, obviously, success, whether it's over there or with us in Formula 1. That was tremendous, always, the support we had from him.
TC: And even today, is he very involved? You speak to him a lot even today?
MI: Yes, we're still in contact. We have regular phone calls. And he still, even in his late eighties, is still full of energy.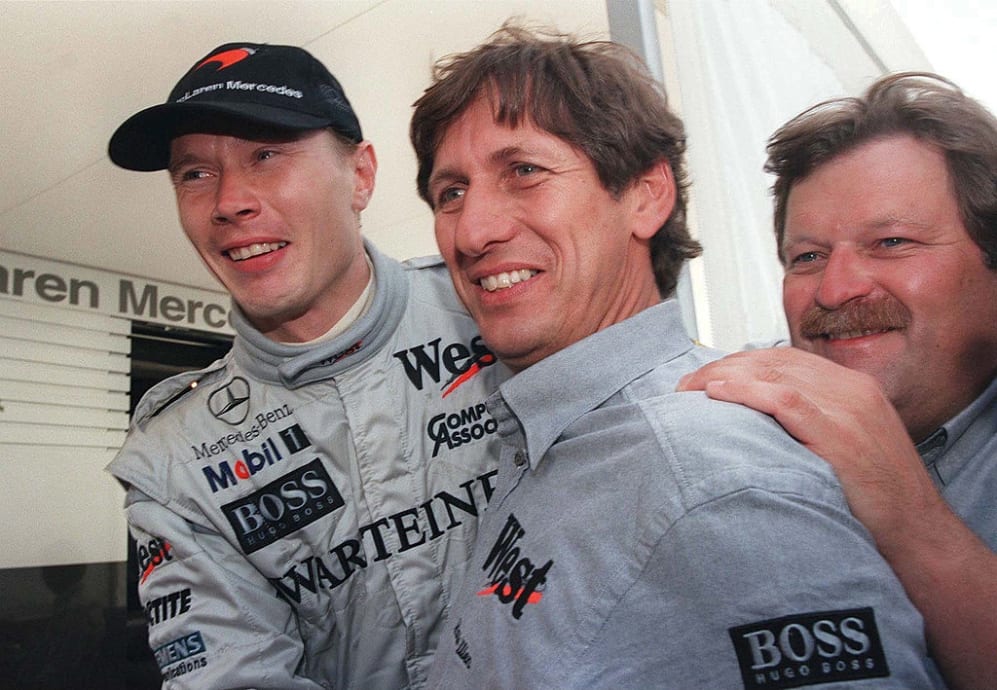 TC: No sooner had you scaled the heights of winning the world titles with McLaren than your business partner Paul Morgan was killed in a plane accident in the summer of 2001. It was a devastating blow for everyone who knew Paul, but just how you reflect on that period now?
MI: Oh, it was just devastating for sure. I mean, Paul kept my back free to design and come up with ideas and certainly I had the burden to look after all the things as well, which was very painful.
Paul was such a great person - dynamic, full of energy. And he was so much into manufacturing and getting things ready. Nothing was too much for him. And obviously with that loss, it was it was very difficult.
TC: Where were you when you heard the news of his death?
MI: I was at the Austrian Grand Prix. Yes. It happened on a Saturday; I think it was the 15th of May.
TC: And I remember Coulthard won the race and didn't spray any champagne as a mark of respect.
MI: David Coulthard was a fantastic person as well. Nice driver, appreciating what we were doing and so on. He's a gentleman.
TC: So overnight, suddenly there's a lot more going on on your desk other than just designing. Did you, just purely from a business point of view, think about getting someone else in to do what Paul had been doing?
MI: Yes, [I was] trying to. But obviously to find a replacement for Paul was almost impossible. To have that same dedication and that knowledge. And obviously, if you have been partnering each other and growing up with it, I mean, it's such a different thing than getting somebody in to do it. It's just not the same.
TC: Has the business never been quite the same again?
MI: No, for sure it can't be the same again. But at the same time, Mercedes had an interest to buy the Formula 1 part out of [Ilmor]. That was a relief in a sense, because obviously being here with 504 people and the risk if Mercedes have pulled out of Formula 1, you know, then we would have had a huge problem. And obviously selling it to Mercedes was in many ways a relief that we could have a fresh start again.
TC: But you retain the Ilmor name. What have been the main projects since you sold to Mercedes in 2005?
MI: IndyCar obviously continued. We did the IndyCar engine for Honda at the time. Then the motorbike project was an interesting one. Technically very interesting. Good regulations, but we couldn't find any money for it, so it was a failure in that respect.
TC: When the new F1 engine regulations came in in 2014, we heard quite a lot about you being involved with Renault. I think it's quite well documented that there's been a bit of involvement with Honda as well. Give us your thoughts on the latest power unit regulation.
MI: The current regulation I quite liked because it's all on efficiency and I think it these regulations help to make a very efficient combustion engine. Today we have got the efficiency just over 50%. It is fantastic.
TC: Just to give us an idea, back in 1991, that first Formula 1 engine, what sort of efficiency were you getting back then?
MI: Oh 36% / 37%. So that's a massive step. And a lot of the technology we're using in those engines could be applied for road cars. So road car engines could still be made more efficient than what they are today. And I think that's very attractive. And I like this this form of regulations to achieve that.
The sustainable fuel, that is a big step for sure. That is a necessary step. That can improve the situation as well, slightly. Depends how much freedom there is, but you can tailor the fuel potentially to make some improvements as well.
WATCH: 5 great Hungarian Grand Prix battles from the F1 archive
TC: So Mario, just to finish off when you reflect on the last 40 years, can we think of one race that stands out for you as the one where you go, 'Yeah, that was the most satisfying'.
MI: I think I have to go back to the Indy 500 1994. That probably was the most intense program we ever did. You know, we called the engine '265 E' – E for 'evening'.
TC: To be accurate, you should have called it 'N' for 'nights'. What was the design length? How long did it take you to design that engine?
MI: Six months, design and manufacture. I mean, it's just impossible when you look back at it because I designed the crankshaft before everything else, because the timescale to get it was such that I had to design it very early on. And so I had to make a lot of commitments and obviously to install it in a given space on the car. So I had a lot of restraints, but we had the people here, the whole team, I mean working really day and night. We had parts shipped to the States on Concorde, but Penske had the in the shop in the basement. They had a team of people only working at night, in secrecy, because the rest of the team didn't anything about it. It was absolute fantastic. It was a stealth program.
TC: And then blew everybody away. And it doesn't look like the R word, the 'retirement' word is even anywhere in your mind, let alone at the forefront?
MI: No, not at all. Because I think as long as I can enjoy life doing and I like what I'm doing, I don't see any reason to retire. I do the odd thing outside of racing, having a bit of fun, but apart from that, work is still a major thing.
TC: In terms of things you're getting up to away from work. I did want to ask you about the Peking to Paris classic car rally – Beijing to Paris. What an extraordinary journey. You do it with your daughter, don't you?
MI: That's correct, Yes. I did it twice with my daughter. Yeah. I mean, how can you do something six weeks together in the mud and dirt. That is something you can never repeat with something else because you're really stuck together and have to make the best out of it.
TC: Have you been quick? Have you had any success?
MI: I think we were reasonably quick, yes. On the first time we did, we ended overall 14th out of 96 cars.
TC: And it's 14,000 kilometres of rallying, isn't it? It's not for the faint hearted.
MI: And we could have been better, but I had to replace the gearbox.
TC: On the side of the road?
MI: Yes, in Austria. I worked all night replacing that gearbox and then wanted to drive off and didn't have any gears! So I had to take it out again and repair, because they have forgotten to assemble it correctly, the one they delivered. We could have been 10th! I lost too much time there!
TC: So then you had to go back again, didn't you? Just to see how you'd get on doing it a second time.
MI: But the second time wasn't successful because I broke a spring.
TC: Happy memories I can see. And happy memories of an extraordinary career so far. Thank you very much for sharing your thoughts. It's been absolutely fascinating. I really appreciate your time.
MI: Well, thank you very much for the time and it's been great to talk to you.
To read on, sign up to F1 Unlocked for free
You'll unlock this article and get access to:
Live leaderboard data
Epic experiences and rewards
Money-can't-buy competitions