Podcast F1 Unlocked
FULL TRANSCRIPT: Read every word from Ferrari boss Fred Vasseur's Beyond The Grid interview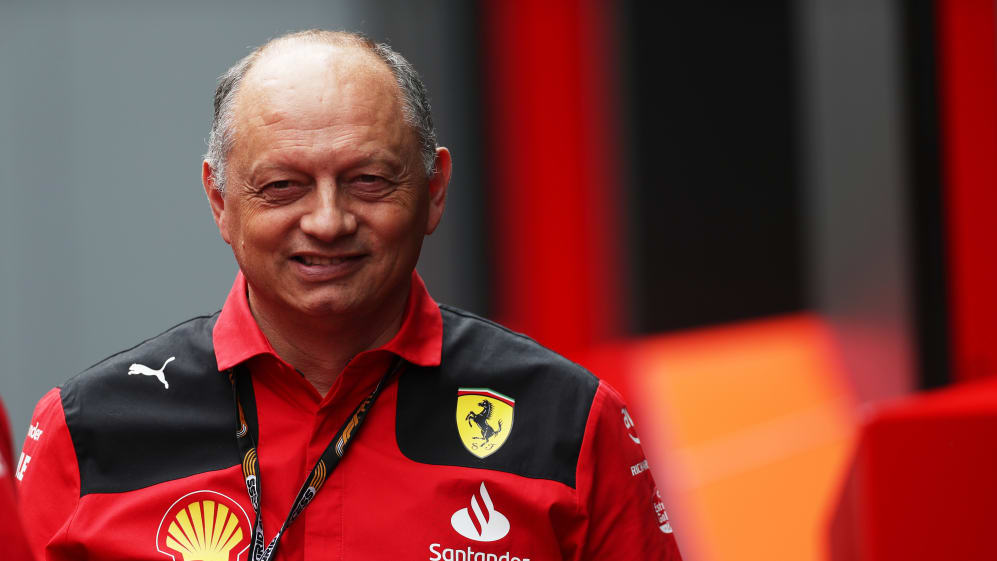 Fred Vasseur has perhaps the toughest job in motorsport. After years running his own teams in the junior formulae, the Frenchman first worked in F1 with Renault, then spent five years running Sauber – before he was called up to take over at Ferrari at the end of last year.
Vasseur is this week's guest on our Beyond The Grid podcast, and you can read every word from his interview with pod host Tom Clarkson in the transcript below, listen to the episode in the audio player, or head here to catch it on your preferred platform.
Tom Clarkson: Fred, it's great to have you back on the show. How are things?
Fred Vasseur: So far, okay…
TC: And how are you finding life in Italy? Tell us a little bit more about that.
FV: It's a little bit like a washing machine. I joined quite late. It was the beginning of the season, around the first week of January, and then we had to launch the car, to go to Bahrain, to do the first race. We did 13 or 14 races in six or seven months. It's quite intense, but it's a mega good challenge.
TC: And Fred, how are you finding life at Ferrari? Are you now used to wearing that famous red shirt?
FV: From teams to teams, you have big differences. Even if the result on track is about hundredths of seconds, the approach is often completely different. Everybody told me that Ferrari is something different and it's true.
TC: Well, can we talk a bit more about that? Just how and where is Ferrari different?
FV: I would say that the main difference is the passion into the team and around the team. Everything is a bit more exaggerated. As in every single race team, you have up and downs. I think at Ferrari, the up are very high and the down are very low. Somehow, my job is to calm down the exaggeration, to try and stay a bit more consistent in the approach. When you join Ferrari, it's a bit different. Everybody is much more emotional. The press is much more emotional. The team members are more emotional. I think part of my game and part of my job is to try to be a bit more consistent.
READ MORE > HALF TERM REPORT: Ferrari – Fallen championship aspirations but an intense battle for second place looms
TC: But one of Ferrari's strengths, as well, is its passion.
FV: Yeah, for sure. From the beginning of the season, we had ups and downs but the reaction time when we had issues, the capacity to react, the capacity to motivate, was good. I remember perfectly when we were supposed to bring the upgrade for Budapest and then we pushed to get it for UK, and as a challenge, I told them I would like to get it for Spielberg, but honestly it was a joke… And they made it.
But they worked like hell, 24/7. This feeling is mega. That passion and the fact that everybody can work night and day to deliver something is a mega good feeling. Now we have to stay a bit less emotional when we are speaking about results, but I think it's much easier to calm down someone than to push someone.
TC: Can you talk us through the moment when you got the call from Ferrari? Who first made contact with you? Where were you? What were you doing?
FV: It was just after Abu Dhabi last year. It was a bit of a strange feeling because everybody spoke about it during the Abu Dhabi weekend. But the week after that, we had the first discussion. I was flying back from Abu Dhabi. I did a pit stop at home and then I was in Switzerland. It was a strange story, but I was already in contact with John Elkann as I was a customer of Ferrari for the engine with the Alfa Romeo team. It meant that we were already in contact. We had the first discussion to know if I would be interested with the position.
TC: How long did it take you to say yes?
FV: I didn't want to be too emotional because when you are doing this job, and I am doing this job for 32 or 33 years, for sure to have the possibility to join Ferrari as a Team Principal, it's somehow, not the pinnacle, but somehow the biggest challenge. The pinnacle is if you win with Ferrari, it's a bit different. And to have in front of me the biggest challenge of my job, it's a challenge…
I took 24 hours to think about it. When you play tennis, you want to do Wimbledon. When you are doing my job, to be the Team Principal of Ferrari, for sure it's what you want to do. But I took 24 hours, more for my family. I know I put a lot of pressure on my family, so I wanted to discuss with them if they were keen to do it.
TC: I completely understand why you said yes. But were you tempted at all to stay at Sauber because they've got an exciting future ahead?
FV: So far, I always did my own company in the past. I built up my own company and then at Sauber, it was not my company at all. But I had the feeling that we build up something. I joined in 2017. We were quite close to bankruptcy just after this situation, absolute P10 because we had no more teams on the grid. When you want to create or build up something, Sauber was a very good challenge. I really enjoyed the five years that I spent in Switzerland, but let's say it's the opposite of Ferrari. It's difficult to create the link.
But I think that after five years, I had personally a very good relationship with a lot of people in the team. And I really enjoyed this. But I also had the feeling that finishing P6, I don't want to say that we can't do more or better, but I had the feeling that we delivered what we had to deliver. It was a new chapter for Sauber with Audi joining and I had the feeling that we did the job. It was the perfect timing for me to jump on something else.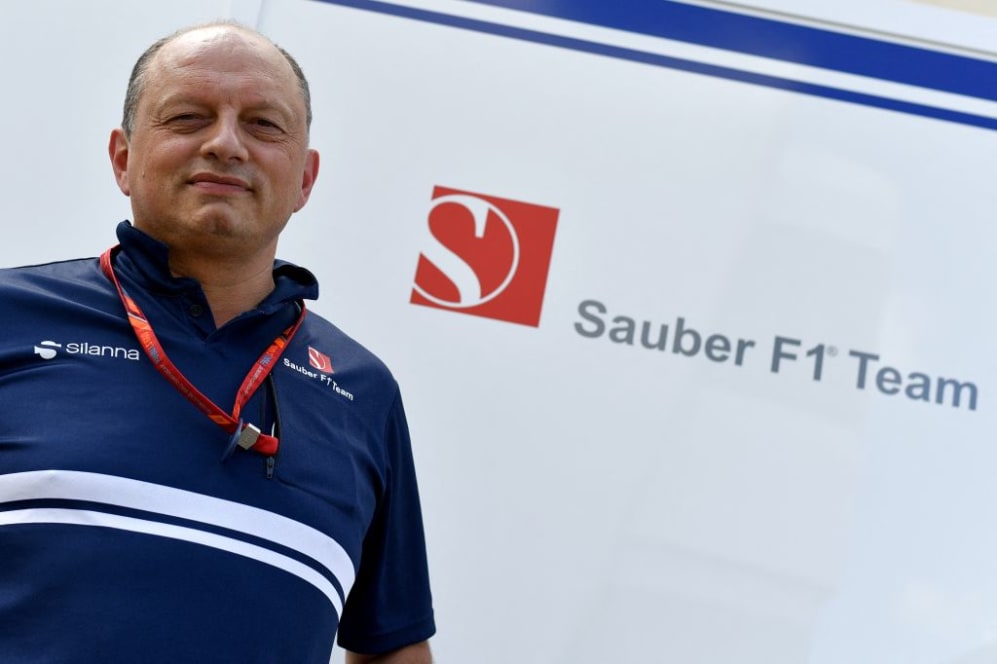 TC: Talking of timing, you say that you've been running race teams for more than 30 years. Had this opportunity presented itself in 2017, do you think you would have been ready for it, or is now the right time?
FV: I think I'm like red wine, that I'm getting better with the seasons… But I think overall, it was a very good experience at Sauber and also a good experience for me because it was the first step of the collaboration with Ferrari. It's difficult to compare with the Ferrari situation because it's another environment, another country, another country, another partner… But, as a group of people, it was a mega good challenge and I was more than happy with what we delivered at the end.
TC: What attributes do you think you need as a team principal?
FV: It's very difficult to say because if you have a look at the ten team principals, they are all coming from completely different origins. You have guys coming from finance, you have guys coming from the driver's side, you have guys coming from engineering.
I'm coming from engineering and racing, but I'm not sure that you can get this perfect profile to be the team principal. What is true, and I know pretty well with all my colleagues, is that they are all in love with racing, and the global picture of Formula 1. But it's quite difficult to imagine the perfect profile of the Team Principal.
TC: Now, you're French…
FV: Nobody's perfect…
TC: But your immediate predecessors in the job have all been Italian. Is it a help or a hindrance that you're not Italian, running the Italian national team?
FV: I'm not asking myself this question. Honestly, for me it's not a matter of nationality. For sure, you have pros and cons, but it's difficult to know. The future will tell us if it's an advantage or not. But I don't consider this as an advantage or disadvantage.
TC: Well, the last Frenchman who ran Ferrari, Jean Todt, had huge success. Have you spoken to him?
FV: Yeah, I spoke with Jean in December. I think he was one of the first ones to send me a WhatsApp, but I think it's quite difficult to compare Formula 1 of the '90s or beginning of 2000s, and the Formula 1 of today. We are not with the same regulations and the financial approach, financial regulation, efficiency, the approach is different. When I spoke with Jean, one of the topics was 'you know Fred, at this stage, we were doing sometimes four tests on the same day, with one car in Jerez, one in Fiorano, one in Barcelona, one in Mugello,' so it's absolutely not the same Formula 1 anymore.
LISTEN: Jean Todt on rebuilding Ferrari, heading the FIA and more
TC: Can you speak Italian?
FV: I'm starting, but I'm a bit shy...
TC: How often do you have lessons?
FV: At the beginning, it was each day, and then I had a big issue with my back and wasn't able to sleep anymore and I stopped. But I'm starting back now.
TC: Can you remember your first day at work in Maranello and the emotions you felt? Was it intimidating to walk through those doors for the first time?
FV: It was not the first time. I went a couple of times in the past to Maranello. I knew the office of Mattia [Binotto, Vasseur's predecessor]. We had a couple of meetings. I don't want to say that I was used to being there because it's a different things to come as a customer, or partner, or as the team principal. But somehow it was not new at all. It was much less emotional.
TC: Do you feel the weight of history on your shoulders running this historic racing team?
FV: I'm trying to avoid that. I think we have enough pressure and I don't need someone else to put pressure on myself. I'm quite exigent with myself and what I want to do, what I want to achieve. I'm putting enough pressure on me that I don't need to have someone else or something else. I think the pressure of the history, of the past, you can feel it each time that you are doing something in Maranello. All the emotion around, all the passion around, you go to the restaurant and everybody is jumping on you – you can feel that it's the main topic. But I think we have enough pressure to avoid to thinking too much about this.
TC: But Fred, you are a racing fan. And I think if you're a racing fan at some level, you're also a Ferrari fan. Would you agree?
FV: Everywhere in the world, you have 50% of the public who are Ferrari fans. It's magic. I would be more than pleased to win for them, because they are able to support us and to follow us. After a couple of years without a championship, it means they are really passionate and I would be more than pleased to bring them something. But you have to avoid to consider that this could be an extra pressure.
TC: If Enzo Ferrari was alive today and you could ask him a question, what would that be?
FV: 'Are you proud of what Ferrari is today?'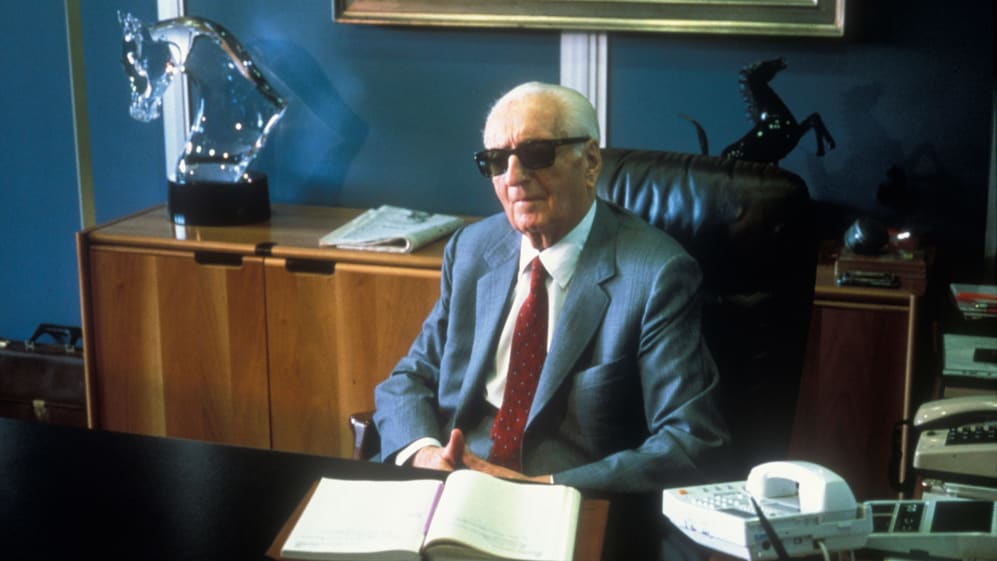 TC: What do you think he'd say?
FV: I don't know. It's very difficult to say. For sure, as a racer, he would probably like to get better results. But as a company guy, I think that he would be very proud of the image of Ferrari all over the world.
TC: Do you have a favourite Ferrari road car from history, or a favourite Ferrari race car?
FV: Not at all, but I read somewhere a quote from Enzo Ferrari saying that 'the best Ferrari is the next one.' I think it's a very good message in terms of innovation and quality, that the best is to come. And my approach with the race team is always to tell them that 'guys, we have to do a better job tomorrow than today. I don't want to speak about long term. Let's just try to do better tomorrow than today.' I think this sentence is somehow in the same spirit.
TC: Let's talk a little bit more then about the performance of Ferrari on track. You've been in the job six months now. What is your assessment of where Ferrari's at?
FV: We are in the middle of the group. You have a Max Verstappen, who is flying somewhere, and then you have a group of eight or nine cars behind him. We are in this pack. Sometimes we're able to be first of the pack, sometimes not. We were expecting probably better but the reality of the situation that we have to deal with, is that we have to try to improve massively on every single topic.
The performance or non-performance is never coming from one single pillar. We have to improve everywhere and the most important is to have the mentality for the people of the company to do a better job tomorrow than today, to try to get the best and not to be focussed on what the others of the company are doing. This is crucial for the performance. It doesn't matter if you win or not, it has to be the mentality. If you are winning and you don't have this mentality, someone will overtake you.
TC: But Fred, what do you feel the team does well?
FV: Reaction, motivation, the capacity to fix the issue and the mood. Even when we have a tough time, I think the mood into the team is positive. For me, this is crucial because without this, you can forget to be able to win. The basics are there but now we have a huge challenge in front of us.
READ MORE: Leclerc says he 'can't wait' to drive 'brand-new' 2024 car Ferrari have promised
TC: You say you need to improve everywhere. Is there one particular aspect that you can elaborate on a bit more?
FV: No, because I think it would be a mistake to finger point someone, or a department. On pure performance, I think we are not far away to be the second team, but we didn't deliver. We missed too many points on track from the beginning of the season. We know that the package is probably not the best one today. We are pushing to do a better job for the future. As soon as you will be able to improve on one department, naturally you will push somewhere else and you will try to do a better job somewhere else, and then it's an unstable situation that you have to improve step by step.
TC: And do you have everything you need to win in terms of infrastructure?
FV: If I had what I want, it would be a mistake because you always want to get more. You have to put yourself in the unstable situation. You always have to move forward, you can't stay in the same positions. It's the same for the investment, the same for the development of the technology, the same for the equipment etc. If you stay where you are, you are dead. You can't be pleased with what you have.
TC: What about personnel? Are you shopping?
FV: To not shop is to go backwards. This is the life of every single company in the world, that you have a turnover. We are losing perhaps 90 people a year because they want to stop Formula 1, because they are going to pension, because that they want to go to another team for family reasons. To stay at the same level, you need to recruit 90 people a year. This is probably the biggest challenge because we need to recruit as soon as possible.
TC: And are you recruiting from within Formula 1 or can you look outside of F1?
FV: No, it's always a balance. The target is to increase the mix of culture into the team, also because it's the fastest way to improve on some areas, to have a quick know-how, taking people from other teams. But we have also linked with an Italian university and high school to take graduates. You need to have experience coming from other teams with the know-how, but you need also to have fresh blood into the system and to take people from high schools in Europe.
TC: Fred, can we talk drivers now? Let's start with Charles Leclerc, a driver you know so well from both the junior formulas and Alfa Romeo, of course. How has he evolved, both as a driver and as a person, since you last worked with him in 2018?
FV: 2018 was a good season for us and for Charles, but also a challenging one because he was going from the junior series. The step to F1, it's not an easy one. I don't want to speak about driving or technical approach, but the fact that you are changing your environment.
I think Charles did it pretty well that season, but moving to Ferrari was the biggest challenge. I found someone a bit more mature, a bit more confident with himself, with probably more certitude about what he's expecting from the team. But also with the same characteristics, to be very honest with himself and the team. He is roughly the same but more mature.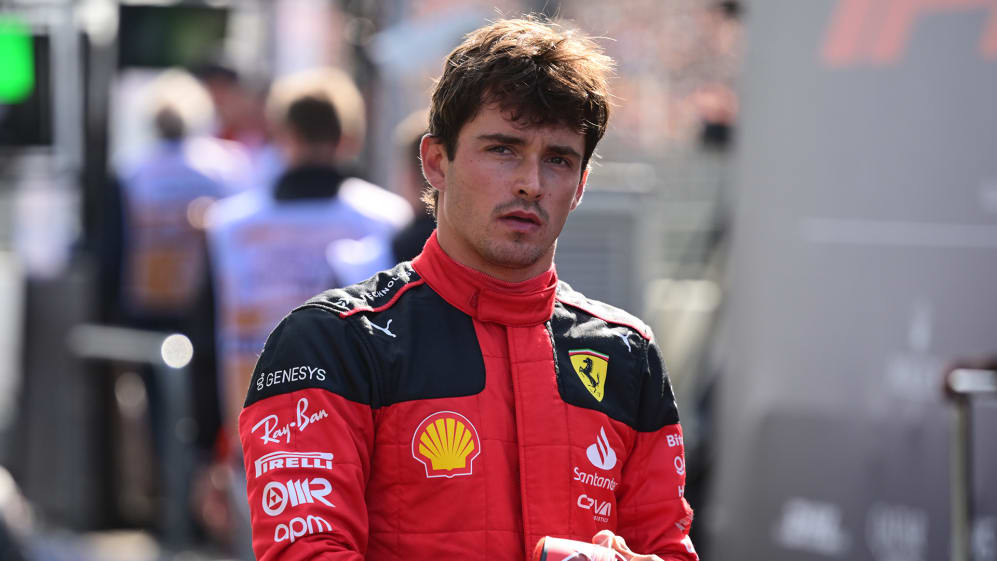 TC: Do you sense any frustration coming into him now?
FV: Frustration is there, but again, I think it's a very positive mood. I can't imagine Charles, after five years in F1, not frustrated with the current results. It has to be part of the motivation. You can't be happy with this when the challenge was to win that. It's not that you have to blame someone, but the frustration has to be part of the motivation.
TC: What is his greatest quality?
FV: I don't want to speak about speed, but the fact that he is always very honest with himself, with the team. For me, it's a huge asset when you want to develop something.
TC: Would you like to see him be more decisive over the radio, for example, when he's discussing strategy with his race engineer.
FV: You have to take care with the radio, it would be a good joke to listen to the radio of the others sometimes. But part of the relationship is also in the discussion. It's not that one has to take the lead, it's an open discussion. For me, it's okay and I'm pleased with this. The fact that the driver can be a contributor to the choice is part of the game.
TC: Would you like to build the future of Ferrari around Charles?
FV: I had the question at the beginning of the season and it was probably a misinterpretation of my answer. I think that we have two good drivers today, in Carlos and Charles. They are doing a good job. We always have to improve. As with every single team member, we have to do a better job, to continue to develop more skills and to improve. But both are doing a good job. We have to develop the team around the drivers and I put the 's' because it's important. They are key to the development of the team and I'm keen to work with them and to continue to develop the team with them.
TC: But when you look elsewhere in the pitlane, it is Max Verstappen having the success at Red Bull. It was Lewis Hamilton at Mercedes prior to that, it was Sebastian Vettel at Red Bull, it was Michael Schumacher at Ferrari. It always seems to be one guy.
FV: No, you had Prost and Senna at McLaren. Drivers are key pillars of the performance; not just about speed on track, but about the development of the team, the feedback they can give, the motivation that they can bring. They are key to the project. I think we have two good drivers and they are very important for me.
READ MORE: Ferrari reveal special car livery for Italian GP weekend at Monza
TC: And do you think the driver will become even more integral to performance in 2026 when the downforce is reduced?
FV: I'm not sure that the driver is more or less important due to the regulations. This is not true. What you could say, is you have a kind of convergence of performance, like we have today compared to five years ago. If you compare five years ago, very often you had the two Mercedes, the two Red Bulls, the two Ferraris, and if the driver was doing a mistake, he was losing one position, perhaps two.
Today, you have a group of sometimes 10 or 12 cars who are able to fight for the first row. In this situation, the driver can do a huge difference. Doing a mistake is P12, doing a good job is P2. They are crucial to the performance, but it's not just about performance on track. This is the visible part of the iceberg, but the job that they are doing behind the stage, pushing the team, bringing in extra motivation from every single employee, or technical feedback, this is huge and bigger than the pure performance on the track.
TC: Let's talk about Carlos Sainz then. Is he very good at the technical side of it?
FV: Two different things. First, the capacity they have to analyse what they are doing. The second one is the capacity they have to express it. Carlos is someone very, very mature for his age. He's able to develop a good connection with the team to find the right tune, because on this side of the business, I think he's a perfect compromise.
TC: What has Carlos got to do to retain his seat at Ferrari beyond next year?
FV: We didn't start to discuss that, but I was quite clear until today that the first priority of the team is to develop the package that we have, to reinforce the structure, for me to assess what is going well and where we can improve. The discussion with the drivers is not the first topic. We have still in front of us something like 18 months of contract.
It's massive and you have some drivers on the grid who only have five months in front of them, and you are not asking the question. We are very comfortable because we know they have a contract for the next 18 months. We will have time in the next couple of weeks or months to discuss. I told them that we will fix it before the end of the year and I will do it.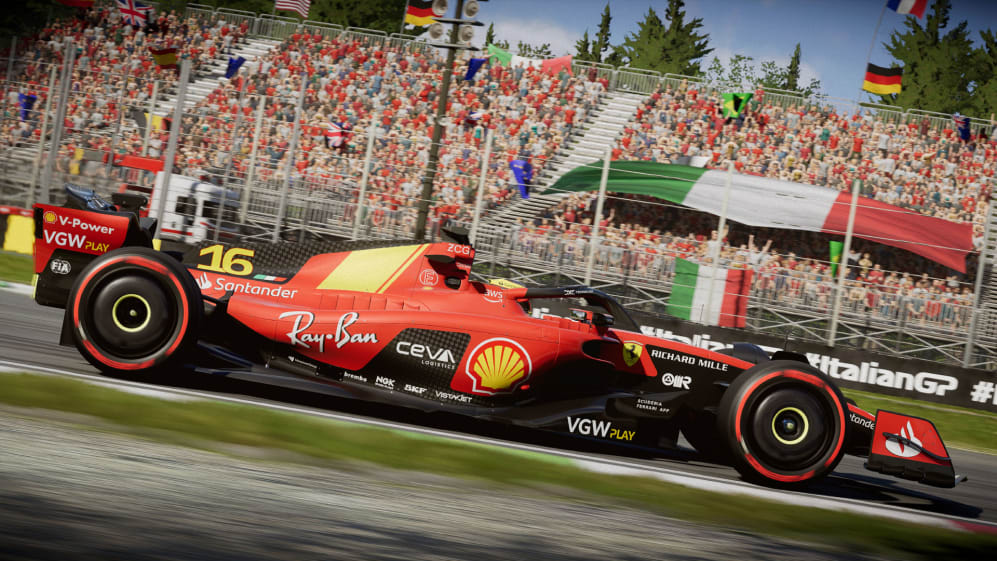 TC: So we go to Monza next. It's Ferrari's home race. The grandstands are going to be red, the Tifosi are going to be shouting. How do you feel going into that race?
FV: My job is to try to get the best result in Monza. For this, I need to calm down everybody. I don't need to go on stage and do karaoke. We have to consider Monza as a team, as much as possible, as a normal race. I know that it's not possible. I know that it's not true. I know that everybody will be much more emotional. But if we want to achieve the best result, the most important is to stay calm. We need to consider this race as part of a Cchampionship. Ferrari is participating in the championship and as much as possible, I would like to consider Monza as a race of the championship.
TC: What is your message to the Tifosi?
FV: I don't want to ask them to be patient because it's not possible. But I would let them know that everybody is pushing like hell to come back. Every single employee is pushing like hell. I thank them for their support. I remember perfectly when we did the launch of the car in the Fiorano. The fact that for the launch, the grandstand was full, the people were very enthusiastic, this is an extra motivation and I think this is a very nice feeling for the team members. But now we have to try to come back on what we are doing and to be focussed on this.
TC: Let's look a little bit further ahead. What are the goals for the remainder of 2023?
FV: I think that if you look at the championship, we are a bit far away from Mercedes but we lost so many points from the beginning of the season. I think where we have also to be focussed, the business is based on two parameters. The first one is to have the best car and the second one is to do the best usage of the car. So far we don't have the best car and we are not doing the best usage.
It means that we have a lot of room for improvement. To improve massively the package, we will have to wait for at least next year, for the future. But to do the best usage of this, we can try to improve from tomorrow. This is the very important point – we have to use the last six months of the season to improve on this one.
WATCH > TECH TALK: Which teams have got faster and cut the gap to Red Bull so far this season?
TC: Fred, it's clear that you inherited the situation you're in. You arrived at Ferrari too late to be able to influence this car. When can we judge Fred Vasseur's Ferrari?
FV: You can judge myself today because I'm responsible. I don't want to blame someone else. I'm in charge, I'm responsible, and I have to take responsibility of this. It's not a matter of finding the excuse of something like this. For sure, we are recruiting. Some of the guys that we are signing will join in 18 months. They will work on the car of 2026 or 2025 in the best-case scenario. In six month's time, I will recruit people working on the car in 2027. But we have tons of aspects now where we can do a good job, a better job, and the guy who is in charge is responsible.
TC: Well, how long will the head honchos of Ferrari, and I'm talking John Elkann in particular, how long will he give you?
FV: The most important is to be focused on what you are doing yourself, just to try to improve, not to fix a target to be P2 next year. If we can be P1, we will go for P1. If we are P3, if we are improving, I will be quite happy. It's more the mentality to try to do a better job and to always improve it, then we will get the results that we deserve.
TC: Can you win a race this year?
FV: When you are doing pole position in Baku or you are fighting sometimes for pole position, 100ths or 200ths behind Verstappen, you can always win a race. I would say that today Max is faster than us, but Max is faster than everyone else. We need to do a step to match with him. But you never know. You need to keep the approach and the motivation to do the best.
TC: Now, Fred, finally, you've taken on one of the biggest challenges in motorsport. We all know that. How proud would you be if you bring Ferrari back to the front? Will it be the greatest achievement of your career?
FV: For sure, because I think that my position is probably the most exposed and it's probably the biggest challenge. But I think that if you win, it's the biggest success by far.
TC: Do you believe in luck?
FV: No, but somehow it could help...
TC: Fred, thank you so much. It's been brilliant to catch up.
FV: Thank you, ciao ciao.
To read on, sign up to F1 Unlocked for free
You'll unlock this article and get access to:
Live leaderboard data
Epic experiences and rewards
Money-can't-buy competitions