Feature F1 Unlocked
FULL TRANSCRIPT: Read every word from four-time world champion Alain Prost's insightful Beyond the Grid interview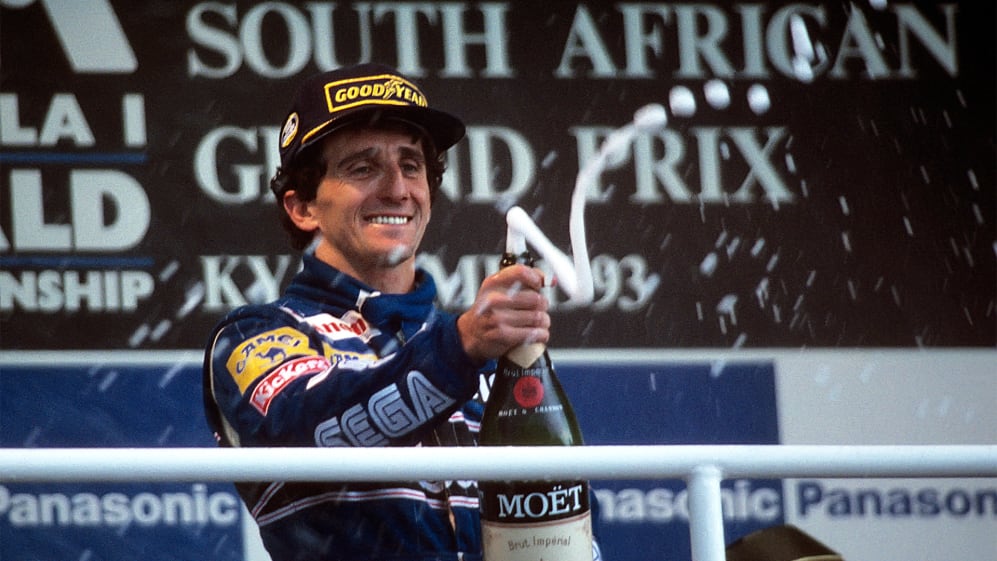 On this week's episode of F1's Beyond The Grid podcast, Alain Prost sits down with host Tom Clarkson to discuss everything about his 1993 World Championship-winning season – along with his rivalry with Ayrton Senna, his former engineer Adrian Newey and much more...
Below you can read the full transcript of the episode – or alternatively, listen below in the audio player or head here to catch it on your preferred platform.
Tom Clarkson: Alain, it is fantastic to have you back on the podcast. How are you?
Alain Prost: Yeah, not too bad, thank you. I mean, all good, in fact. All good.
TP: Now, Alain, time flies, doesn't it? 30 years since you won your last World Championship. Of your four titles, How do you rate that '93 season?
AP: Excuse me to be a little bit brutal. That is maybe the worst, in fact, you know, because it reflects more or less, I'm going to be very direct, but the way I've been treated sometimes in my case. Because '93 was a very strange season. I signed my contract with Frank very very soon, beginning of '92, in fact, when I had my sabbatical year. And we started to have the argument, you know, with Ayrton wanting to drive, but it was in the plan, it was done. I mean, the only thing I asked to Frank, when we met for the first time talking about the contract that was in Paris, Le Bourget at the airport. I said, okay, you give me the money you want. And I don't want to be number one in the team. But the only thing I ask you, I cannot be a team mate again with Ayrton. And he said yes, for sure, I understand. And we can put the clause on that, that started like this.
But the whole season was really difficult because... I don't want to go through all the episode about the season, but I never said never. Obviously, when you win a race with the Williams at the time, you know it's normal, when you lose you're stupid and it's not exactly what a racing driver is aiming for. You need to have a sort of objective situation and that was not very nice season. And when we started to have the problems, was when Frank came to me and said that, 'I have pressure from Renault, because they want me to take Ayrton and I know that we have a contract' and I said, 'Shit', you know. That's not the best way, I had the two-year contract. I know I was very supported by Patrick and Adrian. But you know, we were not in the sport each side. I said, you know I want to fight against Ayrton, no problem, but on the track, no problem, but not as a team mate. So, I cannot accept that. That is why the whole '93 season at the end was not my best, on the human side.
TC: Let's talk about the competitive side, first of all, because it seems to me 1993 was the first time in your career in which you'd gone into the season expecting and expected to dominate. How did that feel? And how did it change your approach?
AP: It changed because of the perception of the people outside. Because for you, when you're a racing driver, I mean, obviously ask Max today, because he has a dominating car, I mean, he's not going to change anything. He's going to try to win all the races he can and win the championship. And for me, it was the same, it was a new technology. It was a new car, a new way of setting up the car or even working with the engineers, which was not my best car, you know, my favourite car. In terms of, I'm used to doing more or less everything by myself, working with the engineers, and with the active car it was more done by the engineers, the working on the computer, you know, working on suspension.
So that is maybe the biggest problem. But otherwise, I didn't have a very different approach. I had a fantastic team mate with Damon. He was very helpful. He had more experience than myself on the active car because he was testing the car before, so it was all different. But at the end your philosophy is the same.
The only big difference is we are fighting against Ayrton with a very, very good chassis because in fact I drove the same [McLaren] chassis the year after, with the Peugeot engine. Maybe not the same powerful engine, that is obvious, and all. But for me he had a better suspension, a better electronic on the car and that's what we saw also in Donington, on the wet, where we were struggling with the downshifting and things like this. But you cannot explain that. At the end of the day you could try to explain why you are good or why you are not as good. Nobody understands that in this situation, you know, you always take that the defence of 'the driver looks weak in terms of car', which was not true everywhere. Some places for sure because our engine worked much more powerful, that is true but it was very difficult to drive, very difficult.
BEYOND THE GRID: Alain Prost on Ayrton Senna, his 1993 title – and almost rejoining Ferrari
TP: So that was its biggest strength was the FW15's engine, because you say the McLaren had the better chassis, the better electronics. So if I was to say to you what was the Williams greatest strength, you'd say the engine?
AP: If you compare to the competitor's engine first, but obviously it's always a package. The car was really good in some places, much more difficult to drive other places and the position in the car for me was not that comfortable to what I wanted too. Even Ayrton had a problem, you know, when he replaced me. It was not that easy, you know the gear change, until the middle of the season where we improved that. It was a difficult car to drive considering the performance. Obviously it was very powerful and there were no places where we were, you know, far behind. But at the end of the year if you remember, the last two races in Japan, in Adelaide, I've tried to do my best to finish with the win, but it was not possible. The McLaren was much quicker.
TP: So where was the car at its best? I mean, was it on an open racetrack like Silverstone, where you got your 50th. What was that the sort of racetrack it really shone on?
AP: Yeah. You did not want to have too many bumps. I mean, if you had like Silverstone, you know, obviously long straights, you could get the engine making small differences and the fast corners. I mean, average speed corners was maybe the best, the car was good but it's difficult to tell because if you had to try like Silverstone... I remember when we were fighting with Ayrton, there was some places where I was much quicker. Some places where he was much quicker, you know. It looks like a heavy car sometimes and we had a light car, which was not the case I suppose, but you know, we forget that these two cars are very different technology. In fact, you know, we are talking about active car. But you have different ways to make the active car working. If I look at Nigel's car the year before that I tested in Portugal, it was more like a normal car. It was active but it was more like a controlling the ride height. You know, the way that '93 car was more like a complete active car, you know, with no anti-dive, things like this. And it was making the car much more difficult, much more difficult also to set up, and to find the right balance. But you having the right balance, that would be a fantastic car.
TC: So if you combine the '93 active system with things like ABS, traction control, what kind of a feel was the car giving you?
AP: My style of driving and lifestyle also, I think trying to set up the car is quite different to a lot of drivers. For example, with the Williams, we had the possibility to use the power steering and the ABS on the brake. If I remember, I never used it. I've tried many times. So, maybe one race. I don't remember where it was. I wonder if it was not Silverstone, maybe we could ask Patrick. But I did not like it because first of all, I did not have the right feeling for setting up the car, not the way I wanted to. And when I put the active, the power steering or the ABS, I was losing even more some feeling. It was not good for me or my driving style.
TC: Just out of interest was Damon using power steering and all of those tricks to help him? And you weren't able to?
AP: Yeah. I could have been able, but I did not like it. I preferred to stay, let's say, the old way.
TC: Alain, you must have been so strong to drive those cars without power steering, for goodness' sake.
AP: It was not a problem. It's 30 years ago, so I don't remember which race I used it because maybe it was a little bit too heavy in terms of steering but I do not remember if that was the case.
TC: That '93 season also saw narrower front and rear tyres as well. What difference did that make to the handling?
AP: Well, if you remember, I had the stronger argument with Max Mosley at the beginning of the year about the new rule, because in fact we put these narrow tyres for safety reasons. And in fact, what I was saying at the time, I remember after my test in Portugal I said, why we don't test these tyres before we make this decision to introduce them. It was not, maybe, a bad idea, but at the end of the day you were quicker in the straight and not much slower into the corners. So it did not make a big difference. You are racing, normally you can adapt your style to almost everything. That was not the big, big change.
TC: Alain, tell us a little bit more about what it was like racing for Williams. First up, how did the team compare to McLaren in particular? You know that other British titan?
AP: Yeah, that's a difficult question for me because as I said before, you know, the whole ambiance was a bit strange. You know, you had obviously the Williams team and then you had the Renault on one side and then you had Ayrton... you know, signing and they were trying to get there to him. And the media – because the media, they were not very nice to me, you know, at the time, which because you know, as I said, you support the guy with normally the weaker car. At McLaren I had a different period if you take that. With Niki, with Stefan and with Keke it was fantastic. With Ayrton, the first year was really fantastic, a big fight. '89 was again a nightmare because of the situation but at McLaren I had much more of a family team. It is difficult to compare because I was really good friends with Ron and especially Mansour from the beginning and for many many years.
So it was a bit different and when Ayrton came for sure our friendship was a little bit different. I always wanted to support the team and get the best decision for the team. That is why also I have supported the fact that Ayrton should come in the team and not Nelson at the time.
TC: Could you have vetoed Ayrton's arrival at McLaren?
AP: I mean I had nothing contractually. But I think it would have been easy for me at the time to say no I prefer to have Nelson, I prefer to have somebody else. And when we were in a meeting in Japan, you know, with the Honda people, we were talking about that, we were going with Nelson which is a good friend, but I said why you don't take the young guy? I mean Ayrton is the future of Formula 1. He should be the future of the team. Saying that today looks stupid, you know, but that that was the philosophy at the time. I was always doing everything for McLaren. I was going with Ron to all the important meetings. I was going to find sponsors, I mean all the sponsors had been mostly with Ron, together. You know, that is not the way that you are working now in Formula 1, you know, it is very, very different. So with Frank, with Williams, it was a different atmosphere. Very very close with the racing team. Very very close. But it is also an attitude that for certain drivers, like me where you are sensible, you want to have some other relation, it's different. It's a different culture. I really do not criticise. I do not criticise at all. But this ambiance is good for some drivers and maybe not so good for other drivers. McLaren at the time, I don't know the team today because it's different, but I think everybody could feel more or less quite well, except that sometimes they have a favourite, you know, but at least you are in the family.
TC: It seems to me that at McLaren you were more than just a racing driver, whereas at Williams you were just that. The racing driver.
AP: Yes, I mean, but it's not hidden, I mean I'll be honest about that. You know, you are racing driver so you are an employee. So you do more or less what we want you to do. I remember when I made my seat the first time at Williams, you know, I mean I was struggling a little bit, it was difficult. I mean I'm already a pain in the ass, you know, sometimes, to get a proper seat because I like my good position, the comfort, everything. At the end of the day they said, no, sorry, but you have to make the seat with Nigel. So I took Nigel's seat and then I modified everything, you know, adapting Nigel's seat, you know, because it was easier to to make it like this.
And then Ayrton was complaining about a lot of different things. He was calling me many times to ask me for advice. So it's a different culture, different mentality, and you have to accept it that when you're there, when you're, you know, if everything goes well, it's fantastic. But on the human side it's not as easy as other places.
TC: What was it like working with Patrick Head and how did that experience compare with someone like John Barnard at McLaren?
AP: I think that they have a very similar culture. I loved working with both, you know, John and Patrick. Honestly, Patrick was much stronger, that means sometimes he could be a little bit more brutal, you know. But they are very passionate people, passionate about technology and I think John was maybe a little bit more open. If you tell him, John sorry, but it's not working, or it's not the way to go or no, he would accept it more than Patrick. Patrick was really leading really strong. Again, because the philosophy is the driver should not be too important, you know, and the philosophy of McLaren at the time with John was maybe a little bit easier.
TC: One more technical person I'd love to ask you about was Adrian Newey, because of course he designed the FW15C He's still going strong today. What did you make of Adrian all those years ago?
AP: I mean, I worked with Adrian for sure at Williams but also a little bit at McLaren, but in a different role. I remember the '93 season and even after looking at him and even now looking at him from outside you see him very often and he's very different. Because I remember Williams '93, obviously you could be very confident with Adrian, but don't forget that Patrick was above him. In a way it was a bit of different organisation, but I loved talking to Adrian.
Adrian is listening to you, asking questions all the time. You never have an argument with Adrian. You're talking with Adrian and he is listening and then he does what he thinks is the best, but he never tells you what he's going to do or if you're right or if you're wrong. Nothing. Just listening and talking. I loved that. You know, that is why he's the best. Because, you know, everybody thinks that Adrian is still the number one engineer. I mean, I don't know now, but he was at McLaren and I remember going in his office and the drawings, some part of the car, saying it's unbelievable. But also the way he's working and listening is fantastic for the engineers working with him. It brings energy and that synergy in terms of the brain, the capacity is fantastic.
TC: Checo Perez told us on this podcast that when you're talking to Adrian, it's like you're talking to another racing driver. He understood your concerns as if he was a driver. Did you find it the same back then?
AP: Yeah, I mean in a way, yes, for sure. You know when I was with him in '93, I mean as a racing driver, talking, I did not know that he was also driving. For sure you can feel the passion, you know, no doubt about it. I didn't know that Adrian would never tell you... I drove this car. I drove that. I felt that and do you feel the same? Whatever. He never compared anything because he knows that Formula 1 is very different but at least he had the attitude. I mean in fact we are very similar and I said you always listen and if you are racing driver you always want to have the best. And Adrian is the same; that is why he will talk to you but not ask questions. But the answers are going to be natural, you know, because he's like part of your family. He's very different.
TC: And he's also ferociously competitive as well. That's another thing that the Red Bull guys tell me.
AP: Yes. Because I saw him, in my experience I had with him a little bit when I was at Renault and we had a few mechanical failures with the engine. I was the one that Renault pushed, you know, to go and talk to Max's family and Adrian or Helmut or Christian. I remember in Spa, going to the office, I was almost afraid. But anyway, it was not a good experience. But I saw Adrian very, very upset sometimes, you know, very upset because he's a competitor and he thinks that he is making the best car and he wants to have the result. And if it's because of the engine or reliability, he cannot accept that.
But I saw him, the real competitor that sometimes he can be angry because I never saw him like this before. And he's not young, he's had a fantastic experience, fantastic records, but he's still motivated and being angry like he was. I really myself appreciated that, very much.
TC: Now with Adrian, with Patrick, how much did you improve the car during the course of the '93 season?
AP: That was my biggest problem. I had to drive the car. I had to adapt more or less the car to my driving style. But I would say maybe I have adapted the car by 10 or 20 percent and I have to adapt my style and philosophy myself about 80% to the car. That was very difficult for me.
I mean, you know, I like to go and I like to set up the car. I like to try different things. I remember many, many times I wanted to go in the direction, I came back to the pits and said, that's a mistake and we have to go back. But, you know, you're talking because you're in the active car in 1993, it was really, really difficult to us. That was very difficult for me to tell you, you know, in the eighties, you know, with the McLaren and even with Ferrari, I almost remember some set-ups, full set-ups of some races. You know, the car I remember very well what we're doing. On the active car, I do not remember anything, because I remember Paddy, Paddy Lowe, you know was coming with the computer on the sidepod, he was telling me what was going on.
And I remember when we were testing, I think it was Ricard the first time. And in there you realise that going flat through Signes, it was much easier to go flat, then lifting the throttle a little bit before the corner because it's the way the active is working too. So I said s*** I have to adapt myself with a different way of not only driving but thinking, you know, because sometimes I really wanted to... that was also my philosophy to drive, 85, 90 percent on the car because when you drive a little bit, not at one hundred percent, you have the time to think, you have time to realise this thing is a little bit better or not. And also you know that you have a margin. But with active car, if you do that when you go full throttle, then maybe you don't find the same car, you don't find the same advantages. So it was a different way of working for me.
TC: Did you have enough time to get up to speed? Because of course you sat out '92 and how did that affect you, in terms of, did it take you a while just to get back into it? Did you feel as good as you'd been in '91 straight away, or did it take a few laps?
AP: When I came back it was only about four months or five months before I was driving a car because I drove also the Ligier, if you remember, at Paul Ricard. And then when I drove Nigel's car in September at Estoril, I already felt very very good, that car was much more easier to drive, very very good. And when we came back to Estoril with the 1993 car, that was difficult. I even said to myself 'oh s***', I came back, but that was difficult in many, many aspects. Even physically, it was not easy, because the car was jumping, the position was not good as I was explaining to you. So, it was not that easy. When we were in the first race at Kyalami, it was very difficult for me to use the fresh tyres for qualifying. I remember, because we were not doing many, many tests for that and I was never very very good to make the tyres work on one lap, you know, because of my driving style. And we were doing two laps, one installation lap, one slow lap and one quick lap. And the last set, I decided to go for one lap. You know, just pushing a little bit more the first lap. And then I made the pole. That was quite a big difference. I think I was about eight-tenths behind Ayrton before this last set and then I made the pole by two or three-tenths ahead. A huge difference, when you make the tyres work on one lap, it makes a huge difference. I know that.
So yes, on this side maybe I would need more experience, but it was all new for me and that's why also Damon was a big help because he knew the car. He was a little bit behind some races and some races he was very difficult to beat, you know? So it was good, good for me to have this balance.
TC: Did you ever have the conversation with the team about reverting back to the '92 car for the start of the '93 season?
AP: We had a discussion and we even had some tests [at the] beginning of the year at Silverstone. I remember very well.
TC: How did those conversations go with Patrick? Did he even entertain the thought of using last year's car?
FULL TRANSCRIPT: Read every word from Alpine CEO Laurent Rossi's Beyond The Grid podcast interview
AP: Yeah, I remember very well. I don't remember all the words, but he said, no I understand, but you have more potential with this one for the future, which may be correct, but that was the last year of the active car anyway. So in my opinion it would have been much easier. But that's the way it is.
TC: At the races where where you say Damon was very difficult to beat. What was Damon like in those races? What were his greatest strengths as a driver?
AP: You know, again, with these cars, if you feel confident with the car, you can really push. And the more you push with this car, the more you get performance, also because depending on the set-up as I said to you, if you have... for example, control pitch or whatever, I mean, sometimes when you find the right balance and then you can push, then you can make a difference. There's a few places where he was very difficult to beat.
Even Silverstone, if I remember Silverstone, he had an engine failure, he would have been difficult to beat even if I was blocked behind Ayrton for a few laps.
TC: Oh, I love that moment coming through Abbey where I thought you had the inside line. And there's a wonderful bit of in-car footage if anyone wants to see it, where, 'Okay, Prost's through. No, no, he's not, Senna's still holding on round the outside'. I mean, wow.
AP: Yeah, that was one of the biggest moments. Honestly, it was really, really close. Really close. I don't know what would happen... if we touched there, you know?
TC: Alain, how would you describe your relationship with Senna in '93? Was it more friendly than it had been when you were at Ferrari?
AP: I don't know. In the middle of '89, we had no, or I don't remember if we had any talks or any you know, nothing. No, contact. He was like a driver that you never see. You know, which is not easy. But no, the relation started again after the podium in Adelaide.
TC: Right. Okay. But before then it was just rivals and nothing more. Nothing. Nothing on the human side.
AP: No, no. Nothing on the human side. But as I said, no contact, no relation.
TC: Well, obviously there was no conversation about you telling Frank that you didn't want Ayrton as your team mate. He didn't try and take you to one side and persuade you otherwise.
AP: No, no, he did not try with myself. He was using the media about that, but he knew for a long time what was the case. You know, I really felt bad about this story because it's normal. You know, when you go into the team or like many others, they all ask for a number one driver contract. I never asked for a number one driver contract. I'd never been number one. I've even been number two behind Niki the first year in '84. That was really clear on the contract.
But I mean, you can understand that everybody should realise and accept that I could not go to another team being a team mate with their Ayrton. I had no problem to fight against him, myself at Ferrari and himself at McLaren and not doing I have done in the same team, you know. Working twice harder, doing all the tests during winter when he was resting in Brazil whatever. And all these things, you know, you don't want to have it. It is very important to have a good relation with a team mate but a very balanced relation and I had a fantastic relation with Niki, with Keke, with Stefan, for sure with Damon, with a lot, and much more than we think and that is good for the team. Obviously, okay, some people would say it's easy because he had the advantage but you you can create your advantage you know, and I knew that with Ayrton I could not work the same way.
TC: Would you have welcomed Nigel Mansell back as your teammate for '93 had he stayed at Williams?
AP: When I signed the contract, if I remember it was January or February, so it was really, really soon in season. The discussion was very clear, said the only one I do not want as a team mate is Ayrton and you understand why. I even do not remember if it's not Frank that proposed that you know, because he knew that it won't be possible.
And I had no idea about my team mate. I was sure that it would be Nigel at the time, I did not know that it would be Damon. That was January, February. I had no problem with that. I could not understand. I could not believe they would change two drivers together in the team.
TC: And what did you make of Ayrton's $1 million per race deal in '93? Were you surprised that Ron Dennis agreed to that?
AP: First of all, I don't know if it's true.
TC: I think Julian Jacoby talks about it, but anyway.
AP: Yeah, yeah, I don't know. I don't know if it is true. I did not check myself and honestly, when you are talking about money and the drivers, you know how much they earn compared to me for example in the past, I really don't care at all. I know that Niki was paid more than me, Ayrton was paid more than me. Maybe Nigel at Ferrari, maybe more than me. I really don't care.
TC: Yeah. Can we just talk about the Portuguese Grand Prix now? How tough was it for you to announce your retirement during the build up to that weekend?
AP: That was not difficult at all. The only difficulty was that mathematically I was not world champion and obviously I have announced my retirement before the race and before I was world champion but I had to to secure my title. I made the decision, I think it was about one month before. I was in the south of France in the house with friends.
And I said to the guy from my comms, that now I have enough. Because I said to Frank, okay discussion with Ayrton is closed or you stop talking about that because I have a contract and I don't want hear that anymore. Or I can propose that you pay me the contract that I have for '94 and then I retire, you know, and then it's one or the other. And they have accepted the second option. That was in by the time we met all the documents and that was in August, beginning of August.
I think I may have announced in September. That was not, when you make a decision like this, it was more sort of a freedom that I felt because it was a bit too much. You don't go racing for with this kind of atmosphere. And I was already in a weak position, especially the media was not very nice. At the end of the day, even on the human side, you need to make these things and enjoy. And I was not enjoying as much.
TC: What was the reaction in the paddock to your retirement? What did Ayrton say?
AP: Nothing, because we did not talk and the only thing Ayrton said the first time he talked to me again, on the podium first, but especially after the podium, he asked me already that he wanted me to come back. In Adelaide already, a few of them and then maybe one hour later he said you don't want to stop, you're going to get fat and why? And then one week after he called me and then when he heard that Ron asked me to test the car, I said, yeah, that would be good. Then 'please come back and I will be more motivated', so that was a very nice discussion. Yeah, so you could not expect that, it was so different.
TC: So different you say, so different behaviourally but do you think you and Ayrton Senna were actually very similar people and that is why you clashed so much?
AP: No, I would not say that. No. We are very different. Very different driving style, especially at the beginning, maybe not at the end. Very different way of working inside a team, very different thinking, different education, different in our mentality, so no, I would say no, very different.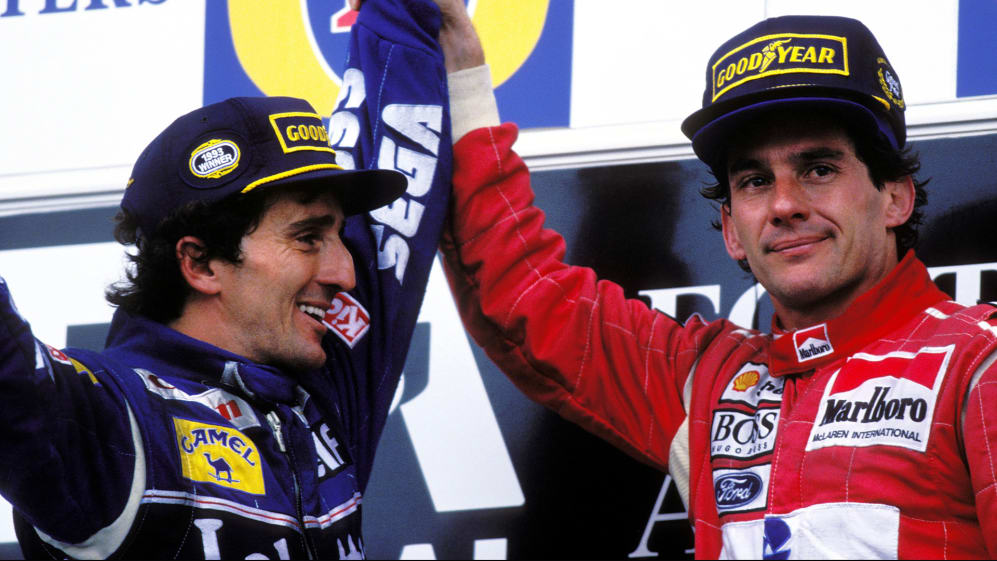 TC: And at the time, did you think you'd get another chance in Formula 1 or were you aware that that was probably it?
AP: I never thought this way. I had to stop. In '89, I had a proposal from Ron of a three-year contract, a new contract, when we were together with Ayrton. '89 was unfortunately one of the worst periods. And I said no; when I decided to say no and to announce that I would not be driving for McLaren anymore. Everybody knows in the paddock at the time I had no contract. I had no security that I could drive in Formula 1 again. That's the way I am in a way, you know. I mean, I was not happy. I did not want to be unhappy again, could not feel that I could do the same thing and enjoying what I was doing.
I am a passionate guy about motor racing, about racing, but not only racing but also working in a team, working with the engineers. You know, I have a lot of fun when I can do that very closely to them and I did not enjoy that anymore. And I stopped. I was ready to have a one-year sabbatical or stop completely, you know?
So what do you ask me, in '93 I did not care if I was there. You know, you have different opportunities. McLaren with the Peugeot engine was an opportunity, with a lot of money in fact and a lot of money. And I said no. And then I was very close to another opportunity at one stage with McLaren, a few years later, even at Ferrari, when I talk with Jean, you know, and then at the beginning with Michael, Michael went there. And I said, you know, if I go there, I mean, we had discussions with Jean said, okay, we have to be clear, if I go there, I am a number two.
And I tried to help Ferrari and Michael to win the championship because that would be a sort of a you know, it's a clear attitude. I don't want to have any argument with the press, media, whatever, Michael is number one and I'm number two. And I'm here to help. That could have been a possibility. It did not work but you know.
TC: You know Alain Prost, I'm not having that you going to Ferrari as a number two. I can't see the competitive beast in you.
AP: It's only to be part of Ferrari's success for many, many years. And that was part of the challenge, you know. And the human side, because the human side is much more important than you think or people think, it is very important to me. If you are in a team and say I am here for that and I am an employee again, you know, but I'm going to help Jean Todt, I'm going to help these people.
And obviously, Michael, because there is no way I could compete with Michael after retiring for I don't know, one, two, three years and then I come back. But then I could help, so maybe that could have been a challenge. Maybe it would be a crazy challenge, but I was very close to it. We were talking about that with Jean, maybe not for long, but we were talking about it.
TC: Why didn't it happen?
AP: Ask Jean. Because, I mean, maybe we find that it would be difficult to do it. I even do not remember who they took too, but at the same time maybe it's better not having done it. But you understand the philosophy is that it was very clear.
TC: Yeah, I was winding you up, but a man with with your record and your level of ability, it seems an extraordinary thing.
AP: Yeah but it's part, I mean, you do things when you are 20, you don't do the same at 40 and do not do the same at 60, you know? So you have to accept and then be part of a new project and challenge and why not, why not? At least when it's clear, why not?
TC: Formula 1 is a funny business, isn't it, in that you think how it ended with Ferrari in '91 and yet just a handful of years later you're having conversations about going back there?
AP: Don't ask me, it's going to be too long I think to talk about Ferrari '91. But Ferrari '91 at the end with the truck is something that people do not understand and I'm going to explain in my documentary exactly what happened. But you know, the only thing when you talk to me about the truck situation, I can answer the same answer I give to everybody. Have you ever listened to the interview when I talk about the truck? Tell me one person who was seen the interview about the truck in your Formula 1 life in the last thirty years. Okay. If you show me somebody who has seen the interview of the truck, okay, please present it to me.
TC: That is interesting. So are you saying that you were misquoted?
AP: No. No, I was completely apolitical and they took this opportunity. I talk about the truck for one reason. But that was only smiling with my race engineer at the time Luigi Mazzola. Because I touched the car at the beginning of the race at the first corner and the steering was bent and was so heavy. So maybe that was maybe one of the best races in my life. I finished fourth, I remember Jean finished six and I could not do better. And I showed to the people who were there, 'You see look it was so unbelievable and you could not move the steering.' And they said, you know, what can I do?
I felt like I was driving a truck and seeing like this, but it was more of a funny thing. But they used that because at the same moment I was having more than a discussion about my contract with Henry Peter, who was the lawyer of Ferrari, talking about being a driver and the sporting director at that moment for the '92 season. And for sure this decision or this move, a lot of people did not like it. And they used that but, you know, they've never seen it.
And when we started the process of the action from my part, you know, with the lawyer we sat on the table. I remember Luca was there, the car just arrived, and I said, okay, before we start, just show me the interview. And they could not, because this interview had been banned from the first day, you know, and nobody has seen it. Nobody. And if you see it, obviously you would understand.
In my career, that was really bad because I love Ferrari. The 1990 season was unbelievable, like a dream. And I really regret that we only had this sort of [issue] about the Ferrari and Prost talking about the truck, which I was not. I wanted to have the best for the for the team. I still want to have the best.
It's unbelievable to have this, you know, this brand in a country like Italy. And you are always part of the Ferrari family, when you belong to it but forget that. But what I lived is a pretty unbelievable because I could not believe that you could live this kind of situation because it goes like a step above the stage, you know, and there's nothing you can do.
TC: Well, I'm now starting to understand why you attempted to go back just to complete the circle. You love Ferrari.
AP: Two weeks. Two, three weeks after Japan, you know, when I was in Australia already. Two, three weeks after I met Luca di Montezemolo because he had just arrived and we were talking about me coming back already. But it was too late because we started the process and I thought it was not good. And I already [had had an] approach with Frank, with Williams and Renault. So I said okay, forget it. But it was very close.
TC: When you look at the pace of the '92 Ferrari, I think you got away with that one Alain.
AP: Honestly, I am going to have my moment of being proud and maybe not too much humility. But everything I have said was more or less correct. You know there's no way you could you were going in the down side. But there's nothing, the truck thing was completely different, you know? I mean, I was working very hard to make the Ferrari competitive. But there was too much politics. Much much too much.
TC: As it transpired, Adelaide '93 was your 199th and final Grand Prix. How difficult was it for you to move on from racing.
AP: I think it was more or less the same for everybody. You are very happy. You feel free for very little time. And then after the first few weeks I would say you wake up at nine or 10 o'clock and then you realize that you're very young and you don't want to have this kind of life. And you need to, when you have the project, or target, or whatever you call it, that every day in your life when you started that, you know, very, very young. So no way you cannot. But it's good to have [something]. I had about three months very good. But starting to think... you need to have a break and then I started again. And I never felt unhappy. Never, never, never.
TC: Have you found anything that has replaced the buzz of racing a Formula 1 car?
AP: Funny you ask that because I remember I had an interview maybe one or two years before that or two, maybe more than that. I said that I know there's nothing that can replace Formula 1 in my life in the future. Nothing. You cannot have something, especially if you are winning. In no way you can have substitute; you can have other passion you can have hobbies. You know, you can have a lot of things, family, friends, whatever, but it's very different to the Formula 1. But when you know that, you are not disappointed. I never regret, never, never, 'Oh you should not have stopped' or whatever, never, never, because it was for different reason.
TC: And you've been training hard on a bike for the last 30 years as far as I can make out.
AP: Yeah. Yeah. But bike is a hobby. I've had a hobby with tennis, with golf, with a lot of things. And I've been more passionate by a lot. I mean I'm always in movement. I have a lot of different businesses that nobody knows and I've always had a very busy life, with different interests. I could not expect better than that.
TC: Alain it's been, as ever, wonderful to talk to you. Thank you for sharing your memory, and your pin sharp memory as well. You remember it all like it was yesterday.
AP: It was yesterday. It was yesterday. I have a good memory. Yeah. Sometimes it's not good because sometimes I think to myself it's maybe better to forget everything... but now I remember everything.
TC: And it's wonderful. And I hope we see you at lots of races this year. Thank you so much for your time.
AP: Bye bye. Thank you.
To read on, sign up to F1 Unlocked for free
You'll unlock this article and get access to:
Live leaderboard data
Epic experiences and rewards
Money-can't-buy competitions