Podcast F1 Unlocked
FULL TRANSCRIPT: Read every word from George Russell's Beyond The Grid interview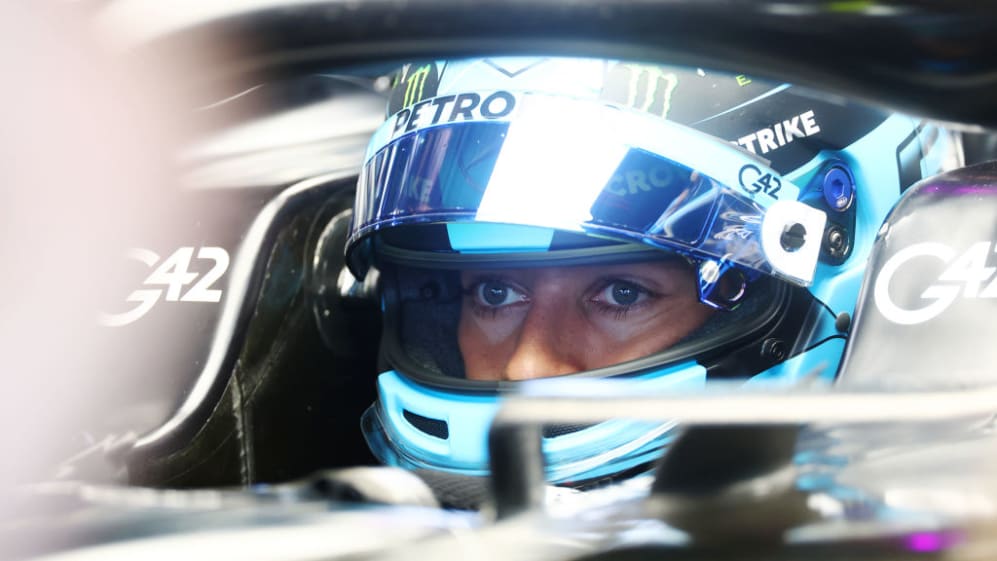 George Russell is a young man in a hurry. After serving his F1 apprenticeship with a three-year stint at Williams, the British racer is now driving alongside Lewis Hamilton at Mercedes, with championship glory firmly in his sights.
Russell is this week's guest on our Beyond The Grid podcast, and you can read every word from his interview with host Tom Clarkson in the transcript below, listen to the episode in the audio player, or head here to catch it on your preferred platform.
Tom Clarkson: George, great to have you back on the show. Thank you very much for your time.
George Russell: Thank you.
TC: Now we're talking on the back of Singapore, where everything went so well until that last lap. How hard has it been to move on from the crash?
GR: It was definitely very tough on the Sunday night, Monday morning. But I think in life, and especially in our industry, you need to pick yourself up. You need to look at the positives from every negative and difficult situation, from every failure. There's always a learning to be had and you need to move forward.
TC: What mechanisms do you have in place to help you in moments like this?
GR: I think experience is a huge factor. When I get asked from younger kids, 'what advice would you give?' I'd say don't be afraid to fail because it's through my failures and difficult moments being a younger kid that have helped me deal with moments like this. I've had success on my journey in racing, winning F4, GP3, F2, but I've also had moments where I've made mistakes, where I've crashed, where I've felt like I've let people down.
I had a phone call from Andrew Shovlin, who's our Chief Engineer, on the Sunday night, and he said to me, 'George, the only reason we had a chance of victory this weekend was because of the amazing job you did in qualifying, the amazing pace you showed in the race, and you gave us what that feeling was to fight for victory again. You need to take that for what it is. It was a very small mistake. Forget about it. Move on.'
And that was really refreshing to hear that from Shov directly after the race. We gave it all to win that race. I was disappointed we missed out on the opportunity. What happened afterwards has happened. It's history. We move on now.
TC: I guess you've been through that moment in your head. Do you know what happened?
GR: I've been through it a number of times, trying to understand. This was the third or fourth street circuit of the year. I don't recall one single lap in Monaco touching the wall. I don't recall a single lap in Baku touching the wall. I did every single lap in Singapore, millimetres from the wall. If you watch my qualifying lap, you'll see I was millimetres from the wall, but not once brushing the wall.
I saw Lando hit the wall and it's incredible how quick the mind reacts, because I saw him hit the wall and I went 'oh my God, he's hit the wall.' And then I hit the wall. Whether it's a distraction, you know, you're following the car in front of you. You're looking forward. You're not looking left or right at the wall. You're looking forward. And when you've got a car ten metres in front of you, you're looking at the back of that car.
But again, I'm not going to sit here and say I hit the wall because of Lando. But for sure, I was following where he was going and just obviously clobbered it a lot more than he did. But when I look at the performance of this year, I come away with confidence. I'm not going to let a two- or three-centimetre mistake on one lap cloud what was an amazing weekend. Since returning from the summer break, my pace has been really, really strong. I'm giving it everything to win a race this season and that was a chance. I hope there will be another one.
READ MORE: Mercedes reveal plans to bring upgrades to the W14 as they bid to 'add performance' and begin 2024 development
TC: You mentioned the summer break. As you say, since then the pace has been really, really strong. What changed?
GR: I think a small mentality change from my side, how I work with my engineers, the things I'm focusing on with the setup of the car, the things I'm not focusing on with the setup of the car, and just probably enjoying life a bit more. I listened to a podcast from Fernando [Alonso], where he said that if he could change one thing in his career, he wishes he enjoyed the moment more often when he was younger.
I think that resonated with me because I'm living my dream here, but I'm so dedicated. I feel like I'm a true professional. I look at every single detail. I give it my everything, and sometimes you forget to enjoy it and to enjoy the moment with the people around you, enjoy the places you're going to, smile, not just constantly be this 120% serious guy focusing on every single detail.
It doesn't mean that I'm any less professional now, but it's just that I'm probably enjoying my life more, my surroundings, the people who I have at home, my living situation. I'm just in a much happier place. I'm learning new things that I never would have dreamt of doing before, so all in all I'm just in a good place.
TC: Fernando, in that podcast, was talking about his championship wins in Brazil, and how he wished he'd celebrated more and he couldn't even remember what had happened those nights. So let's ask you about Brazil last year. How did you celebrate? What are your memories?
GR: Reminiscing back to that, it's very similar in a way, because we had to fly off to Abu Dhabi, and that was already booked in advance and it was straight to the airport. Of course, I would have loved to have spent the whole night there in Brazil with all my team and celebrate until the sun had risen in the morning. But the practicality of it meant that was just not possible. So yeah we won't make that same mistake twice.
TC: Now you say you're learning new things and I wanted to ask you about the summer break. A lot of water sports and you turned up in Zandvoort with a little scar on your wrist…
GR: I was talking to Toto [Wolff] before the break and I said 'I want to try this and try that'. Toto is one who does a lot of activities and he sort of lets Lewis get away with it, but when it comes to me, he's like, 'no, you've got to be careful of this. If you jump on that foil board, there's a really good chance of hurting yourself. If you go skiing, there's a really good chance of hurting yourself.'
And he's totally right. But I just had a bit of a mentality that I can't wrap myself up in bubble wrap. I know my boundaries. I know my limits. I get my exhilaration from the racetrack, so any additional sport I would do, I would do it to my level. But I'm not going to push the boundaries of whatever it is and risk an injury. But yeah, long story short, I was learning to foil board in Spain. That's surfboard with the foil beneath and it sort of floats on the surface. My first day, I did fall off and the foil caught my wrist and sliced my wrist open a bit.
TC: Did you ring Toto?
GR: No, I didn't let him know, but he had just sent me a photo because he'd broke one of his bones on holiday, so I kept him posted.
TC: It's interesting that Toto wants to advise and nurture you like that. Do you think your relationship with him is different to Lewis'? Is he almost almost paternal towards you?
GR: I'm not too sure, to be honest. I think when Lewis and Toto were acquainted, Lewis was already world champion. He was already this megastar. There was perhaps more respect from Toto to Lewis when he joined because Toto was completely new to Formula 1 at that time. Toto was the rookie and Lewis was the household massive name.
Whereas myself obviously, Toto signed me as a 16-year-old. They've always nurtured me along my way, advised me, helped me reach my full potential, and I guess to a degree you could be right. But I think our relationship now has gone more from, I'm not going to say paternal figure, but I class ourselves as more friends now. Also, with Susie [Wolff] and Carmen, my girlfriend, we've got a really great relationship. We spend a lot of time together doing activities together, dinner together. We see them all the time so he's my boss, but he's also a friend. We live probably 200 meters away from each other. We go to the gym together and get coffee together daily.
TC: Sounds quite intense…
GR: No, because we don't really talk about racing to be honest. We're learning to free-dive together at the moment. We actually went with Lewis as well on our first experience into the water. I'm a kid from the countryside in the UK. Water sports activities were never a thing where I was from and suddenly this life has exposed me to so much, which I'm so grateful for.
I didn't even know what free-diving was a couple of years ago and it's such a beautiful life down there in the water. It's probably the best disconnection I've ever had from life. You're just solely focused on your breathing, on the surroundings, and the sea life. It's really beautiful and I just really, really enjoy it. Only two years ago I would never have even expected to be doing things like this.
TC: How deep can you go?
GR: Mine's nothing to brag about at the moment. I'm learning more to not go too deep, but once I'm down there, to look around and spend more time under the water rather than continuously pursue a deeper depth.
TC: How long can you hold your breath?
GR: I mean, it's not fantastic. So far, with little practice, I think it's just over 2 minutes. I'm hoping, since I've learned a few new techniques now, I can extend that a lot. It's just doing these box breathing techniques. So it's basically inhale for four, hold for four, out for four, hold for four. I did this once for probably 15 or 20 minutes and by the end, I could inhale for 10 seconds, hold it for 10, out for 10, hold for 10.
It got me thinking because, in a race car, you're strapped in, you've got the belt around your waist, around your crotch, over your shoulders, you can't really breathe because the belts are so tight. You can't take those deep breaths and our heart rate is running through the roof from the heat inside the cockpit, the physicality of driving the car, the mental fatigue. If you can find ways to reduce your heart rate, I definitely would have taken it in Singapore.
I'm learning by doing these additional activities that you keep your senses alive. They always say with a Formula 1 car, the best sensor is the driver. I can feel a car because of the senses through my arms, through my bottom, from my back, through my legs. You feel that G-force, you feel the tyres moving, and that is surely going to degrade at some point. You're not going to be razor-sharp until the day you die and I'm sure by doing these other activities, whether it's surfing, whether it's diving, it definitely keeps your senses active.
TC: George, let's talk about year two now at Mercedes and how different it feels compared to last year. Your feet are properly under the table now, is it a noticeable difference for you?
GR: I've always felt part of the family at Mercedes. There was never a doubt about our future together. This was always the plan, to be a part of Mercedes. I think year one was obviously a very strange year within the team, especially the first six months, because we found ourselves in a position that they hadn't been used to for eight years, struggling to understand the car, lots of limitations, being knocked out in Q2s, and it was a real challenge in many regards. Now things are clearer, the foundations are fully set in stone and I'm really, really enjoying working with everybody. There is truly a light at the end of the tunnel and that's what gives us all motivation.
THIS WEEK IN F1: Take our Qatar Grand Prix quiz for a chance to win your name on the Sao Paulo GP chequered flag
TC: Tell us about that light. How bright is it? How much confidence do you have that the 2024 car is going to be better, is that what you mean by 'light at the end of the tunnel'?
GR: Yeah, absolutely. I'm not going to sit here and over-promise anything. I think what's important is to focus on yourself and maximise the potential. I can confidently say we're in a much, much stronger place than we were this time last year, in terms of the direction we're taking for the following year's car. So I have 120% confidence in every single team member. They're truly extraordinary people; incredible engineers, designers, everybody within the whole organisation. They're so motivated for that success and we have a clear direction to take. That gives me confidence.
But you can never underestimate your competitors. We have no idea of the gains that Red Bull, Ferrari, McLaren, Aston Martin will make. We've seen some huge leaps. Maybe next year Williams are going to be up there. They're performing really well. All you can do is focus on yourself.
TC: Take Singapore out of it, the percentage gain that you need to make over the winter to beat Red Bull – it's going to be an extraordinary jump for everybody isn't it?
GR: Yeah, absolutely. We need to make huge gains. We've been a bit back and forth with our development. We took one step forward, two steps back with a number of updates we brought, especially last year. We had to take a lot of performance off the car because we were struggling with the bouncing and we're definitely getting our hands wrapped around this limitation much better.
We know we made a mistake over last winter. We took too much performance off the car and the regulations naturally improved our problems a little bit. This is a really interesting sport and you've only got to rewind to 2020, Mercedes built probably one of the most competitive cars of all time, then in 2021 Max [Verstappen] won the championship, or at least there was a battle between Max and Lewis for the championship. So you can argue that the 2020 car of Mercedes, in terms of competitiveness or pace delta for some of the races, is not too dissimilar to Red Bull.
TC: Do you fully understand this 2023 car now?
GR: There's definitely a huge amount of learning we've done this year. I'm not going to talk on behalf of the truly intelligent people of this organisation, but there's always more you want to unlock in terms of your understanding. If you 100% understood everything, you'd bet your mortgage that you would be winning a championship. But nobody, 100%, truly understands everything. And if they did, you wouldn't have seen Red Bull one second off the pace in Singapore. There's always something somewhere that catches somebody off guard.
TC: What are the strengths and weaknesses of the '23 car?
GR: Our race pace is always a strength. We're lacking a bit of overall downforce, especially in the high-speed corners, and that's a weakness of ours. We know where we went wrong with the development and why we ended up in this position. I think we're consistent. Every race we go to, we don't have massive fluctuations. We have one or two races where we're a bit on the back foot. But I think as a race team, they do an exceptional job, with what we do here, with everybody back at the factory, the simulations that they provide to maximise the potential of the car, I think is something that we shouldn't forget.
We've definitely been improving. The balance was in a very difficult place last year, with the rear of the car moving around a lot. That's been improved. We still have a way to go to where we want to get, but we see so much opportunity. We're not going to sit here and say we're so happy with the car we've got today. But the fact we're still second in the championship ahead of a number of rivals, with a car that we believe is so far from its potential, gives us optimism and motivation that if we tick these boxes and do a number of things right, there's no reason why we can't be fighting right at the very top.
TC: Singapore was always going to be an outlier. It's one of those slightly different tracks. Is there another track this year that you've got in your mind where you think it might be an opportunity?
GR: Yeah, Singapore was competitive, no doubt. It was competitive for us last year. I think we're heading to Mexico where we'll be in a good place. Brazil again, we'll be in a good place. Then when you come to the sprint races, you just have no idea because you've got one session to dial the car in. We have three Sprint races between now and the end of the season, so there's a huge amount of opportunity.
IT'S RACE WEEK: 5 storylines we're excited about ahead of the 2023 Qatar Grand Prix
TC: What about your work ethic, George? The team talks openly about how hard you work. They talk of you criss-crossing the Atlantic during the flyaway races last year just to get back on the simulator. Where does that come from?
GR: I think it's been ingrained into me since I was a young kid, probably from my father, that you only get out of life what you put into it. We were in a privileged position because we were able to go karting. My family were able to support me and my siblings in life. We never struggled, but we were nowhere near well-off enough to get anywhere close to Formula 1 with the financial backing that we had. My family knew that.
It was very much ingrained into me that if we want to get to Formula 1, if you're going to be able to achieve that, you need to go above and beyond everybody you're competing against, especially the ones who've either got the backing within the family, who've potentially got a sponsorship support, because that's the only way you're going to get the opportunity to prove yourself in Formula 4, Formula 3, Formula 2. That's what we did and that's stuck with me ever since.
TC: At what age did you know you wanted to get to Formula 1? At what age did it actually become a career?
GR: I think in my mind it was 11-years-old, when I was like, 'this is serious and this is my life, my passion'. But still, I think at 11-years-old, you don't truly comprehend Formula 1. You're living in the moment. You're too young and naïve to comprehend your dreams. But I wanted to be a racing driver and I wanted to win. You obviously put two and two together, that's Formula 1, the pinnacle of the sport.
But it was maybe when I was 15-years-old, when I was old enough and mature enough to comprehend the challenges of getting to Formula 1, to comprehend that I've put already eight years of my life, my family's life into this, that that's where I want to be. As I said, at the age of 11, you don't really comprehend that your family are driving you up and down the country, investing their time and their money and their effort into you. You're just having a whale of a time, really.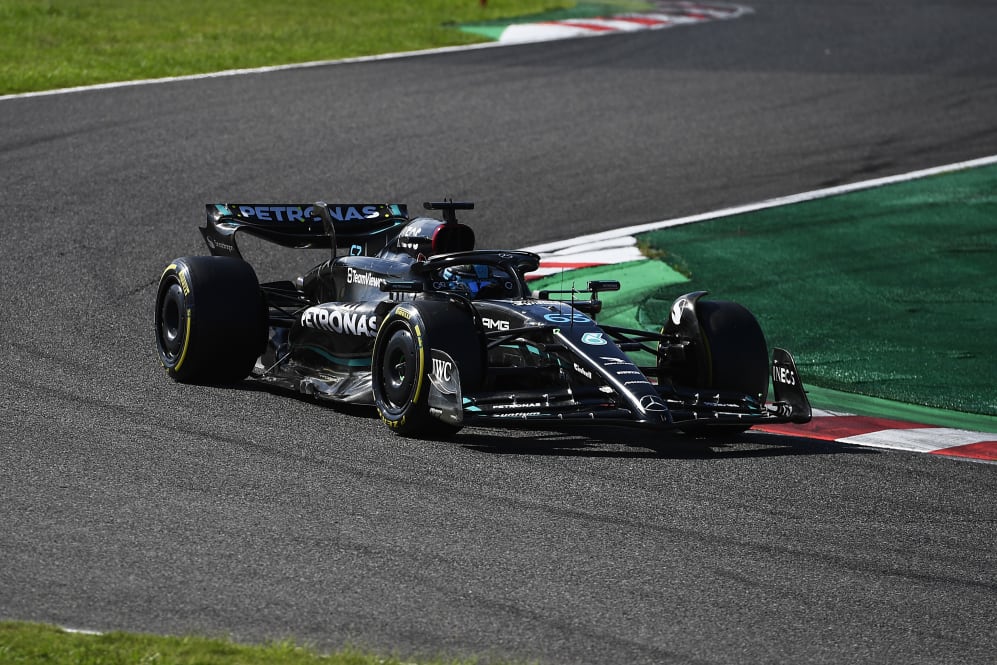 TC: How difficult is it for your parents to say 'all right, here you go, good luck'?
GR: Yeah, my parents have always been so passionate for racing. My first year of cars, we had some sponsors, but my family were backing me. That was our last opportunity to progress any further because we knew we ultimately had no more money to go beyond Formula 3. That was a very tense year because that was the year when I could also comprehend that this was like a last opportunity. 'If I don't win this year, how am I going to get the backing to race in Formula 3?' My family can't support that and I wouldn't want them to sell the house to give me that opportunity.
But because of Mercedes, because we knew Gwen Lagrue [Mercedes' young driver programme chief] – and what a great person and a great manager Gwen is – plus Toto's influence, I think that put their mind at ease that I am in very good hands and they almost need to let me fly, rather than holding onto my wings. I'm so grateful they did that. They still they support me every single day. They watch every single session. They watch the races on Sky Sports and then they watch the replay on Channel 4.
My dad's got the onboard on his iPad and the timing screen on his laptop, with the TV in the background. He'll be on FaceTime with my brother at the same time, who's watching at home with his three kids and his wife. Then there's my sister at home with her husband and her dog. My sister and my brother never once questioned the support my parents gave me, and I wouldn't be here today if it wasn't for that.
TC: George, tell us about the relationship between the drivers, because it seems to me that there's less tension among the group than there was 25 years ago. Is it difficult to be friends with people when the rivalry is so intense?
GR: I can't talk for how it was in the past and obviously the media always like to hype up any sort of rivalry and competition. But there's definitely a clear distinction between when the helmet's on, we're all competitors, we're all animals going after that success, but when the helmet is off, there's definitely a mutual respect between all of us. Now that the calendar is so busy, so intense, with so many races and so much time away from home, it's almost like a small community here and we can sort of relate with one another with regards to certain things, whether it's the on-track commitments or the off-track activities we're doing with the team.
There has been a couple of sports that we've been playing together, most recently Padel, which has been very fun for us to get into. Lando and I played a couple of times in in Singapore. We played a few times back home with Alex and Max so you've got this camaraderie there, but for all of us, once the helmet's on, that's out the window and we're looking ahead.
WATCH: The highs and the lows in F1 – 2019 rookies Russell, Norris, and Albon reunite
TC: Does the camaraderie stem back to those karting days? You know each other so well, can you take the rough with the smooth?
GR: Yeah, I think so. I think we've all been through a lot together. We've raced each other for many, many years. Alex, Lando and I were competing together in Formula 2 and then in go-karting, I was team mates with Charles and Alex in 2011. We spent a lot of evenings together, dinners together, testing and racing together. So you've always got that bond that will always be there. The likes of Alex and Charles, Max, Esteban, Lance, they'll always be the guys that raced against each other when we were younger.
TC: I love how quickly you can move on after an incident and my mind springs back to Baku with Max Verstappen, but you guys seemed to park that and move on…
GR: Yeah, it's racing. We're all in the heat of the moment. It's a physical sport, even though it's sometimes not perceived that way. The cognitive stress you're under, the personal pressures and the pressures from the outside, we all want to do the best job possible and we all respect that. None of us are purposefully going out there to crash or purposely take somebody else off.
TC: Do you require an apology or do you just move on?
GR: Oh, no, not at all. There's never an apology needed. I'm trying to think of an occasion where we've collided on track together, but I don't think there's ever really been one. It doesn't matter what's been said. I think in those moments, within an hour after the race or during the race if you've come together, it doesn't matter what's said. It's water under the bridge and you move on. You might not be best pals for the next couple of races, but we're all mature enough to recognise what.
TC: What about a couple of years ago at Imola, you and Valtteri [Bottas]?
GR: I did give him a phone call, which he didn't answer.
TC: Did you leave him a message?
GR: I did leave a message that was just like, 'give me a call when you have a moment'. But we've never spoken about that crash ever. We've never spoken about when I joined Mercedes, we've never spoken about any of that.
TC: Is that because you never speak?
GR: No, by the end of that year we would bump into each other, we'd have a chat, we'd have a normal chat. We often speak on the driver's parade and there was not one single ounce of awkwardness at all. As I said, it's just part of the business, part of a job, and it's never personal.
TC: Now in Austin, you're going to be celebrating your 100th grand Prix. It seems crazy that you've already done as many races as Sir Jackie Stewart did in his entire career, and I feel you're just getting started…
GR: Definitely. I really feel like I'm only just getting started. There's obviously a lot of races per season, so they rack up quickly and I don't feel like I've even begun yet. I think I'm performing at a really high level. I'm really happy with my own performance, but I recognise that you need to sustain this performance and be ready for when the car gives you that opportunity. But I've got no doubt that my time and my chance will come. I hate that saying that I'm going to be patient and wait, but that's unfortunately the nature of Formula 1. I'm not the only driver in this situation right now.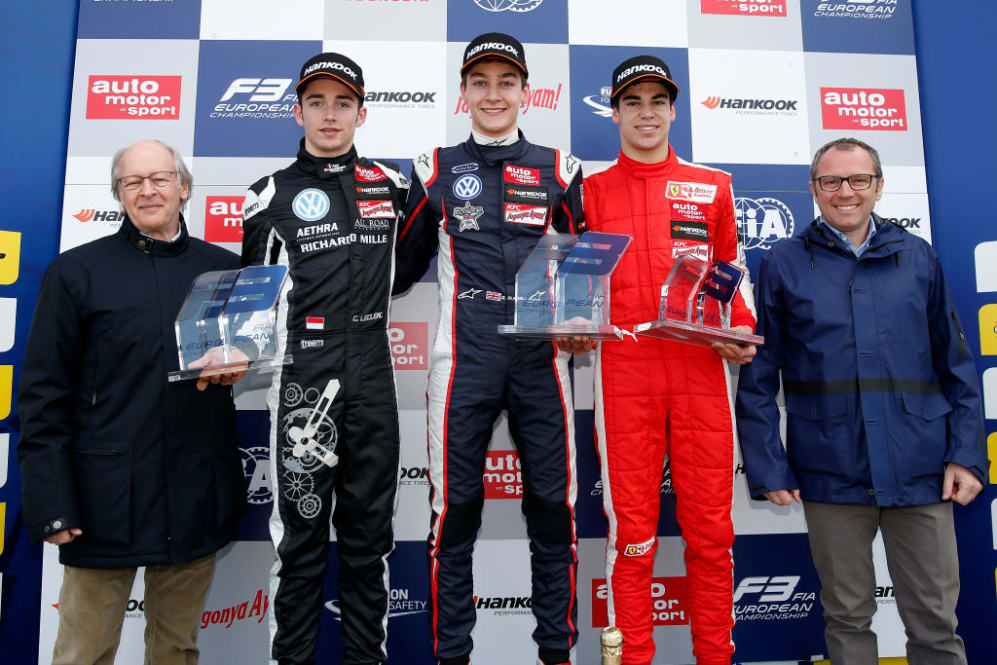 TC: What's the biggest thing you've learned in these 100 races? Is it patience?
GR: I want things yesterday. I want to have achieved things today. I just want to accomplish so much, whether that's professionally or personally. The people who work with me on a personal level will know that I'm quite… I wouldn't say demanding, but I've got an idea of what I want to achieve it and I don't see any reason why we can't do that in the coming two, three, four weeks. I know when I put my mind to something, I can achieve it.
Since coming to Formula 1, probably what I've learned in these 100 races is to try and maximize every single opportunity. But you can't do the impossible. When I was at Williams, you can't win a race in a Williams. You've got to accept that if P10 is the maximum or P12 is the maximum, don't go out, you know, crashing in Imola under the Safety Car, trying to achieve points when points just were not viable. Even Singapore is an example. That win, we had a chance, but we missed the opportunity.
You've sometimes got to accept, on a given day and a given scenario, that's the maximum. Sometimes, if you try for more, you're only going to come off with less. It's a tricky sport and probably the Sakhir Grand Prix in 2020 was the best example of that.
TC: Well, I wanted to celebrate your 100 races. What's been your best qualifying session so far?
GR: I think I've had some really satisfying ones. But I would say for the pure joy it gave me afterwards, the P2 with Williams at Spa, I don't think that can be rivalled for a long time. That was just so huge for the position we were in. We were the slowest car on the grid for the previous two-and-a-half seasons. That qualifying will always stay with me to the day I die. The pole with Mercedes comes close.
TC: Okay, what about best race?
GR: I think it does have to be Brazil because it felt earned. I think Sakhir, it all happened so quick and so suddenly, it was almost too good to be true. If I'd won that race, I feel like it would have just been too good. I know I should have won the race and if it wasn't for the puncture, we would have won the race.
I think I maybe wouldn't have appreciated future victories, or the victory in Brazil, as much as I did or as much as it deserves, because Brazil truly felt earned. For all the heard work everybody put in, the hard work I put in, the pressure that I was under from Lewis for the last 15 laps of the race. He is the greatest driver of all time. Every single weekend I go out, practice, quali, race, you are directly compared to the greatest driver of all time. Having that fair fight was extraordinarily rewarding for me and why it is an incredibly satisfying position for me to be in.
It's such a privileged position to be in, because not many drivers get that chance. We all believe in ourselves. We all believe we are the best and we all believe that when we get the car, we will win championships. I can very, very confidently sit here and say there's probably five drivers on this grid that, if you put them in the best car, they will win the championship. I have no doubt about that. For me, Lewis is one of those guys. If I'm going head-to-head with him, week in, week out, that gives me the benchmark.
I don't think I've ever been pushed in my whole career like I've been pushed in the last year and a half. To see that I'm swimming, and swimming well, gives me so much faith in myself, so much confidence, that I always had, but there's no doubt now. I truly believe in myself, the team believe in me, and that's been really down to the fact that I've been team mates with Lewis and held my own.
READ MORE: Hamilton insists Mercedes need 'greatest six months of development we've ever had' to close gap to Red Bull
TC: The last thing about 100 races, what's been your best overtake?
GR: That was definitely the 2020 overtake in Sakhir on Valtteri, because of how much that meant given the circumstances. That couldn't have been a better chance; same equipment, same car, same weekend to prove what I could do. That overtake was probably the most important overtake in my career.
TC: I just wanted to end reflecting on where Formula 1 is at the minute, because Singapore gave us a glimpse of life without Max Verstappen and Red Bull at the front. How much does that excite you?
GR: It excites me a lot because the potential is huge, to have probably one of the most exciting and dramatic seasons ever. But you can't take away from those who have done a better job and they're the best this year. He's been the best driver, they have been by far the best team, and they're deserving of all that they've achieved this year. But as drivers, we want to go head-to-head and prove who can do what. Formula 1's in such a great place. There's a really exciting future. Stefano [Domenicali] and the team are doing an immense job and I can only see it going from strength to strength in the years to come.
TC: Is it all pointing towards 2024 being the year?
GR: There will be many years to come. 2024, we're going for it. But I reckon I've got a good 15 years left in me.
TC: Alright, George, thank you so much. Good luck with everything!
GR: Thank you!
To read on, sign up to F1 Unlocked for free
You'll unlock this article and get access to:
Live leaderboard data
Epic experiences and rewards
Money-can't-buy competitions