Podcast F1 Unlocked
FULL TRANSCRIPT: Read every word from Jonathan Palmer's captivating Beyond The Grid interview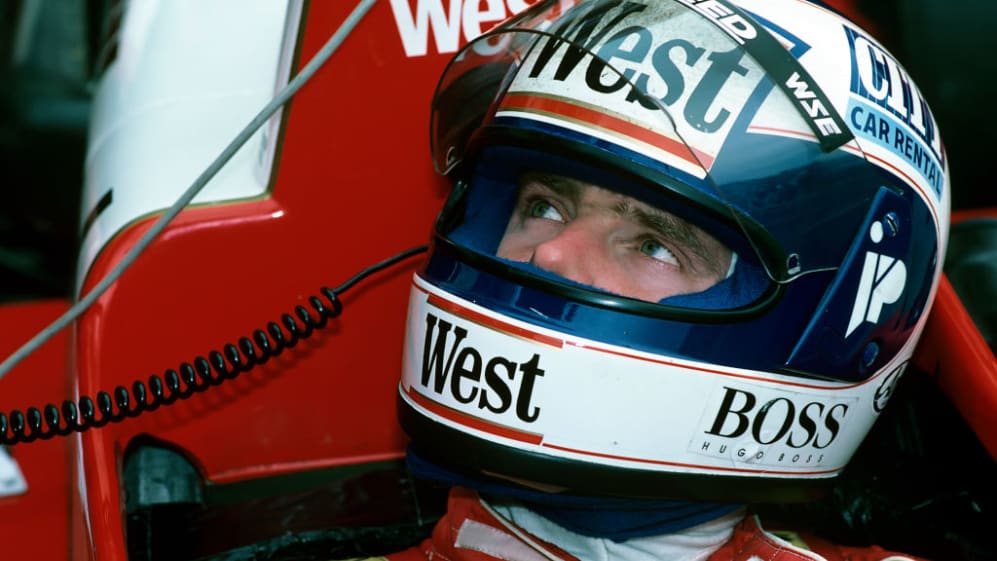 Jonathan Palmer is this week's guest on F1's Beyond The Grid podcast, as he opens up to host Tom Clarkson about his path to Formula 1, qualifying as a doctor, working with Ayrton Senna and much more...
Read every word from the interview below or listen to the episode in the audio player below, or head here to catch it on your preferred platform.
Tom Clarkson: 83 starts in Formula 1 from 1983 to '89. Best result of fourth at Adelaide in '87. How do you reflect on your time at the top?
Jonathan Palmer: It was probably the most defining time in my life. I think with any of us who've been motor racing, particularly at Formula 1 level, one knows exactly what you're doing at any given year. If you mention '89, '83, '84, years come into sharp focus. I suppose it's because you're changing teams quite often or there's always a new car. Whereas if you ask me what I was doing in 2006 or 2014, I'd really find it hard to define what I was doing that particular year.
So, it is very much still in the spotlight mentally. And in terms of earning money and as a business career, Formula 1 wasn't a great time. But of course, it was important in that it was one hell of an ambition that any driver, me included, had. You're coming up through Formula Ford, Formula 3, Formula 2 in those days and Formula 1, it's where you wanted to be. The effort that I went to and contemporaries of mine; Derek Warwick, Martin Brundle. It was just the most important thing in our lives. But to actually get there was amazing and it was pretty precarious trying to stay there. You wanted to try and do the best job you could but hope that that was good enough for you to end up staying there and I did for six years.
I'm proud that I got to Formula 1. I'm proud that I did six years of it, with reasonable levels of success. I was not an Ayrton Senna or an Alain Prost. But nevertheless, I think the most important thing for me and indeed for anybody in their lives is that I gave it my best shot. I'm satisfied with that. I could not have tried harder to be successful with the level of talent I had in Formula 1 and the results that I got overall were probably the sort of results my talent justified. Yes, if I'd got into a Williams or McLaren, I'm sure I could have won the odd Grand Prix. But would I have won the World Championship against the likes of Senna? No.
TC: You had a stellar junior career; British Formula 3 champion, European Formula 2 champion. With that kind of CV, did it frustrate you that you didn't get a chance in a front-running Williams or a front-running McLaren?
JP: It didn't frustrate me as much as one might have thought. I don't quite know why not. I suppose coming up through, I was desperate to get to Formula 1 and desperate to win at every level. But at the same time, I was always pretty realistic. I always knew there were a lot of other good guys out there and of course, winning in Formula 3, I won in Britain, but admittedly half the field were overseas drivers and British Formula 3 when I was doing it was very much the place to be.
BEYOND THE GRID: Jonathan Palmer on qualifying as a doctor, reaching the F1 grid, and working with Senna
In Formula 2, I definitely had a car advantage with Ralt-Honda, certainly in the second year. But on the other hand, I also had a good teammate with Mike Thackwell, whom I beat pretty well too. So, I certainly deserved to get into Formula 1, but the gap between the back-end teams and the front teams in my day was so big that it was almost impossible to make any kind of impression. I remember looking back through the grids for Grands Prix when I started my first full year in 1984 and the gap between front and the back was about 10 seconds a lap. This is like having a Formula 2 car in a Formula 1 race and people discounted what you did. It was quite hard to make an impression at a back-end team because you were so far off the pace.
TC: I want to point you towards '87. It was reported at the time that you were having discussions with Ron Dennis at McLaren to replace the retiring Keke Rosberg…
JP: I had a few times when I got very close, but fate didn't go my way. The first was back in 1982, my first full year of Formula 2. I'd won the British Formula 3 championship in 1981. I had test drives with McLaren, Williams, and Lotus that autumn, joined Ralt-Honda for Formula 2, but was also test driver for Williams. That was great because I was getting mileage in the car and that was really before test drivers were the sort of thing that teams had. I was one of the first serious test drivers for a team. Then I remember the start of the 1982 Formula 1 season, Carlos Reutemann was driving for Williams and he suddenly wanted to stop. This was only the second or third race of the year and Frank Williams came down to Thruxton and sat in the car with Ron Tauranac to discuss me and whether I was ready to make the jump into Formula 1 to replace Carlos Reutemann.
TC: Were you ready?
JP: I think I could have been, to be honest. But the problem then was that we had Bridgestone tyres on the Ralt at the time. The degradation was pretty high so you could qualify well, but the performance dropped off very quickly in the race. Because it was new at that time, I don't think Ron Tauranac and other people around really appreciated how much degradation there really was with the Bridgestone tyres at that time in a race situation and, therefore, how much it compromised the performance of the drivers in the cars.
So I think that's why Ron said: 'look, he's quick, he's talented, he's bright, he needs more experienced race-craft,' because the few races I had done were just totally blighted by high degradation. Then Frank took Derek Daly instead of me. When I won the British Formula 3 championship, I had a prize of a test in the MP4 with McLaren and the test was at Silverstone. I did a very good job. The car suited me very well. Ron Dennis was engineering me. I set a time that would have put me on the second row of the grid for the British Grand Prix and after that test, Ron said: 'Right, I want you to come down and meet John Barnard. Jump in the car with me, we'll drive back down to Woking.' So that evening I was talking to Ron and John in quite some depth and subsequently I understood that they were looking very seriously at whether they were going to put me in the car for next year.
But as it happened, Niki Lauda came out of retirement and that was the end of that one. '87 was the time I'd won the 'normally aspirated championship' in Formula 1. I was pushing everywhere and I don't know how seriously I was being looked at by McLaren. But there were a few times when potential Formula 1 drives could have been game-changers. Part of the reason for joining McLaren as their test driver in a pretty intensive capacity was that I thought this could be my chance if Senna or Berger had a problem and I could jump in the car and probably get a result in a top running car. That was the chance of really launching myself into a way of getting into a top car.
TC: Let's talk about '87 with Tyrrell. Your best season. Can you tell us about that experience of racing for Tyrrell and for 'Uncle Ken'?
JP: The circumstances were quite curious really because at the end of 1983, I'd won the British Formula 2 championship. I was testing with Williams. Frank and Patrick gave me, as a reward, a third car at the Grand Prix of Europe. So I was alongside Keke Rosberg and Jacques Laffite having my first ever Grand Prix at Brands Hatch in September 1983. It was huge. Formula 2 in those days didn't race at Formula 1. The crowd at Brands was massive and of course there's a lot of focus on me as this young driver. I out-qualified Jacques Laffite actually so Jacques wasn't very pleased with me. It was tough with those cars because the tyres were all based around the heavier, more powerful turbo cars. The compound was very hard to get any kind of grip out of them. You had to really chuck the cars around to abuse the tyres, to get some heat into them. It was a pretty hard first Grand Prix. Those tyres were so hard that in the race we pit stopped, but we pit stopped for fuel, not tyres. We kept the same set of tyres on because you could never get the heat into them.
TC: How much preparation time did you get?
JP: Well, I'd been testing with the cars throughout the year, so I had a bit of running. I hadn't run at Brands before, but it was an amazing thing. I was absolutely thrilled to do it. The next year of '84, I was desperate to get into Formula 1 and one of the drives that a driver really wanted was the Tyrrell drive. I knew that Ken, through his links to Jackie Stewart and Jackie's link to Martin [Brundle], Martin was very much the guy that was being pushed forward for that Tyrrell seat.
I was banging onto Ken saying: 'Look, I've won Formula 3, Martin's been second in Formula 3, and I've won Formula 2. Come on, you've got to give me the drive, not Martin.' So, I was slightly irked when Martin got the drive at Tyrrell, and I didn't. But I salvaged together a deal to get myself into the RAM with John MacDonald. Then I had a year with RAM, which was a pretty dreadful car. It was 10 seconds off the pace of the front row of the grid. Then I got picked up by a new German team looking for a driver and Andrew Marriott actually put me into that drive. He suggested my name to Erich of Zakspeed. So, I got the Zakspeed drive and that was a big game-changer because then I actually I got paid £50,000 a year to drive for Zakspeed.
TC: On paper, the results weren't great at either RAM or Zakspeed, but did you feel Zakspeed was more of a Formula 1 team than RAM was?
JP: They were desperately enthusiastic, but that first year we just did the European Grands Prix. We didn't do the flyaways and there was no teammate, so you were very much working in a vacuum. There was no reference point, and they were trying to do a Ferrari of building the engine, the gearbox, the chassis, the whole thing. It was such a technical challenge too. Erich Zakowski was obviously desperate for the thing to work, for results, and desperate to make it look good too.
BEYOND THE GRID: Sir Jackie Stewart on surviving and thriving in F1's most ferocious era
I remember the first test we were doing, and I was keeping up with Lafitte in the Ligier with the Renault V6 for a few laps, and then as the engine wore its valves out, I was losing three or four tenths of a second a lap until by lap ten when the engine eventually expired. But these things were just so fragile and the technical challenge that Zakspeed had embarked on was so big. But they persevered and we got engines that lasted longer and longer.
I think one of my greatest achievements was actually qualifying 19th and getting on the grid at Monaco, which was one hell of an achievement, really. I love Monaco. An important part of my success was not just trying to drive fast, but making the car quick, driving the engineers and designers to make the car quick and get it in the right configuration, which was frankly going to make a far bigger difference than how quick I or anybody else drove. We worked well together. That was two years at Zakspeed.
Then, Ken tended to keep his drivers for three years on three-year contracts. At the end of the third year, Martin wanted to go to Zakspeed. I wasn't ever quite sure why. I was thrilled to go to Tyrrell. After three years of delicate turbo cars, which weren't that rewarding to drive, were unreliable and laggy, the idea of jumping in the Tyrrell and a normally aspirated engine was something I jumped at. We'd literally swapped, and I jumped in the Tyrrell. It was definitely a much better deal for me. That was the time when Formula 1 was moving away from turbos to normally aspirated engines so there was this subclass.
TC: Tell us about the mentality of going into a race against the turbo cars when you know you've got no chance of winning the race. What were your goals?
JP: The goal was to be the best of the normally aspirated class and to beat my teammate. If you beat your teammate and I won the class, then that for me was as good a win as I could get. But having said that, it was always nice and very rewarding to get as far up the field as you could. One of the good things about the turbos in those days was they were still pretty unreliable. So, if you kept going round and round, even if you might have been going two or three seconds slower a lap than the turbos, half a dozen of them were going to expire in the race. So, it was a question of how far you found yourself moving up the order.
TC: So, fifth at Monaco, fifth at Hockenheim, fourth at Adelaide…
JP: I think the Monaco results were very much on merit. The frantic nature of Monaco meant that I couldn't overthink it and because I was a very analytical sort of driver, the long circuits like Monza were just not my place. I'd sit there down these endless straights trying to think how I was going to brake at 87.3 meters when I needed to get into the Ascari chicane, and I'd overthink it. Whereas at Monaco, there's no time to do that. It's just one frantic blur of activity. It's hard to overthink it.
That's why I just completely got into another mindset and did very well. Fifth in '87 was a great result in many ways. Getting the car set up well for the race was really important. With Brian Lars, my engineer, we came up with a set up to make that thing very, very drivable and predictable whilst also retaining good braking under the undulations of kerbs and road cambers. We tried a radical set up of disconnecting the front anti-roll bar, so we had no front anti-roll bar at all on the Tyrrell that year but had very stiff springs. The roll stiffness came from the springs, but at least we didn't lift wheels up and kept the pitch change under control. That definitely helped me on the way to fifth. The following year was quite funny because in 1988 the 017 Tyrrell was a bit of a dog really. We used to go to a little French circuit to test the set up. We had a short wheelbase version and a long wheelbase version. We decided that the short wheelbase version was the one to run at Monaco. My car had a gearbox problem and I had to take the spare car for qualifying. The spare car was in the long wheelbase configuration as well. But it was a revelation. I qualified ninth. It had a much better front end, the weight distribution worked better for it. I qualified ninth and finished the Grand Prix in fifth, so it was one hell of a result.
In 1989, the Tyrrell car was boosted massively by the introduction of Harvey Postlethwaite and Jean-Claude Migeot. Harvey and Jean-Claude came from Ferrari and the '89 car was a much nicer car. It was aerodynamically far better but it had gone quite radically to a monocoque front suspension assembly, when basically both front wheels moved up and down together. They were tied together, which Jean-Claude and Harvey thought was the way to go. Anyway, we were going through the practice sessions and qualifying at Imola was the first time out for the car. I qualified 25th in the old car. My teammate Michele Alboreto in the new car, didn't qualify. He didn't make the cut for the race so the mood in the Tyrrell garage was grim. Ken had spent big bucks he didn't have getting in Harvey, Jean-Claude and Alboreto. There's little old me in the old car that's qualified and in the new swanky car, he just hadn't made it.
Ken said: 'Look, we've got to make this thing work. Will you jump in the new car for the race?' I hadn't driven it before, but I always wanted to do the best job for the team and help the team. If it was Ken's idea, then I'd do it. I wasn't going to get anywhere in the old car. I was going to be plodding around at the back of the field trying to make the best of it. I started from the back of the field but we between us, we'd got the car to a state where it handled really well. I got rid of the understeer and worked through the field to finish sixth. The transformation from despair on the Saturday afternoon to almost euphoria on the Sunday, that was one of my greatest achievements.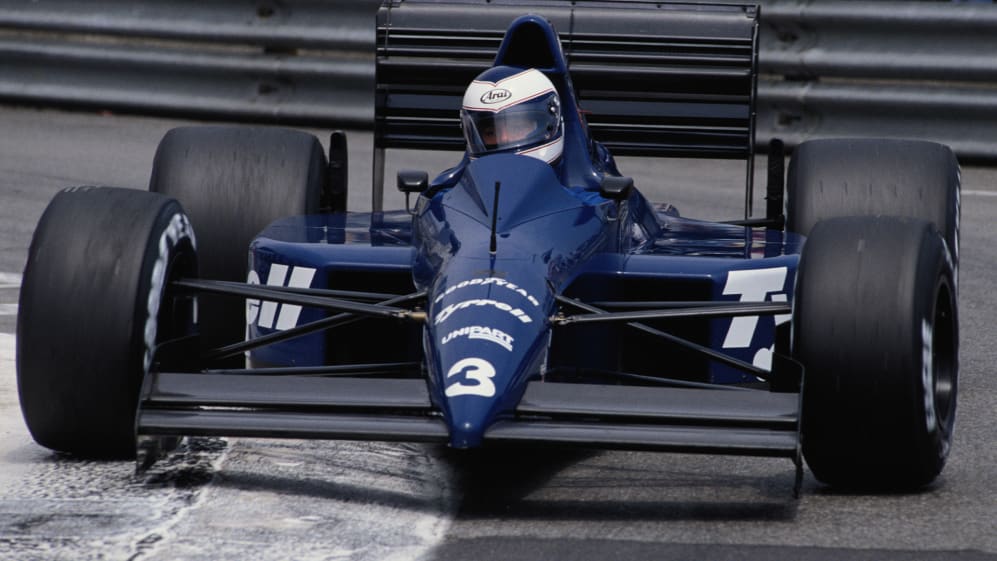 TC: You were an intelligent driver and an analytical driver. That's probably not a surprise when you look at your background. You're the son of a GP. You qualified as a doctor. How unlikely a story is it that you made it as a racing driver, given where you were aged 16, wanting to be a doctor?
JP: I think it's very unlikely to be honest. The world was so different then. I hadn't even sat in a racing car. I didn't know what a racing car was. My father was a GP. I badgered him to take me to some motor races. I was always passionate about cars, but I had no family background in it at all. I took myself off and did the initial trial at Brands Hatch as a 17-year-old, when a chap called Sid Fox took me round.
I've still got the little chip somewhere in the archives that says '91% - too fast for first time, but lots of potential.' At18 years old, I went to medical school and shared a house with a lot of other students. There was a chap called David Mercer who just qualified as a dentist and outside of the house, he had a Jensen-Healey. I persuaded him to go motor racing.
The cheapest car was this Frogeye Sprite advertised down in Kent for £325. I sold my entire possessions to raise £162. We went down there, and Dave put in his £162 and we came away with this Frogeye Sprite, which of course was this dreadful thing. It blew up straight away and had to rebuild it. That's how I started as an 18-year-old and then it was Formula Ford. But I never had any money, and my father had no money to put into what I did. It was just a question of, student grants and getting a little token of sponsorship here and there all the way through my career.
TC: At what point did it get serious for you?
JP: Definitely Formula 3. I'd been racing as a medical student all the way. I'd done three years with Formula Ford and now I'm getting to the point where I'm qualified in medicine. I was going to go and do a GP training scheme because I thought that would give me the time and flexibility, knowing my father's lifestyle, to go and do some racing as a hobby. Then I made the decision to stop medicine for a year, take a year off and try and go full-time motor racing.
TC: What did your parents make of that decision?
JP: No problem at all. My father had died the year before anyway, so he wasn't around to influence it and my mother was fine with it. I think she knew I was so strong-willed. I took a year off and I had this sponsor, Mike Cox of West Surrey Engineering. I'd won a few races in Formula Ford, but we needed to go for Formula 3. I persuaded him to go and buy the project for championship-winning Formula 3 car that Dick Bennetts had run and won the championship with Stefan Johansson. We went down to Goodwood. Stefan did a few laps. I jumped in, first ever time in a Formula 3 car and it suited my technical style.
Within 20 laps, I was within a 10th of a second of Stefan Johansson. We're all pumped up now. We've got to go do this. The guy we need to run it is Dick Bennetts. Dick had gone back to New Zealand, and he wanted to have a quieter life down in New Zealand. But I was on the phone to him every few days, every week. Eventually, after about a month of harassing Dick, he said he'd come back and do it. When he came back, it was nothing like the picture I painted there. But by that time, he was here, so he was on the hook and we got the team going. It was hand to mouth. We won the first four races and we we're leading the championship. There's no way we could stop now but we still only had one engine. We didn't have a spare nosecone.
The first thing was to put pressure on Mike Cox to try and find a bit more money to keep the team going and keep us running. But Mike kept saying 'this is it the last race.' I was just limping from race to race, and I resorted to things like selling stickers. I had a helmet sticker that said, 'I'm backing a future British Formula 1 star, Jonathan Palmer,' and I sold, for a pound each, 3,500 of those so that got me through another race. But that whole season cost £57,000 and we finished the season with the same nosecone. That put me on the map because then I was testing Formula 1 cars with McLaren. It also put Dick Bennetts on the map because that was the start of West Surrey Racing. The following year he had Quique Mansilla driving, and then it was Ayrton. West Surrey Racing all spawned from me pulling him back, extracting him and they never looked back.
TC: Do you ever look back and think how different your life would be if you'd not done the motor racing and stayed in medicine?
JP: No, not really. It's unfathomable. I have no idea what would have happened. It's been a hell of a journey. It set me up for other things too. I was always determined that it should do. I was a driver who never thought that my Formula 1 career was the be-all and end-all of my professional career. It was always something that I was going to do to the best of my ability until I couldn't anymore. I lost my drive after Jean Alesi came on the scene in '89 and basically blew me away. But then I've always looked for the next step. I looked to the next step then, joining McLaren. I was going to Japan once every month for 18 months, for three days of testing with Tyler Alexander on the Suzuka test programme for example. They were very vivid days as well. I've always looked for the next step really; trying to do the thing that I'm doing now as best I can, but with an eye on where it's going to go in the future.
FULL TRANSCRIPT: Read every word from Oscar Piastri's Beyond The Grid interview
TC: I just wanted to follow up on Jean Alesi. He comes in for the French Grand Prix in '89. Was it immediately obvious to you that he was a bit different?
JP: Yes, it was. It was pretty devastating, really. I was in my sixth year of Formula 1. I outperformed each of my teammates all the way through. First Grand Prix at Paul Ricard, I qualified 12th and Jean qualified 15th, about two or three tenths behind. I thought 'that's impressive'. But what was even more impressive is that he was so full of praise for what I'd done. I remember wondering why this guy is so astonished that I've been quicker. I've been racing for more than six years, I'm highly experienced, I'm pretty good and this bloke's acting as if I'm just a newcomer coming in. Thereafter, he was two or three tenths ahead everywhere.
Then I realised that he was somebody who just couldn't believe anyone could ever be quicker than him. The way he drove a racing car was to drive the wheels off it, which he did, and that was the wake up straight away. But to be fair, Jean and I got on well that year. It would have been easy not to. He was a straightforward guy. He was just bloody quick. I respected him hugely for that. He wasn't as analytical as me, but he got the got the job done and his racing inspired people. We still get on well now actually. We have a lot of mutual respect.
Although I knew my Tyrrell tenure was coming to an end because my three-year stint was up, I was talking very seriously to Jackie Oliver about joining Arrows for the following year and also McLaren. I was definitely one of those drivers who were on people's shopping lists, but the advent of Jean Alesi blowing me away for the second half of the season, completely kicked the legs out from me. I wouldn't say I went from hero to zero, but I was certainly no longer having intimate conversations in motorhomes as I was in the first half of the season.
It was pretty clear that my Formula 1 racing days were probably going to be over bar a fluke. I took it on the chin. Alesi was quicker. He had the same kit as me. There's no doubt about it. I've never felt that he was being favoured in any way. That's when I started looking ahead to seeing where was I going to steer my career now. Ron Dennis and I always got on very well, he rated my test-driving skills, my development skills, PR skills etc. He probably thought I didn't have the last couple of tenths of an Alesi but I was still quick enough to help develop the cars and help with the programmes, so that was the route I took.
TC: You then start working with Ayrton Senna. What was it that stood out about the great man?
JP: I had immense respect for Ayrton. He and I started Formula 1 in the same year, 1984. He and I both come through Dick Bennetts, albeit he missed out Formula 2, going straight from Formula 3 to Formula 1. He was clearly a really intelligent guy. We used to chat quite a lot. Overall, he was just in another league. One of the times that was definitely ego-deflating was when towards the end of '83 and my second year of being the Williams test driver, Frank [Williams] wanted to put Ayrton in and test him in the car. There was a test at Donington in a flat bottom car when I was testing. Ayrton jumped in and the bloody bloke was half a second quicker. It was a real blow, but you just had to have massive respect for the guy.
His speed, his aggression, his ruthlessness and his surreal persona outside of the car. He was just in a different elevated world. Flicking it on six years when I was McLaren test driver, I'd be pounding around Hungary for a day and a half, doing a time in the MP45. Ayrton would come in. First run he'd do, he'd match my time. After another ten laps, he'd be three or four tenths quicker. The guys that are quicker, tend to be quicker by being later on the brakes and carrying more speed into the corners. He was braver, his judgement was better. He had a very distinctive technique on the throttle. He'd waiver the throttle. He could run with a slightly more understeering car, but by going on and off the throttle, he'd sort of slightly upset the rear end if he needed to get the thing balanced mid-corner by going on, off, on, off. It would just slightly destabilize the rear end whilst picking up the speed.
TC: You talk about his persona outside of the car. Did you ever see him let his hair down?
JP: I never really saw Ayrton completely relaxed, letting his hair down. I guess he did somewhere. But I wasn't a close enough friend for him to do it with me. I'd only see him around race meetings. We'd often talk helicopters, but he was always pretty intense. When he was talking in a debrief about the car when we were testing, it was classic Ayrton. He'd be thinking very carefully and everything he said was very deliberate and thought through. He was very analytical and intense about what he said. When he was away from the car because he was still at the track, he was pretty serious. On flights going to Grand Prix, he'd be reading the Bible.
TC: I did want to quickly ask you about your time at the BBC, being a commentator. How hard was Imola '94 for you, given your links with Senna?
JP: I joined the BBC in '91. I'd finished racing, although I hadn't sort of retired. I hadn't got a drive for the following year, and I knew that was pretty much the beginning of the end of my F1 racing career. I thought I could contribute to the BBC's TV programme so I wrote to the producer, telling them what I could contribute to the programme. Reporting from the pitlane, talking about tyres and explaining pit stops. They sent me an email back saying they didn't really have any time in the programme to run anything more and they haven't got any budget. But they invited me to lunch. So, I went out and had lunch with them at Hammersmith, armed with a list of 16 topics that I thought I could talk about across each of the Grand Prix. By the end of the lunch, they said we'll do this. That's how it all started.
I started in the pitlane and then I had a phone call from the producer at the time telling me James Hunt had died. So obviously I lobbed in to try and be the commentator alongside Murray Walker and I then duly did take over. I was commentating with Murray when Ayrton had his accident. It was one of those times for all of us, but particularly me, when it was so profound. I knew from the accident, the body language just didn't look good at all. This didn't look like he was about to be climbing out of that car. I will never forget that little jerk of his head that he did sitting in that Williams after the accident. I was pretty aware that it was probably fatal. But at the same time, this was unfathomable. Ayrton was like a God, it can't happen to Ayrton. We had Roland Ratzenberger on the Saturday. It was almost disbelief. You knew it was happening, but it was very hard to believe that it wasn't some sort of bad dream. That was the sort of time, from a commentary point of view, that reinforced what a complete pro Murray was.
It was a long old hour of us commentating and actually at the end of that Grand Prix, I had to hang on until the end of the early evening to do a link with Steve Rider talking about Senna, what happened and why. I'd come out with McLaren in the McLaren jet and that was at Bologna airport. They arranged a helicopter to take me from Imola to Bologna and I remember it was just me in the helicopter and the pilot taking off, with a beautiful sunset evening. The track was deserted, everybody had gone and there was just a bit of litter blowing around.
It was one of the most surreal times in my life, to be flying along in a helicopter, with this massive impact of what had happened in the last three hours and how almost world-changing it was. We flew along with my mind meandering elsewhere, flying over the track. We got to the airport and the helicopter dropped me off pretty much alongside the McLaren plane. We landed beside Ayrton's plane. That was another profound moment, thinking that they're the spoils of success and he's paid the price of the sport he committed to, to have that success. You wondered how long that plane was going to be sitting there as a bit of a legacy of the dangers of what he loved, what he committed to and what he got great reward from.
TC: Jonathan, what an incredibly powerful story that is. Thank you for an enlightening chat. It's been such fun to catch up and work through your career. Thank you very much for your time.
JP: It's been fun! I think we've only touched on about two percent of stuff, I must write my book one day.
To read on, sign up to F1 Unlocked for free
You'll unlock this article and get access to:
Live leaderboard data
Epic experiences and rewards
Money-can't-buy competitions