Podcast F1 Unlocked
FULL TRANSCRIPT: Read every word from Lando Norris' Beyond The Grid podcast interview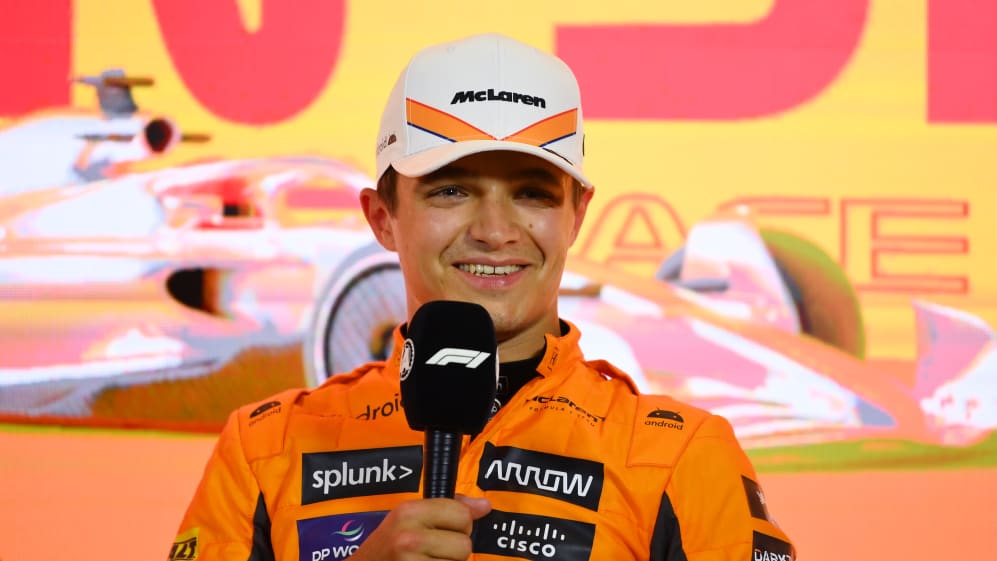 McLaren driver Lando Norris is this week's guest on our Beyond The Grid podcast – presented by Salesforce – as the British racer gets set to compete in front of his home fans at Silverstone this weekend.
You can read every word from the 23-year-old's interview with pod host Tom Clarkson in the transcript below, listen to the episode in the audio player, or head here to catch it on your preferred platform.
Tom Clarkson: Lando, it's great to see you again. How are you?
Lando Norris: I'm very well, thank you. How are you?
TC: I'm excited about Silverstone. Are you?
LN: Of course. It's my favourite weekend of the whole year, one of my favourite circuits, the whole weekend is insane. It just makes me smile, it just makes me happy, to see that there are people there, supporting me and cheering me on, and shouting my name and stuff. It's just weird because I never, ever imagined I'd be in that position or be one of those people. It's hard to imagine that when you're a kid. I still find it a bit surreal, a bit odd in a way. Even when I'm driving round, I've got my helmet on and it's hard to smile when you've got the helmet on because it's pushing against your cheeks so much, but I always try to look in the crowd, especially when you've done a little overtake, or something, and you see them standing up, cheering and shouting. I think it definitely helps, it just gives you that extra little motivation, you feel like it's your job to actually go out there and perform for them, and the thousandths of a second, the little, little things, you just try and add all of that together more than you almost ever do before.
IT'S RACE WEEK: 5 storylines we're excited about ahead of the British Grand Prix
TC: When was your first visit to Silverstone?
LN: 2017, just when I joined McLaren. That was my first ever time at the race weekend itself, watching Formula 1 at Silverstone, so that was pretty insane. My very first time was probably like 2010 or 2011, and I only went on a on a Friday. I barely even managed to see any of the driving, but I just went with a couple of friends. It was GP3 at the time, so I just went to see one of the guys that was performing in that. That was cool because I was a kid there, so anything I saw that was a car or related to Formula 1 was just blowing my mind. I was just like a kid in a candy store. Smiling at everything and just being in the coolest place on earth. I didn't even get to see the Formula 1 stuff. 2017 was my first experience of being at a Formula 1 race, I think, and a Formula 1 race at Silverstone, so it was a double hit.
TC: Can we talk logistics? Where do you stay? When do you arrive at the track?
LN: Well, I have a few media days before, probably speaking to you or something. It's also the busiest race of the season for me, 100%. You're pretty knackered after, not because of the driving, but your jaw hurts because you're smiling so much. It's just a lot of interviews and that's like an amazing thing to have.I'm pretty sure I'm staying at the Hilton, at the circuit. I'm still yet to do the campsite so I think it's in the plan for next year.
TC: Now what about the fans? Describe the craziest gift you've been given. You've had proposals of marriage…
LN: Babies named after you, dogs, cats, cows… It's just one thing that you love. When fans give me bracelets, those are the ones I remember the most in a way. But there's always food, which I'm not the most keen on because you never know what they've done to the food. There's so many gifts that you get from a massive range of people. There are supporters who can't even speak because they're one year old or something, but they have a little cute LN top on or something and then you have people who are way, way older. It just makes it very, very memorable. It's just such a insane feeling for me. For me, everything's about memories. It's about remembering the good things. That's why I do my JPEG page. It's just so I can look back on it and remember the good times because that makes me smile and makes me enjoy the life that I live.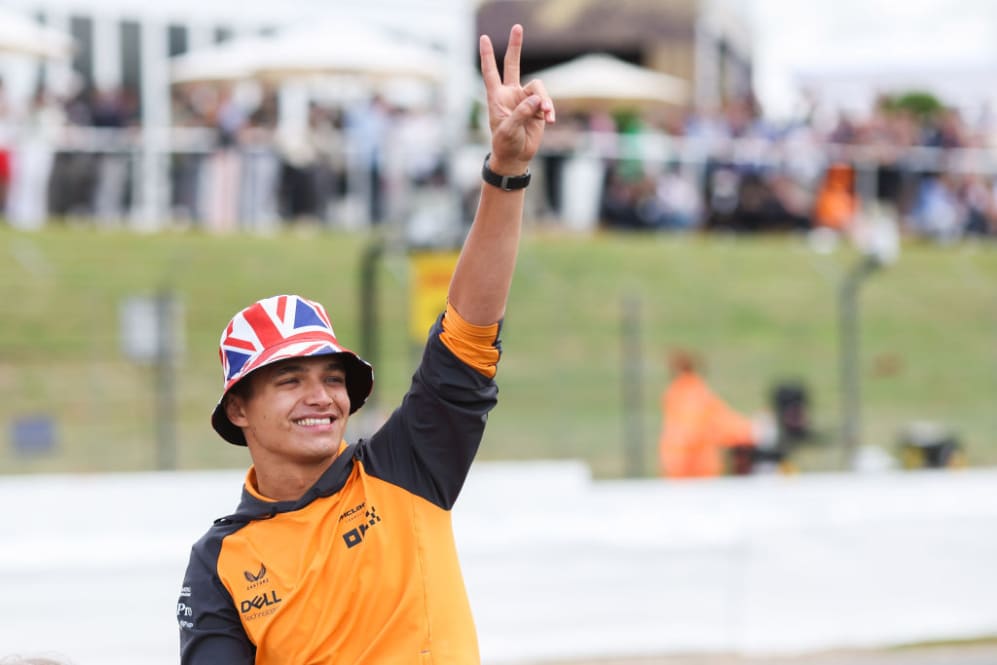 TC: Now, what about the day job? Can you describe a lap of Silverstone in a Formula 1 car? And with all the fast corners, does it require a different approach to other tracks?
LN: A little bit. I think so much of it has to do with timing. It's so quick. You almost have to commit and then find out what happens, rather than the opposite. You try to anticipate things when you're going at those speeds. Being able to react in the time is so difficult because it's 290, 300 as you enter it, eighth gear. I feel like the best description of it is you see the consequence of when Max and Lewis came together and how big of a crash that was for Max. That's when you see what it is doing. The thing I always use is 'would someone else lift less than me?' I always feel like I have to say 'yes' or 'would someone else brake later than me here?' And I feel like, out of the 20 drivers on the grid, someone's probably going to push it that little bit more. I'll be thinking of this 100 metres before the corner. But that would be my little thought – not be a wimp and back off or brake too early. 'Do I think someone else might be better? Would Max lift that little bit later or a little bit less?' I kind of force the answer to be a yes and that's the little kick that I need to make sure I try to not lift more than I should. But it goes through your head. Even if people say it doesn't, they're lying because it does.
TC: When it comes to car set-up, where do you focus?
LN: As annoying as it is, it's the slow speed corners. Even when you feel like no one's done Maggotts, Becketts, Chapel, Stowe, quicker than that, it's rare that you ever gain more than half a tenth. The high speed is where you gain a lot less lap time than you do in the slow speed, simple as that. You always have to focus a bit on it, but you know that's where there can be much bigger consequences if things go wrong. So you still need the confidence in the car, you need the consistency, especially because Silverstone can be pretty windy too. It's quite an open track and quite flat. When you start having the wind come into play, that's when things get twice as tricky as what they normally are. That's when you wish you made the car a bit more stable in the high speed. But slow speed generally is where you put a bit more focus. You then have the challenge of high downforce, low downforce. If you go low downforce, you gain in all the straights but you make your life in Maggotts, Becketts, Chapel, Stowe a lot more nerve-wracking. All these kind of questions, you have to put together.
READ MORE: Formula 1 announces calendar for 2024
TC: So what about yours and McLaren's chances at Silverstone?
LN: I would love to be able to take that next step and show what the car can do a bit more and have a better result. Where can we finish? I have no idea. I'm never very good at this. I'm always wrong. But yeah, if there's any time when we can maybe expect a bit more from us as a team and for me as a driver, I guess as my home race, it's here in Silverstone. This car is a bit more draggy, bit more inconsistent, less efficient, and then we pay the price quite heavily in such a track where you want to be very good in the straights, but you need to have a car that performs in the high-speed corners and we kind of lacked that a bit last year.
TC: Do you take some confidence from your qualifying in Barcelona?
LN: Absolutely. At times we've been close to being one of the best cars in high-speed corners. I guess sometimes it's for different reasons, but it's always been a very good strength for us. I want to take from what we've learned in Austria, where I'm sure we know we were one of the best in high speed – and have been for many, many years. I want to be confident that the car is going to be good in these places and that we can hopefully translate it into a good result. We've definitely been unlucky at times, but it's more that every other team is doing decent. We've got the budget cap coming into play, more and more. The smaller things which maybe didn't matter quite as much in previous years, you pay the price for now more than ever. There's no struggling or bad team in Formula 1 like there maybe has been a bit more over the last three or four years. Now, if you're a couple of tenths off, you can genuinely be in last place. If you put a lap together, you can get into Q3 and you can almost look like a hero. It's more that everyone else is doing extremely well. No one's doing badly. It's definitely been the hardest, toughest start to a Formula 1 season that I've had. What's made it worse is the fact that we were kind of on the up. You know, I had, four or five podiums in 2021 and things were looking like they were heading in the right direction. Then it took a decent hit last year. Everything you feel like you were getting close to, you then just lost it again. That success, the smiles, the champagne, all of that, everyone loves it. That's what we kind of live for every weekend. And when it's not even close, it's tough. Mentally, you put so much effort into every weekend. It's not just me. It's every engineer, every mechanic. Everyone back in the factory puts so much effort in and when things aren't going right, you just don't feel like you get rewarded for the time and effort that goes into everything. But you just have to use that to keep pushing through things and just have the faith and belief that things will turn around at some point.
TC: When you were last on the show, you said that Sochi 2021 was the race that you should have won. The rain fell and we know what happened there. But do you feel further away from that first win now than you did a year ago when you were last on be on Beyond The Grid?
LN: Confidently, I can say yes. As much as it hurts me to say it. We were close very often to these success stories. Now we struggle to get in the top 10 half the time. So we're quite a long way from where we were and having any chance of being on the podium.
TC: Are you getting impatient?
LN: I was impatient in year one… I would say yes. Formula 1 just isn't as simple as what everyone wishes it is or thinks it is at times. You can be lucky. Lewis came into McLaren when they were winning races, winning championships. Even if you put the best driver in the world in the car I have now, they're not going to have won races or achieved a lot more than what I have. You have to be lucky. You have to have things go your way. It's just complicated. But at the same time you just have to learn to be patient. It's a part of what you've got to do when you're in Formula 1. But it's also what makes it special and what makes it one of the most difficult sports to enter and be a part of in the world.
READ MORE: 'That's what I fell in love with' – Norris gets his wish with McLaren's special chrome livery for British Grand Prix
TC: How did you feel when George Russell won in Brazil last year?
LN: I was very happy for him. I love George, as much as I do want to beat him and compete against him. I'm just a driver that has a lot of respect for those kind of people. I have a lot of respect for the people I've grown up with, the people that I know are there because of their talent and their work ethic. George is one of them. There's always a little bit of that envy. I feel like I also could have won if I was in his position. But at the same time, I just try to not think of it. But at the end of the day, I was very happy for him. He's shown what he can do. I'm a tough loser, but I'm not a sore loser, so I just have respect. I have respect for the people I work with and the people who achieve things because they deserve to have achieved those things.
TC: Let's throw it forward then and look ahead at what's coming at McLaren. There's been a lot made of some high profile technical signings, but they're not going to be joining until the start of next year. Are you happy to wait until 2025, which is going to be the first time we see all the new people?
LN: Whether I'm happy or not, my contract is until the end of 2025. I'm part of McLaren, I'm in papaya until the end of 2025. I really look forward to those times, but there are plenty of things that we can be, and are, doing better now without these people. We cannot blame our performance because we don't have this person or that person. There's all the things that we just should've done better for many years in the first place. All these additions of great minds and talented people are going to have a big effect. But in a time when I'm in a team that I want to be part of, I want to win with, I don't get too caught up with what's happened and what is going to happen. Of course, I look forward to those times. It gives me a good boost. It gives everyone in the whole team a good boost and gives me more reasons to want to continue into the future so I'm happy.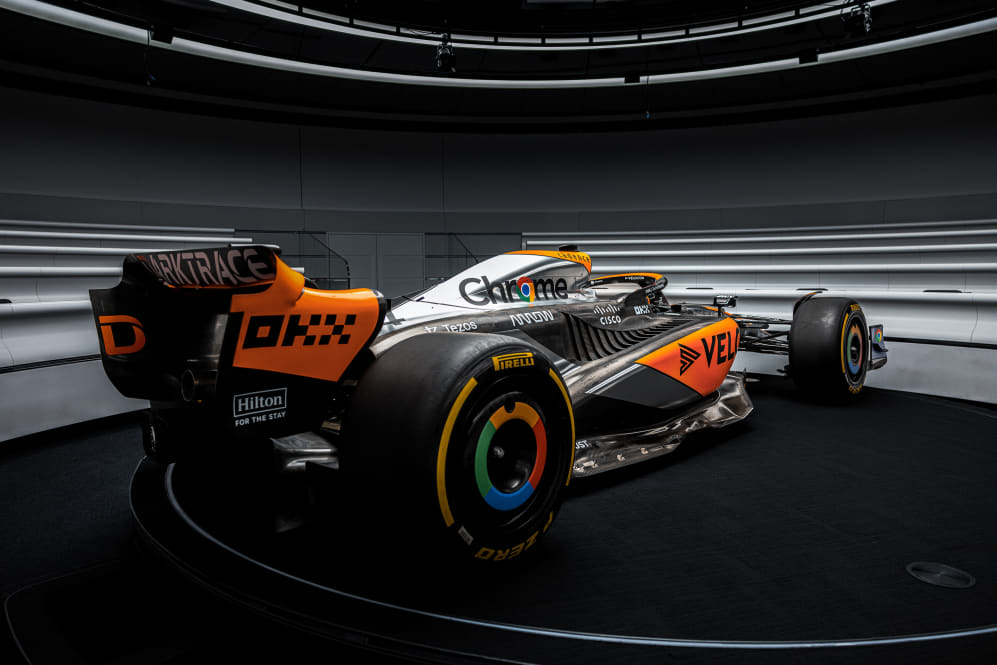 TC: What about your status within the team? You are now number one driver. How is that experience for you?
LN: It depends how you look at it. Not once in the my time here have we said number one and number two driver, that's a rule in McLaren since even before I joined.
TC: Maybe that was the wrong word. Maybe I should have said senior driver.
LN: I think senior driver is a much better way of putting it, just simply more experienced, senior driver. A guy who's been in Formula 1 for longer and been part of the McLaren team for much longer. Of course, the team rely on me. I guess it adds that responsibility. I do feel like just I've had to step up and pay more attention to more things, but I wouldn't say it's too different this year to what I had last year, or even the year prior to that. I feel like already then, I was the guy who was more experienced with the team. I felt in a comfortable position with the team for the last two years and I felt like I was already in that space of trying to guide the team back then. It's just that now I'm the older driver. That's the only thing in my head that really has changed that much.
READ MORE: Norris says McLaren have taken 'a big step forward' after 'surprisingly' good P4 outing in Austria
TC: Do you feel there's more pressure on you now?
LN: I think that it's inevitable because I'm the older driver and there's a younger driver next to me. I'd be lying if I said there wasn't. But does it affect me? No. If anything, it motivates you more to put that extra little thing in, or work on that little thing, or question it, or just get every little thing out of the car that you can. It's more of a motivation, kick in the backside, kind of thing rather than being worried because of this or that.
TC: So you enjoy pressure?
LN: I would say I enjoy it. I think you almost have to enjoy it in Formula 1. There's so much pressure that comes with the job of being a Formula 1 driver. The eyes, the cameras, all of this stuff and just being 20 drivers in the world. There's plenty more that want to be in that seat and will do everything in the world to be in that seat. There's always the pressure that lives with you every single day, but it's kind of learning how to use it or how to deal with it and how to forget about it. People deal with it better than others. But I feel like I'm at a point now where I don't think about it too much really.
TC: How are you coping with fame?
LN: For the support side of it, I love it. I think it's an amazing thing that people are there for you, but I've always been quite an introverted kind of guy. I'm not the best with crowds and people, as much as that sounds like the opposite of how you have to be in Formula 1. I've never been that kind of guy. I want to be the best in the world, I want to prove myself to people. But I've never had the mentality or the confidence to say that or feel like I need to do anything more than normal to show it to people. Do I have to do anything to go over the top and show that to prove it? I don't think so. People say you've got to be brutal and you've got to have this certain mentality. But I just don't think it's true at all. I think you've just got to get in the car and do the best you can. I want to beat everyone. If people say I don't look like I have the right mentality or I don't look aggressive enough, blah blah blah, that's just their opinion at the end of the day. I hate the saying, but I try to do the talking on the track.
TC: What about the talking off the track? You have a hell of a reach now. More than six million on Instagram, two and a half million on Twitter? Do you fully appreciate the reach that you have now?
LN: Yeah, I feel like I've used it for times in COVID, charity things or mental health, I feel like I've used it to help these causes or give my views. I don't feel like I have to use it or that I necessarily want to use it. It is a little part of what you have to do in Formula 1 to add to your brand. But if someone calls me famous or a celebrity, I hate when people say 'you're a celeb' or 'you're so famous.' I just want to be as normal as possible. I don't want to stand out too much. You appreciate it but I wouldn't say I love it or I want it.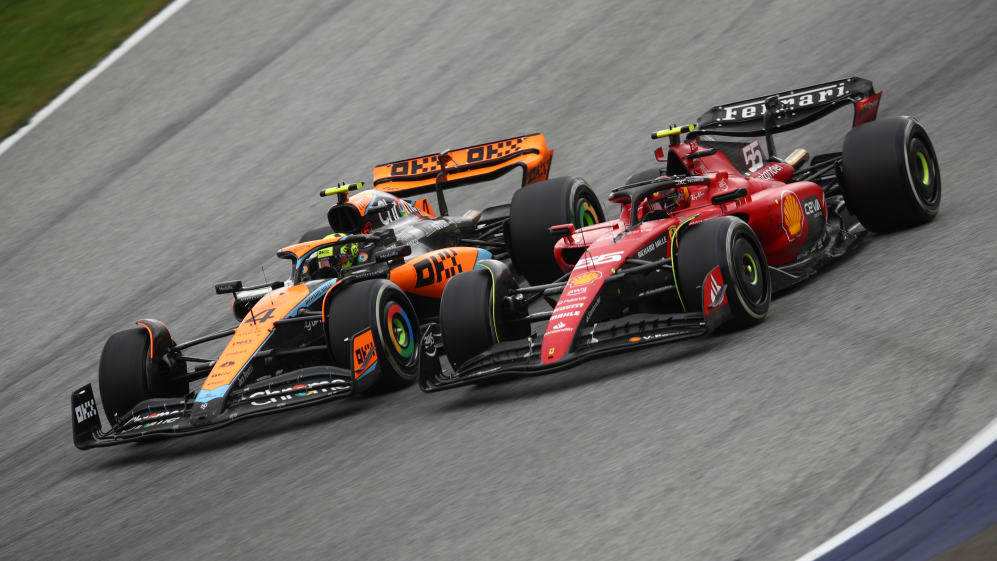 TC: For all the positives of social media, it can also be quite a toxic place. Do you look at what's written and said about you?
LN: All the time? I love it. I love reading all the bad things. 2019/2020, I would read something and I'd be like, 'why has this person said this or done that?' I almost cared too much about what people think. But I've got to a point now where I really enjoy seeing what people write about me. Of course, I love the good things and it's great to read at times. You just have to learn to laugh and make fun of the bad things, because I just feel sorry for the person who's actually had to come up with that stuff in the first place.
TC: If you had kids now, what advice would you give them about social media?
LN: I don't want to think about that just yet! You know, I don't I think of that just yet. I love kids. My brother's just had a second baby and they're the cutest things on earth.
TC: So you're a good uncle?
LN: I think I'm a great uncle. As much as babies always cry when they see me, I feel like I'm good to them. I've grown up with my manager for the last 10, 11 years, or even longer, and he's had three kids since. I look forward to that part of my life in a way, as much as I'm 23 and don't want to think of it just yet.
THIS WEEK IN F1: 10 quiz questions on all the F1 news ahead of the British Grand Prix
TC: What kind of dad you think you're going to be?
LN: I'm going to be a strict dad, I'll tell you that. I feel like I have good opinions on things. My parents brought me up very well. I have respect, I have a good manners. I don't get into people's faces too much. I keep to myself a lot of time. I just take what my parents taught me simply and I'll do the best I can to ingrain that to the kids I have in the future. I don't think you can just protect everyone from everything. You're going to go through the hard times to realise what's good and bad. You don't ever want to be perfect, but I'll just do my best.
TC: Let's talk teammates now. You've swapped one Aussie for another. Oscar Piastri for Daniel Ricciardo. What similarities do Oscar and Daniel share?
LN: They're Australian, but they couldn't be more opposite. I think both are lovely people. Oscar is extremely down to earth. A bit like me, just a very normal guy who's in Formula 1, just a guy that loves to drive cars and compete against people, and that's it. That's just what he loves to do. There's not a lot more to it in terms of what he tries to achieve. The rest is him just being a lovely person. We get along very well. They're both guys that have a lot of respect, both guys you can enjoy spending time with, wherever you are. I went to dinner with Daniel the other night in Monaco, so I still get on really well with him.
TC: Do you race Oscar on the sim?
LN: No, I don't. Generally, I've not been into doing that as much actually. I'm just spending a bit more time out with my friends, travelling, seeing my family a bit more. I just haven't spent as much time on computers. I drifted away a little bit from that. I'm more about golf, family, friends. Not in that order, but family and friends is for me the most important thing, so spending more time with them rather than staying at home and playing computer games.
TC: Finally, are the goals the same for you now as they were when you came into the sport in 2019?
LN: 100%. I'm more determined. I have better knowledge now of how to achieve them. I feel like I'm personally in a much better position than I ever have been, so being a world champion, winning for my team that I drive for, those are the two goals I have at the minute. Multiple world champion would be nice, but I'll start off with one…
TC: Lando, best of luck with that and enjoy Silverstone!
LN: I shall do. Thank you so much everyone!
To read on, sign up to F1 Unlocked for free
You'll unlock this article and get access to:
Live leaderboard data
Epic experiences and rewards
Money-can't-buy competitions