Podcast F1 Unlocked
FULL TRANSCRIPT: Read every word from McLaren stalwart Neil Oatley's Beyond The Grid podcast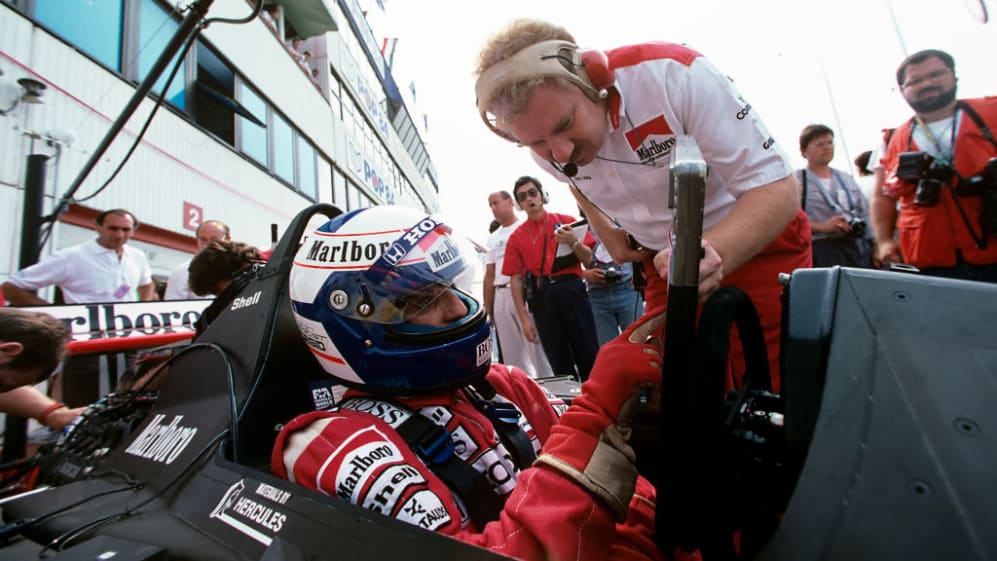 Neil Oatley began working in Formula 1 way back in 1977 with Williams – when he was one of just two engineers at the team along with Patrick Head. In the years since, Oatley has designed some of the most successful cars in F1, worked with drivers like Alan Jones, Alain Prost, Ayrton Senna and Lewis Hamilton – and has had a front row seat to some of the most dramatic and thrilling races and seasons in the sport's history.
The McLaren stalwart is this week's guest on our Beyond The Grid podcast, and you can read every word from his interview in the transcript below, listen to the episode in the audio player, or head here to catch it on your preferred platform.
Tom Clarkson: Neil, 45 years in the business and you're still at the coalface with McLaren. You're an unstoppable force.
Neil Oatley: Yeah it's still very enjoyable. I still love the sport and it's great to still be able to have some involvement.
TC: Well, tell us about 2023, because it's been reported in the media that you're actually really back working on the MCL-60. What's the job?
NO: It's only a very part-time job because I've still got a number of other roles which I'm doing. This is only a small part of my time really. It's just to help mentor and take the load off some of the other key players in the restructure of the organisation. Just trying to help where I can, without being oppressive in my involvement.
TC: With so much experience, just give us your thoughts on the 2023 cars. If we take Red Bull and Aston Martin out of the equation, we're seeing huge fluctuations in performance from race to race across the rest of the grid. Why do you think that is?
NO: I think the two cars you mentioned are fairly neutral cars and they don't have many bad points, whereas I think the rest of us have got small problems with cars being inconsistent from different types of corners to another, different speeds etc. Modern Formula 1 cars are incredibly difficult to drive.They're very sensitive to steering, ride heights etc. Some people have got the equation exactly right and others are still struggling a little bit.
TC: What are your thoughts on Lando and Oscar?
NO: They're both wonderful kids. I think they've both grown up through motorsport for a long period of their lives and they're very attuned to what the modern driver has to do. They're much more of a scientist than the drivers were 45 years ago. Their ability to pick up on data, learn from it, being able to properly adjust themselves to try and make the best out of the equipment that got in front of them.
TC: What do you mean by they're more scientific now?
NO: I couldn't imagine Alan Jones spending hours in the evening pouring over the data from the day's running or even sitting in the simulator. It's a different type of application and a different mindset of the drivers. The modern guys like Lando and Oscar, that's all they've known. That's been there right from the beginning of their motorsport careers and they're able to adapt, play with their gaming stations and use our simulator to improve their techniques and optimise what they've got.
TC: Do you think a fast racing driver is a fast racing driver across all eras?
NO: I'm not sure to be honest. I think the individuals are very different characters. I think the skill sets aren't the same, so it may not naturally translate across such a wide period of time.
TC: Okay, so if the drivers don't translate, what about the job of making a car go fast? You have experience of ground effect from 40 years ago. How applicable is that on these modern cars?
NO: In the ground effect days back in the late seventies and early eighties, we had sliding skirts or fixed-line skirts that allowed you to make more changes more easily and produce a phenomenal amount of downforce. But a development would make a half a second a lap difference. Now you're making half a tenth difference so it's a whole different ballgame really.
TC: So is modern F1 more evolution rather than revolution?
NO: Very much so. A huge amount of work goes on in CFD and in the wind tunnels to chip away at very, very small differences and understand them, whereas it was big chunks all that time ago.
TC: Now, Neil, you've been a race engineer, you've been a designer. There isn't a bit of a racing car that you don't know after your experience in the sport. What would you say has been your particular area of expertise?
NO: I'm more of a mechanical engineer than an aerodynamicist. That's really how my education and early career evolved. Having my time again, I might have taken a different route from what I know now, but I think that's served me reasonably well. I've been lucky enough to be surrounded by so many good people and engineers that it all rubs off on you and you're able to absorb the knowledge that other people have gained and apply yourself. I've shared the room with a lot of very talented people.
BEYOND THE GRID: Sir Patrick Head looks back at his incredible F1 career
TC: You certainly have. But what about your own motivation? Is it born out of a desire to win? Is it born out of a desire to find new avenues?
NO: I think everyone in the sport has got a strong desire to win. Losing is really awful. That plays on your mind more than the wins. A win, you put it away and the next day you've forgotten about it but the losses are far more important in terms of learning from them and going forwards. I started off as a young kid who loved racing cars and suddenly my career followed the pre-planned path, which not many people are lucky enough to have had happen to them.
TC: You've won nine drivers titles and seven constructors titles. What means more to you – a driver winning the championship or the team winning the championship?
NO: I think everyone remembers who won the drivers' championship and very few people remember who won the constructors' championship. I think the politically correct thing to say would be the constructors' championship but in reality that's not really the case. I think you need your driver to win the drivers' championship and that's really the most important thing.
TC: Let's now wind it back and have a look at your career in detail. We're going back to the beginning in 1977. You join Williams. Patrick Head was your first technical boss. How influential was he on you?
NO: Oh, tremendously so. I owe my career to Patrick and Frank. When I joined Williams, Patrick was the only other engineer there and I was a fairly short time out of university. I just learned so much from him and he was such a good mentor and a superb person to work from. I couldn't have landed in a better place to develop myself as a person and as an engineer.
TC: What was the biggest thing Patrick taught you?
NO: Making a practical car, but a fast car – and joining those things together. I think the FW07 was a good example of that. It really took on the ideas of the Lotus 79, but engineered it in a much better way. It was more successful. When everyone caught up with Lotus in 1979, the deficiencies of their car, because it just wasn't very nicely engineered, became fairly evident and then people overtook them and made much faster vehicles.
TC: And how quickly did Patrick give you responsibility in the design office?
NO: Fairly quickly, because he had no other choice! Frank Dernie arrived after a year or so to boost the office. It was a fantastic period to learn. The FW06, which was just being started when I arrived, was a relatively simple car. It was a typical mid-seventies vehicle, but I joined in early September and the car was running in December. That was from nothing because they were running a March 761 prior to that. There was not much around when we used the March wing properly, but it all came together very quickly and it was a super place to learn.
TC: Talking about the aerodynamics of the FW07, how much time were you spending in the wind tunnel and how much of it was just on a drawing board?
NO: Very little wind tunnel time. The FW06 never went in the wind tunnel until we actually started to develop as a baseline for the FW07. We used the Imperial College wind tunnel in London and I think we went there maybe once a month for a few days. That slowly increased. Then we bought the wind tunnel from specialized mouldings up in Huntingdon and installed that in another building in Didcot. Ross Brawn was responsible for the installation of that. That allowed us to test all the time in-house so that was a big step forward.
TC: How interesting that 06 didn't go in the wind tunnel and 07 did. It looked a bit different but actually Patrick's gut direction of how to make the car look wasn't wrong.
NO: No, it was perfect. We did an initial test at Donington and had a few slight quirks going over brows. Patrick thought he'd screwed it up but in fact he hadn't. It just took a little bit of tuning to get the car right. Then it was very quick straightaway. Unfortunately it arrived a few races into the season and was a little bit unreliable for the first couple of events. I think if it was ready a little bit earlier, it probably would have won the Championship because it was certainly a lot better car than the Ferrari was that year.
TC: Well, I was going to ask you about that. The wins start coming at Silverstone in 1979. You are, as well as working in the design office, race engineering Clay Regazzoni. It's the first of Williams' 114 wins. What are your memories of that Silverstone weekend?
NO: It was a great day, particularly for Frank, who had been trying for such a long time. That's probably the only time in my life I ever saw him drink any alcohol or smoke a cigar. The car had been very quick in testing. Frank had come up with some different aerodynamic pieces in the pre-Grand Prix test, and then the car had made a big step forward. We traditionally viewed Silverstone as a high-speed, low-downforce circuit, so we were running small wings, but we actually tried putting a slightly bigger wing on in the test. That certainly made the car come alive. A lot of the performance gained was the wing working better in reaction to the underwing of the car. The car was pretty special by the time we raced at Silverstone but we were up against the turbo cars, who were obviously very quick. Those days, you didn't have TV monitors on the screen. I didn't actually realise that Clay had actually led half of the first lap until I saw it a few years ago! We were slightly fortunate because some of the turbo cars had unreliability and Alan was actually competing very well, but had a small crack in the water pump, which let the water out and lost him the race.
TC: And how nervous were you at that point that Clay wasn't going to make it to the end?
NO: I'm always nervous at races. It's always a terrible situation when you're leading the race by a long way and all you can think about is what could go wrong. Because you didn't have TVs, you had to wait until the car came into view every lap to know it was still running. But it was leading quite comfortably for over half the race, I think, so it was a long day and his last few laps took a long time to happen.
TC: It was the start of an incredible end of the year. I think you won five of the last seven races as a team. How did that change the atmosphere inside Williams?
NO: A lot. As you say, Frank had been struggling from 1969 to put together a really good racing team in a season, and suddenly we became the team to beat. It went from almost nothing to an incredibly successful team, so it did buoy up everyone. It made it easier to recruit people and the team expanded quite rapidly after that. It allowed us to get sponsors, most importantly, much more easily. It was a wonderful time of very rapid expansion, and it was all handled very well. I think it was very easy to lose sense of yourself if you're expanding too quickly, but it was all done in a very appropriate way and we moved forward.
TC: And how much confidence did you have going into 1980, having had that domination of the second half of 79?
NO: I think we were very confident. Obviously, you're always worried that other people will quickly catch up. It was fairly competitive but Alan was on top of his form. Carlos joined the team that year and we had a very strong pairing between the two of them for the following two years.
TC: The FW07 ended up doing three seasons. How did you tweak it from one to the next?
NO: I think '79 to '80 was more of an evolution. It wasn't a massive change. There were some regulation changes for '81, which got a bit complicated with the ride height rules and how people were bypassing them. That was probably a more significant change for '81. Also, we had a fairly unusual step where we switched from Michelin to Goodyear tyres in mid-season, which would be unthinkable now.
TC: Now why did you do that? That seems an extraordinary thing.
NO: Frank was a big fan of the USA and American business. He thought American muscle would prevail over the small French company from Clermont. That did cause us some problems. I think the tyres had very different characteristics and we didn't respond as quickly as Brabham did in adjusting the car to suit the different tyres. Carlos was completely dismayed by the change. If you look back, he scored three quarters of his points with the Michelin car compared to the Goodyear car.
BEYOND THE GRID: Sam Michael on engineering his rise to the top of F1 and the people who influenced his life the most
TC: Las Vegas, '81. I did want to ask you about this race. It's the season-decider. Carlos goes into the race at Caesar's Palace one point in the lead of the world championship. He qualifies on pole, yet he finishes eighth. Nelson Piquet wins the championship by a point. What happened in that race?
NO: I'm glad you brought up that pain… I mean, the championship is never won or lost in one race, but obviously that is the focal point of that season. As you say, the car was quick in practice and Carlos qualified on pole. On Sunday, we had a problem with his race car. The engine had a very slight misfire and we couldn't actually find out what was causing that. We felt it was too big a risk to race that engine and we didn't feel we had enough time to properly swap the engines over. He went into his test car and he was never quite as comfortable in the T-car as he was in the race car. We weren't as adept at making all the cars the same as we would be now. The T-car wasn't as good as the race car for whatever reason. Carlos said the gearshift was bad, but we stripped it down and couldn't find anything wrong as there was no damage to the gear. We set up the car, which is my fault entirely, fairly stiff. It was quick on one lap in practice and then not quick for the whole Grand Prix length. Carlos's crowning glory was there for grabbing and sometimes people do choke a little bit, I don't know.
TC: What was his mood at lunchtime on Sunday?
NO: Not good. He was very unconfident. He was convinced everything was going to go wrong and sure enough, it did.
TC: I'm told by race engineers now that part of their job is working with the drivers and helping them feel confident. Were you having to do that with Carlos?
NO: I was trying to. I probably didn't do a very good job of that. I would take more of the blame than Carlos for not winning that event. When you look back, you always think of things you could have done better. As a team, Frank and Patrick were definitely not people for putting their arm around drivers and trying to make them feel better. That's what Carlos needed. I think he was always convinced that Frank and Patrick didn't want him to win and would much prefer Alan taking the laurels of all the races, which was far from the truth. I think all those things combined together just tipped the scales in the wrong way that day.
TC: What was Carlos's greatest strength as a driver?
NO: He was tremendously quick when everything was pointing in the right direction. He thought about racing a lot and I think he would have loved today, having all that data available. He used to do some strange things. He'd come out on a Friday practice and he'd be running 20-30 seconds off the pace. Patrick would be going absolutely livid and shouting at me on the pit wall. But what he would do is split the circuit into three sections, drive flat out through the first section, then slow down, and think about it while he's going around the rest of the lap. Then do it again, get it right and move on to the next section and then the third section. Then eventually on lap nine or ten, he would put it all together and do a blisteringly quick lap. So a very strange character in many ways, but a lovely gentleman.
TC: After the disappointment of Vegas, we go into 1982. Carlos is still at the team. He finishes on the podium at the first race of that season. How surprised were you that he just gave it up after two races and retired?
NO: It was completely out of the blue to me. Keke Rosberg joined the team that year and was very quick. Keke had tremendous car control. His athletic ability to drive a car quickly was tremendous. Maybe Carlos was put off by that and thought that Keke would become another Alan Jones as Frank and Patrick's favourite in his mind. I don't know.
TC: What was it about Alan Jones that made him so impressive?
NO: An incredibly tough racer. He wouldn't take any prisoners on the circuit. He'd just report back exactly what the car was doing, then that's your problem and then he'd go away and do something else. He was very straightforward. He had great ability to drive quite physical cars at that time, when they were producing a lot of downforce. You need to be fairly strong to even just turn the wheel in the high speed corners so I think those cars suited him. He was brave and you had to have the commitment to drive the car very quickly. I think that time and that period of car absolutely suited his personality and abilities.
TC: How had he changed as a driver, if at all, by the time you then worked together at Beatrice?
NO: I'm not sure if it was really the best idea to come back. I think, in the first place, he retired too early. I think he'd exhausted himself after '81 and just didn't want to go through it all again. I think he got fed up with grey, miserable days in Putney rather than the sunny climes Down Under. I think he would have been better off had he stayed on another couple of years and then made a cleaner break of it.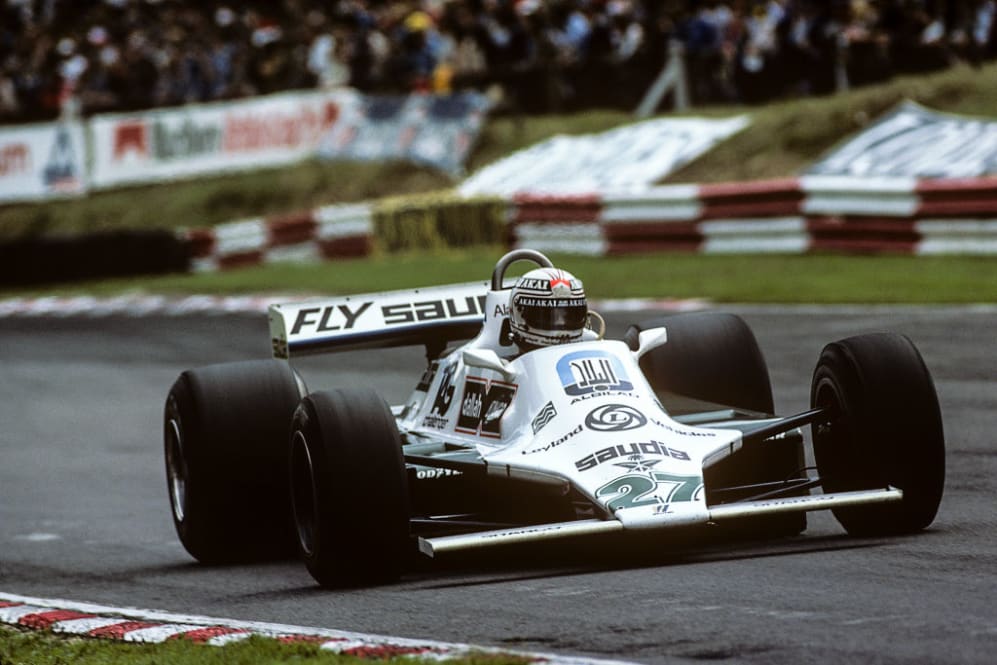 TC: It was certainly reported in the media that Jones and [Carlos] Reutemann were bickering. They weren't getting on. Do you think he found that exhausting as well?
NO: No, I think it was water off a duck's back to him. After Brazil in '81, he didn't really take any notice of Carlos. There wasn't any bickering at all.
TC: How quickly was Formula 1 changing at this time in terms of how you were designing things back in '77 versus almost a decade later? Was the process different? Are there any particular innovations from that time that you're especially proud of?
NO: I'm not sure if I'm proud of that much I've done. The process has evolved a lot. The wind tunnels became more of a force. At Williams, we had our own one and that made a big difference. Data started becoming important during the turbo era, mainly for engine data. It probably wasn't until the early nineties that we started to do a lot of data recording for chassis sides and that opened up some new avenues of learning about the car and correlating the aerodynamic performance on the track compared to what we were looking at in the wind tunnel.
TC: So why do you think it worked so well between Frank and Patrick?
NO: They were very different, but very matched characters. Their strong points and weak points complemented one another, so it became an entity that was able to drive that team along. It was in the days where the teams were still quite small. Two individuals had a far bigger effect than perhaps they would do nowadays. They were both fantastic people to work with and have both had such a big influence on my life.
TC: What was Patrick's reaction when you said to him, "I've loved my time here, but I'm actually moving to what is effectively a start up Formula 1 team, in Beatrice."
NO: He was very disappointed but I think he could understand that my motivation was that I had learned a huge amount from Patrick. I did feel very guilty about taking that knowledge away with me but I had worked with him for such a long time and learned so much that I wasn't sure about my own abilities. I wanted to prove whether I could work without that safety net of Patrick standing over me, being able to correct any silly errors or bad decisions I made.
TC: Karl Haas, an IndyCar and North American racing legend, wanted to come and do Formula 1. He had a good sponsor in Beatrice. He had Ford on board. You had yourself, Ross Brawn, Adrian Newey came on a little bit later, and you had Alan Jones driving one of the cars. On paper, it looked unstoppable. What was the reality?
NO: It had the basis of a very good team. It was starting from scratch and had quite a few old McLaren people from the seventies, who were very experienced and very good people in their own areas. I think if we had another year, it would have all come together. But we struggled a bit. The Cosworth engine was new for that year. That was still a learning process and it wasn't particularly powerful or advanced as some of the other teams to start with. I think by August, Ford had decided that they'd rather give the engine to Benetton the following year, which is part of the reason why it fell over. They let Patrick [Tambay] have a special engine in morning warm-up at Monza, which was a lot more capable of running a lot more boost and it was 50 miles an hour quicker than Alan. But then it blew up before the end of warm-up so it wasn't actually raced and that was the last we saw it. Alan wasn't shy at criticising the Ford or Cosworth. I think the whole thing spiralled and then Beatrice disappeared. Then, Karl wasn't that committed to keeping the F1 team going.
TC: What were you thinking at this point in terms of your career and what to do next?
NO: I hadn't really thought about it until things started looking a bit dodgy. Almost by incredible coincidence, I got an approach from McLaren at almost exactly the same time. There wasn't really a long period where I was really wondering what the hell I was going to do in the future.
TC: It seems that Ron Dennis was building a bit of a super team back then because you join at roughly the same time as Gordon Murray. Ron was desperately trying to lure Ayrton Senna to the team to join Alain Prost. It must have felt a really exciting place to be when you first turned up in Woking.
NO: At the time, I didn't know that Gordon was coming to the team. I'd actually agreed with Ron some terms. I went round to his house to sign the contract and Gordon opened the door. So that was my first inkling! Anyway, the team was obviously very good. Some tremendously talented individuals. It was a small team, but a really strong engineering team.
BEYOND THE GRID: Steve Nichols on creating the most dominant F1 car of all time
TC: Which was the first car that you started working on?
NO: It would have been MP4/3. That was well advanced by the time I got there. I did a few trivial bits and pieces for it but my role was going to be working on the first V10 Honda car.
TC: So in the design office, you were focused on MP4/5 for 1989, but then at the track you were race engineering Alain Prost?
NO: Yeah. You could do a day job on the drawing board and then go off for the weekend being a race engineer, and then come back on Monday morning to carry on with the design work. That's exactly how it worked. Steve Nichols kept on developing the MP4/3 and MP4/4, while I was working on the test car for the V10 and then the proper race car for the following season.
TC: We'll come on to the '89 car but can we talk about that '88 season? McLaren won all but one race and Senna and Prost were hammer and tongs every weekend. What was it like to be in the garage at that time?
NO: It was good. There wasn't really a lot of tension, particularly in '88. That was a fairly friendly atmosphere. I'd worked with Alain the previous year on the MP4/3. The first time I ever met Alain was actually for the Brazilian Grand Prix that year. The flight was delayed going out there and we didn't arrive until Thursday night, so the first time I met him was actually just before P1.
TC: Alain Prost was known as 'Le Professor.' Having worked with him, did he warrant that? Was he incredibly detailed in the technical side of things?
NO: Alain was very focused on making a good race car rather than a good qualifying car. Everyone likes to be in pole position, but that wasn't so important to him. It was very interesting that in that first year the whole team was very much focused on Alain in '87. When Ayrton arrived in '88, you noticed a big shift and suddenly it was just me plugged into Alain. The team had already decided where their future lay, as early as that.
TC: How early in that '88 season did you realise you had a rocket ship?
NO: The first run the car did on the track. I was at Imola with the MP4/3, which we'd converted to run Honda engines. We'd been doing two or three days with both Ayrton and Alain. The MP4/4 was very late getting finished it literally arrived the night before the last day of the test. It only had one day of testing before we went to Brazil. In the first proper run, it was probably at least a second and a half quicker than the old car had been. It may have even been two seconds. Instantly, it was just so much faster than the old car.
TC: Who drove it first?
NO: Alain. There was a bit of an argument about who should drive it first. Alain was convinced that he should focus on that car the whole day and Ayrton should just drive it in Brazil but they did half a day each.
TC: Can you remember what Prost's first words to you were when he got back to the pits?
NO: I think it was something like 'we can win the championship in this car, no problem!'
TC: What is it like to ride that crest of a wave where you go into every weekend knowing that you should win that Grand Prix?
NO: As I mentioned earlier, in a race you're always worried about breaking down when you're in a really fairly invulnerable position. It's not the only concern, but I think we were lucky both that year and the year after, we knew one of our two drivers was certainly going to win the world championship. That created a different dynamic than it would have been if we'd been in a big fight with other teams as well. Things evolved quite differently.
TC: What's harder for a team? An intra-team battle between your two drivers or an inter-team battle where one of your guys is fighting someone from another team?
NO: I would say definitely fighting another team because it's your responsibility to make a vehicle that's capable of beating the opposition. The two drivers' setups rarely deviated from one another because there was a fear that if they took a different direction on set up and made it worse, then the other guy would get an advantage. We were just tweaking little things on the set up. There wasn't any big changes and all they were doing was looking across the garage to what the other guy was doing.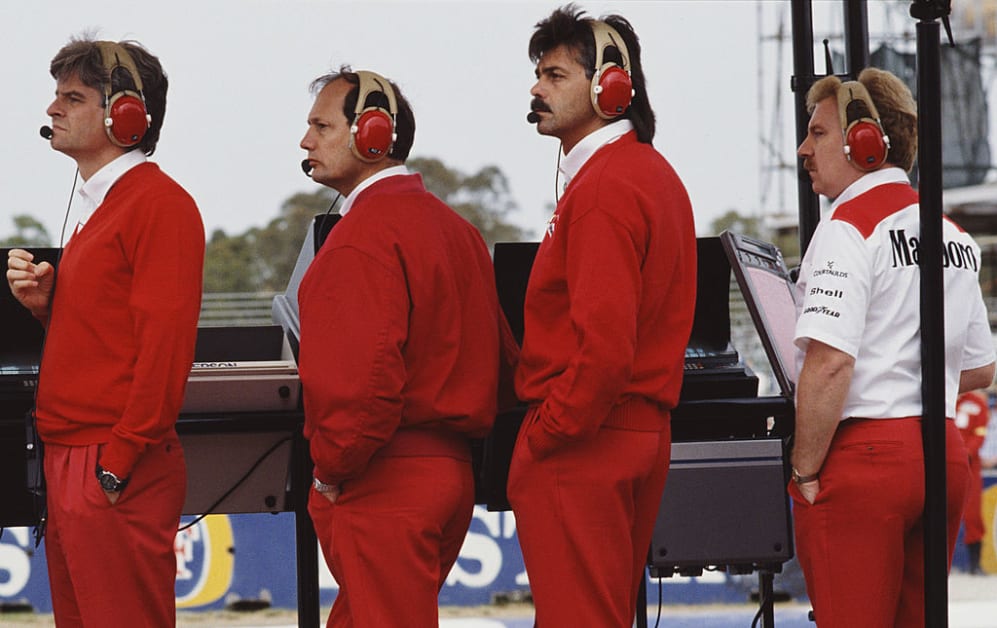 TC: You said that Prost was more interested in having a good car for the race but I did want to ask you about Portugal '88, where he was mighty in qualifying. Tell me if I'm wrong, but I think he got changed into his jeans mid-qualifying, and then stood on the pitwall just to annoy Senna. Is that true?
NO: That's absolutely true. He was very quick. I think half an hour into the session, he went off to the truck, got changed into his civvies and just leant on the pitwall looking into Ayrton's garage.
TC: How good was that lap? Why was Prost so mighty that day?
NO: On his day, Alain could be very, very quick. I think Ayrton had a slight problem with his engine settings and that might have meant a slight detriment to the performance of Ayrton's car.
TC: Early in the race, Senna veers towards the pit wall with Prost on his right-hand side, almost putting Alain into the wall. Was that the first time you saw anything particularly aggressive between those two?
NO: Yeah, I think it was to be honest. It might have been partly as a result of what Alain had done the previous afternoon. I think they'd been pretty amicable up to that point and then that did create a little bit of tension, which then bubbled over six months later in Imola.
TC: Was Ron good at dealing with those two in those situations?
NO: He was. I think it was a major part of his working day, pacifying them, keeping them both happy and performing well. It's something he sheltered the rest of the team from very well. We weren't really that bothered by it, but obviously it became a little bit more tense in '89. From then onwards, the drivers just didn't speak to each other.
TC: So how did it work in the debriefs?
NO: We'd be sitting around the table. Both drivers, myself, Steve, Gordon and Tim Wright. But the drivers would never speak to each other. If Alain wanted to know something about Ayrton's car, he'd ask Steve. And if Ayrton wanted to know something, he'd ask me and not Alain. It was a slightly strange situation, but there wasn't really any animosity evident in that situation.
TC: Do you think Prost accepted that Senna was quicker than him over one lap?
NO: I never asked him that question. I think my gut feeling is yes, but it didn't really bother him. They were half a generation apart. Alain done his best and was a lot further on in his career. Ayrton wanted to prove that he was the fastest driver ever, probably, and that's not something that really played on Alain's mind.
READ MORE: Prost vs Senna, Mansell vs Piquet and more – F1's fiercest team mate rivalries
TC: Ayrton wins the title in '88. We come into '89 and your car, the MP4/5. The regulations change, the turbo's gone and the V10 comes in. How good was the engine?
NO: It was pretty good. We'd done quite a lot of testing over six months in the second half of '88, so the reliability was good and it was probably the best engine in the field.
TC: So the engine's good, the car is clearly good because you win lots of races, but how did you feel personally coming into 1989 on the back of such a hugely successful season? Did you feel pressure?
NO: A tremendous amount. Not because anyone was putting it on me, but within myself thinking 'how the hell am I going to repeat what we did last year?' Then it all came crashing down in the first race because Ayrton had an accident on the first or second corner. Alain had a problem with the clutch hydraulic pipe. It had broken away from the mounting and was lying on the exhaust pipe, so it boiled all the clutch fluid. We effectively didn't have a clutch. Even in those days when tyre degradation wasn't so huge, Brazil was, because of the nature of the tarmac, very abrasive and we got high deg. You had to do a one or two-stop race, which was unusual for that period in time. We kept screaming on the radio to come in. What we planned to do was jack the car up, give it a boot full of revs, and just drop it off the jack. But he didn't believe that would work, so he refused to come in. He just did the whole race on one set of tyres. We obviously dropped down a few positions. He should have won if the clutch had been working, but we didn't.
TC: You must have been confident that you'd seen enough performance from the car in that race, though?
NO: We did. The Ferrari was reasonably competitive but they had a lot of reliability problems. On some circuits they were good, but not consistently. Williams was also good on some circuits, but not others. I think our car was reasonably good for most locations that we raced at.
TC: After Imola and the deal that they weren't going to overtake each other before the first corner, Prost felt that Senna had overtaken him unfairly. Did you ever worry that when they started to not talk to each other and their relationship became an issue, that this rivalry could end up losing you the championship?
NO: Not really, because I think they generally both behaved themselves on the circuit. Suzuka was slightly contradictory to that comment…
TC: At Suzuka, they're coming into the chicane and Senna dives down the inside to try and go for the lead of the race. They end up colliding. Prost is out of the race. What were people at McLaren thinking about that accident?
NO: I was an exception because I was working on this car, but I think the team migrated across the garage to Ayrton's side. Obviously there were a lot of legal wranglings with the FIA as to whether Ayrton should have been disqualified or not, and the team were trying very hard to make sure that Ayrton got that win back. I can't remember whether I saw Alain. He didn't come back to the garage because he went off to the FIA stewards and we were normally off to the airport. I don't think I actually saw him until we got to Adelaide. I think the team really wanted Ayrton to win and carry the number one plate the next year.
TC: By this time in the season, you knew that Prost was off to Ferrari as well. Did you think of joining Alain in Maranello? I know Steve Nichols went with him. Did he try and take you as well?
NO: He did mention it to me but I didn't really have the appetite to do that. I was very happy within the McLaren organisation and ultimately thought we would do a better job than Maranello would.
TC: What must have been a really interesting journey for you is that you went from working with Prost to Senna's side of the garage. How welcoming was Ayrton?
NO: Ayrton was always very friendly. I don't think he viewed me as a real enemy.
TC: And how different was it working with Senna?
NO: He was a lot more intense. He was playing over setups with the car and the engine. He was taking things to a different level compared to what Alain had been used to. Alain was still in the mode where, on a Saturday afternoon after qualifying, he'd be off on the golf course with Jacques Laffite two hours later, whereas Ayrton would be locked in the truck with the Honda engineers, trying to work out how he could make the engine respond better or more drivable. He just started to bring things to a different level.
TC: Is it true that his power of recall was incredible?
NO: Very much so. I think a lot of really top drivers drive incredibly quickly, but still have a large percentage of their brain available to think about what they're doing and how they can make the car faster and what it was doing at every moment on the circuit. I think that perhaps came to a fore with the active ride car in '93, where we could tune it almost yard by yard to suit the different attitudes that the car was taking in different corners; high speed, low speed, etc.
TC: It's interesting that you mentioned that '93 car because the Formula 1 folklore would have you believe that the FW15C, the Williams of that year, was the most sophisticated car in the history of Formula 1. But your active ride on that McLaren, I read somewhere that you designed it in two or three months. Is that true? And how good was that car by the end of that year?
NO: What you say about the timescale is absolutely true. Ron was convinced Honda could be persuaded to carry on racing. We got to October and we honestly didn't know what engine we were going to fit in the car. We were designing it, not knowing whether it's going to be a V8, V10 or V12. Of course, the Ford deal was done by the end of October. Fortunately, Cosworth had given us a few drawings that we could start working on just prior to that. We'd had an active ride project with Honda running for a couple of years, but it was incredibly complicated – more akin to the Lotus and Williams systems. That then disappeared. We had to do something quickly and what we went for was just an active ride control system, which was very, very simple. It came together in two to three months and was just ready in time to run on the car when it first ran at Silverstone in the beginning of '93.
TC: Do you think in the second half of '93 you had the best car on the grid?
NO: We won a couple of races in slightly unusual weather conditions at the beginning of the year, but the car was still reasonably competitive, whilst still quite a lot slower than the Williams. At Donington, it was a second and a half to two seconds off the pace in qualifying, but a bit better in the race. We still had a valve spring Ford engine until the race after Hockenheim, and then we had the pneumatic valve spring engines. That was a quite a big step forward. We kept tuning the chassis. The components were still very much the same, but how we used it became more complex. At Monza, we added power brakes, which is fairly novel, and that made quite a big difference. I think by the time we got to the last couple of races in Japan and Australia, the car was as good as anything else on the grid. But the whole grid had closed up quite a bit by that time.
TC: How did Senna react to all the developments you put on that car?
NO: He loved playing with the suspension system and honing it to suit what he wanted the car to do at any moment on the circuit. He used to spend hours working on it and I think he loved all that.
TC: There was a lot going on at McLaren at that time, wasn't there? Have you seen a better opening lap of a Grand Prix than Senna at Donington in '93?
NO: No, that was pretty special. We were some way off the pace in qualifying, but the rain's quite a good equalizer. It nullified some of the Renault advantage that Williams had at that time and our suspension system, because it was a lot simpler, suited those conditions better and helped give the driver more feedback from the circuit of what the car was capable of doing. It was quite wet on that lap. I think everyone was a bit unsure of the actual grip level they had, but Ayrton sussed it out a lot better than most of the other drivers.
READ MORE: 'He was walking on water' – Senna's magical Donington 'Lap of the Gods' remembered by his fellow drivers
TC: And of all the drivers you've worked with in your career, give me your top three.
NO: Certainly, Ayrton and Alain were exceptional I think Mika Hakkinen is a little bit underrated in global terms. I think he was an exceptionally talented driver.
TC: Well he came in for Portugal '93 and in his first race for the team, outqualified Senna. What a wake-up call for Senna among many other things.
NO: Yeah, I don't think Ayrton was too impressed. But in the race, he got his own back and made sure it didn't happen again in the remaining two races of the year.
TC: But what stood out about Hakkinen?
NO: He has the ability to drive a car quickly, but obviously in Formula 1, that's not the only attribute you need to have. He was incredibly receptive to different ideas to help him drive quicker. If we go ahead a few years, for instance, the brake steer system - he absolutely loved that. Mika was able to just adapt his driving to suit the tools that you'd given him.
TC: Did you notice any difference in terms of what Hakkinen was capable of doing in a car pre and post his accident at Adelaide in '95?
NO: No. It was a fairly serious incident and he was quite gravely injured. He was fairly lucky to survive. I think, in reality, Ron did a fantastic job of keeping him in cotton wool and slowly bringing him back into a position where he was fit and able to drive the car. We did a very low-key test at [Paul] Ricard just to make sure he could get back to his old self. It was fairly evident almost straightaway that nothing had really changed. Once we started testing properly, he was on it straightaway. He's a super nice guy, a good human being, and he was a fantastic racer.
TC: How much does it help you as an engineer to have a driver with a technical bent? Is it helpful if they start meddling with what to do with the car, or do you actually just want basic feedback?
NO: Probably at that time it's not something I'm directly involved in, or haven't been for some time now, but I think a driver just reporting what's happening and not trying to engineer the car himself is always preferable, I think, to any race engineer or designer.
TC: Some people will be fans of DRS, the drag reduction system. Some people will not be fans of it, saying it's a gimmick. And I think the sport has McLaren to thank for the DRS system and it all goes back to the F-duct of 2010. The following year, the DRS system was introduced by the FIA, but how innovative was the F-duct?
NO: Very. That came out of the blue. I think in the aero department we've got a mad scientist who completely fits the bill. It's a fairly complex system. A lot of people did similar things during that season but don't think anyone actually twigged what we were actually doing with it. It was very effective and I think it was probably worth 15kms on the straight. It was very similar to DRS doing. It was a great advantage for that car and unlike DRS, we could use it everywhere that we wanted to. It was very safe because it was just the drivers' elbow operating it. I don't think we ever had any instances where they forgot about it and accidentally triggered it.
TC: Formula 1, at least from the outside, looks an incredibly complicated sport, but is it invariably the simple ideas that are often the most effective?
NO: I think so. It is a very technical sport, but you still rely on the ingenuity of individuals to think of things that nobody else has done and give you an advantage. It's fantastic when it does happen.
TC: Of course, Lewis Hamilton was driving for you when the F-duct was on the car. How much did he love the technical side and welcoming new ideas like an F-duct?
NO: Making use of any tools you give him, Lewis was very quick to exploit them very well. We had the F-duct on the car almost right from the get go on that car in testing, but it was a bit troublesome. There were a lot of late nights in Barcelona trying to get the thing working properly. But once it worked, prior to the first race, it was fantastic.
TC: What impressed you about Lewis as a driver?
NO: Sheer speed was fairly evident. He'd had a couple of years in the junior formulas and done exceptionally well. There were a few events where he made mistakes and ended up in midfield, but was able to just overtake everybody. His talent was fairly obvious right from the word go. I still don't think there was a complete conviction that he was ready for Formula 1 when we signed him, but it almost was a force majeure situation. He joined us and I don't think anyone quite expected him to be so instantly competitive. He was effectively as quick as Fernando from Melbourne onwards. I think Fernando was one of those key figures that didn't expect to see that.
TC: And with these intra-team rivalries; Jones and Reutemann, Senna and Prost, Alonso and Hamilton – is that sheer will to win actually the cause of all those problems?
NO: I think so. There's slightly different reasons for all those cases. With Lewis, he was the new kid on the block. I think the only animosity grew out of the competitive situation between them. Fernando was expecting Lewis to play second fiddle and Lewis wasn't interested in doing that.
TC: You've had so many incredible years in your career. When you look back at it all now, what was the most enjoyable period for you?
NO: I think they've all been enjoyable for different reasons. The early years at Williams were very good because I was learning the trade and they went from a back-end of the grid team to a front-end of the grid team in such a short space of time. Coming to McLaren, it was a whole different setup and that's evolved so much. It's a very different team now than it was in '86. They're all good periods for different reasons. The last few years haven't been the best for us, but there's still a fantastic group of people here too, that we're hoping to let off the leash, get their confidence back and then really pull us through into a more competitive position during the season. I think everyone's very, very excited about moving forward from where we are. We've been in some dark times in the recent past. The confidence is coming back to everybody. People aren't worried about making mistakes. We're trying to encourage all the younger guys to use their talent in a way that's more productive to the team and to have belief in their own abilities.
TC: Is now a good time to be an engineer in Formula 1?
NO: All the teams have got very large engineering departments and I think as we started off the conversation, Williams had two, which was a fantastic way to learn because, by default, you had to get involved in everything on the car, whereas someone joining today tends to get specialised very early in their career. We do try to move people around in different roles, but that's not always that straightforward to do. In some ways, it's difficult for the guys coming in now to get that experience in different areas. You always want to be able to turn your hand to any aspect of engineering and still make a make a good job of it. Having those different inputs directly to you, rather than having them second-hand, is a great advantage. The more we can do that, I think the better for everybody and the better the team will be.
TC: Exciting times ahead for McLaren. They're very lucky to still have you, Neil. Thank you very much for your time, it's been great to chat.
NO: A pleasure to talk to you.
To read on, sign up to F1 Unlocked for free
You'll unlock this article and get access to:
Live leaderboard data
Epic experiences and rewards
Money-can't-buy competitions