Podcast F1 Unlocked
FULL TRANSCRIPT: Read every word from Oscar Piastri's Beyond The Grid interview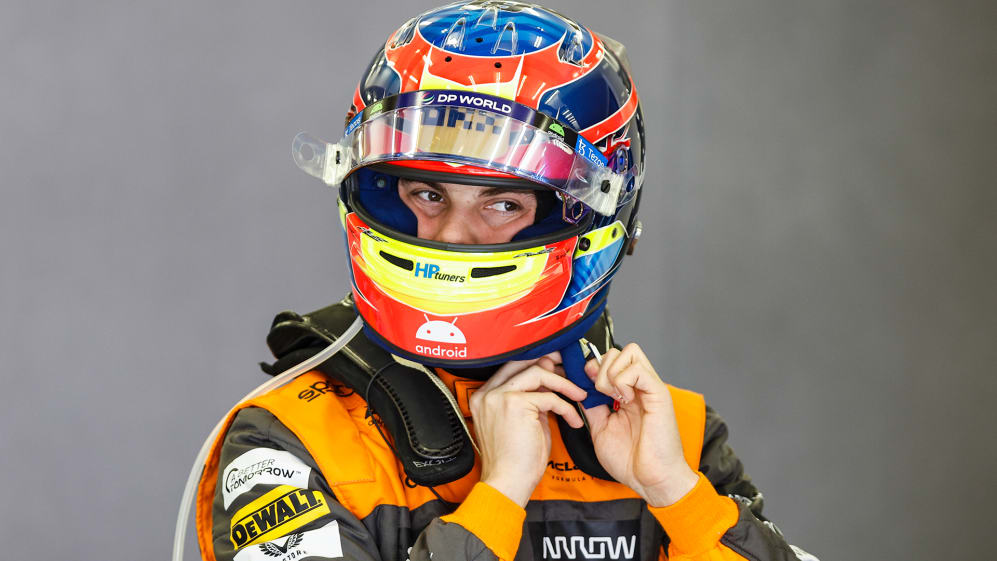 Oscar Piastri is this week's guest on F1's Beyond The Grid podcast, the Mclaren rookie joining host Tom Clarkson for an insightful interview in which he opens up about his upbringing, moving to the UK from Australia to pursue his dream, his junior category championships, adapting to life in Formula 1 and much more...
Below you can read the full transcript of the episode, listen to the episode below in the audio player, or head here to catch it on your preferred platform.
Tom Clarkson: Oscar, it's still early days, but how are you finding F1 so far?
Oscar Piastri: Yeah, I've been enjoying it. It's been exciting and obviously something I've worked towards for a very, very long time.
I think I started racing about 12 years ago now. It's been busy, but it's very cool to say I'm an F1 driver, that's for sure.
TC: Do you feel like you've got your feet under the table now at McLaren?
OP: I think so. Everyone's been great in welcoming me to the team, and I think, obviously I've been trying to spend as much time at the factory as I can, preparing myself and trying to help the team, but also just getting to know people and put names to faces. Now that we've got the first race under our belt together, it just adds to the level of the relationship that you've got with all the mechanics on your side of the garage. I feel like I'm in a good spot. I'm very happy to be at McLaren and it's been going well.
TC: Is the names and the number of people the biggest difference to everything you've experienced in racing before?
OP: Honestly, I would say yes. It sounds a bit weird to say that's the biggest difference, but just the scale of the team is so much more. I think in F2 there was maybe 30 people at a rough guess, for the whole team. And we've got probably close to 100 people trackside and that doesn't count the other 700 back at the factory that are building the car and helping us back from mission control at MTC on the race weekend. So it's a bit different when you've got to remember 800 names, compared to 30. Even the hundred that we've got at the track or however many it is, it's definitely a challenge so that's probably the biggest difference. I got a bit of experience with it last year being reserve driver, getting used to the world of F1 and trying to remember names. But it's a different process from what I've raced before.
TC: You've only had one and a half days testing. I know there was some running in the old car at various tracks, but do you feel on top of the car now?
OP: I think there's obviously always room to improve and especially with one and a half days of testing, I think you're naturally going to still be evolving at the start of the year. I feel like I've got a good idea of what I need to do to get the most out of the car and how the car needs to be driven. It's just putting it into action and getting it to become second nature to drive. There's still improvements to make, but I feel like I've got a good idea and I think it's going in the right direction.
TC: A lot was said, particularly at the first race, that you're not where you want to be. In a way, does that help you? Are there advantages to learning your craft away from the spotlight?
OP: A little bit. Of course, I want to be as high up on the grid as I can be so I'm definitely not saying that I would prefer to be down the back or not fighting for point but in some ways, it does take the spotlight off a little bit. I think a lot of people have high expectations of McLaren and we have high expectations of ourselves to try and be fighting for points and for this year, to try and get into the top four teams. Aston Martin is now part of that top four so it's a bigger challenge, but still one that we're trying to achieve. If there's any time to not be where we want to be, the first few races is probably the time to have it.
TC: Now, can we throw it back and talk about your early life and how you came to be a racing driver?
OP: I'm the first in my family to race myself. There's always been an interest throughout my family. My grandad and my pops were both mechanics and my dad's business is in the automotive industry. They've always had a passion for cars first and foremost, but also racing. I think it's naturally gone through the generations to myself, and it actually started with a business trip for my dad. He brought back a remote-control car from the US to Australia, and I started just driving that around the backyard and the school oval at one point when I was six or seven, and then I started racing not long after that and it all went from there, so it's a bit of a different entry to motorsport. I didn't start karting until I was about nine or ten years old.
READ MORE: Home hero Piastri describes 'special feeling' ahead of maiden Australian Grand Prix
TC: That's how Lewis Hamilton first got into racing. For those who don't know and I'm definitely one, what does remote control car racing actually look like?
OP: The cars I raced initially were one eighth scale and then I went to a one tenth scale. They look like touring cars in a way. I think they do have Formula 1 cars, but the pinnacle of remote-control car racing is like touring cars and they're quick. They go up to 110 kilometres an hour top speed and the acceleration is insane. They only weigh a kilo and a half so they're pretty impressive pieces of kit and you stand on a driver's stand with your radio, and you control from that. It gets pretty intense.
TC: And you aged nine are beating adults, right?
OP: Yeah, there's no age brackets so I was often competing against people in their twenties and thirties. I won the national championships when I was nine and I think the next youngest guy was 18 so that was nice.
TC: Does that involve traveling all over Australia?
OP: When it got more serious, yes. I started out at sort of club level remote-control racing and then did a couple of races in New South Wales, in Sydney. I think we had one race in Brisbane but a lot of it was still local racing within the state. So, for Australia it's not actually that close. The closest track to our house was 45 minutes and Brisbane's a two hour flight away, so it's not that local, but it started to get a bit more interstate at the end. Compared to what karting ended up being and then obviously the rest of my career, it looks pretty small in comparison.
TC: How did that help you prepare for Formula 1?
OP: I think the technical side of things helped at the start because there's probably more things you can change on a remote-controlled car than there are on most race cars. You can change springs on the shocks, and you can change toe camber. You've got tyre warmers and tyre additives so you can put stuff on the tyres to make them grippier. You did all of that because you had to be quick. I wasn't an expert, but I had a brief understanding of what certain set-ups did. And I knew what a racing line was so when I went into karting, obviously it's very different standing with a remote-control car compared to sitting in the car or go kart, but the idea of a racing line and set-up stuff like that, I had an introduction of what to do.
TC: Well, tell us about the move into karts then. What happened?
OP: I think in the remote-control car community, there is obviously some crossover to the racing car community. There was some people there that dabbled in go karts or above and one of my dad's friends had a daughter whom he bought a go kart for and they started racing a little bit. One day they asked if I wanted to go. I had a go and loved it and the next week I had my own in the garage at home, so it all started from there. At the beginning, I was still debating: "do I want to race remote-control cars still or go karts and pretty quickly go out and start to win?" So, it went from there and then now here we are.
TC: Was it the driving sensation that you liked or was it the competition?
OP: I think a bit of both. I loved initially the speed. I think that's what most people love. Then it was a combination of a lot of competition, not just with other people, but with myself. Just wanting to be better and better and get my lap times quicker to find out different things on how to drive and how to set up the go kart. When you throw that in against other people, you've got a benchmark of whether you're in the ballpark or not. I think the competition was a massive drawcard and even now, I think I'd much rather do practice sessions, qualifying and races with other people than testing by myself. I had a year of that, so I know what I like now. The competition was really what got me involved in the first place and I was a competitive kid before I got into racing with all the sport that I played. Even at school, I wanted to be the smartest kid, so I think it's sort of just ingrained.
TC: So academically, as well as sporting, you're a high achiever Oscar?
OP: The rule for my parents was you can go racing, but your grades have got to stay at the same level. That was especially true when I was in Australia still racing there, because at that point you never know where racing is going to lead. It's obviously a very cut-throat sport and there's only a handful of people that firstly get to F1, but also just a professional drive in motorsport. It's not an easy thing to come by so that was the backup plan. Even when I moved to Europe in 2016, I went to boarding school for four years and did my GCSE's and A-levels in the UK. After that I finished school before my F3 season and the F3 season went very well. I won and I think at that point the education side of things was a little bit more on the backburner. I think the last year of school my attendance was 36 or 37% and I was at boarding school, so I was living at school.
TC: Did school understand?
OP: Yeah, they'd had a few people before me through racing. Callum Ilott went there before I did, and they'd had a number of people that went on to be professional sports players. A few rugby players and a couple of cricket players so they understood to an extent, and they were very supportive. It was more or less, you can go and do it as long as you achieve the matriculation grades, which everyone has to do to stay in school.
TC: Did you play a lot of sport while in England outside of your racing career?
OP: It was tricky. The school that I went to in the winter time played rugby, so that was obviously quite a big no. I'm not the biggest of people. I don't fancy my chances at rugby and the risk of injury was obviously too high. We all know that motor sport is an expensive sport, so I wasn't going to jeopardize anyone that was funding my racing by playing rugby. Cricket was pretty much the main sport that I used to play. I had one game in firsts at school. Slight caveat to that… It may or may not have been because the summer term was always when the sixth formers had their A-level exams. They're on study leave and then they would finish so I may or may not have got my appearance because everyone else had left, but that's in the fine print. I've got the cap, I've got my name signed on the door now at school, so that was my one appearance and claim to fame.
TC: There used to be a Formula 1 cricket match before the British Grand Prix. If we brought it back, what have you got to offer?
OP: Funny story… I played a cricket match a couple of years ago with Alpine and we were playing some local team. I hadn't played cricket since I left school a couple of years before and the first ball that I bowled, I was chatting to someone from the team who said, 'imagine if you get a wicket on the first ball' and sure enough it happened on the first ball. It was a terrible ball, but the batsman nicked it to slip.
TC: Ricky Ponting and Adam Gilchrist are massive F1 fans and likely to be in Melbourne this year…
OP: I've got a cricket bat signed by Ricky actually. I can't remember how young I was, but I actually did a photoshoot with him for something. My uncle's a photographer and it ended up being on the back page of the local cricket rulebook and I think it still is. If you look at the local cricket rulebook in Victoria or Melbourne, there's probably still a photo of me and Ricky Ponting at the MCG.
TC: For people who don't know, you grew up in Brighton. I'm not talking Brighton in the UK, I'm talking Brighton near Melbourne. Did you go to the MCG?
OP: Yeah, I went a fair bit. I watched the odd cricket game here and there. As a little kid, I wasn't super interested in Test match cricket at the time, so I watched a lot of T20's and one-day games. Albert Park was actually so close to my house that I didn't really need to go and watch them because I could hear them from my backyard. But I just loved it as a kid.
TC: And you were a grid boy in 2014?
OP: I was a grid kid for Dani Kvyat, which I reminded him of when we crossed paths a couple of years ago. He wouldn't have remembered because he broke down on the way to the grid for that race so I was holding his flag for the national anthem and I had an empty spot in front of me. We were speaking about it a couple of years ago when we ran into each other and it's funny how such a small world it is. Eight years ago, I was holding the flag and now I'm on the grid myself, and someone will be holding mine.
TC: Oscar when this comes out, you'll probably be touching down in Melbourne. What does it mean to be racing at home for you? What's that going to be like?
OP: It's going to be awesome. It's amazing to have the home race not just in Australia but in Melbourne. For me, being ten or 15 minutes away from the track, it's the closest race I've ever had and I think probably the closest home race a driver can ever have. It's closer than my local go-kart track when I was a kid.
TC: Is it true that this is going to be your first race in Australia since you were karting?
OP: Yes. It'll be my first time on an Australian racetrack. Full stop. And not a go kart track. So it's a bit weird to say that and it's been seven or eight years since I raced in Australia. It's going to be a bit weird to be racing at home again, but it'll be an awesome experience.
TC: I remember Mark Webber and Daniel Ricciardo saying that the home race, particularly in Australia, is hard. What are you expecting and how are you going to deal with the barrage of requests?
OP: Firstly, I've got a very good team around me. Mark has been in that position for however long his F1 career was. He's had that experience and obviously McLaren had Daniel at the Grand Prix for the last couple of years too, so I think from all angles we've got experience with the Grand Prix. Last year I went as a reserve driver and even that experience of just being there as a reserve driver was insane. The amount of people and the support that I had, and I wasn't even racing, was pretty nuts. I've got a good idea of what to expect this year and hopefully it's even crazier. It'll be awesome and I think we've got a very good team to try and juggle everything that'll come in that week.
TC: Let's talk more about Mark Webber now. How has Mark helped you across everything?
OP: In more ways than I could think of, to be honest. I first started working with Mark and Ann (Neal) at the end of 2019 or start of 2020. At that point, it was quite behind the scenes; making sure my contracts at Prema were sorted, just before my F3 season. In 2019, I won the Formula Renault Eurocup championship. F3 was the next step and that was the first time I'd been on an F1 weekend. I was joining an F1 academy at the time. So, it was my dad and I, and someone else called Rob, who was helping us. But really, we needed someone with more experience. Mark helped a lot with that for the first couple of years, but 2020 was difficult with COVID and we were in separate bubbles all the time, so we didn't actually do much together that year.
FULL TRANSCRIPT: Read every word from Charles Leclerc's Beyond The Grid podcast interview
TC: Talking about the intensity of 2020, weren't you sitting A-levels that year?
OP: That was almost a bit of a blessing in disguise with COVID. Not much good came from COVID, but I was supposed to have my exams during my F3 season. I think one of them was scheduled for the Monday morning after one of the rounds and they ended up getting cancelled because of COVID. I went home for the Melbourne Grand Prix and then that obviously got cancelled. We were supposed to race in Bahrain the next week for the opener and it got cancelled. Then we didn't go back until the start of July for the first round in Austria. In that time period, I was at home in Melbourne. Ironically it was the longest stint I've had at home since I left eight years ago and it meant my exams got cancelled so it cleared that hurdle before the season started. Then once the season started, I could just fully focus on racing, which was the first time I've been able to do that for, well, ever.
TC: So, your exams get cancelled. If anyone asks, you just say you got straight A's?
OP: Not quite. I wish. I did get grades. I think I got two B's and a C. It was quite tricky because I think it went off coursework and internal exams. It was up to the schools to send in the grades to the governing body and they would standardize them. I passed school so I was pretty happy.
TC: What were your subjects?
OP: Maths, physics, and computer science so very engineering.
TC: And I've read that had you not become a racing driver, maybe engineering would have been your path?
OP: I've always enjoyed the technical side of the sport and now seeing the hours that the engineers put in, I'm not so sure I'd be cut out for it. But I've always enjoyed that side of things and it's such an important part of going racing. It's one of the most talked about topics in motorsport – is it the driver or the car? Ultimately, it's a mixture of both. But the car plays a massive role in your success. Not just in any series, but in particular F1, because everyone's building their own cars obviously. I've always liked that side of things and I think it's important to have a good understanding of it too. It helped whilst I was racing and, I thought: 'if this doesn't go to plan then I can still be involved in the world of motorsport somehow.'
TC: Back to Webber. Can we say he was a hero of yours growing up?
OP: I don't know if I would say hero. I started watching F1 in 2009. Brawn came in and wiped the floor with everyone, which Mark doesn't like being reminded of. Mark was the only Aussie at that time, so I naturally started watching him and then Red Bull had their dominant four years with him and Seb. At that time, I was still in Australia, so the races were at two or three in the morning before school, because of the time difference. So, I'd always wake up in the morning hoping that Mark had won, which happened a few times. It was always exciting to see whether he'd won or not and it was the same when Daniel went to Red Bull as well. It's kind of a nice feeling that hopefully one day I'd like to be in the same position and hopefully someone's thinking that about me.
TC: When you moved at the age of 14 to England, it must have been really hard. Has Mark been able to give you any advice about that?
OP: I wouldn't say he gave me that much advice, but I didn't feel like I really needed too much as well. I think by the time that Mark came into my corner, I'd been away from home for pretty much four years at that point. I think school was a distraction from thinking about racing 24 seven because that's never particularly helpful if it's all the time. But also, from being away from my family as well. I was basically living with a bunch of friends at boarding school, which was nice. There was a few international students there so it was nice. I think I've always been quite an independent person as well. I think there's always some sense of freedom. By the time Mark came on board, I think I was 18 so I was probably considering moving away from home regardless of what I was doing. I wouldn't say I've really struggled with that too much. Of course, I love going back home whenever I get the opportunity, which is now once a year. I've actually added myself another trip because of the race in Melbourne so that's a win. I'll be going out a little bit early to see my friends and family before the chaos of the race begins. But it'll be nice to have that second trip home.
TC: Has Mark helped you as a racing driver?
OP: I think so. Being in F2 and F3, Mark's not driven those cars and obviously the cars are very different from when he drove. And I was in incredibly capable hands at Prema as well so there was no need for him to meddle too much because it was going pretty well. Obviously in the junior categories, all the cars are the same spec for everyone. You get given the same car, same engine and a few set-up changes you can make. Whereas in F1, you've got each team making their own car, different development pathways, different areas of the car that you can develop. The knowledge on that side of things he's been very helpful with. But the cars nowadays are very different to when he raced so the little intricacies of what finds you the extra half a tenth or a tenth might not necessarily be the same, but all the things in the background that can add that extra bit of performance, he's been incredibly helpful for.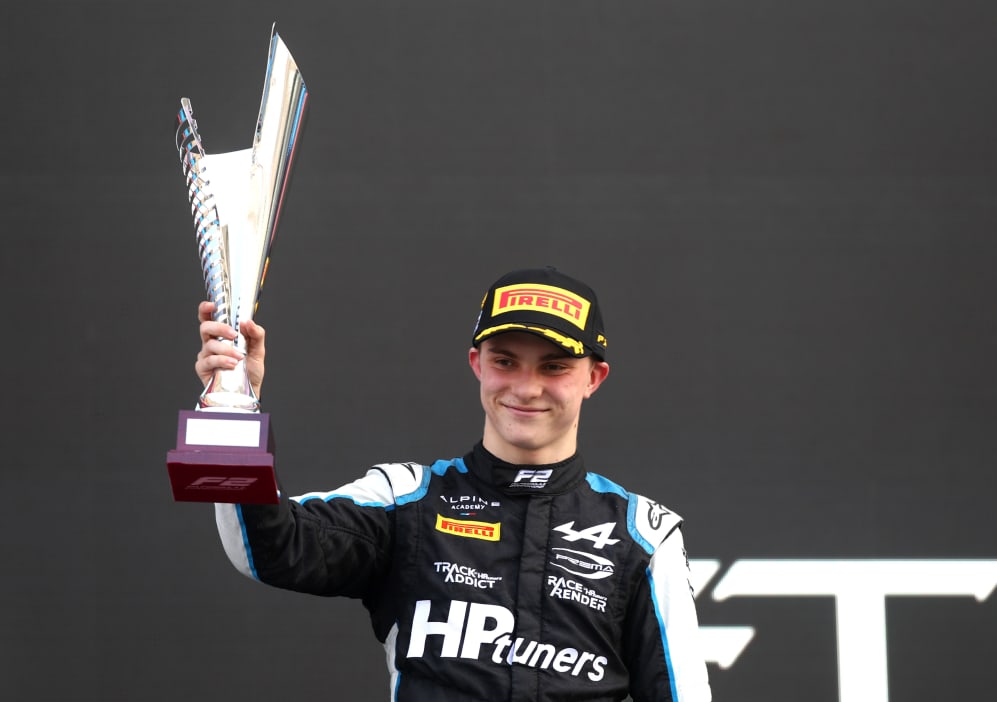 TC: Let's talk a little bit more about your junior career in single seaters. I can't think of a driver with a more impressive CV than you. Champion in Formula Renault, Formula 3, Formula 2 in consecutive seasons. What do you think is your greatest strength as a driver?
OP: I think it's probably consistency and I would like to hope consistently quick as well. That always helps. I think in those three championships, especially the Formula 3 season, I had some qualifying woes. I didn't qualify on the front row. My teammate, who was Logan [Sargeant], had three poles in a row at one point and I was never on the front row. My race craft and consistency in the races managed to get me across the line in that title. I had some DRS issues throughout that year as well. It would change its mind about 20 times down the straight so it would open and close and that went on for six of the nine rounds.
But that consistency really helped me, and I think I probably lacked that in my Formula Renault Championship. I made a few too many mistakes and I didn't scrape across the line but had enough of a buffer when I made a few errors. I think the F2 season was by far my best year in racing. I put everything together. I was quick but I was always there when I needed to be there. Especially with two reverse grids that year, you needed to be there all the time in the top ten to make sure you're in that reverse grid because, if you DNF'd race one then you were screwed for race one and two. Obviously in F1 as well, it's an incredibly important part of the sport. We've got 23 races now and being consistently there when stuff inevitably happens is only going to put you in in good stead.
TC: In Formula 3, you didn't qualify on the front row. Yet in Formula 2, the very next season, you dominated qualifying. What did you change? What happened over the winter?
OP: To be completely honest, I still don't know to this day. I went through F3 with no pole positions, not even a front row. In F2, I think I qualified seventh in Bahrain on the first race, third at Monaco in Baku, and then I was on pole for the next five rounds. I don't know what I changed really. I think I was just very in sync with the car and with the tyres. My understanding of the F2 car was just better than what I had in F3.
I think having Covid in the F3 season didn't help as well, because we had the pre-season test, about four months off, and then straight into it so I never really got that much of a chance to develop myself through testing because we didn't have any. Whereas F2, we had a little bit more testing time, and the races were a bit more spread out, so I had a bit more time to think about it and I was just very in sync with the car. There was some qualifying sessions where I could almost, after the first lap, go: 'okay, I know that the car is good enough for me to get pole. I just need to do my job correctly and we should be able to do it.' When you can go into every qualifying session with that mentality of 'if I just do my job properly, it's going to be enough,' it's a massive confidence boost.
TC: Do you think you've gotten better as the cars have got quicker during your career?
OP: I think yes and no. I think I was probably more at home in the Formula Renault car than I was in the F3 car, but the F2 car just seemed to suit me very well. I don't know if it's necessarily the speed of the car, but I think as you go up the championships, even in karting, it was a bit of a similar trend. The quicker the kart was, I seem to generally get stronger. The further up you go, the more technical everything gets. The jump from F3 to F2, the car had much more power, was much heavier and a big difference was the carbon brakes coming from steel brakes, which took a little bit of getting used to. Getting on top of that, getting on top of the tyre management, doing pit stops, different compounds, adding in all those variables, plays to my strengths.
The year I won Formula Renault, it was the first year of that car so it was a brand new car and I think having a focus on improving the car as well as my driving is for some reason quite important for me and helps me focus on what feels good with the car and how I need to drive it to extract the most out of it as well. In F1, the cars are constantly evolving. They're new every year and every four or five years, they're completely different with the regs changes. Adding in the variables seems to help me more than the speed.
TC: Given your stellar junior career, how hard was it to take a year out last year?
OP: Yeah, it was tough. Any racing driver wants to be racing as much as they can and being in that position, where the rules, because I won F2, said that I couldn't repeat F2, I quite literally had no more junior categories to race. That was a nice problem to have in one way. But still a problem, nonetheless. I found out more or less halfway through my F2 season that I wouldn't be making the step up to F1 the next year no matter what I did. It was tough to take. Four rounds into the season, I'd just taken my first pole and the championship lead. So, to then find out I'm not going to be making up the jump to F1 next year, regardless of what I do from now, it hurt.
But it made me almost more determined to go, "okay, I'm going to win this," and make myself have the issue of not having to race F2 again. What I wanted to do was put myself into that position of saying the reason I'm not racing is because I've won the championship and can't race it again. As time went on, I was more at ease with that and we came up with the deal to become a reserve driver last year, which given the circumstances was the best we could do with some private testing, but it still hurt.
FULL TRANSCRIPT: Read every word of ex-Minardi owner Paul Stoddart's fascinating Beyond The Grid interview
TC: What did you learn during that year out?
OP: Quite a lot. In some ways more than I ever intended. I took the mindset of, 'I can't race this year, but I can try and learn all the sort of background stuff that you don't see on TV in F1'. Simple stuff like how busy the schedule is for the drivers. Melbourne last year was a perfect example for me, and I was pretty tired after that weekend without even driving. Just getting into that schedule, getting into the routine, seeing what happens, listening to all the debriefs and trying to learn as much as I could from Fernando and Esteban.
TC: What did you learn from those guys?
OP: I learned a lot from both. Fernando has got a lot of experience under his belt and has been in a championship winning position before, so he knows what it takes to build a team around him to be world champions. He was incredibly insightful to watch. Obviously, I have to go race against him now so I don't want to pump him up too much. But just the capacity he had to think of everything else whilst driving was pretty extraordinary and in some ways inspirational. I went into last year with the mentality of trying to perfect all those other areas and then for this year, going back to adding in the driving.
TC: A lot was made of the tug of war between Alpine and McLaren last summer. Given everything we know now, it seems McLaren were the only team to offer you a solid contract. Is that what made you so sure about going there?
OP: Dealing with McLaren was extremely straightforward and they put a contract on the table, no frills attached. That was a massive show of confidence, and it was extremely nice to be wanted and a massive factor in why I decided to go to McLaren. Obviously a lot happened last year and I think now a lot of the facts are out there to be read. The desire for McLaren to have me in their team and just the clarity of what my future was going to hold, because at that point it was pretty unclear for what would have been the second year running, so to have that clarity and something on the table was extremely nice.
TC: And how have you found the atmosphere at McLaren?
OP: It's been great so far. Honestly, I feel very embedded in the team, and everyone's been great to work with so far. I think there's definitely the passion and the energy there to get us back to the front. We're not where we ideally want to be at the moment and I'm sure for myself and Lando [Norris], we want to be trying to win because that's what we've done to get into F1. The team's no different. We've got good plans to help us move forward. We've got a new wind tunnel coming online and a new simulator, so the plan is in place and half the battle sometimes is recognizing where things are going wrong or where you need to improve. I feel very confident that we've recognized a lot, if not all, of those areas and now it's about putting in the hard work to address it all.
TC: A quick word on Lando. It's weird to think that you guys are almost the same age. How are you rubbing along together?
OP: It's been great so far. We've been getting along well, which is always good. We're both very aligned with the team as well on what we want to do. We've got very similar feedback to the team which is nice. We're pushing the team in the same direction. We've both got quite a similar mindset of wanting to push the team forward and that's the most important thing at the moment, because we don't want to be fighting for ninth or tenth or whatever it may be forever. We want to be back at the front, and I think we're both working very well together in trying to help the team wherever we can achieve that.
TC: When you look at Lando's data, what impresses you about him?
OP: I haven't looked at that many samples yet but he's just quick really. There's no magic to it. He's been with the team for a long time now in McLaren cars and obviously this is his second year in the new regulation cars as well, so I'm just picking up bits here and there. I think generally we've been driving in quite a similar way, which is encouraging. He's just quick and I think he's proven more than enough times that he's more than capable of being on the F1 grid.
TC: Do you find it inspiring that your engineer, Tom Stallard, is a former Olympian?
OP: It's obviously quite a unique background into F1. He knows the dedication that you put into a sport and I've spoken to him about some of his old rowing stories of the sacrifices and dedication he had to put in. Rowing in particular, it's quite a short sport. The timeframes that they run for are not particularly long, but it's a massive power sport. The amount of food that you have to eat was quite mind blowing. It's different aspects but the same effort and same dedication of putting your life's energy into a job, which is a sport that you love, and craving success. I think in some ways it's great to have that and we've been working together very well as a driver and engineer as well, which is the most important part.
TC: Final one. If we were to hook up again in Abu Dhabi, what would have been a good first season for you?
OP: Just to learn and soak up as much as I can. Compared to the previous racing I've done, experience is a much different factor. In the racing I've done before, being in your second season was considered very experienced and third was almost unheard of. Lando is only a year or two older than me and is in his fifth year already, so I think having that experience and building up that bank of knowledge is super important.
Results can fluctuate a lot so putting a specific number or target on results is always difficult because it's always changing so much. Obviously, as a team, we've got our targets of where we want to be, which ultimately will feed into what my own targets are. To learn as much as I can and get back up to speed, because I haven't raced for a while, is the most important thing. Just putting the right processes in and starting everything in the right way, not building in any bad habits or anything like that. Ultimately, I want to get to a stage where if we can finish 10th and get a point, I want to say, "okay, I can go and do that," or if we're capable of winning the race, I want to say, "I feel capable of winning the race and I've done everything I can to achieve that." Building all those foundations first is what will lead to that point.
To read on, sign up to F1 Unlocked for free
You'll unlock this article and get access to:
Live leaderboard data
Epic experiences and rewards
Money-can't-buy competitions