Podcast F1 Unlocked
FULL TRANSCRIPT: Read every word from Yuki Tsunoda's engaging Beyond the Grid interview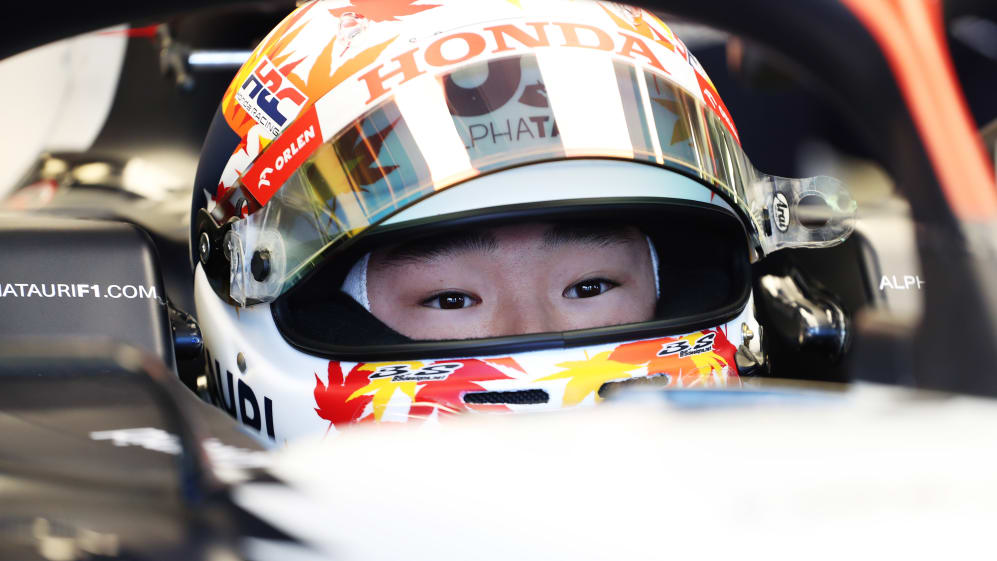 Yuki Tsunoda is the latest guest on Formula 1's Beyond the Grid podcast, as the Japanese driver joins host Tom Clarkson to discuss AlphaTauri's start to the season, learning from Fernando Alonso, his relationship with Pierre Gasly and Nyck De Vries and much more...
Read every word from the interview below or listen to the episode in the audio player below, or head here to catch it on your preferred platform.
Tom Clarkson: Yuki, it's great to have you on the show again. Thank you for your time. How are you?
Yuki Tsunoda: Really, really good. I really like Melbourne, so I'm always excited to come here.
TC: How would you sum up progress in 2023 so far?
YT: I want to score points. I'm pretty happy with the performance so far this year. In Saudi Arabia, I just lost P10 in the last four laps, which I was defending for more than 15 laps. It's such a difficult track so that was really frustrating. But at the same time, I'm pretty happy with my performance. I think I gave it everything, which is the most important thing to show my performance and to progress. It's mixed feelings but obviously we needed points.
TC: Kevin Magnussen spoke very highly after the race in Saudi Arabia, saying how good your race craft was and the positioning of your car and how difficult it was to overtake you. What does it mean when a rival says something like that about you?
YT: Obviously really happy to hear that and really honoured to hear from Kevin as well. I enjoyed the battle with Kevin. I can tell from the back mirror how he tried to make the plan to overtake me. In Saudi Arabia, last corner, there's a DRS detection point just after the last corner. You don't want to overtake the last corner because the car behind will get DRS and you just get overtaken again.
But actually, I think our car was having good acceleration from last corners. I tried to maximize the performance as much as possible to make the gap and to not let him overtake as much as possible. It was working well, and I don't want to do exactly the same defence two times in a row because Kevin is a hard attacker - aggressive and very good at overtaking. He can adapt quickly so it was really difficult, and I gave my all to defend as much as possible.
I still remember each moment that he tried to overtake me while I was defending. It was good learning. I was simulating after the race how I can defend better next time. I found a couple of new tools that I can defend. Hopefully I don't have to use those with Kevin again.
TC: Where do you learn that race craft, are you still learning it?
YT: Of course, I'm learning it. My strength comes from karting. I really like to battle and I don't lose much when battle happens. I also learn a lot from other drivers, especially after I stepped up to Formula 1, especially from Fernando Alonso. In Hungary 2021, when Lewis tried to overtake me, obviously I tried everything I can to defend as much as possible, but he passed me after four laps. After Lewis passed me, Fernando was defending from Lewis, and I learned a lot from it.
Car positioning and where he was trying to gain from Lewis before he got overtaken. Lewis was in dirty air and the last corner of Hungary, it's really difficult to be as close as possible because it's a medium speed corner, so it wasn't easy for Lewis as well. I think Fernando knew that and tried to maximize the last corner's performance and he gained as much as possible before the main straight. So, I learned lots of things from him and there was another situation at the Turkey Grand Prix, where I had to defend from Lewis. I tried to copy Fernando as much as possible and I was able to defend from him for eight laps that time.
TC: And Lewis talked about that after the race as well. He said he had a great battle with you.
YT: Oh really? I didn't know that. I'm happy to hear that, especially from Lewis.
BEYOND THE GRID: Yuki Tsunoda on AlphaTauri, idolising Fernando Alonso, his relationship with Pierre Gasly and much more
TC: If we talk about who you respect on the grid the most, have you just mentioned the two names? Is it Lewis and Fernando?
YT: Well, I respect the other drivers obviously, but I'm a fan of Fernando because my dad loves Fernando. When I went to the Suzuka Grand Prix when I was 12, my dad was saying that Fernando's driving out of the last corner was consistently close to the white line and he was nailing every lap. Since then, I watched Fernando, and I still can't believe I'm racing with him. It's just incredible. I didn't expect at that point that I'd be racing with him in 13 years.
TC: Is he friendly in the drivers' briefing?
YT: Yeah definitely. He's really friendly and he's a really nice guy. I wanted to do a helmet swap since I became a Formula 1 driver, but I was too nervous to ask him to swap the helmets. One point, maybe last year, he actually said 'Yuki, let's do a helmet swap!' Literally my brain blows up and I tried not to show my happiness fully in front of him. It feels a bit embarrassing, but yeah, in my heart I was just really happy and after that day I just called straight away to dad. And I still can't believe I'm racing with him, just incredible.
TC: Given everything you've just said, the battle I want to see now is you defending from Fernando?
YT: I think our car is a little bit far away to defend so far…
TC: Let's talk about the car. Is it more competitive than the results have shown so far this year?
YT: In my opinion, I think we've maximised the positions and I think we've also had a bit of luck on top. Charles had a DNF in Bahrain, a couple of drivers were having issues in front of me, and, in Saudi, Lance had a car failure, so I gained a position automatically. I also got lucky from the Safety Car. When the Safety Car happened, until then I hadn't pitted and most of the drivers in front of me pitted a lap before the Safety Car. So, I didn't lose position when I pitted and I ended up re-joining the track in P8 or something like that. I wouldn't say the car had more performance or potential than the position I ended up in the last two races. I'm pretty satisfied for the result and I think we should be happy with it. But at the same time, we know we have to develop more to be in the points without any luck.
TC: What are the shortcomings? What do you need more of?
YT: We just need more grip, so more downforce. Increasing downforce without sacrificing any drag. We're one of the worst for straight line speed. Compared to Williams, we're 12kph slower consistently without DRS open. When I was behind Alex [Albon] in Bahrain, it was almost the same speed but I was using DRS and he wasn't so I really struggled to overtake him. We definitely need to reduce the drag. I want to have at least 3 or 4kph faster than now and, at the same time, more downforce. That's the difficult bit. It's easy to increase the downforce, but there's always some consequences.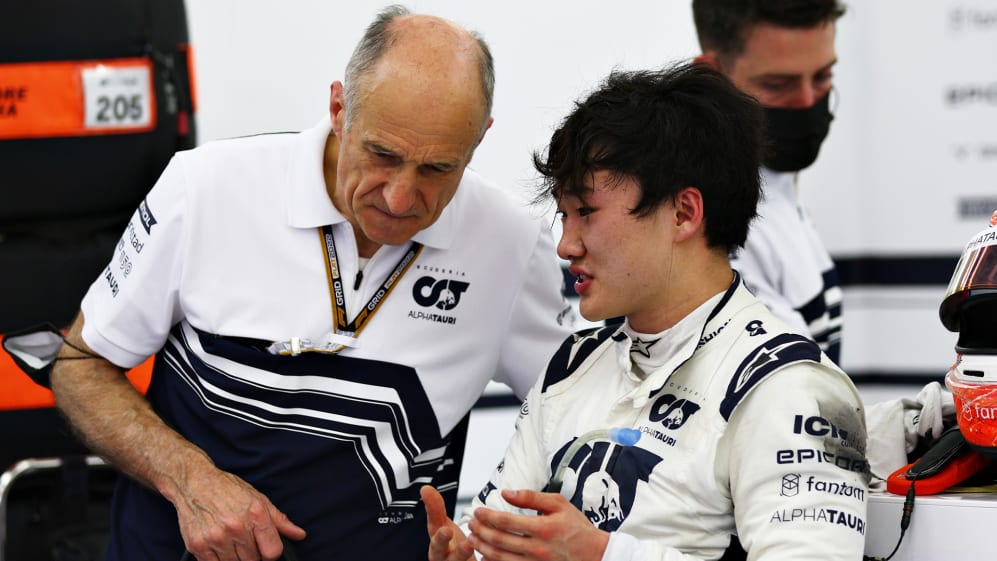 TC: What is the vibe in the team this year? How is it different to last year?
YT: I would say I like the vibe more now. Each year's a little different. For example, in 2021, we had a good car, and everyone was always positive, talking about how we're going to score points. But this year is a little bit different. I think we all have to admit that we are under pressure because last year we didn't perform as we wanted, including me as well. I think we have a bit of extra pressure to achieve a better performance than last year. We're all in the same direction and on the same page, we're aiming for the same things. I feel we're working more as one than the last two years. We're struggling now but we're always being positive and trying to extract performance from the car as much as possible. I'm enjoying how we can develop the car so it's good.
TC: Talking of pressure, let's talk about your Team Principal now, Franz Tost, because in Saudi he came out with a comment saying that he no longer trusts the engineers at the team because they said they were going to deliver me a good car and we don't have a good car. What does that do to a team when the boss comes out saying something like that? And is he as hard on the drivers as he is with his engineers?
YT: Well, if I performed really bad or I did a stupid thing, like crashing into a team mate at Silverstone last year, he won't be happy about it. But at the same time, he always says the points that I have to improve next time. He's always not being too hard. He's always on the side of the driver, which I really appreciate. That's why I'm able to develop as a driver this much, because if I was feeling too much pressure from him, I don't think I would be able to improve as much because I think he's always supportive. I always enjoy having conversations with him about racing as well. The things that he said about not trusting the engineers, he didn't mean to say. He's just really direct. I think he still definitely trusts the engineers. He just wasn't expecting it to be this bad, which has definitely given him a bit more frustration than usual. I can tell that he still trusts the team.
TC: What did he say after Silverstone last year?
YT: He didn't punch me of course! The voice was definitely higher than usual. First of all, when I was in the engineer room, he said: "Yuki, come to my office. Why did you do such a stupid thing?" Unfortunately, on the way back to Italy, we were on the same flight and we were sitting next to each other. And on the way to the airport from Silverstone, we were in the same car. It was a long, long journey and that was definitely something I want to forget. But they are things I have to remember for the future to improve myself.
TC: He's come out recently and said he's not going to be Team Principal of AlphaTauri by the time he's 70. He's 67 now. How much do you think the team would miss him?
YT: I will definitely miss him. We share a lot of moments together. We're always on the same page. He has a lot of leadership. I will miss him, especially feeling the support he gives me so, if I lose him, maybe I won't feel as comfortable or excited in the team compared to usual.
TC: And when he goes, I wonder who Red Bull will put in charge of AlphaTauri. I've always thought that Sebastian Vettel would be a brilliant Team Principal. I wonder what it would take to get him back…
YT: That would be really interesting to see how Sebastian would be as a Team Manager. He can be anything. For example, what Helmut Marko is doing now with Red Bull juniors. I think Sebastian would also be very good at taking care of Red Bull juniors because he's one of the most successful drivers in Formula 1. I can tell from all the race briefings from last year before qualifying, he always said the points where we have to improve in terms of track, the curb or something like that. He was the first guy to raise his hands so I think Sebastian can be that guy.
F1 NATION: Red Bull's dominance, Williams' improvement, McLaren's changes – it's our Spring Break wrap
TC: Let's talk about radio communications. Are you less emotional over the airwaves now than you were?
YT: A little bit, yes, compared to the first year. Sometimes I just shout without pressing the radio button. There's no point shouting at the engineers, they just want to hear my feedback. In terms of feedback, I give to the team about the car or the situation, I've definitely improved a lot compared to the first year because I know what's going on around the cars much more than first year. The first year is just really difficult to say I'm driving on the limit or what switches I need to use. But now I know what's going on fully to the car, the situation or strategy. Radio conversation is one of the biggest things I've improved a lot from my first year.
TC: You've got a new trainer in Michael Italiano. Are you fitter than you've ever been?
YT: Definitely. I think I've developed my physical fitness every year, which is a good thing. Unfortunately, with Noel [Carroll], we couldn't work this year because of his personal reasons. We're still good friends and I think with Michael, we get along well. The first time we properly met was at a Dubai training camp in January. We spent two weeks together without having much conversation before. But we get along well from the first day. In the two weeks, I didn't have much muscle soreness, which is a good thing. I'm in good shape. Even though I did lots of work and strength sessions, I was feeling fresh the day after.
The one particular place I did have muscle soreness was my abs because we were laughing so much. Every day of the training camp, I had muscle soreness in my abs. It was really funny, and it tells me that I'm feeling comfortable straight away with him, which is really good and I'm really, really happy working with him. I want to concentrate on my physical fitness, but I want to be friends with my trainer, rather than just having a business relationship. For me it helps with my mentality in race week. I want to be able to have a conversation straight away with my trainer about what I'm feeling. I just really want to be open with my trainer.
TC: Do you see much of him between the races?
YT: When I go to London, we always try to catch up as much as possible and train as well as. Until then, I didn't have much interest in London. I like London, but not as much as now. Michael took me around London to a lot of places I never went. He took me VR gaming and it was really impressive in London. We did it with his family so I was able to meet his family as well, which was really nice. Me and Michael love clothes as well so we went to vintage clothes shops in London. We went to Brick Lane market. It's a beautiful place, there's a vintage shop underground. It was really amazing. On the ground floor, there's a street food market. You can taste a lot of cuisines there, I just felt like I was in heaven. I tried from side to side, it was really, really nice. My favourite was the Asian food, Bao. It was super good, really impressive and I felt super full.
TC: How famous are you now?
YT: When I walk around London or in Europe, the amount of people who ask me for photos has increased year by year. I'm not going to lie, I enjoy being famous because sometimes I can use a little naughty strategy for a restaurant for example…
TC: "Do you know who I am?"
YT: No not like that way! Being more famous, I can have more relationships with more people I want to. It's slightly easier to reach to them. I don't like to say, 'I'm a Formula 1 driver so can you please book it for me?' I never introduce myself as a Formula 1 driver, even at passport check for example. I say I'm a motorsports driver or, sometimes, traveller.
TC: How was Suzuka from a fame point of view?
YT: Suzuka Grand Prix was really crazy. We were filming the Netflix cameras and we saw there was no people in the grandstand, so we went there and filmed. After three minutes, there was more than 100 people watching us filming. I didn't expect that much attention, but I was really happy to see it as a Japanese Formula 1 driver.
TC: You have a new team mate this year, Nyck De Vries. How are you guys getting along together?
YT: It's good with Nyck. We were already friends before being together in a team. We are already friends from maybe three years ago. First time we met was on a flight to Monaco. I knew Nyck since karting. I'd seen from magazines that Nyck was winning a lot of championships, so I knew about him. But I never reached him, and the first time was from him, when I got pole position in Formula 2. He posted on Instagram and said congratulations. I didn't expect that and since then, I saw more about Nyck, and we talk a bit on Instagram. We were never able to speak in person until three years ago in Monaco.
TC: Let's talk about Nyck the racing driver. When you look at his data, what impresses you?
YT: At street circuits, he's always nailed getting very close to the wall, which I think he's got from Formula E. I'm also impressed with the feedback he gives the team. He's really specific in giving us a lot of information about the car. I learned a lot from him and I'm still learning from him.
TC: And how different is your relationship with Nyck to the one that you had with Pierre Gasly?
YT: It's definitely different. Pierre was more like a brother, just really fully open. Maybe sometimes it was too open. I just feel really, really comfortable with Pierre. With Nyck, we still have a good relationship. We joke with each other. I wouldn't say like a brother but he's a really, really good friend. I went with him for lunch, and we explored Melbourne.
TECH TUESDAY: 0.3s per lap and a sign of things to come – AlphaTauri's latest floor upgrades analysed
TC: So, you're still hanging out with Pierre, even though you're not team mates anymore?
YT: Yeah, when we see each other at the track, we say hi. He's living in Milan, so any time I can text him and we can go for food.
TC: It's an interesting relationship, the one between team mates in Formula one. Do you think you can be too comfortable with a team mate? Do you think a little bit of competitive tension is necessary to bring the best out of a racing driver?
YT: As soon as we wear the helmet, we're just rivals. I don't think it's necessary to have tension between us. We're automatically going to be in the zone that teammates are one of the drivers we want to beat most. We're going to have that kind of mindset anyway. It's much easier to just be normal friends rather than 'driver friends'.
TC: The midfield is so close that I'm sure you're going to end up having lots of close battles with Pierre as well…
YT: I think they have a bit of an advantage for now so hopefully we can close that gap. In Bahrain, we had a bit of a fight between us. It was a quite a long battle, which I enjoyed. In Saudi, I got a bit of luck, and I ended up in front of him. At that point, he passed me slightly easier than Bahrain. Hopefully one day, I can pass him. So far, I've been overtaken every time, so at some point I have to overtake him!
TC: Which race this year do you think is going to suit your car the most? Is there one race that you're particularly looking forward to?
YT: Imola. I scored P7 last year and Imola is the home grand prix for Scuderia AlphaTauri, so hopefully I can score points there. We just need a more developed car. We don't have the pace to score points consistently, so hopefully the closest we can come to score points is Imola.
TC: Yuki, best of luck with everything. It's been fantastic to chat to you. Thank you for coming on the podcast again and good luck with everything.
YT: Thank you very much. See you at the press conference!
To read on, sign up to F1 Unlocked for free
You'll unlock this article and get access to:
Live leaderboard data
Epic experiences and rewards
Money-can't-buy competitions