Image Gallery
GALLERY: Unusual test and launch liveries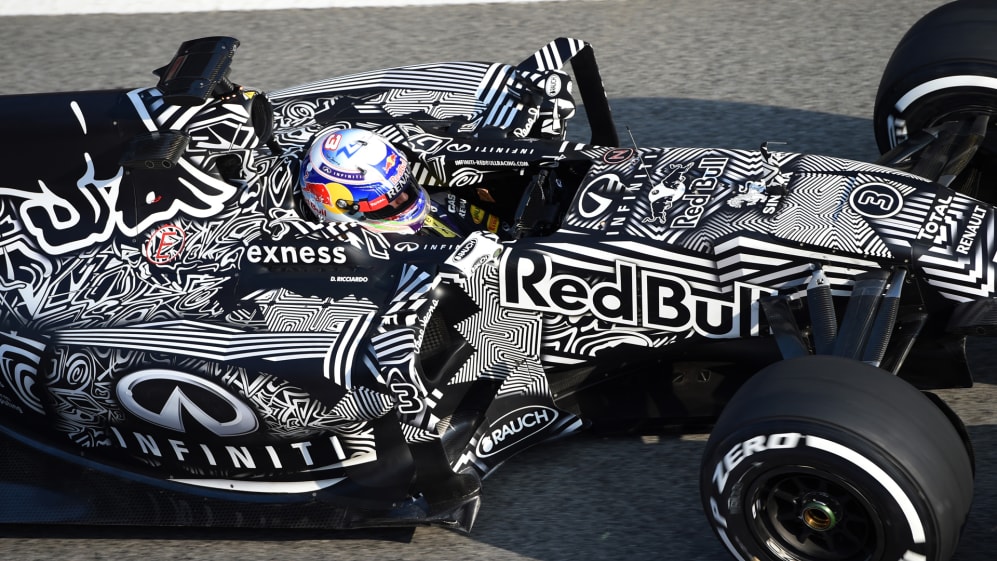 For the second time in four years, Red Bull have chosen to debut their new F1 car in a 'special edition' colour scheme, continuing a long tradition of one-off and interim liveries. We take a look back at some of the best in recent years...
McLaren go back to their roots, 1997
Orange is a familiar colour for McLaren these days, but back in 1997 it was a shock to see the team decked out in the bright hue, which had originally adorned their cars in the late Sixties and early Seventies. This scheme was used in pre-season testing before the team adopted their long-lasting silver paint job - a look that would become equally as iconic.
BAR's sponsor-free debut, 1999
Driven by Jacques Villeneuve, BAR's first ever car - the aptly named BAR 01 - appeared in pre-season testing in 1999 with this sponsor-free blue, black and silver livery. However, at the first race in Melbourne the colour scheme had been completely revised.
Williams' 'go faster' stripes, 1999
Williams have run interim liveries several times in testing, most recently last season when they used a navy blue car throughout pre-season. But this stripy effort, which was run at Spielberg in 1999 during a test with incoming engine partner BMW, was arguably the best of the lot. For those wondering, ace touring car racer Jorg Muller is the man in the cockpit.
Renault's nod to the past, 2002
Renault's pale blue and yellow colour scheme became one of the most iconic on the grid in the 2000s, thanks largely to the man behind the wheel in this picture - Fernando Alonso. But before that came this rather simple test livery from 2002 which featured just a splash of the famous yellow hue raced by Renault in the late Seventies and early Eighties.
Red Bull take inspiration from drinks can, 2004
When Red Bull began testing in late 2004, having completed a takeover of Jaguar Racing, they did so with a car livery that took direct inspiration from one of the drinks giants' iconic cans. However, by the time David Coulthard (pictured) and Christian Klien lined up on the grid in Australia the following year, the team had adopted the predominantly dark blue colour scheme that's still used today.
Honda keep it simple, 2007
Honda weren't the first team to adopt an all-black livery in testing, but this early 2007 effort makes our list simply for the contrast that was provided by the colourful (and some would say garish) 'earth livery' that replaced it. Maybe they should have stuck with the black…
Spyker's eye-popping orange number, 2007
Having acquired Midland, new owners Spyker were keen to make a splash in testing, and swiftly adopted a bright orange colour scheme in deference to their Dutch roots. Ultimately the team decided to change to a different shade of the colour after finding that the original hue was so bright that it often appeared red in photos and on TV.
Force India debut in burgundy, 2008
Following Vijay Mallya's acquisition of Spyker ahead of the 2008 season, Force India tested with this rather smart burgundy, white and gold livery. However, the colour scheme didn't last long - by the beginning of the season the sidepods were adorned with an orange/red hue.
Red Bull unleash the 'CamoBull', 2015
In recent years we've become accustomed to sportscar manufacturers running with 'dazzle camouflage' liveries during early development, but Red Bull are the first F1 team to adopt the same approach. The complex black and white colour scheme, which apes the look used by allied naval ships during the first and second world wars, makes it extremely difficult to see certain details on the car, though you can be sure that Red Bull's rivals will be doing their best to see through the disguise!
Black 'n' blue Bull, 2018
After the dazzle camo of 2015, Red Bull chose to launch their 2018 car in a special 'digital camo' look. However, the special edition scheme isn't expected to stay on the car for as long as the previous one-off livery did - following a shakedown run at Silverstone the team say they'll unveil a 'race ready' paint job for the RB14 at pre-season testing in Barcelona!