Gasly penalty promotes Perez into points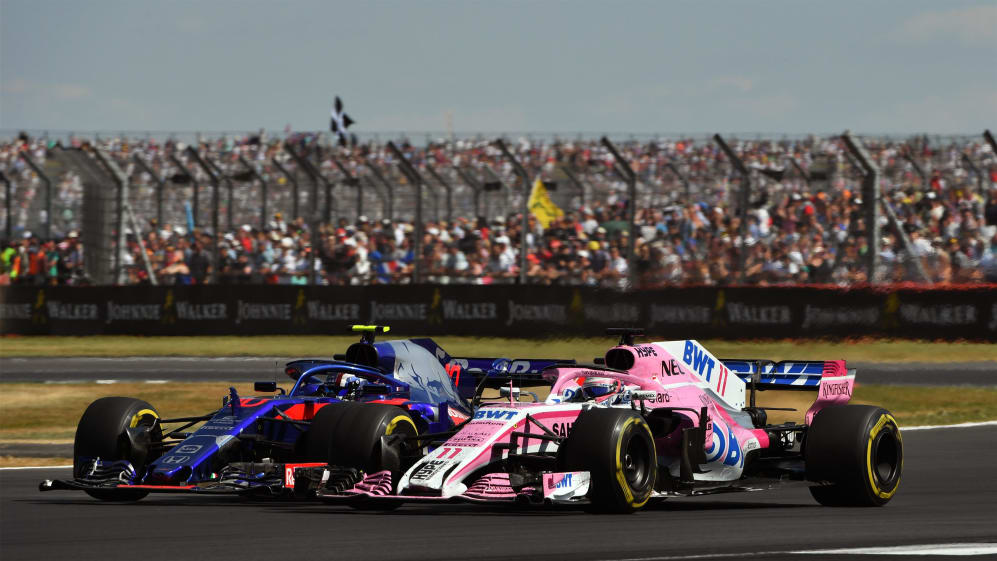 Pierre Gasly thought he'd snatched the final point in Sunday's British Grand Prix with a dramatic late pass on Sergio Perez's Force India. But after reviewing the strong-armed way in which the Frenchman completed the overtake, the race stewards at Silverstone decided to hand the Toro Rosso driver a five-second time penalty – a decision that drops Gasly from 10th to 13th and means Force India end their home race with both cars in the points.
The incident in question occurred at Turn 17 on the penultimate lap as Gasly attempted a move up the inside. The pair touched and Perez's car lost some bodywork, before the Toro Rosso nosed ahead through the final corner.
Having reviewed video evidence and spoken to both drivers, the stewards determined that Gasly's manoeuvres had been 'generally reasonable' and that he was attempting a 'good racing pass'. However, they also said Perez had left him plenty of space and that the Mexican had been compromised and forced off track when Gasly touch the kerb and ran into the pink car.
For Perez, the incident - which also earned Galsy two points on his license - capped an eventful race in which he spun around violently at the start and dropped to the rear of the field.
"I cannot be totally happy about today's race," he said. "The incident at the start compromised my race: I lost the rear end trying to avoid the incidents ahead, spun and suddenly I was at the back of the field. After that, our race was pretty strong. We had good pace and overtook a lot of cars. We made the most of the various safety cars and made it back into the points.
"With two laps to go, Gasly pushed me off track. I gave him enough space but that was not enough: we still made contact and I lost the place. I believe it was an unfair move. I'm pleased that the FIA took action after the race to penalise Gasly, which gave me back the final point."
With team mate Esteban Ocon taking P7, Perez now trails the Frenchman by a single point in the drivers' standings, with the duo 11th and 12th.