Gasly says battle with Hamilton on Day 3 of Bahrain testing shows 2022 cars are 'clearly' more raceable
Pierre Gasly and Lewis Hamilton briefly quenched our thirst for wheel-to-wheel action when they duelled on the final morning of pre-season testing – and the AlphaTauri driver's first verdict of the 2022 cars' raceability was wholly positive.
The AlphaTauri and Mercedes drivers went head-to-head towards the end of the final morning in Bahrain, bucking and weaving in a spirited bout that gave us a proper look at how the new-for-2022 cars respond in close quarters. And Gasly said that the experience boded well for the season – which begins next week at this very venue.
READ MORE: Red Bull's Perez fastest on the final morning of Bahrain pre-season testing
"Well, I was quite surprised to be fighting with Lewis for a couple of laps," said Gasly with a chuckle, "but it was entertaining. It was interesting also to follow and just to get some data and feeling following other cars. So I think it's clearly better than last year, which makes me quite optimistic in terms of racing for the season.
"It was better, clearly. We kind of overtook each other a couple of times, stayed close to each other – and it was definitely an improvement, so I think racing should be quite fun this year," he added.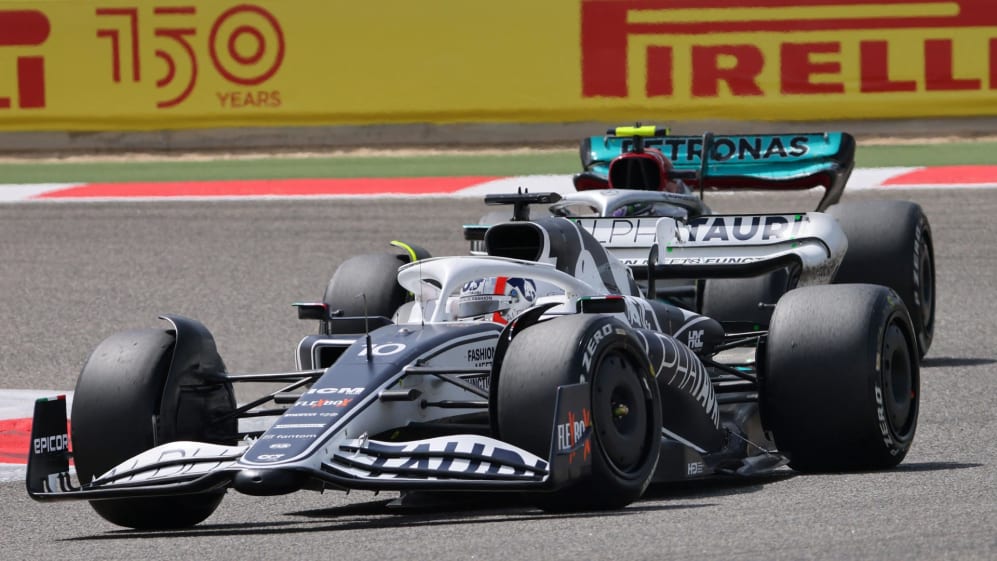 That wasn't Gasly's only conclusion from his on-track scrap, the 2020 Italian Grand Prix winner having also caught a glimpse of Hamilton's Mercedes at work.
"I mean, we know on our side we have quite a lot of work to do to improve the performance, to improve the car balance. But clearly I could see Lewis was struggling as well and I think they do have some work to be fighting at the top.
"I think the conclusion is that Mercedes probably don't look as good as they were in the past.
ANALYSIS: A first look at Mercedes' astonishing new update for the Official Pre-Season Test
"But it's only testing, it's part of the test, and exploring how to get the best out of the car. But yes, in terms of racing it was clearly an interesting few laps, quite fun battles, and I think it should make all the races quite exciting for you guys this season."
The Frenchman clocked up an impressive 91 laps in the morning, before handing duties to team mate Yuki Tsunoda for the afternoon running.
F1 TV Pro subscribers can watch Bahrain pre-season testing live and on demand, access exclusive live timing, as well as Tech Talk debriefs. Subscribe now and save 20% on your Annual F1 TV Pro subscription. Offer Valid in selected territories on web and apps until March 13. T&Cs apply
Coverage of the Official Pre-Season Test is also available live in selected territories via your F1 broadcaster.