Report
Gasly beats Sainz to maiden win in Monza thriller, as Hamilton recovers to P7 after penalty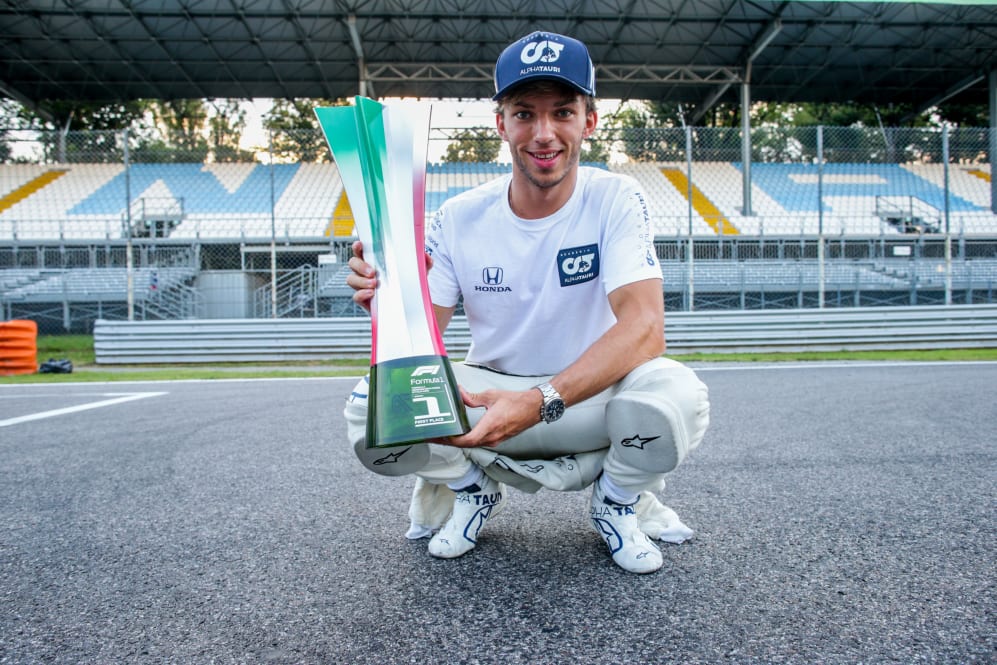 An incredible 2020 Italian Grand Prix saw AlphaTauri's Pierre Gasly claim a maiden Formula 1 win from the McLaren of Carlos Sainz and the Racing Point of Lance Stroll, as a transgression under the Safety Car saw polesitter Mercedes' Lewis Hamilton forced to serve a 10-second stop/go penalty, leaving him seventh at the flag.
The race was turned on its head by a Safety Car brought out as Kevin Magnussen's stricken Haas had to be recovered. But with Hamilton diving into the pit lane when it was closed (as did Alfa Romeo's Antonio Giovinazzi), he was handed his penalty – which he served after the race was restarted on Lap 28 of 53, following a 25-minute red flag period after Charles Leclerc crashed heavily at the Parabolica.
WATCH: Italian GP red-flagged as Leclerc walks away from huge crash
That left Gasly at the head of the field, after he'd pitted before the Safety Car was brought out, with the Frenchman holding on brilliantly to take a sensational maiden win in Formula 1 at AlphaTauri's home race, as McLaren's Carlos Sainz finished second, with Racing Point's Lance Stroll completing the podium.
Lando Norris was fourth for McLaren, holding off the leading Mercedes of Valtteri Bottas in P5, after the Finn had suffered a poor start that left him sixth at the end of Lap 1. Ricciardo took sixth ahead of Hamilton, who recovered well from his penalty to take P7, with the Renault of Esteban Ocon, the second AlphaTauri of Daniil Kvyat and the Racing Point of Sergio Perez rounding out the top 10.
Both Ferraris retired from their home race, meanwhile, Leclerc with his off at the Parabolica, while Sebastian Vettel suffered a brake failure on Lap 6, while Max Verstappen also retired on Lap 31 – meaning it's the first time in the turbo-hybrid era that a Mercedes, Red Bull and Ferrari hasn't finished on the podium.
FORMULA 1 GRAN PREMIO HEINEKEN D'ITALIA 2020
Italy
2020
Race results
POSITION
TIME
POINTS

1

Pierre

Gasly GAS

AlphaTauri

1:47:06.056

25

2

Carlos

Sainz SAI

McLaren

+0.415s

18

3

Lance

Stroll STR

Racing Point

+3.358s

15

4

Lando

Norris NOR

McLaren

+6.000s

12

5

Valtteri

Bottas BOT

Mercedes

+7.108s

10

6

Daniel

Ricciardo RIC

Renault

+8.391s

8

7

Lewis

Hamilton HAM

Mercedes

+17.245s

7

8

Esteban

Ocon OCO

Renault

+18.691s

4

9

Daniil

Kvyat KVY

AlphaTauri

+22.208s

2

10

Sergio

Perez PER

Racing Point

+23.224s

1
AS IT HAPPENED
Starting P2, Valtteri Bottas' race began disastrously, with Hamilton making a perfect getaway from pole, while Carlos Sainz's launch was outstanding as he easily passed Bottas to claim second into Turn 1. Behind, Sainz's team mate Lando Norris was even more impressive, snaking through the pack from sixth on the grid to run side by side with Bottas through the first chicane.
He ultimately had to cede to the Finn, but took the outside line into the second chicane and sensationally claimed P3 from the Mercedes, with Sergio Perez nearly nipping through as well.
Now fourth, Bottas' fortunes would get worse in the next few corners, Perez getting Bottas a few corners down the road at Lesmo 2, while Ricciardo had demoted Bottas to sixth with a lunge down the inside of the entry into Ascari.
AS IT HAPPENED - Formula 1 Gran Premio Heineken d'Italia 2020
Lower down the order, it wasn't a great start for Red Bull, Verstappen dropping two places from fifth on the grid – and even briefly dropping behind Lance Stroll's Racing Point to P8 before re-passing the Canadian – while Alex Albon was tagged by Gasly's AlphaTauri at Turn 1 at the start and missed the corner, dropping him from P9 to P15.
So as the pack settled down, by Lap 5 it was Hamilton from the McLaren duo of Sainz and Norris, then Perez, Bottas and Verstappen in P7. Down at the other end of the field, a hard tyre-shod Sebastian Vettel hadn't gained any positions from his P17 start – while on Lap 6, the Ferrari driver pounded through the polystyrene boards at the escape road at Turn 1, his brakes having failed. Meanwhile, Albon's race took another hit, as he was handed a five-second race penalty for squeezing Romain Grosjean's Haas into Turn 1.
Things weren't improving for Bottas either, who couldn't seem to make progress from sixth, the Finn having to cool his Mercedes and complaining vocally about the engine modes Mercedes had opted to run. "I can't race with these engine settings," he growled over team radio. "It's a joke."
Out in front, by Lap 20, Hamilton had put a 13s gap between himself and Sainz, the Spaniard having built his own cushion of over 4s to Norris, the McLarens looking comfortable as they enjoyed having two cars in the top three for the first time since 2014. That cushion, though, was eroded in one fell swoop when Kevin Magnussen pulled his Haas VF-20 off at the exit of Parabolica on that lap, bringing out the Safety Car.
READ MORE: 'It's a blessing there's nobody in the stands,' says Vettel after nightmare Italian GP for Ferrari
Hamilton immediately, instinctively darted his car into the pits for a change of tyres to mediums, as Sainz stayed out to take the lead, with Giovinazzi following Hamilton into the pits behind. It was a big error from Hamilton and Giovinazzi, who'd both failed to spot that the pit lane had been shut as Magnussen's car was recovered…
Once the pit lane was opened again, Sainz and Norris led the majority of the field in, with Stroll opting to not pit and taking up P2, while having pitted before the Safety Car, Gasly slotted into a promising looking P3, with the Alfa Romeos of Giovinazzi and Raikkonen P4 and P5 and Charles Leclerc sixth, Williams' Nicholas Latifi in seventh, with Sainz, Norris and Bottas rounding out the top 10.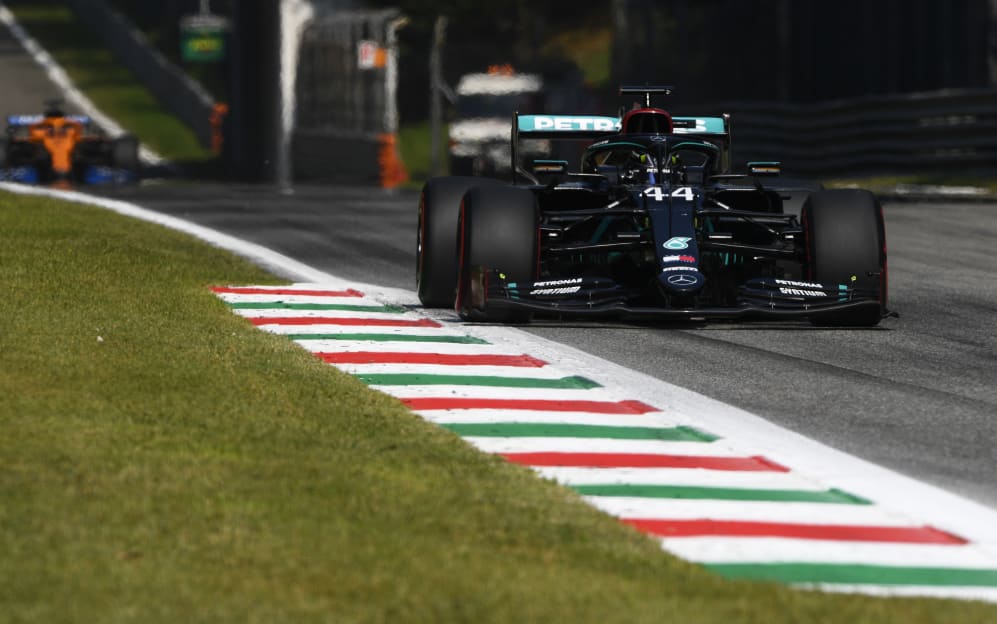 The race was green-flagged again on Lap 24 of 53, Hamilton leading out front after the pit stops, while behind Leclerc quickly moved past the Alfa pair to take P4. He wouldn't complete the lap, however, with the Monegasque suffering a twitch at the Parabolica and counter-steering, before the SF1000 snapped back and ploughed into the outside wall. It was a nasty looking shunt, but mercifully Leclerc emerged unhurt.
There was no option but to red flag the race, and as the drivers pulled into the pits and hopped out of their cars, Hamilton was handed a 10-second stop/go penalty for his pit lane transgression, equating to a net loss of around 30s at Monza – Giovinazzi having received the same punishment earlier – while Stroll's decision not to pit appeared to have paid serious dividends, the Canadian getting effectively a free pit stop under the red flags.
WATCH: Leclerc destroys Ferrari in huge crash at Monza
After a 25-minute stoppage, part two of the race got underway starting from Lap 28, with the top 10 looking like this: Hamilton (with a penalty hanging over him, which he was obliged to serve within three laps), Stroll, Gasly, Raikkonen, Giovinazzi (also with a penalty), Sainz, Norris, Bottas, Latifi, Ricciardo, while Max Verstappen was P11, and Perez down in P14.
From a second standing start of the afternoon, Hamilton got away well from 'pole', while Gasly was lightning from P3, passing a slow-starting Stroll to take second, with Raikkonen and Giovinazzi also moving past the Canadian to demote him to P5 – while having then run on at the Della Roggia chicane, Stroll then swapped positions a number of times with Sainz, before Sainz took over fifth.
Hamilton served his penalty at the end of Lap 28 – duly dropping 30s behind the leaders – and leaving the order as Gasly from Raikkonen, Sainz, Stroll and Norris, with Bottas sixth ahead of Ricciardo. Max Verstappen had dropped down to 14th after an issue at Turn 1 at the restart, but pulled into the pits and out of the race on Lap 31, the Dutchman storming angrily away from his car having suffered a power unit issue.
Sainz was up to P2 by Lap 34, with Raikkonen having had a twitch at Parabolica that left him vulnerable to an attack into Turn 1, which Sainz delivered with a clinical manoeuvre – while Stroll, Norris, Bottas and Ricciardo then followed through on the Finn in quick succession.
WATCH: Max Verstappen retires after Monza restart
With 10 laps to go, Gasly was holding on well at the head of the pack, with a near-3s gap to Sainz, who had a similar advantage to Stroll, who was now up to P3, with Norris holding on from Bottas in fourth – while Hamilton was up to P12, although both Mercedes drivers were having cooling problems on their W11s.
As the laps ticked down, Sainz ground down Gasly's lead, telling his race engineer Tom Stallard: "I want this win." Ultimately, though, he couldn't get close enough to make it happen, crossing the line 0.415s adrift of the Frenchman, as a stunned Gasly secured a quite phenomenal first win, 13 months on from being dropped by Red Bull. It was also France's first win since 1996, while it was effectively the AlphaTauri squad's second Monza win, after Vettel triumphed for Toro Rosso back in 2008.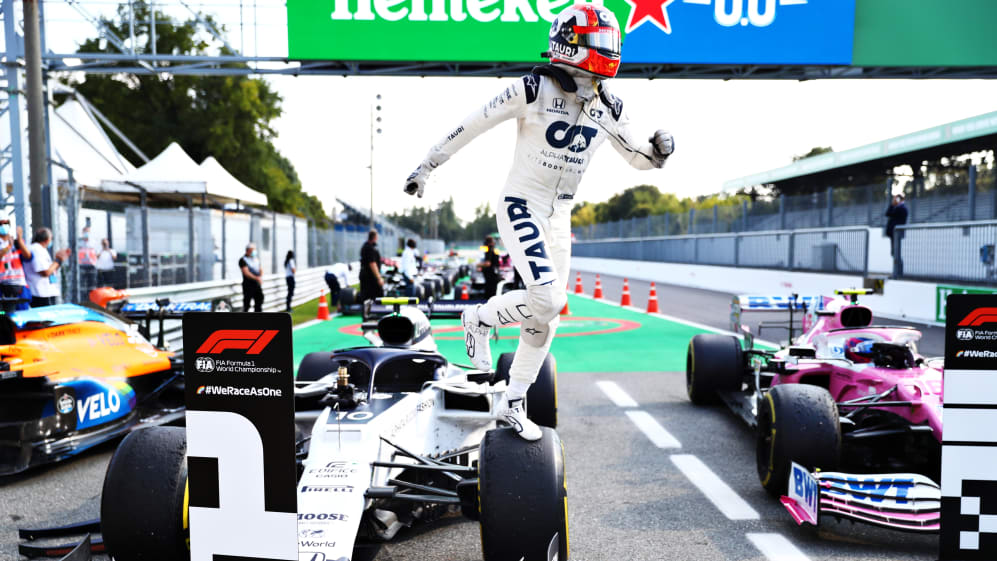 Lance Stroll was probably left thinking that a win might have escaped his grasp on race day, but couldn't be too disappointed with his second career podium, as he came home third. The real shock was how Bottas had been unable to recover higher than fifth, with Lando Norris able to easily hold him off to take P4 and cap a fantastic result for McLaren.
Behind Bottas, on a day where the order was a topsy-turvy as this, Ricciardo will have been disappointed not to have been in the mix for the podium places, as he drove a steady race to sixth, ahead of Hamilton, who'd done well to make it up to seventh by the flag after his penalty. However, on a day when victory had been seen as a near-certainty for Mercedes, it had been a humbling race for the Silver Arrows...
DRIVER OF THE DAY: Gasly adds fan honours to Monza triumph
Ocon, Kvyat and Perez rounded out the top 10, while it was a shame that, on the Williams family's last ever weekend in F1, Nicholas Latifi finished just outside the points in P11 – while Albon in the sole Red Bull could do no better than 15th of 16 runners left at the flag, having suffered heavy floor damage early in the race. He finished ahead of only Giovinazzi, while having been P3 at the race restart, Raikkonen fell as far as 13th by the end of the race.
So, not great for Mercedes, not great for Red Bull and truly awful for Ferrari. But as the Italian national anthem rang out over the sobbing AlphaTauri mechanics; as Carlos Sainz, a future Ferrari driver, took an incredible career-best second place; and as a disbelieving Pierre Gasly sat on his own on the podium, swigging champagne and reflecting on a maiden F1 victory at the end of a tumultuous 18 months, there was no doubt that race day in Italy had witnessed something very special indeed in the history of this sport.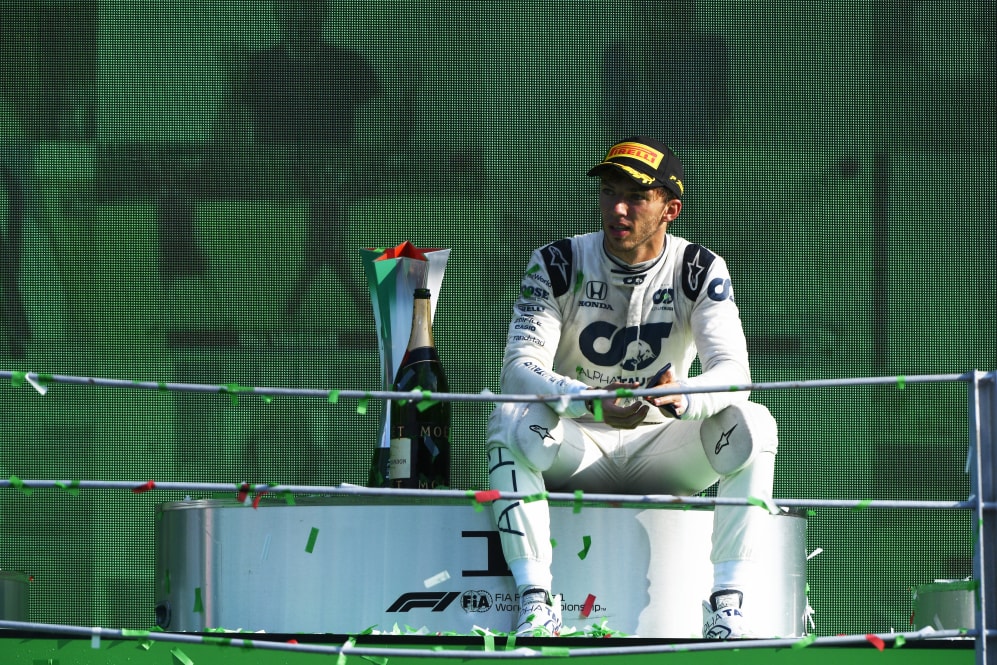 The key quote
"Honestly, it's unbelievable. I'm not realising what's happening right now. It was such a crazy race, and then we capitalised on the red flag.
"I've been through so much in the space of 18 months, my first podium last year, I was already like 'wow' with AlphaTauri. And now my first win in Formula 1 in Monza, I struggle to realise… I have got no words.
"This team have done so much for me, they gave me my first opportunity in F1, they gave me my first podium, now they are giving me my first win. It's crazy, honestly it's so crazy and I am so happy I can't thank them enough… It's just an amazing day" – Pierre Gasly, AlphaTauri
What's next?
From Italy, we now head to… Italy. Yes, Formula 1 arrives at a new track for the championship in the form of the Ferrari-owned Mugello, for the inaugural Tuscan Grand Prix. It will be Ferrari's 1,000th World Championship Grand Prix – so we wait to see what the team pull out at this gem of a circuit nestled in the beautiful Italian countryside, to follow up what's sure to go down as one of the all-time classic F1 races.