Gasly's German GP practice crash 'annoying' says Red Bull boss Horner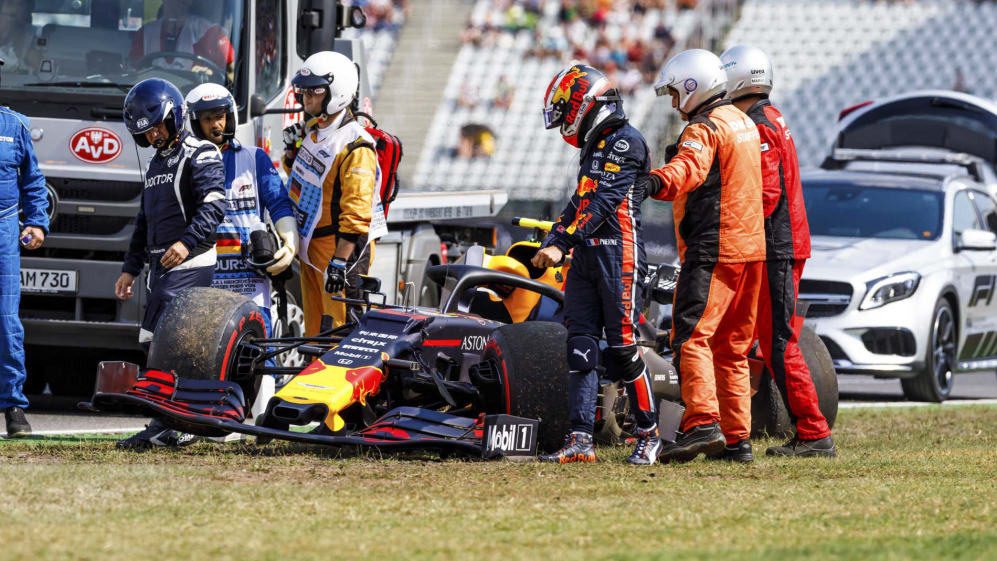 Two weeks ago in Britain, Pierre Gasly said he felt more comfortable in his Red Bull after equalling his best-ever F1 finish at Silverstone with fourth. But that momentum came to a shuddering halt when the Frenchman crashed heavily during second practice for the German Grand Prix.
Gasly's opening session was hampered by vibrations in the car. Then in FP2, he struggled to find a rhythm and was well off the pace set by his Red Bull team mate Max Verstappen when he lost the rear end coming into the final corner and speared into the barriers, suffering an impact of around 10G that required the medical car to be called out and the session to be red-flagged.
"It was quite a big hit but in the end," said Gasly once he'd recovered from the crash. "The car is damaged. I just came in the last corner in the long run, going on throttle and lost the rear.
"It was a shame to miss a couple more laps in the long run and also to damage the car so, for the mechanics not ideal because they've got quite a lot of work tonight. Sorry for them, but otherwise we managed to do more or less all the test plan we wanted.
"I guess these things happen. Now I'm just focusing on Saturday, tomorrow, and thinking of qualifying."
Fortunately for Red Bull, Gasly was not running his race power unit and there is plenty of time to rebuild the car ahead of final practice on Saturday morning. However, his mechanics will not be excited by that prospect considering the heat, while the pressure on Gasly's shoulders, having been comfortably outpaced by Verstappen all season, will likely increase. It's no wonder Team Principal Christian Horner described the incident as "annoying".
I don't think it's really painful for the team
Horner added: "It's early days, we need to get the chassis back and have a proper look. It was about a 10G impact, it has done a bit of damage. Thankfully it's not the race engine but it is frustrating to lose a car at that point of the session.
"Unfortunately, it's off the back of a good result at Silverstone. It is not the start of the weekend you want to have. It is only free practice, we will get the car rebuilt tonight and build on that for tomorrow. It's an annoying accident, but it is what it is. We can't change it now, we have just got to get on with it."
Verstappen had a smoother session, but admitted a mistake on his low-fuel run meant his fifth-placed time was not representative. "It's warm in the car, you're sweating a lot," he said. "The session was alright. The day could have been a bit better, we had a few little things to get on top of.
"Also on the fast tyre, I had to abort my lap. I then did extra laps on that tyre, which you never really want to do, so the peak of grip was gone, but overall we are okay. We are a bit behind Mercedes and Ferrari but it is a bit better than it looks right now."
When asked how much Gasly's crash would compromise the team's programme, Verstappen replied: "I don't think it's really painful for the team."