German GP crash 'hard to swallow' says Hulkenberg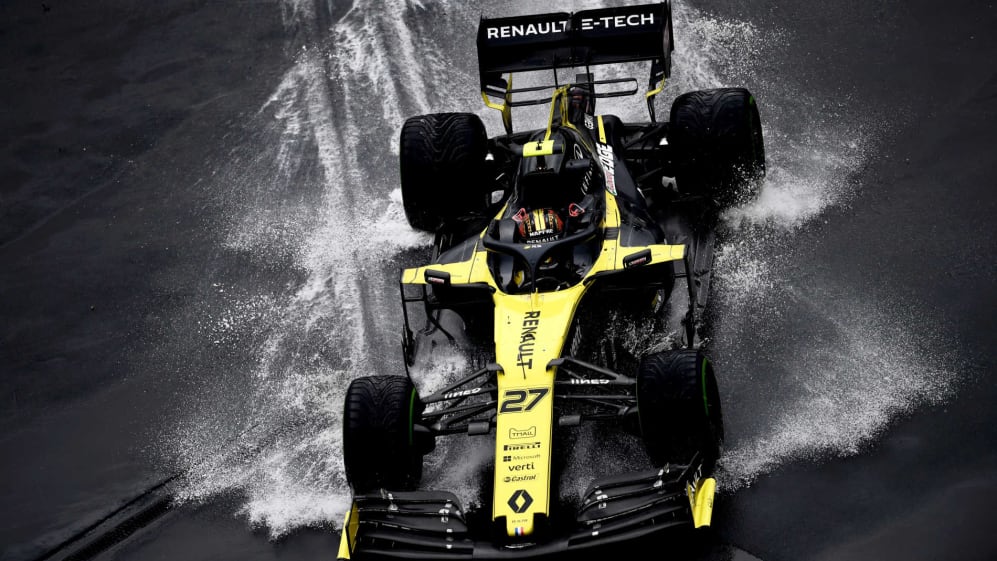 When Nico Hulkenberg moved into second place at Hockenheim, there must have been a part of him that thought he was finally going to end his wait for a podium, which before the weekend stood at 168 races. Even when he dropped out of contention, he was running a strong fourth. But then he got it all wrong at the penultimate turn and ended up in the barriers…
"I don't know what to say," said Hulkenberg, who retired for the second time this season. "It was a fantastic effort, fantastic race up until that point, for the team, for myself."
Hulkenberg had made strong progress through the field and judged the conditions well to change tyres at the right time, and that put him second at one stage, but was passed by Valtteri Bottas and then Lewis Hamilton to sit fourth. That would have been his best result of the season, but he lost the car at Turn 16, skating off onto the run-off, which was particularly slippery as it's used for drag racing.
"I lost the car for one moment in the wrong corner, in Turn 16," he said. "The Tarmac next to the normal track is not the normal asphalt, it's some sort of ice skating track. Once I was there, I couldn't control the car. You saw the result, I slid into the wall.
"It's hard to swallow. I'm sorry for the team, because we deserved this, the team did a good job, especially today in the race with strategy and everything. It was all good up until that point, but you have to do all the laps."
A number of drivers were caught out by the asphalt at that part of the track and a number of them complained about it after the race. Should the circuit reconsider the run-off in that area?
"I think definitely," said Hulkenberg. "I think some others had similar issues there, I think it will be a discussion point because usually we are safety concerned, but that's not even about safety, that's just silly, to have a completely different Tarmac.
"That's the dragster racing strip there from Hockenheim. In the dry, it's fine, it's the usual grip but in the wet, it was insane. Yes, I shouldn't lose the car, but any other track you go off and you go back on and nothing happens."
His team mate Daniel Ricciardo endured frustration, too, the Australian retiring with an exhaust failure.
"It was an emotional rollercoaster today with highs and lows," said Team Principal Cyril Abiteboul. "Unfortunately, we're finishing on a low with two retirements. Daniel's was caused by an exhaust leak and we need to look into the problem, which is our first reliability glitch in a while.
"Nico had been driving an amazing race and was supported by decisions from the pit wall and good execution by the pit crew. We made the call not to put dry tyres on too early and made up a lot of positions to second.
"The final corner looked tricky all day and Nico could not save the car from the wall. It's difficult to take as it was an exciting race and we'd have liked to have been part of it until the end. We missed an opportunity for big points over our direct competitors, but there are certainly positives from the weekend."
With Toro Rosso scoring big with Daniil Kvyat, Renault drop one place to sixth in the constructors' standings.