Feature
GERMANY PREVIEW – the stats and info you need to know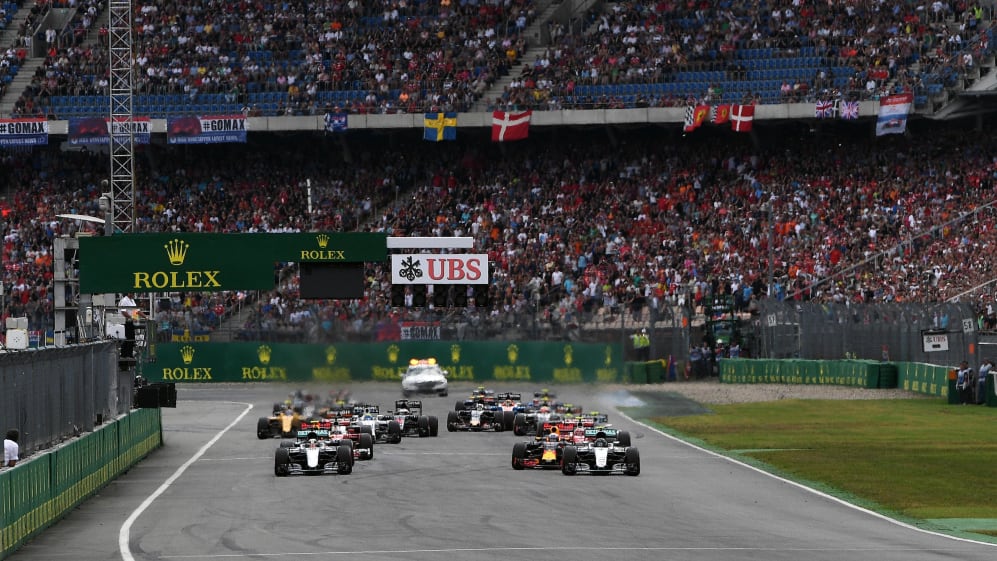 With Formula 1's first ever triple header behind us, we've now got two back-to-back races to look forward to before the drivers and teams enjoy a well-deserved summer break. And it's a familiar friend – the returning German Grand Prix – that hosts the first leg this weekend...
Managed to recharge your batteries after an historic three Grands Prix in a row? Great, because it's time to welcome back Germany - which dropped off the schedule last year - to the F1 calendar, and it's the famous circuit in Hockenheim that plays host this week.
Home hero Sebastian Vettel is the man with the momentum heading to this race, after a battling win in Silverstone - the final leg of the triple header - helped Ferrari's German driver to an eight-point lead over Mercedes rival Lewis Hamilton in the title race.
That British Grand Prix proved to be a frustrating one for Hamilton, who started on pole but was pushed back to 18th after being pitched into a spin at the start by Kimi Raikkonen. He did, however, produce a superb comeback to finish second, and will be desperate to get his title charge back on track in front of his rival's home support.
Red Bull were another team to win a triple-header leg, with Max Verstappen victorious in an action-packed Austrian Grand Prix, his first triumph of the season. But Silverstone wasn't a great race for the team, with Daniel Ricciardo in fifth and Versteppen retiring, so they'll be keen to put the pressure back on Ferrari and Mercedes this weekend.
So without further ado, let's take a look at the info that matters ahead of the 2018 German Grand Prix…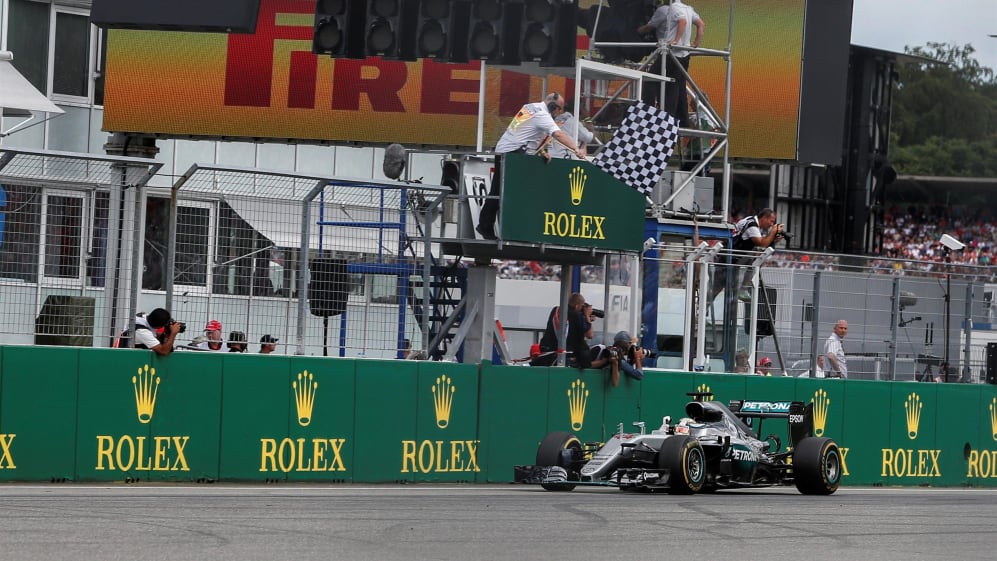 The form book
Ferrari are the team with the wind in their sails following Vettel's race-winning heroics at Silverstone, and recent history suggests they will be the team to beat this weekend. Eleven of the Scuderia's 21 triumphs at the German Grand Prix have taken place at Hockenheim – a circuit record – and they have also scored the last three one-two finishes at the track (in 1999, 2006 and 2010).
Having said that, Vettel hasn't had much luck in front of his local support. This track is only 28 miles from the Ferrari star's hometown of Heppenheim, but he's yet to stand tallest on the Hockenheim podium - his only win in Germany came five years ago at the Nurburgring. In fact, he has never secured a top-two finish at this circuit, having been handed a 20-second penalty in 2012 that dropped him from second to fifth.
Mercedes head to their home Grand Prix having taken the last two wins at this track – in 2014 and 2016 – and are bidding for their fourth victory in Germany this weekend. Pay particular attention to Hamilton, who won here two years ago and is looking to join Michael Schumacher's record of four wins in this race.
And what about Red Bull? They've won the German Grand Prix twice but those triumphs came at the Nurburgring, which has alternated hosting this race with Hockenheim since 2007. They had a memorable race in 2016 though, when Verstappen finished third behind Ricciardo in one of only two double-podium finishes for the team that season, and they'll have their eyes on a repeat result this time.
Away from the trio fighting it out at the top of the standings, the 'best of the rest' championship has also kept us on our toes this season. Renault's Nico Hulkenberg leads the tussle on 42 points, having regained seventh after the British GP from Haas' Kevin Magnussen. Just three points separates Hulkenberg, McLaren's Fernando Alonso and Magnussen, so keep an eye on how this battle plays out in Germany.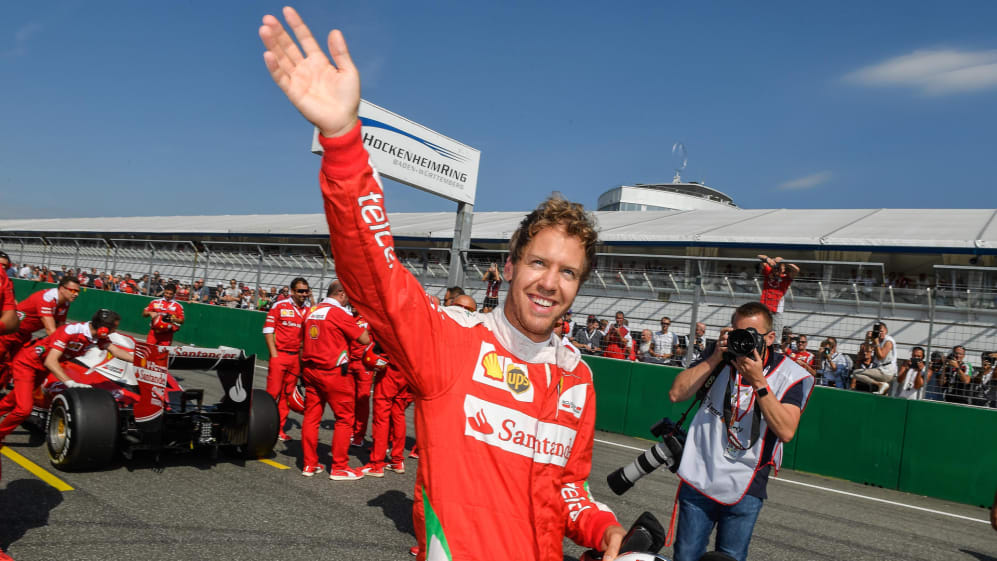 The stats that matter
Lewis Hamilton won the last Hockenheim race in 2016 by leading from start to finish, and he has led more laps here (121) than any other active driver (Fernando Alonso is next on 117).

All of Valtteri Bottas' four podium finishes this season have been for second place, and his only Hockenheim podium was also for second place in 2014 (when he also started second for Williams).

Despite sitting third on the all-time laps led list (3,235), Sebastian Vettel has only ever led three laps on this track in his career.

Kimi Raikkonen comes into this race having been outqualified by Vettel at the last nine races, but he's only been outqualified by a team mate at Hockenheim once in the last 17 years (by Felipe Massa in 2008).

Speaking of qualifying, Daniel Ricciardo has never been outqualified by a team mate at Hockenheim, but he trails Max Verstappen 7-3 this season and has been beaten by the Dutchman in qualifying at the last four races.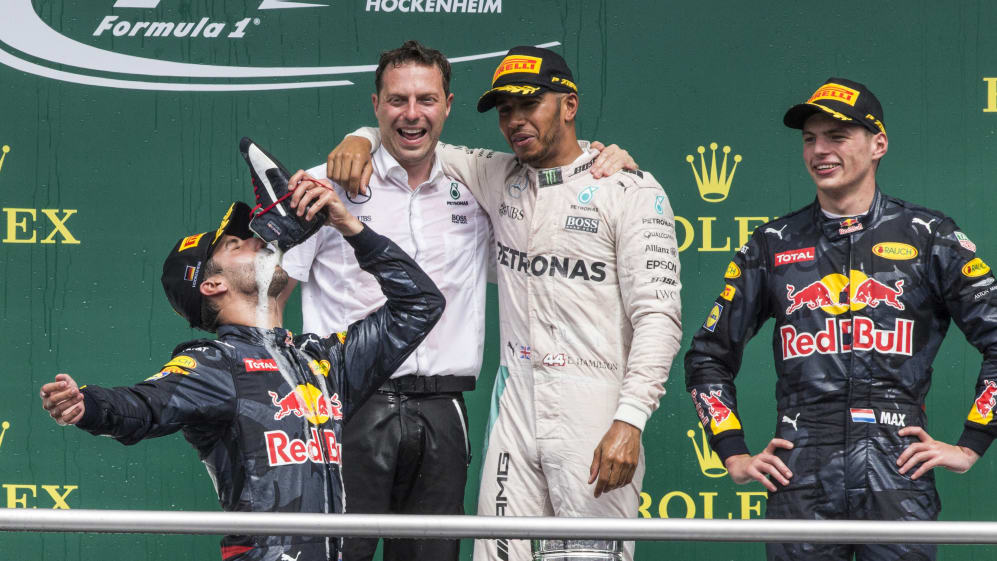 Having finished 10th at Silverstone, Sergio Perez has also finished 10th in the last two German Grands Prix at Hockenheim, and has never failed to score on this track, having also been 6th for Sauber in 2012.

Although he has a 100% finishing record here, Nico Hulkenberg has never finished in the top six in any Formula 1 race in Germany (he secured 7th at Hockenheim in both 2014 and 2016).

Fernando Alonso took his most recent pole position at the 2012 German Grand Prix for Ferrari, 116 races ago. The Spaniard is also tied with Hamilton for the most German GP wins by active drivers (three each), and has won two of the last four Hockenheim F1 races (2010, 2012).

Kevin Magnussen has scored in three consecutive races for the first time since the 2016 Russian, US and Brazilian GPs, and both he and Romain Grosjean have reached Q3 at the last three Grands Prix in a row, something no Haas driver had managed at any time before in team history.

Sergey Sirotkin won the 2016 GP2 (now F2) feature race from pole position with the fastest lap (the last of his three wins in the series), and the Russian followed it up with second place in the sprint race, making Hockenheim the most successful circuit of his GP2 career.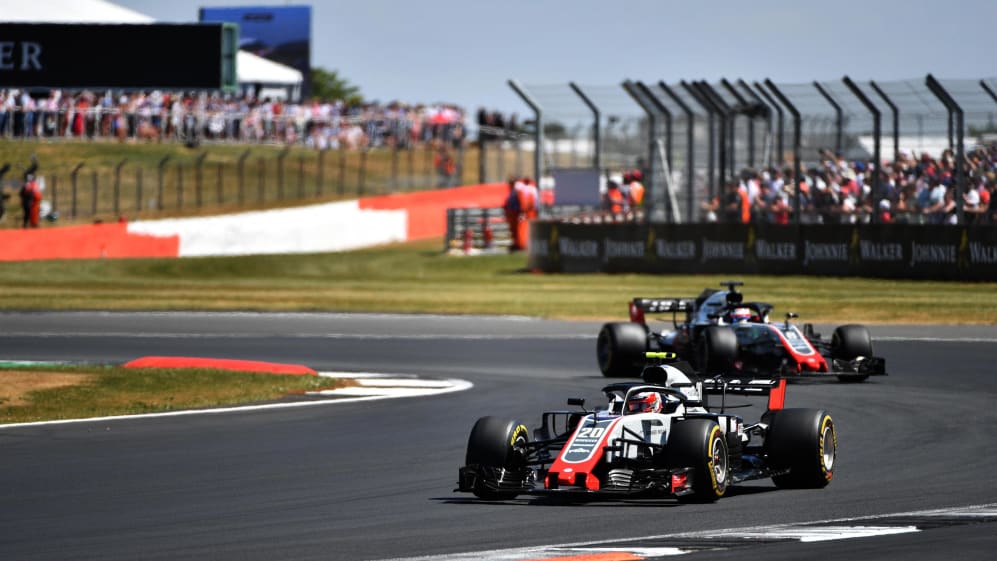 The circuit
The original Hockenheim circuit was built in 1939 as a high-speed test track for Mercedes-Benz, who needed a venue to test for the Tripoli Grand Prix. It was almost eight kilometres long and was formed of two long, curved straights with a long corner at either end.
When the Germany's Autobahn highway system was built, a new circuit, the now famous Hockenheim circuit, was created - featuring long straights cutting through the forest before looping into the wonderful stadium section around which large grandstands were erected.
The following years saw chicanes added to improve safety but, in 2002, the long runs through the forest were done away with and the layout of the track was heavily modified. The iconic track retained the main straight, first corner and final stadium section, but added a new, twisty infield.
The new circuit has proved generally good for racing, with a number of overtaking spots, and a third DRS zone - which will be on the pit straight to accompany the existing DRS zones between Turns 1-2 and Turns 5 -6 - has been added this year, giving us the potential for more wheel-to-wheel racing.
Add the buzzing atmosphere into the mix, which has been helped by the success in recent years of local heroes Schumacher and Vettel, and we've all the ingredients for a great showdown this weekend.
The tyres

Having last hosted Formula 1 in 2016, this Hockenheim circuit will be something of a new challenge for the drivers, with the track consisting of long straights as well as a series of tight corners.
This has seen Pirelli nominate the white-marked medium, yellow-marked soft and purple-marked ultrasoft tyre compounds for this returning race. This combination was last used in China, with an exciting strategic battle occurring in Shanghai.
"Germany is a bit of an unknown quantity, with no Grand Prix having taken place there since 2016," says Mario Isola, Pirelli's Head of Car Racing. "In the meantime, a lot has changed on the cars as well as of course the tyre range, while the Hockenheimring itself is substantially unaltered.
"Once again, we've decided to incorporate a step in the tyres that we've nominated in order to provide a roughly equal performance gap between the chosen compounds. This contributed to a great race in China, with some interesting repercussions on strategy, so hopefully it will be the same again.
"The data collected in free practice will be especially important as teams re-acquaint themselves with the circuit and also work out how best to use the tyre nomination to their advantage."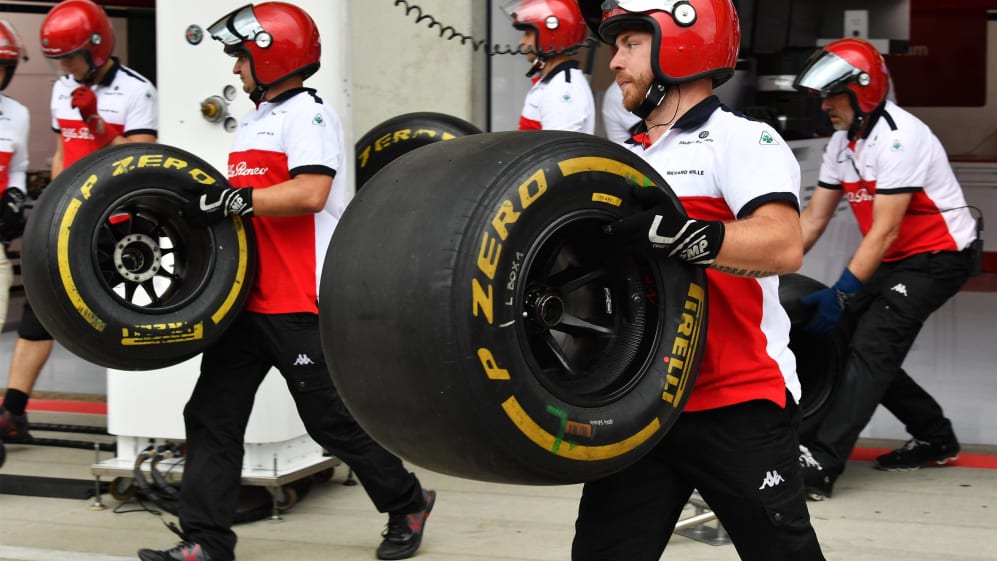 The forecast
The weather in Germany at this time of year is known for its unpredictability, with sunshine or heavy rain a possibility, and it looks like that'll be the case this weekend.
Saturday should be an interesting qualifying, with light rain showers expected near the end of the session. Then on Sunday, the drivers can expect breezy conditions, with temperature highs of around 28 degrees Celsius. Makes for an exciting weekend.
When does the German Grand Prix start?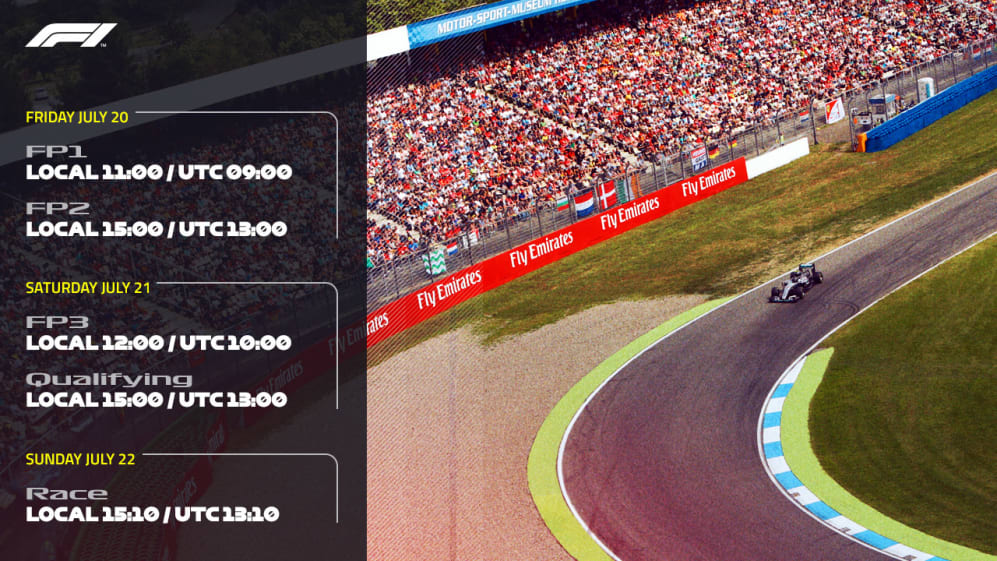 Fantasy F1 – get in the game!
Have you picked your Fantasy F1 team yet? If not, don't panic – you have until just before qualifying to get involved and try to win some amazing prizes.
It's free to play. Click here to sign up!
Watch full F1 Race replays or Highlights on F1 TV Access. Sign up now. Race replays only available in certain regions (view full F1 TV Content Schedule here)