Get deeper into the second half of the season with F1 TV – 20% off for 3 months
Formula 1 is returning from the summer break, ready to start the final sector of what's proving an action-packed and unpredictable year.
Thirteen rounds down, and nine still to go: there's the title battle between Ferrari and Red Bull, the silly season of driver market rumours, a development arms race and midfield battles aplenty.
Fans won't want to miss a second of the on and off-track drama, and here's how you can make the most of it. Go deeper on all the track coverage and paddock gossip, onboard camera angles and expert analysis by signing-up to F1 TV Pro's new mid-season offer: a 20% discount for three months to new subscribers in selected countries*, streaming all the action live, on-demand and on-the-go, from now through to the season finale in Abu Dhabi.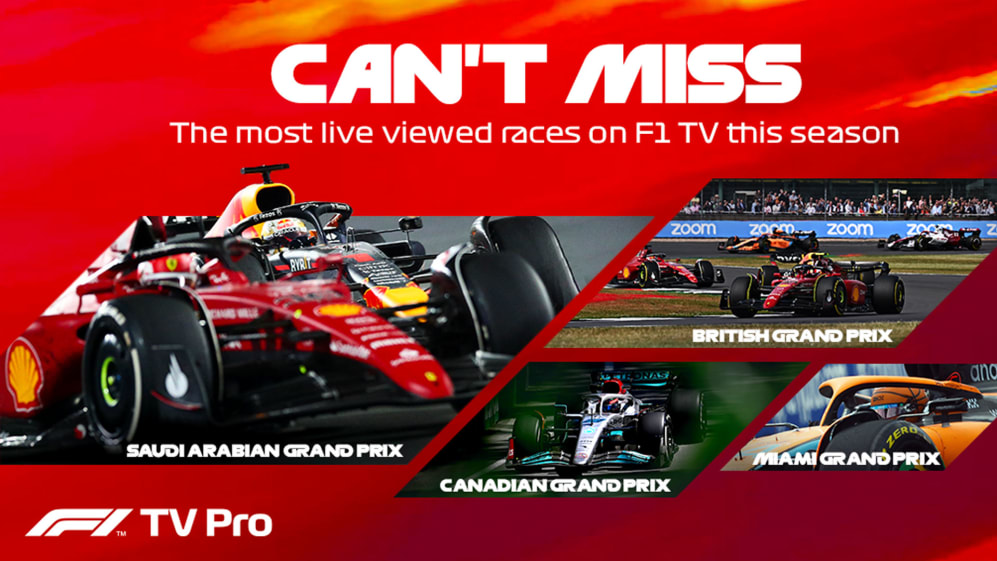 Zeroing in on the championship battles
Max Verstappen is looking good for his second drivers' title, but anything can happen as he readies for his home races at Spa-Francorchamps and Zandvoort. F1 TV Pro viewers can get right in the cockpit with Max whenever they choose, thanks to onboard cameras which cover each individual driver in all sessions live, so you can see the world from their view.
Charles Leclerc has suffered some costly weekends in 2022, but he hasn't given up hope of being champion yet. If we've learned anything from F1 in the last few years, it's that anything can happen…
Hear strategy play out in real time with team radio on F1 TV Pro, which you can set up across multiple screens, and choose whether to listen to radio, the international feed commentary or F1 TV's very own live team.

A new generation of heroes
It's not just F1 action but the road to F1 that you can keep a close eye on with F1 TV Pro, with live and instant replay access to all the F2 and F3 races each weekend. Keep an eye on potential stars of the future, such as Felipe Drugovich, Theo Pourchaire, Logan Sargeant and Arthur Leclerc.
Stream F1 on your favourite device: on the web, Apple TV, Android TV, Amazon Fire TV and Roku, so you can see every Grand Prix in its full HD glory. Alternatively, set up multiple screens and create your very own pit wall using F1 TV's real-time content, complete with the Data Channel – putting you in control and even closer to the sport.
Subscribe now and get the rest of the season live, ad-free and on-demand, all the way to the chequered flag in Abu Dhabi. F1 TV Pro Is available at 20% discount for three months to new subscribers in selected countries.*
*Offer valid until 28/08/22. Available on web and apps only for F1 TV Pro monthly subscriptions in selected territory(Available in all F1 TV Pro territories with the exclusion of the United stated, Brazil, France, The Netherlands and Belgium). Click here for full T&Cs.