Giovinazzi happy to give Alfa Romeo 'what we deserve' with first Q3 of the year at Monaco
Alfa Romeo remain without points in 2021, but Antonio Giovinazzi gave the Swiss team something to smile about in qualifying for the Monaco Grand Prix, claiming their first Q3 appearance of the season, as he ended up P10 on the grid.
With Giovinazzi having finished Thursday's Free Practice 2 in a promising ninth position, the Italian was then able to carry that momentum into Saturday's qualifying session, becoming the first Alfa Romeo driver to make it through to Q3 since Kimi Raikkonen at the 2020 Turkish Grand Prix, as he eventually claimed P10 for Sunday's race.
READ MORE: Leclerc beats Verstappen to sensational Monaco pole as late crash prevents others improving
"I am really happy about our first Q3 of the season," said Giovinazzi. "We put it all together and finally got what we have been deserving for a while. We did everything right – the car felt great from the start of the weekend, the team sent us out at just the right time and we put the lap together when it mattered.
"I always said that to go through to the top 10, [something had to happen to the cars] at the front," added Giovinazzi. "But the car was really good since FP1, everything was there, and when the feeling is there in Monaco… it's everything, it's the key."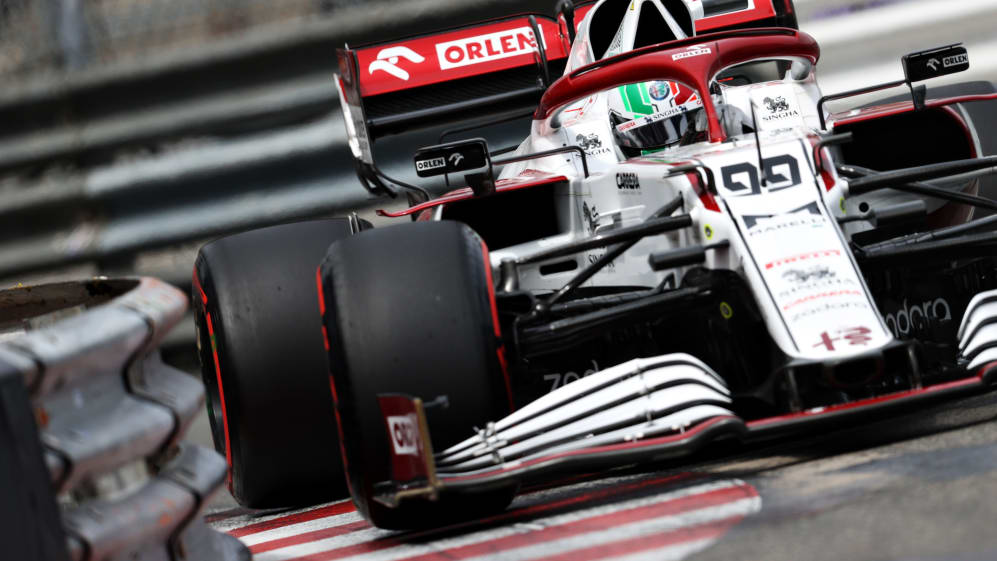 Giovinazzi's presence in Q3 had come at a cost, however, with Alfa Romeo having kept just one set of new soft tyres for the Italian to use on his final Q3 run. But with that final run spoiled by Charles Leclerc's dramatic crash – which ironically also gave the Monegasque pole at home – Giovinazzi admitted to a pang of regret heading into Saturday evening.
"I'm a little bit disappointed just for the last lap in Q3, because I only had one set [of new tyres] and maybe P8, P9 was possible," said Giovinazzi. "But we need to still be happy with this performance.
READ MORE: Hamilton says car 'felt terrible' as he admits he's hoping for rain to make progress from P7
"Tomorrow we need… a clean start, a good strategy and a good race," he added. "Hopefully we can bring home a good result and our first points."
Meanwhile, despite finishing eighth in Free Practice 3 on Saturday morning, two-time Monaco pole-sitter Raikkonen could only manage 14th in qualifying, the Finn admitting afterwards: "I don't think much went wrong – we just weren't fast enough in the laps that mattered. Of course, you always want to be higher on the grid, but we'll need to make the best of it tomorrow.
"Hopefully we can have a bit of luck as you never know what's going to happen. We need to survive the first few corners and then do our race."