Feature
Gone in 1.88s: Putting together the perfect F1 pit stop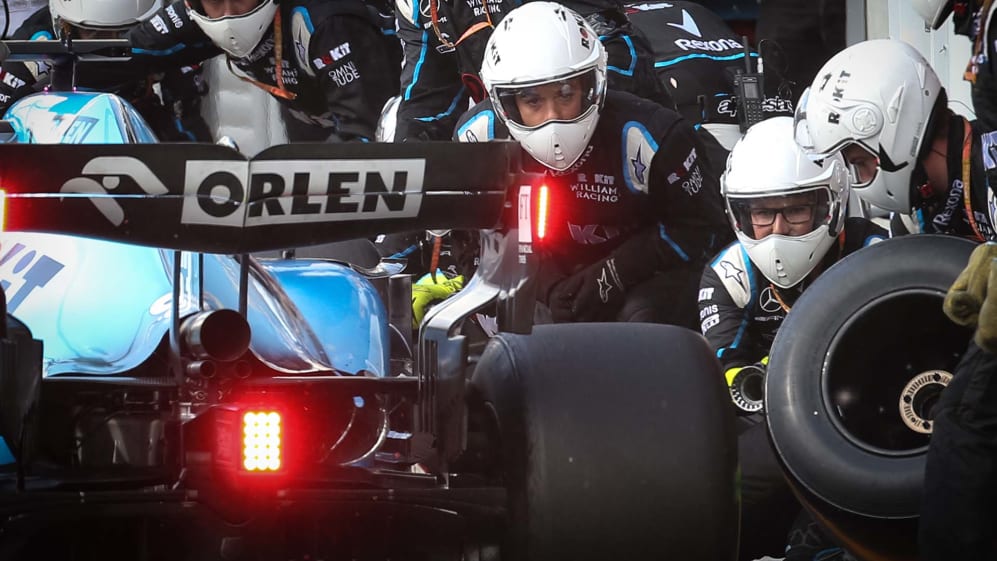 One hundred thousand. That's roughly how many practice pit stops Formula 1's 10 teams did between them before the 2019 campaign. The aim isn't just to get under two seconds, less than the blink of an eye, but to do so consistently – because race results depend on it…
When the strategists decide to bring a driver in, the team manager will put the pit crew – usually a team of around 23 – on standby. Then a short call – 'Kubica, option or Russell, prime' – is made, and the team burst into action.
Each has their own role, whether it's wheel on, wheel off, gunman or front jack. All four wheels are changed, a tweak may be made to the front wing, a clean of the rear wing and visor and potentially clearing out the sidepods. Then it's off and away.
For the driver, their main aim is to hit their marks – so the crew don't have to adjust their position, costing vital seconds, or to prevent injuring the front jack man, who would take the full force if they overran. From the cockpit, a driver can see very little other than several chaps in helmets engulf the car like a swarm of wasps.
It's lifted up onto the jack and then dropped with a thump – you definitely feel it in your back. During the stop, drivers need to grip the steering wheel tightly and press hard on the brake pedal to enable a smooth change. Then it's about watching for the green light and hitting the throttle, trusting the system that it's clear to go.
Get it right and you might have a world record on your hands, as Red Bull did after their 1.88s stop with Max Verstappen during the German Grand Prix. The 10 fastest stops that weekend, for context, were all within 0.66s – that's how close it is. So how do you make that happen?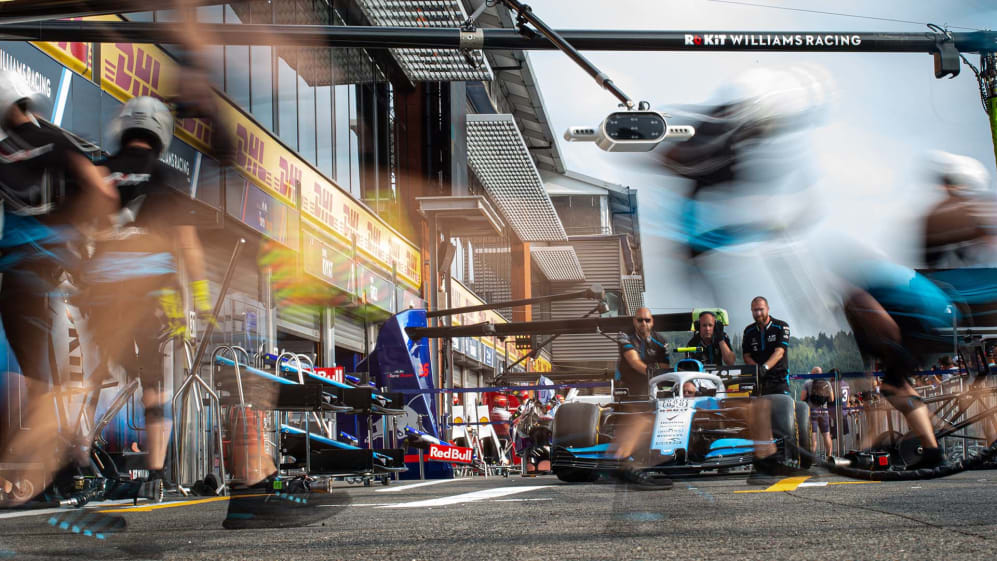 Getting race-ready
Ahead of the 2019 season, Williams – who held the pit stop record before Red Bull snatched it in the summer – completed just over 1,200 practice pit stops on a rig at their Grove base. The idea is that repetition will make the task like second nature, maximising every millisecond.
Williams operate the same pit crew at every race, with a team of reserves available in case someone is ill, injured or unable to travel. Each member of the 23-strong crew has one role, which doesn't change, but they have experience doing other roles in case they need to switch.
"We spend most of January and February on the rig," says Williams Team Manager Dave Redding. "Trying to hone into who we think is the best combination. And then we obviously work on it through the year.
"We did an interesting thing at Silverstone this year, where everyone in the team had a go and they very quickly got to three seconds. And that was only after very little training at the factory. But going from three to two is like going from Division 4 to Premier League!"
Once the crew hit the track, the focus of practice switches from speed and consistency to getting comfortable with their surroundings. There's practice pencilled in each day, from Thursday to Sunday, with each session lasting around 30 minutes, amounting to around 50 stops.
"When we get to the track, most of what we do is what is unique about the track," says Redding. "At Spa, the pit box is not level, the drains are in a slightly different configuration and it's a bit closer to the gantry than we would like because of the narrow width of pit lane, so we need to adjust to the features of the pit lane."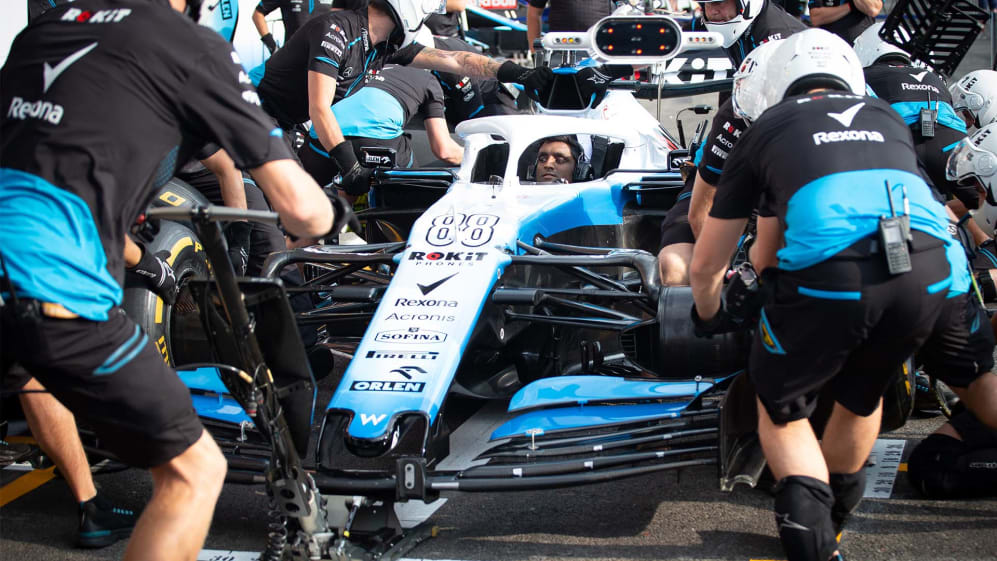 Getting and staying in shape
There is some form of pit crew training every day of the week, with three days focused on physical training and two days on pit stop practice, with the time built into their daily working schedules.
"The physical training involves a gym programme that is based around core stability and core strength while there are certain positions which need a focus on bigger upper body training," says Redding.
"We've learned a lot through tracking how the body moves and how the joints move for injury prevention and technique. There are no secrets. It's the same as any pro sports."
The challenge varies depending on where the race is held. Singapore, for example, is exhausting given the high temperatures and humidity. "When you do 20 stops in Singapore, you know you've done 20 stops!" says Chris Stafford, who is right rear gunner for Williams.
Strength is important too. The wheel guns run at 26 bar of pressure, which is around a quarter of the pressure required to blitz a patio with a power washer. "It is quite a lot of pressure bearing in mind the gun off time – that's the time taken for the bolt to be removed - is less than two-tenths," says Stafford. "You definitely feel it in your arms and wrists."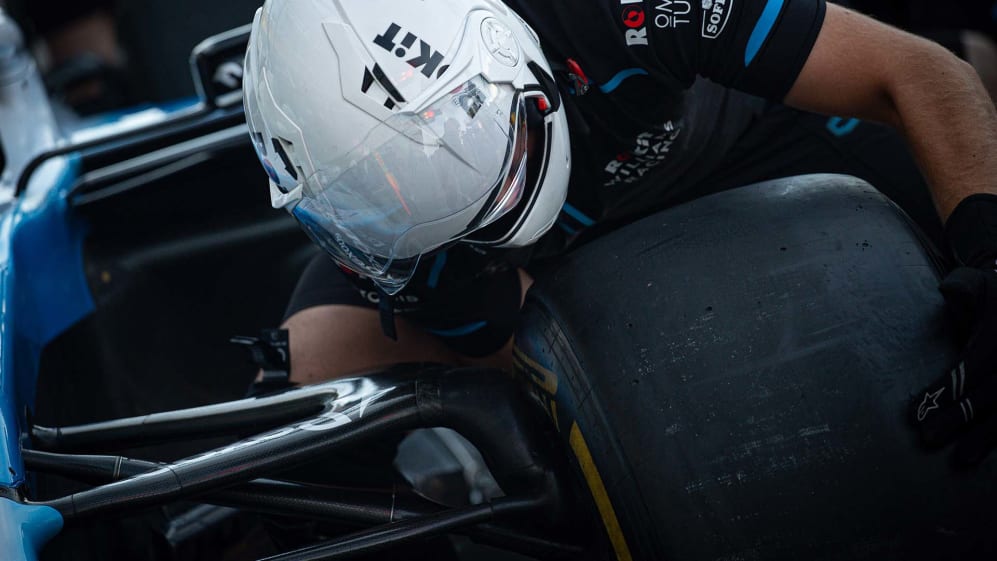 The other arms race
The aerodynamic arms race in Formula 1 is well known, as teams try to gain tenths of a second versus their rivals on track, but lesser known is the arms race of pit equipment. Technology is advancing at such a rate that new pieces are always available, whether it's a front jack or a wheel gun.
It's therefore a difficult balancing act for teams, as the equipment isn't cheap. Front jacks are pretty pricey, some coming in at around £250,000 each with each team requiring at least two (the second as a back-up). Wheel guns are cheaper at around £5,000 off the shelf. But all the teams adapt them, doubling the cost. And the teams need 24 of those in total.
"We start off with an off the shelf wheel gun and then modify it," says Redding. "The socket design is our own, for example. Then there are various other modifications we make, either for performance and durability. Everything is pushed to the limit, because the last thing you want is a gun to break during the race."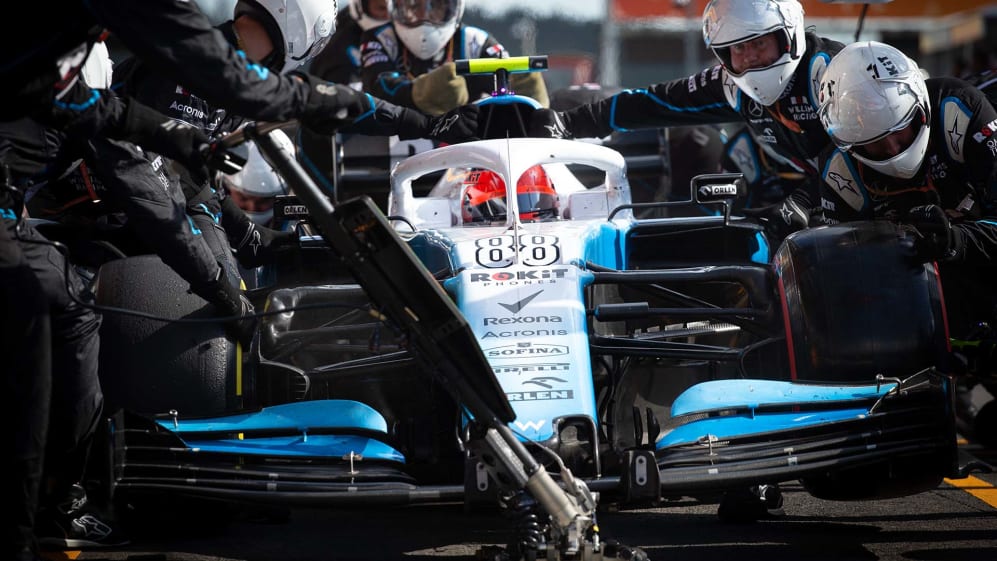 Balancing speed with consistency
The dream is just two noises – the sound of the wheel-nuts being loosened and then the sound of them being tightened. Any more noises and it's likely something's up.
"As a gun man, we hit the button to give the green light," says Stafford. "So when you hit the button and the car goes, you know it's been a good stop. If there's a half a second delay, you know something has gone wrong."
Mike Payne, who is wheel off, adds: "If it goes slow motion, you know it's been quick. The fast ones always feel slow. I don't know why. Everything just clicks, everyone gets their bit right."
While speed is the target, solid consistent stops are more prized. In Germany, teams got plenty of practice in courtesy of the rain-hit race, with Williams completing 10 pit stops in total.
"Normally, once I've got that first stop out the way, I relax straight away," says Stafford, who like Payne works on fuel systems and assist with engine installations when they're not doing pit stops. "Unless it's in Hockenheim when we did like 10 stops. There was no relaxing that day."
Payne added: "I thoroughly enjoyed that race. You don't have time to overthink things as you're running around like headless chickens! We were quite consistent with that race, that's probably what was most satisfying."
And practice has certainly paid off for Williams. A glance at the details of this year's DHL Fastest Pit Stop Award shows that the team has clocked the quickest stop time at no less than eight of 2019's 16 Grands Prix to date.