Grosjean at a loss to explain qualifying shunt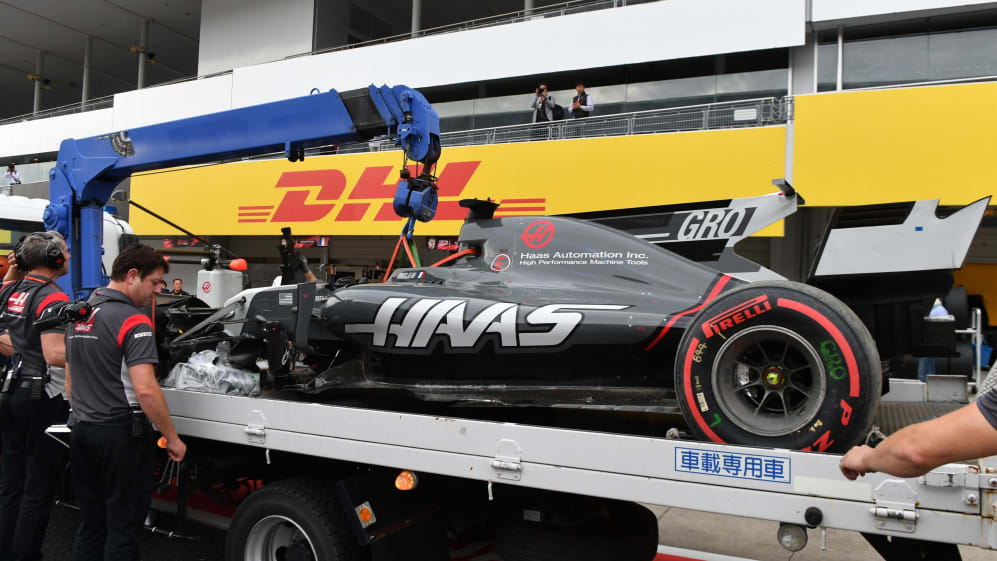 Romain Grosjean says he is mystified by the sudden loss of control which pitched him into the barriers at the end of Q1 in Suzuka on Saturday.
The Haas driver was trying to escape the elimination zone when he suffered a sudden snap of oversteer at the high-speed Turn 3, which ultimately resulted in a heavy impact with the tyres and considerable damage to his car.
"I was sure we could go in the top ten, so I just went for my second run and the car went very much on the nose," explained Grosjean. "We need to understand what happened.
"For sure I went a bit fast into Turn 3, but it doesn't really explain the fact that it went and I had a massive snap. Then I was just trying to catch it in Turn 4, but couldn't really so I just went on the grass and then finally ended up in the wall on the other side.
"I need to try to understand why the car was so good on the first run and then just went on the second one. It's positive that we made the right change for the first run, from FP3, but it's a shame because I think we could have qualified in the top ten."
The Frenchman, who ended up in 16th place, was the third driver to hit the barriers on Saturday, following crashes for Mercedes' Valtteri Bottas and Ferrari's Kimi Raikkonen in FP3.
However, provided he doesn't require a change of chassis, Grosjean is actually set to move up several places on the grid for Sunday's race because of penalties for McLaren's Fernando Alonso, Renault's Jolyon Palmer and Toro Rosso's Carlos Sainz.