Grosjean closer to race ban after Singapore blue-flag penalty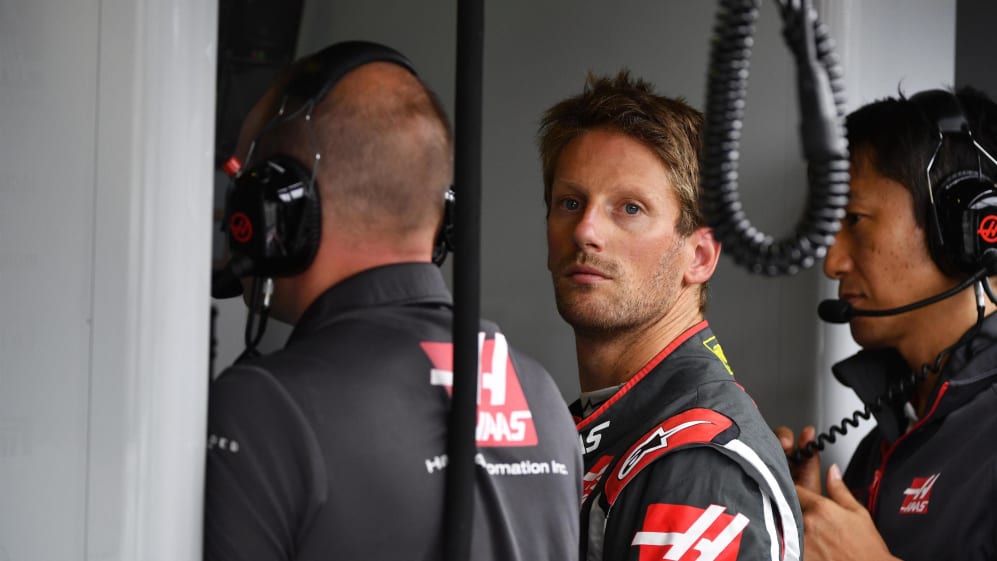 It's been a mixed season for Romain Grosjean, with some standout moments tempered by a few wild on-track incidents. And now, after receiving two penalty points for ignoring blue flags in Sunday's Singapore Grand Prix, the French driver is just three points away from a potential one-race ban.
Grosjean was battling hard in the Marina Bar race with Williams' Sergey Sirotkin when race leader Lewis Hamilton came upon the scrapping pair. Rather than pulling to one side and letting Hamilton and the fast-approaching Max Verstappen by at his earliest opportunity – as the rules state he should – Grosjean continued to attack Sirotkin.
Hamilton and Verstappen eventually made it through, but race-winner Hamilton made reference to the incident – which cost him around five seconds, allowing Verstappen to close up to him – in post-race interviews. "These guys were moving around… and they wouldn't let me by," he said. "It was definitely close and my heart was in my mouth for a minute."
Speaking after the race, Grosjean apologised to Hamilton for holding him up.
"I'm sorry if I blocked anyone, it was not my intention," he said. "I believe I did my best. I was fighting with Sergey, who was doing a little bit of go-kart racing out there. I couldn't really slow down. Pierre [Gasly] was on my gearbox and Sergey was on my front wing. I passed him, then as soon as I passed him, I let Lewis by."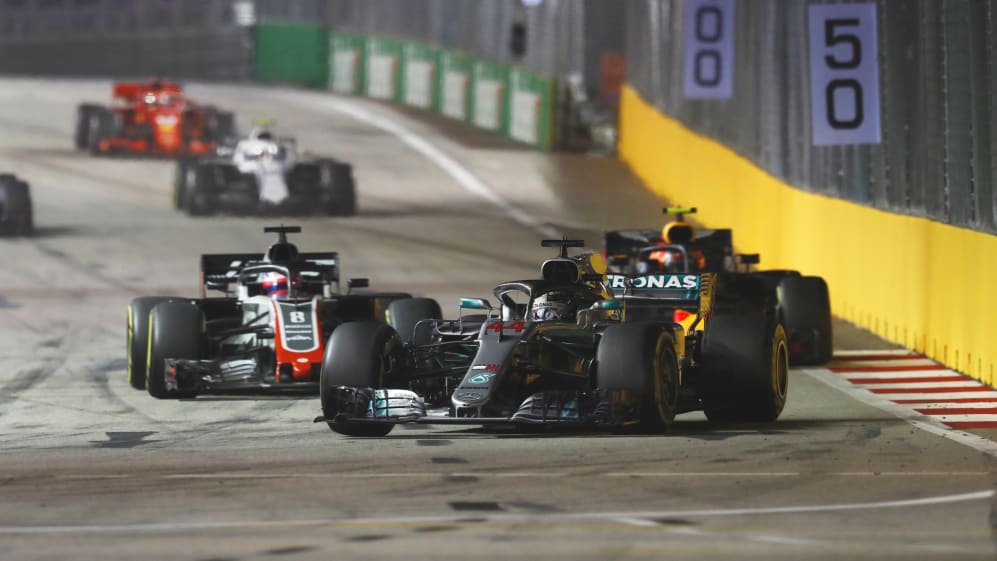 The stewards took a dim view of the situation, however, duly endorsing Grosjean's Super Licence with two penalty points to take his current tally to nine. Twelve points in a 12-month period result in an automatic one-race ban.
Grosjean accrued one point at the United States Grand Prix on October 29, 2017 to begin his current run of penalty points, meaning that if he adds another three between now and October 29, 2018, he'll receive the ban.
Grosjean will therefore need to keep a cool head and a clean nose at the Russian, Japanese, United States and Mexican Grands Prix in order to avoid what would be the second ban of his F1 career, the first having come after his spate of incidents in 2012 that culminated in the enormous first-lap crash at Spa that year.
After Sunday's Singapore race, an unimpressed Charlie Whiting, the FIA's Formula 1 Race Director, explained his reasoning behind issuing the penalty points to Grosjean.
"I think Romain just completely forgot the golden rule of blue flags, and that is if you're in a battle, you've got to forget about your own battle and move over," he said. "I've drilled that into them many, many times and I think he just completely forgot about it. He was so intent on his battle with Sirotkin, the light panels were flashing with his race number on them and Lewis was much, much faster.
"It was probably one of the worst cases of ignoring blue flags that I've seen for a long time."
In total, nine penalty points were handed out to three drivers by the stewards at the Singapore Grand Prix, all of them for incidents all involving Sirotkin. Apart from Grosjean, Sergio Perez received three for driving into Sirotkin after getting held up behind him for a number of laps, while Sirotkin himself received two for forcing Toro Rosso's Brendon Hartley off the track at Turn 14.
Behind Grosjean, Sauber's Marcus Ericsson currently has the second highest 12-month penalty points tally with seven, while Sirotkin's latest misdemeanour takes him to six, the third-highest.
Beyond the Grid, the official Formula 1 podcast
Listen to Grosjean on how he fought his way back from the first race ban of his career...