Podcast
Grosjean opens up on dealing with Bahrain crash flashbacks – and how his psychologist helped him in the aftermath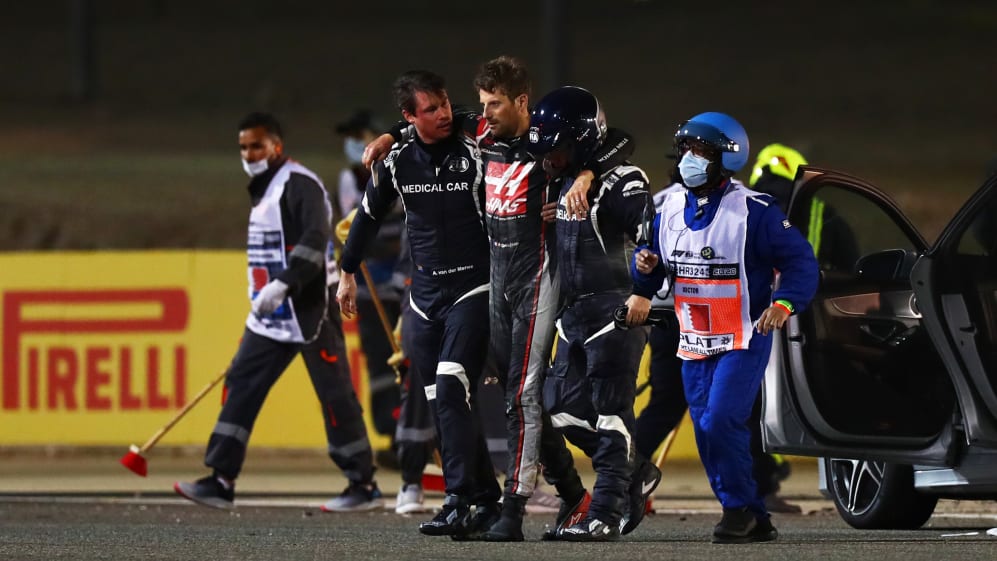 November 29, 2020 is a date that Romain Grosjean will never forget. But the events of that day - when his car became engulfed in flames after crashing through the barriers on the opening lap of the Bahrain Grand Prix, leaving him with extensive burns on both hands - do not haunt him to this day, thanks in part to the Frenchman's work with a sports psychologist.
Speaking in a powerful interview on F1 podcast Beyond The Grid, Grosjean was asked by host Tom Clarkson if he'd watched the crash back with his family,
"Yeah, the kids asked," he replied. "They had many questions. I have watched it with my kids, with my wife. I can talk about it very openly. I worked with a psychologist after it, just to make sure there were no flashbacks or nightmares or anything bad coming from it.
"I had a couple of flashbacks, and a phase in the accident that I needed to understand, to go through with my psychologist," he added.
READ MORE: Grosjean says he thought about Niki Lauda and reveals he 'saw death coming' in fiery Bahrain crash
"One was quite early morning, 6am, and my son woke me up. And the other one was when I was going for surgery on my hands in Geneva, being put asleep (with anaesthetic), so I guess all the ingredients were there to not make you feel good and remind you what Bahrain hospital looked like from the bed.
"So they were the couple of flashbacks I've had. Since then I've never had a nightmare. I can watch [the crash] without any problem, I can talk about it without any problem. Yes, you know my hand is not great – I can't go in the sun, I have to be careful with cold temperatures, with hot temperatures and so on. But also it's working – I can play with my kids, I can still build Lego, and that's what matters."
Grosjean is now racing IndyCars in the USA, whilst also preparing for a chapter closing one-off F1 test with Mercedes at Paul Ricard. And despite everything that's happened, he insists he is a happier man post his accident.
"100% and I may sound crazy, but let me explain," he said. "Every day I live since then is like a bonus day. I was so close to not being here anymore that it makes you realise how beautiful life is.
"Yes, you know you may have small issues here and there - a connecting flight being cancelled or losing time, things you would moan about, and I'll still moan a little bit about it.
"But also every morning I wake up, I need to remove my silicon gloves and put some cream on my hands, and I remember that I am alive, I am here. I can play with my kids, I can go racing again, I've got my lovely wife next to me. I'm happier in life, just because I've realised how good life is even with it's problems. It would be quite boring if we didn't have any issues in life.
"It is quite crazy to think that I had to be so close to not being here anymore to realise that life is not free – it has to be lived."
For the full conversation with Grosjean, including his thoughts on his Mercedes test, racing in the US and F1 2021, listen to the latest episode of Beyond The Grid in the player above, or on Spotify, Apple Podcasts, Google Podcasts, Amazon Music or your favourite podcast app.