Haas drivers praying for rain in Spa qualifying after power unit issues cost them on Friday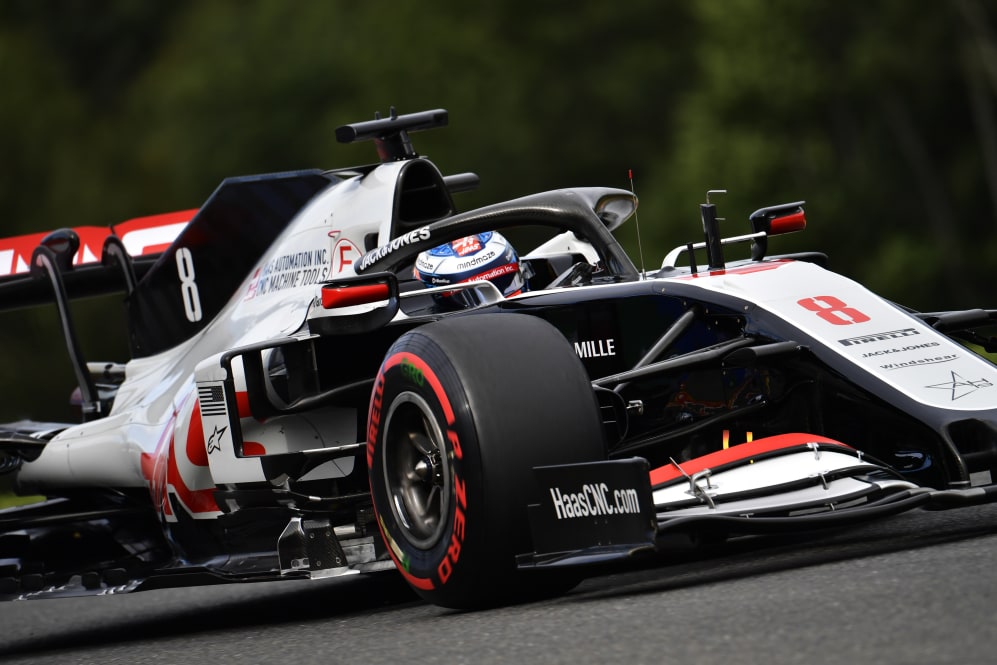 Romain Grosjean and Kevin Magnussen managed just 27 laps across the whole of Friday at Spa-Francorchamps, after unrelated power unit issues early on in Free Practice 1 forced a change of engines for both Haas drivers – and saw them miss a big chunk of FP2 as well.
Grosjean and Magnussen emerged from the Haas garage a full 55 minutes into the 90-minute FP2 session, before ending up P19 and P20 respectively – although Grosjean was at least pleased to be just 0.151s off the pace of Ferrari's Sebastian Vettel after what had been a challenging Friday.
FP2 REPORT: Game on in Belgium as Verstappen leads Ricciardo and Hamilton in second practice
"It was a tough day for everyone," said the Frenchman, "especially the mechanics. Going out in the morning and having to change straight away the engine wasn't ideal, especially on both cars in Spa, which is a track where you really want to get some good knowledge.
"But then we managed to go out in the afternoon, the boys did a mega job and the car didn't feel too bad. Obviously yes, we're not top of the sheets, but that's understandable after doing one timed lap on a one-lap tyre, and I think generally all Ferrari power unit [teams] are a little bit back. But being two-tenths away from Vettel after having only done one lap is not bad.
"The car felt good, so that's nice," Grosjean added. "As I mentioned, I think here we're going to pay the price for the straight-line and I believe it will be a fight between 15th and 20th [for us in qualifying] – I don't really see much more, but I hope I'm wrong."
READ MORE: 'Sad to see Ferrari so far down' says Leclerc as team slump to P15 and P17 in Spa second practice
Neither Grosjean nor Magnussen were prepared to go into detail about what issues had reared their heads on their VF-20s' power units. But Magnussen was at least confident that there was more pace to come from Haas, while praying for rain to shake up the grid on Saturday.
"Of course!" said Magnussen when asked if he was hoping for a wet qualifying, "because it won't give the experience of today any value if it's raining, so fingers crossed for that.
"There was a lot of lap time missing from us just getting up to pace, so we'll see," he added. "You can't just go into the first lap and be right on the pace… but it will come. We'll see where we are tomorrow, and get on top of the pace."