Haas will fight for fourth in 2019 – Grosjean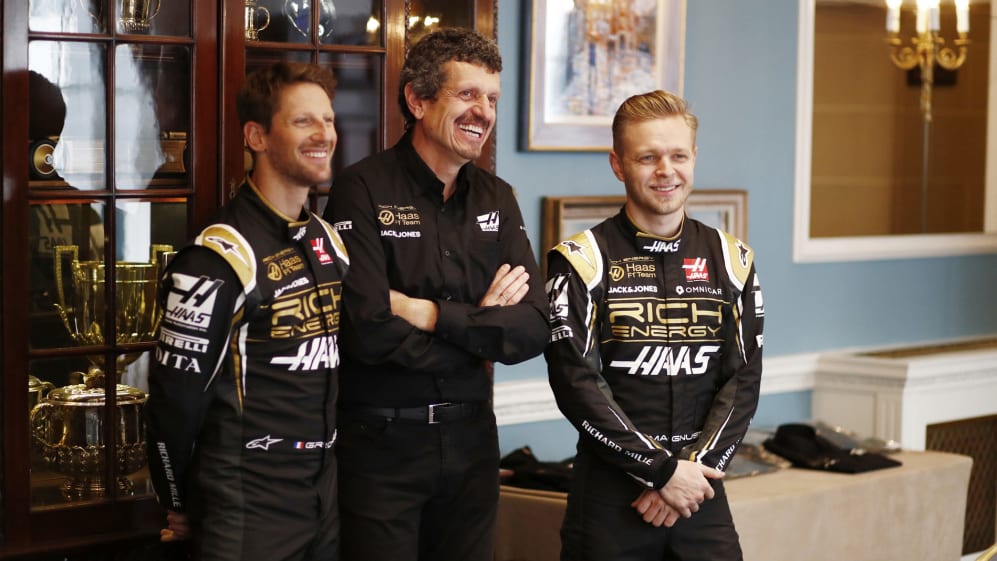 Eighth for the first two years of their F1 existence, 2018 saw Haas rewarded for their most impressive on-track showing to date with fifth in the constructors' standings. But for 2019, the team are aiming to go one higher, with their sights firmly trained on the fourth place that rivals Renault claimed last year in the teams' battle.
Haas became the first F1 team to give fans a look at their 2019 car – albeit a digital rendering of the VF-19 – while also showing off a striking new black and gold livery at a launch event in London. Speaking to Formula1.com at the unveil, driver Romain Grosjean revealed that, while he believed the top three squads of Ferrari, Mercedes and Red Bull will remain out of reach in 2019, he believed Haas would be well in the mix for the coveted 'best of the rest' placing this year.
"Realistically, I think the top three teams are going to still be at the front because of their resources," said Grosjean. "The midfield could be quite tight, and it's exciting to be in the fight, but we will be fighting for fourth in the constructors' championship. It's something we have an eye on – although of course first we've got to see how the car is in testing."
Fourth last year was possible without a few mistakes we made because of our inexperience
Team mate Kevin Magnussen, who'll start his third full season for Haas in 2019, was also cautiously optimistic, admitting that the team needed to keep moving forward if they hoped to match their finishing position from 2018.
"Last year we took a big step from 2017 to 2018," he said. "I don't think we can expect to take as big a step again but we can expect to keep improving and stay on the rise. I really don't expect us to take a step back, I think we're going to continue to grow. But we need to improve, and we need to grow even to hold onto fifth.
"Probably this year the improvements and the step forward will be less visible, most likely. But I can see how we are growing as a team and we are gaining more and more experience, [and] we're learning with that experience that we're gaining, also, to make use of that experience. I'm positive."
Asked if fourth place was his team's target for 2019, Haas Team Principal Guenther Steiner replied: "For sure, we will try. You always need to try to get better.
"That is the most important thing. I always say, as long at the end of the season we can say we did better as a team in general… that's getting better.
"Fourth last year was possible without a few mistakes we made because of our inexperience, I would say – we could have got that. We finished fifth but that doesn't mean we stop there. We want to get better."
As to what Steiner expected of the Grosjean/Magnussen pairing for 2019, the Italian replied that he wanted "both [to] have a perfect, solid season… To reduce the downs. Getting more consistency from both. They know that and for sure they will try hard to do that."