Hamilton and Bottas concede they 'lost some ground' as Red Bull fight back in US GP second practice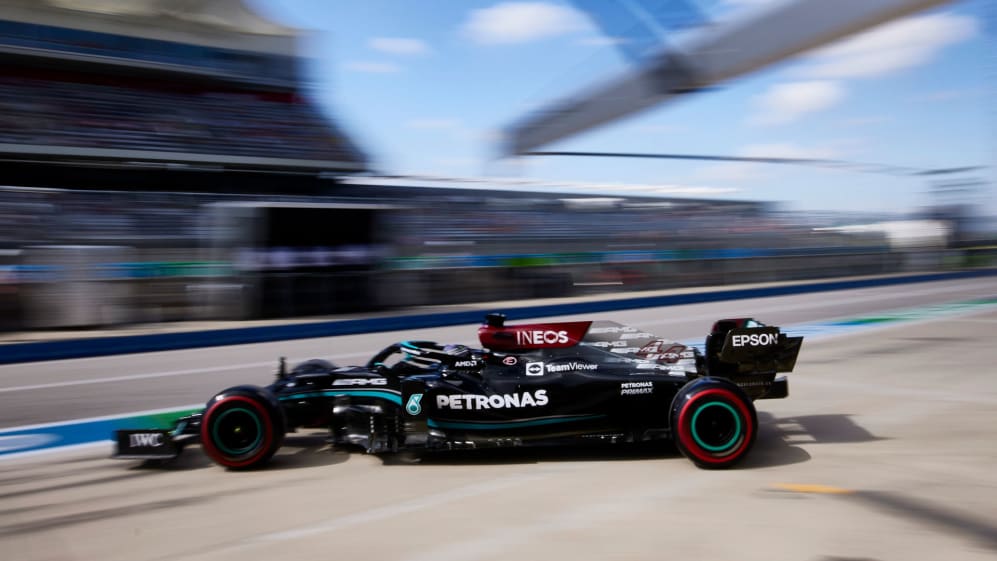 Mercedes took a one-two in first practice at the United States Grand Prix and looked in good shape for another fruitful weekend at a track where they've taken every pole in the hybrid era. But after Red Bull went quickest in FP2, Lewis Hamilton and Valtteri Bottas conceded they had work to do if they are going to keep their poles record going this year.
Hamilton finished second to team mate Bottas in FP1 at Circuit of The Americas ahead of title rival Max Verstappen, following that up with P3 in the following session – behind Red Bull's Sergio Perez and Lando Norris of McLaren. As a result, the defending champion said he "wasn't happy" with how his second session went.
READ MORE: Verstappen explains traffic frustrations – and that moment with Hamilton – in FP2 at COTA
"Generally, yes it's been a good day," he began, "but still work to do unfortunately. But I'm not unfortunate, it's the way it is.
"[F]P1 was a really good session, made some changes, and wasn't happy in [F]P2, and still, not such bad pace, but I think we lost some ground to everyone, or they gained ground, so we have some work to do tonight, as always."
As for team mate Bottas, he finished first in the opening session but fourth – behind Hamilton – in FP2, and echoed his team mate's sentiments over the W12's relative pace.
"I think we have a good car. Yes, I think today showed it's pretty close at the front," he said. "Maybe relative to the competition we took a small step back in practice too; like I said we focused more on the long runs, but all to play for – no doubt it's going to be close tomorrow."
READ MORE: Mercedes 'trying to get on top of engine problems' as they weigh up Hamilton PU penalty
However, for the third time in four races, the Finn will take an engine penalty (albeit of just five places this time around) and admitted he has an uphill battle when it comes to taking a solid result at COTA, where he won in 2019.
"Again, unfortunately I have to take a penalty, but this time a bit smaller penalty than some other times – five places, you know I can still have a good race from there," said Bottas. "Still a lot of work to do with the set-up. It's not easy to drive at all, and it feels like in some places this track has lost quite a bit of grip, so, and the balance is a bit inconsistent," he concluded.
Mercedes entered the United States with a 36-point lead over rivals Red Bull, but Hamilton is six points behind rival Max Verstappen as the championship battle heats up.