Hamilton and Wolff planning to put Verstappen under 'massive pressure' with split strategy in Dutch GP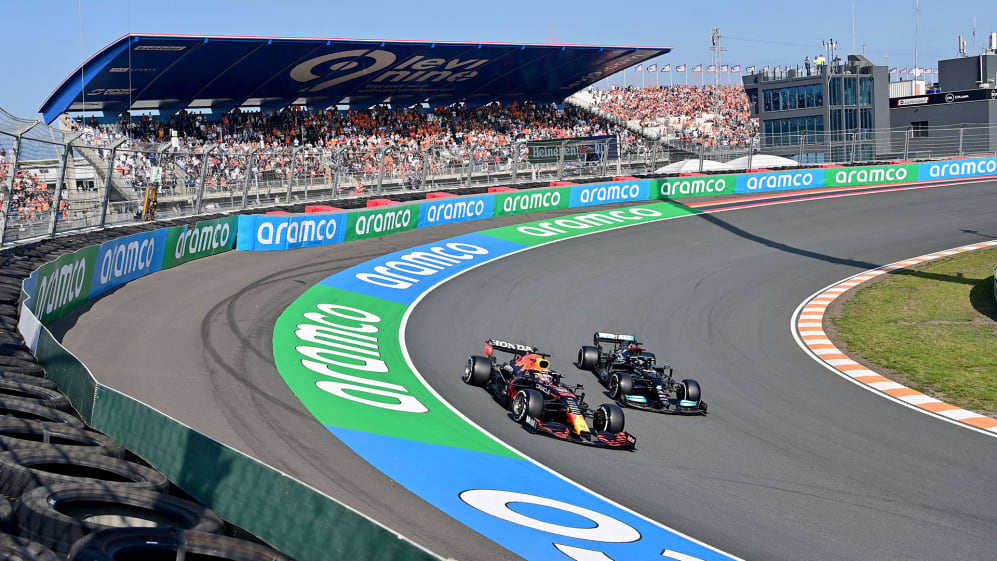 After missing out on pole position to Max Verstappen at the Dutch Grand Prix, the Mercedes team are already busy working on a strategy to beat the home hero on race day at Zandvoort.
Versatappen took pole for the first Dutch Grand Prix since 1985 with a lap just 0.038s quicker than Lewis Hamilton's best. But crucially, the Red Bull man is up front alone, with his team mate Sergio Perez starting down in 16th, while Hamilton in second has his team mate Valtteri Bottas immediately behind him in third. And it's an advantage the Brit and his team boss Toto Wolff are planning to exploit on Sunday.
REPORT: Verstappen delights home fans after edging out Hamilton to take thrilling Dutch GP pole
"No doubt it's going to be tough tomorrow," said Hamilton after qualifying. "I think Max and his team were quicker than us on the long run, but it's not a track that you can particularly overtake on so it's going to be [about] strategy tomorrow and how you can utilise the tyres.
"The start will be fun," he added.
Hamilton was also pleased to get so close to Verstappen, given that the Dutchman finished FP3 a full half second clear of Mercedes and was even further ahead at points during qualifying.
"The [final Q3] lap… particularly the second and third sector, was really on the edge. There wasn't any road left. So I was really, really happy with it. It's great we were able to get that close because obviously they pulled quite far ahead at one point pace-wise. But I still think if we had another session we'd all go quicker and I think there's more time to find."
Meanwhile Wolff confirmed Mercedes were already planning to split Hamilton and Bottas' strategies to put Verstappen under maximum pressure on race day.
"I think we need to be satisfied with where we ended up," he said. "Lewis missed out a lot yesterday with running [after an FP2 power unit issue] and at the end he put one lap together and we have P2, P3, that's a good starting point.
"I think if we are able to have the same pace in the race, and it's going to be about survival on the one-stop, Max needs to make a decision: is he going for a one-stop or is he going for a two-stop? And I think we can play both strategies tomorrow, so you have two cars that can actually go totally different.
"Certainly, we'll be pitting one, undercutting and massive pressure, leaving the other out and then finishing one and two," he added with a smile.
Bottas said he felt he didn't have the car for pole today, but said he was also ready to play the team game when the lights go out on Sunday.
"The first run in Q3 was good, I was happy with the lap," he said. "Felt like I got pretty much everything out of the package. The second lap was going well until Turn 11. I braked a bit too late, collected a bit of gravel in Turn 12. I think I got a bit too greedy towards the end of the lap but I think pole was just a little bit out of reach for me today.
"But it's good to be in the top three and it opens up all the opportunities for teamwork."