Hamilton buoyed by Canadian GP podium as he insists Mercedes are 'going in the right direction'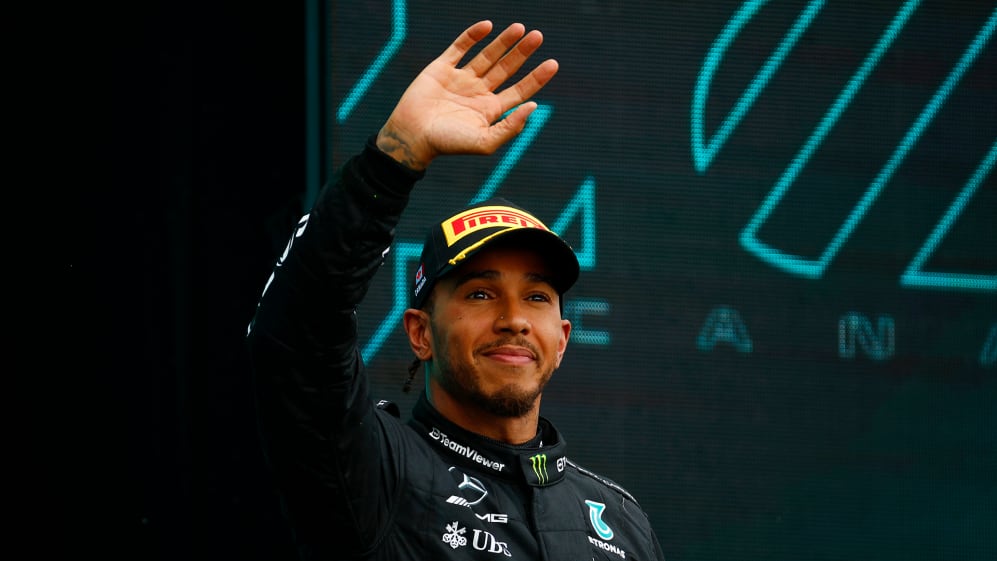 Despite narrowly losing out to Fernando Alonso for second position, Lewis Hamilton focused on the positives after he helped Mercedes claim back-to-back podium finishes for the first time this season in the Canadian Grand Prix.
Having followed Red Bull's Max Verstappen home last time out in Spain, the seven-time world champion converted third on the grid into third at the chequered flag at the Circuit Gilles Villeneuve via an exciting scrap with Aston Martin rival Alonso.
READ MORE: Verstappen hails 'incredible' milestone as he helps Red Bull hit a century of F1 wins
Hamilton passed Alonso at the start of the race but dropped back behind the Spaniard as the race developed, ultimately crossing the line some five seconds adrift, with Verstappen 10 seconds further up the road.
Giving his initial assessment after the race, Hamilton commented: "It's honestly been a great weekend for us – we are slowly chipping away.
"The Astons took a little bit of a step this weekend when they added the upgrades, but we are working on bringing some more moving forwards.
"To just have this consistency and be up on the podium here in Montreal, which is such an incredible city, and we've got such a great crowd here every year without fail, so a big, big thank you to everyone here."
READ MORE: Alonso says he pulled off '70 laps of qualifying' to beat Hamilton in 'amazing' battle for second
Asked about the areas Mercedes need to improve in to take the fight to Aston Martin and Red Bull going forward, Hamilton picked out one key area of focus – namely rear downforce.
"Firstly [it's] quite an honour to be up there with two world champions," he said. "I was really excited to be third and just try to be in that mix, but unfortunately, we just didn't have the pace today.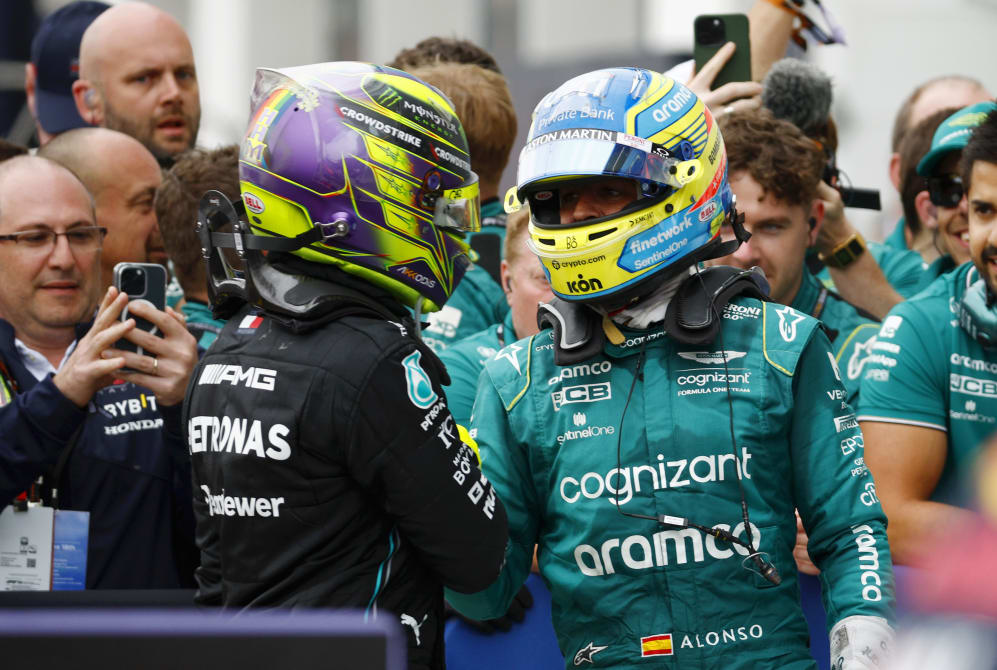 "We knew this weekend, this wouldn't be our strongest circuit, as we struggle in the lower speed corners particularly, and that's really where I was losing to Fernando and Max, just on traction out of Turn 2, and pretty much every corner.
"But we've got a lot of work to do to just add rear downforce to the car, and a little bit more efficiency, but we are chipping away.
MUST-SEE: Russell clatters the wall and falls down the order in Canada
"I do believe we will get there at some stage. Max was a little bit gone, but I think our pace was a little bit closer today, so we are going in the right direction."
George Russell retired from the race in the other Mercedes after a heavy impact with the wall in the early stages, but Hamilton's haul ensured that the squad remain ahead of Aston Martin for P2 in the constructors' standings.