Hamilton calls Sao Paulo GP 'one to forget' as Russell labels it Mercedes' 'slowest weekend' of the year after DNF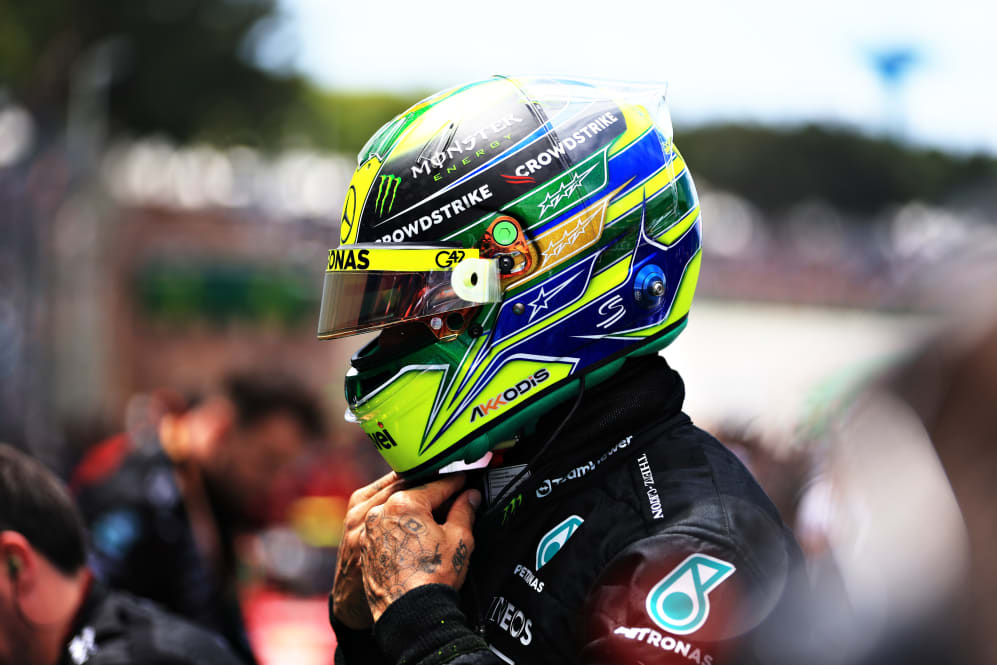 Lewis Hamilton admits he is looking forward to no longer having to drive the W14 when the 2023 season ends after finishing eighth in Sao Paulo, while George Russell, who retired from the race, called it the "slowest weekend of our year".
Hamilton lined up fifth for the race and made a great start to find himself in third place early on. But at the restart – following Alex Albon and Kevin Magnussen's crash bringing out the red flags – he lost a place to Fernando Alonso.
READ MORE: Verstappen seals record 17th win of the season from Norris and Alonso in Sao Paulo Grand Prix
The Briton continued to slip down the field, with Sergio Perez coming past a few laps later, and after pitting for fresh rubber he lost out to Lance Stroll, Carlos Sainz, and Pierre Gasly before crossing the line in eighth.
Asked how difficult it was for him during the race, Hamilton said: "Well, it didn't feel as disastrous as [the Sprint] yesterday. Yesterday [when] I finished, I literally had no tyres left, they were worn to zero.
"So, I feel like I drove a better race today in terms of managing the tyres to the best of my ability, but the car just – there's like moments it works and moments it doesn't.
"It's so inconsistent throughout the lap; we have to figure out what that is, and then also we are really slow on the straights and really slow in the corners, or at least sliding the car through the corners. One to forget but hopefully there are lots of learnings for today."
When questioned if set-up issues were to blame for Mercedes' lack of pace over the weekend, Hamilton replied: "I think it's difficult to say. One thing is the car is really unpredictable in the sense of one weekend it feels good, one session it feels good and then not.
READ MORE: 'I thought the podium was gone' – Alonso on his thrilling final-lap battle with Perez
"I'm sure we will go and look at things and find out if we should have done things differently, but with the one practice session it's difficult. But I'm still proud of the team.
"They still came here and did their work, they hold their head up high and that's what we have to be able to continue to do, just keep pushing forwards. Two more races with this thing and then hopefully no more driving it!"
Russell, on the other hand, had been running behind Hamilton and was well within DRS range of his team mate in the early stages of the race. But he began to fall further off the pace as the race went on before the call came in for him to retire his car.
"We had a cooling problem that we couldn't get under control for the last 20 laps," explained Russell. "It had no influence on our lack of performance. Really strange weekend, probably by far the slowest weekend of our year. So, we need to understand why because we had high expectations coming into this weekend."
WATCH: Enjoy the Sao Paulo Grand Prix race start as Magnussen, Hulkenberg and Albon collide
Quizzed on if he knows where it went wrong for Mercedes this weekend, Russell replied: "We can only really put it down to tyres, because the car is the same as what we have had for the past four or five races.
"We've arguably been fighting for victory in some of those races or had a car potentially capable of victory and here if it wasn't for a great start we would have both been outside the points."